Bluegrass BBQ ***Temporarily Closed***
This post may contain links from which I earn a commission. Please read my disclosure policy. As an Amazon affiliate, I earn from qualifying purchases.
RELOCATING TO 361 Battleground Rd. Cowpens, SC 29330, APRIL 2022
Many of our customers tell us, "You make us feel like we are part of the family." Well, that's just how we were raised here at Bluegrass BBQ. Mealtime is family time.
Where it all started
Bluegrass BBQ first originated in Kentucky, "the bluegrass state," hence its name. Out in the middle of a field in Kentucky sat an old 1921 boiler.
This became the first building block for the idea of Bluegrass BBQ. We took the boiler, cleaned it up, sanitized it, and equipped it with automatic rotisseries.
Up until 2003, the idea of Bluegrass BBQ's mobile food truck had been just that, an idea. We soon drew up the plans for the trailer, and then built it by hand.
We painted the boiler turned smoker bright red and mounted onto its new home. Here, it ​smokes over 400 lbs of pork a week.
In 2011, Bluegrass BBQ opened its first permanent building location in Greer, SC. It grew quickly, and word spread fast.
Bluegrass BBQ Settles in Cowpens
In October of 2015, after much prayer and preparation, Bluegrass BBQ opened its second permanent location in Cowpens, SC.
Since day one, the building was packed out, and it's continued to grow tremendously fast. Many people have asked, "What's next?" and honestly, we don't know!
Bluegrass BBQ has so much potential, but as of now, we will continue to anchor in Cowpens, and see where the next few years take us.
We can assure you of one thing, we aren't going anywhere! We built a clientele like family. They would be devastated to see us leave. Bluegrass BBQ is proud to call the little town of Cowpens its home now.
We plan to build the business as much as we can here.
When the Jordans sit down around the table, we share stories, laughter, and smiles at the dinner table. We only feel it's right that our customers share that same feeling of "family" when they enjoy our food, and we hope it draws them back several times afterward. ​
If you're taking an SC BBQ Road Trip along Interstate 85, take Exit 83 and Bluegrass BBQ is about a half mile away on Main St.
What are Folks Saying about Bluegrass BBQ?
On Google
Google Local Guide Susan Graves wrote about a great experience at Bluegrass BBQ in her Google Review:
My sister and I ate at the Bluegrass for the first time today. We are sorry we hadn't done it sooner.
Best BBQ Pork and ribs we have ever had. Sauces are to die for. You have to try their original Smoked Green Beans.
They also had homemade banana pudding and pecan pie. Sadly we didn't get the chance to try the desserts because their platters are huge.
Great service! Great food! And a Great family-friendly environment.
On Yelp
In his Yelp Review, world traveler Mark C claims that he has never had better BBQ:
Hands down the best barbecue I've had in 25+ years. Trust me, I've traveled the world over and I have eaten my share of pork, beef, and chicken.
I met Jordan the owner of Bluegrass BBQ and his son Jesse for the first time today, while in their town on law enforcement matters. This is a down-home small-town America GEM of a place.
I honestly hate to yelp about it as I do not want to fill the place up, so I have to wait next time.
However, as I have a world-class palette and have tried food from all over the world I want people to know when I do come across the best of the best. This barbecue kitchen is one of those.
The best of the best. Well done Jordan!!! As I was leaving, Jordan tempted me with a sample of his banana pudding and I was SOLD, Sold sold!!!
---
Location, Hours, Contact Info, and More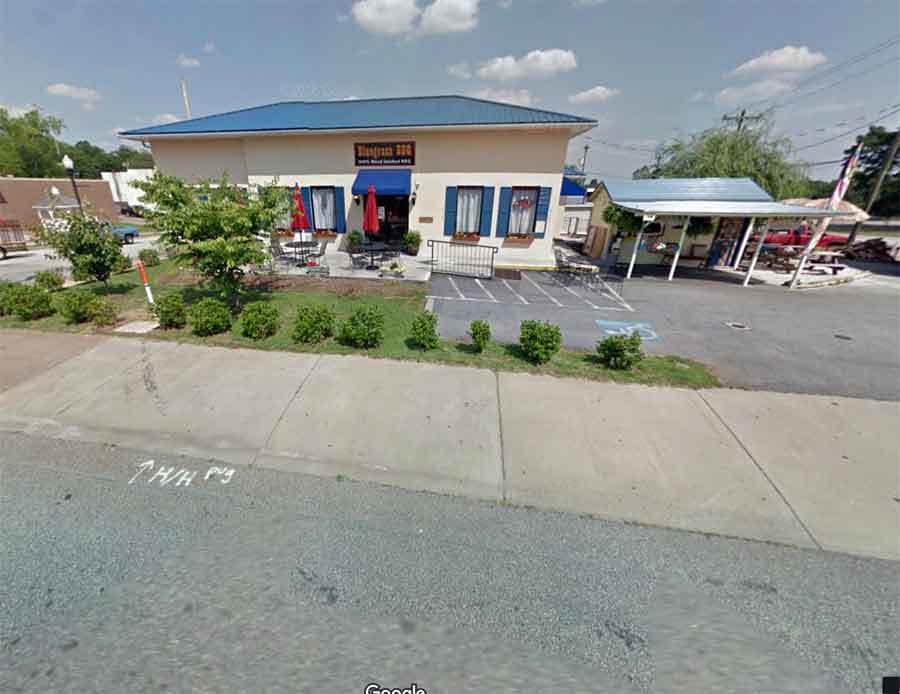 Map
Directions
Contact Bluegrass BBQ ***Temporarily Closed***
361 Battleground Rd.
Cowpens,
SC
29330
Hours of Operation
| | |
| --- | --- |
| Monday | Closed |
| Tuesday | |
| Wednesday | |
| Thursday | |
| Friday | |
| Saturday | |
| Sunday | Closed |
Review Sites
Features
Cards and Cash, Heavy Tomato Sauce, Mustard Sauce