This post may contain links from which I earn a commission. Please read my disclosure policy. As an Amazon affiliate, I earn from qualifying purchases.
Taste the difference in our old-fashioned all hickory wood smoked bar-be-que. At Creekside Bar-be-que in Anderson, things are done the old fashioned way.
Our barbecue is slow cooked, the same way the owner's great-great grandfather used to do it.
Creekside was founded in May 2000 by Kurt Wickiser. The restaurant was founded on family and it has been family run ever since, even after Kurt's passing in January 2020. Kurt's wife Tandy carries on his legacy.
Taste the Difference
While that legacy was founded on family, its cornerstone is quality food and ample portions.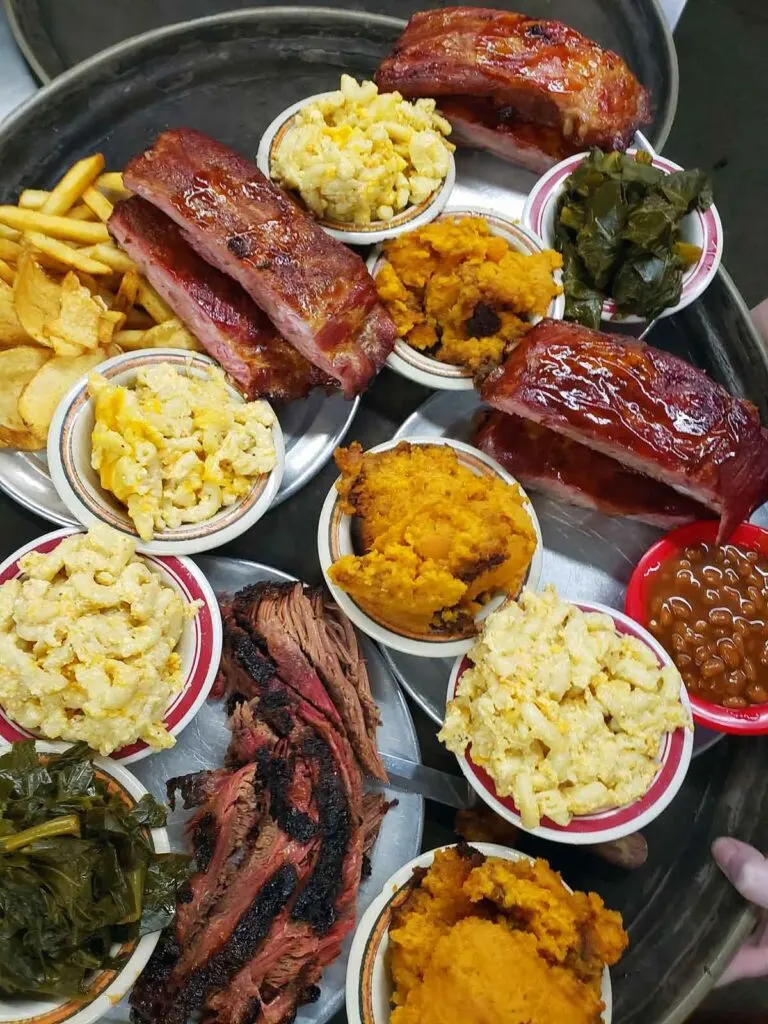 There's something on the menu for everyone. All kinds of hickory-smoked meats, including spareribs, pork, chicken, and brisket. In addition there's prime rib, hand-battered shrimp, hand-battered chicken fingers.
Sides include old-fashioned Brunswick stew, slaw, collard greens, Mac n cheese, tasty baked beans recipe, baked potatoes, and much more.
What Folks are Saying about
Google Review
Among the many Google Reviews, Charles Selleck passed over the chains to find amazing food and service at Creekside BBQ:
Tired of fast food on the strip, take a quick ride around the corner to Creekside for the best BBQ in Anderson.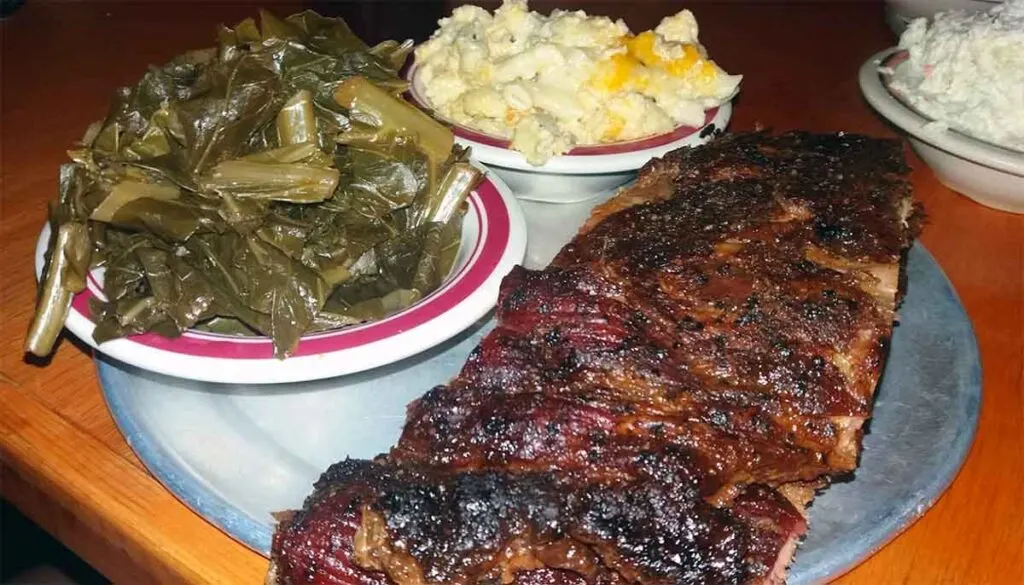 We both had the brisket & rib dinner. The bark on the ribs was amazing. The brisket was piled high.
These are not stingy portions. Comes with 3 sides which stand up to the homemade test for sure.
After eating half my baked potato I asked if they could reheat the other half. Sure he says and 2 minutes later, he brings me a steaming hot out of the oven fresh potato, skin rubbed in oil and salt.
A little butter, sour cream, and half my Brunswick stew – another delicious side – and I'm a happy camper.
Yelp Review
Over on Yelp, Anderson local Wayne F said he stopped in because his normal place was closed and picked up some take out from Creekside:
I have to let you know how I tried Creekside for the first time…….I may have never tried them if not for a holiday between Christmas and New Years when one of my favorites was closed but Creekside was not and am I glad.
I have reviewed a couple of BBQ restaurants in the Anderson area. Some better than others and some were very good but I have finally found what I believe to be the best in the area if not the state or beyond.
So far, I have only tried Creekside as carryout, but I have to tell you that they KNOW BBQ. They even have burnt ends, if you have never tried them you should.
They have a sauce for every taste and desired meat of choice.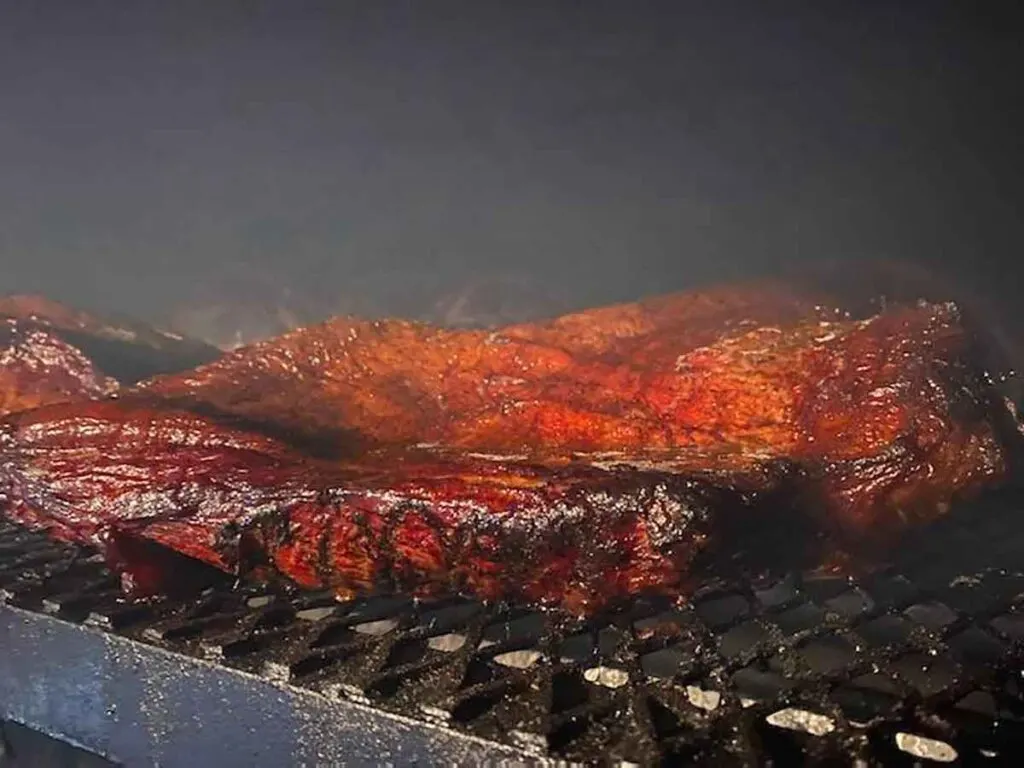 The owner of this restaurant, Kurt cooks on wood fires only, one of very few that do. I have tried the pulled pork, and the brisket (they have both fatty and lean on the brisket) be sure to ask the difference if you don't know.
Don't leave without having desert, either of them. I'm partial to a good banana pudding recipe.
The carryout service was excellent, from the front desk to the food that I took home, by the way Kurt took my order and filled it…..to me that IS customer service.
I havent tried the sides yet but I will be visiting the restaurant in the near future for dine in service…I will update after that visit.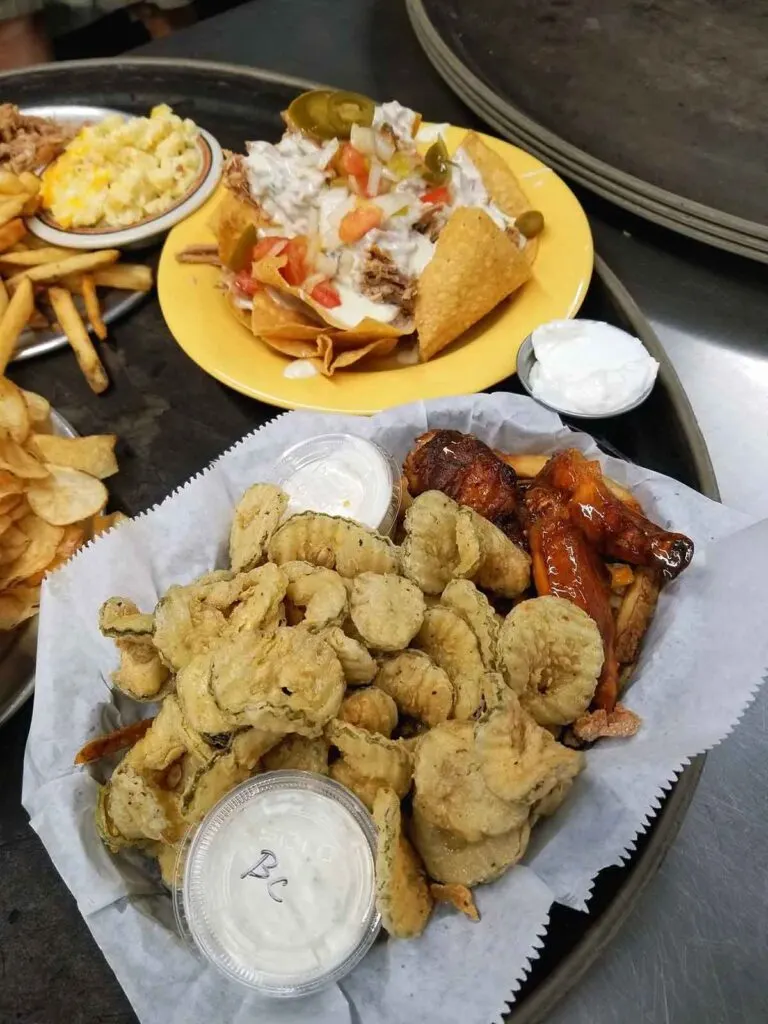 SC BBQ Association
Sure, folks on review sites often have great things to say about a place, but what about the folks who really know SC BBQ better than anyone? What about the folks who actually train the judges for SC BBQ competitions?
What do they think of this place? Here's an excerpt from their review:
Creekside cooks real barbeque over real wood and they served it up on real plates rather than plastic.
They serve up all sorts of sauces too, including one they hold back unless requested, which they say is "for ribs." (That one is listed on their little table guide to sauces). And even though it is a seated-serve with a "Please wait to be seated sign" up front, no one is going to leave hungry.
In fact, the two plates served to me and my wife had so much food on them we requested a to-go box and had enough left over for a full second meal.
My combo plate (pork and ribs) and three sides came to $12.95 and my wife's pork plate with three sides was $9.95.
Considering the top quality of the ribs, the French fries, the toast and the stew and the fact that with the addition of a little sauce the pork was good, we considered it all a bargain.
You should stop by Creekside and give it a try. You may find the sauces more to your liking and if you do then I predict that Creeksice will become a regular for you.
---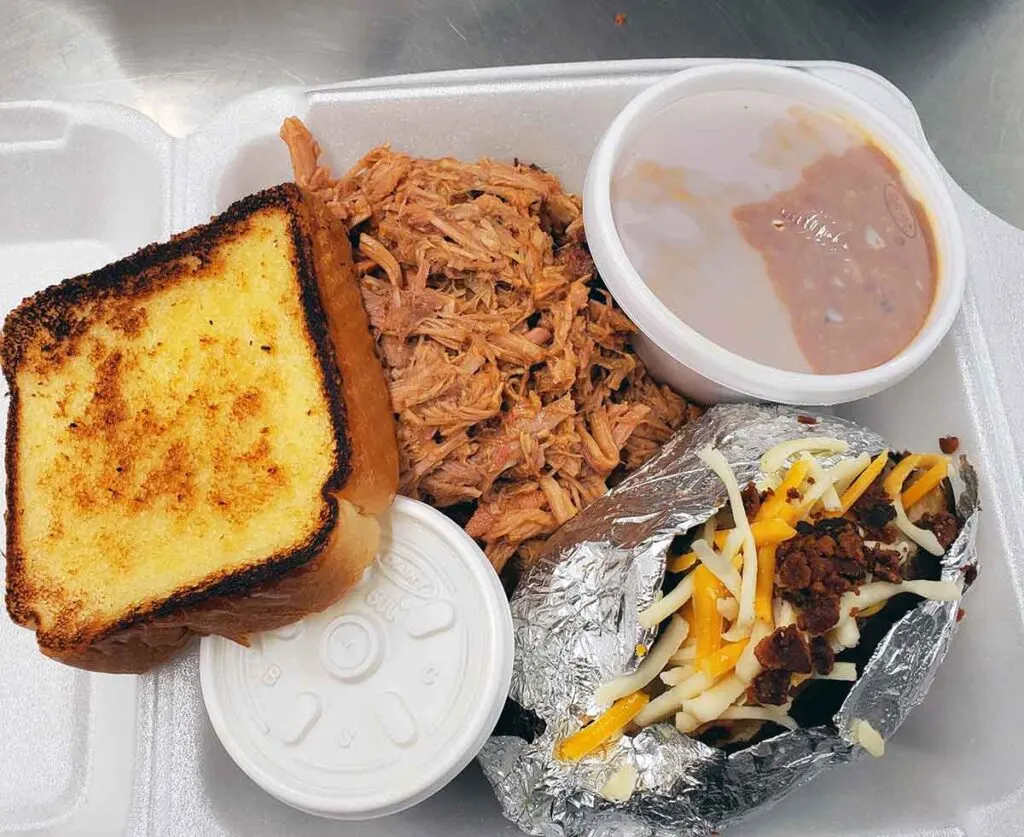 Menu for Creekside BBQ
Note: Menu prices and options are subject to change over time. Contact the restaurant for the most up-to-date information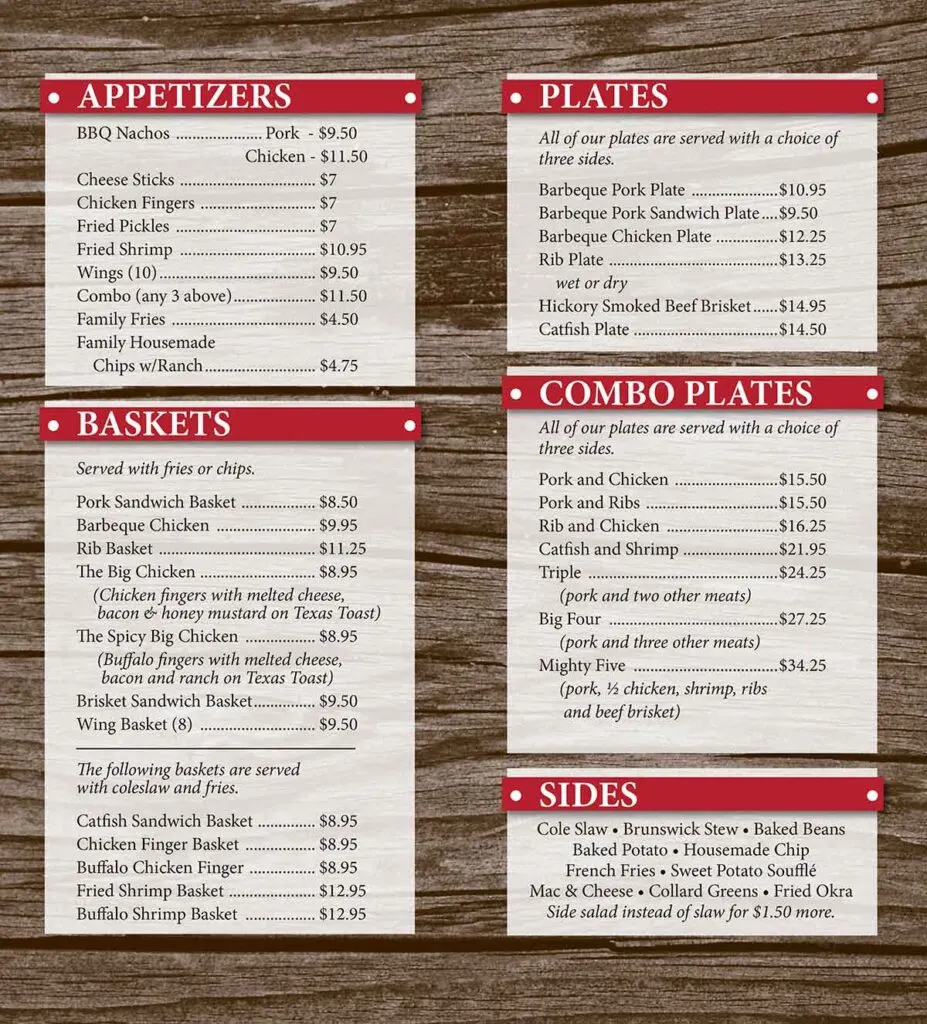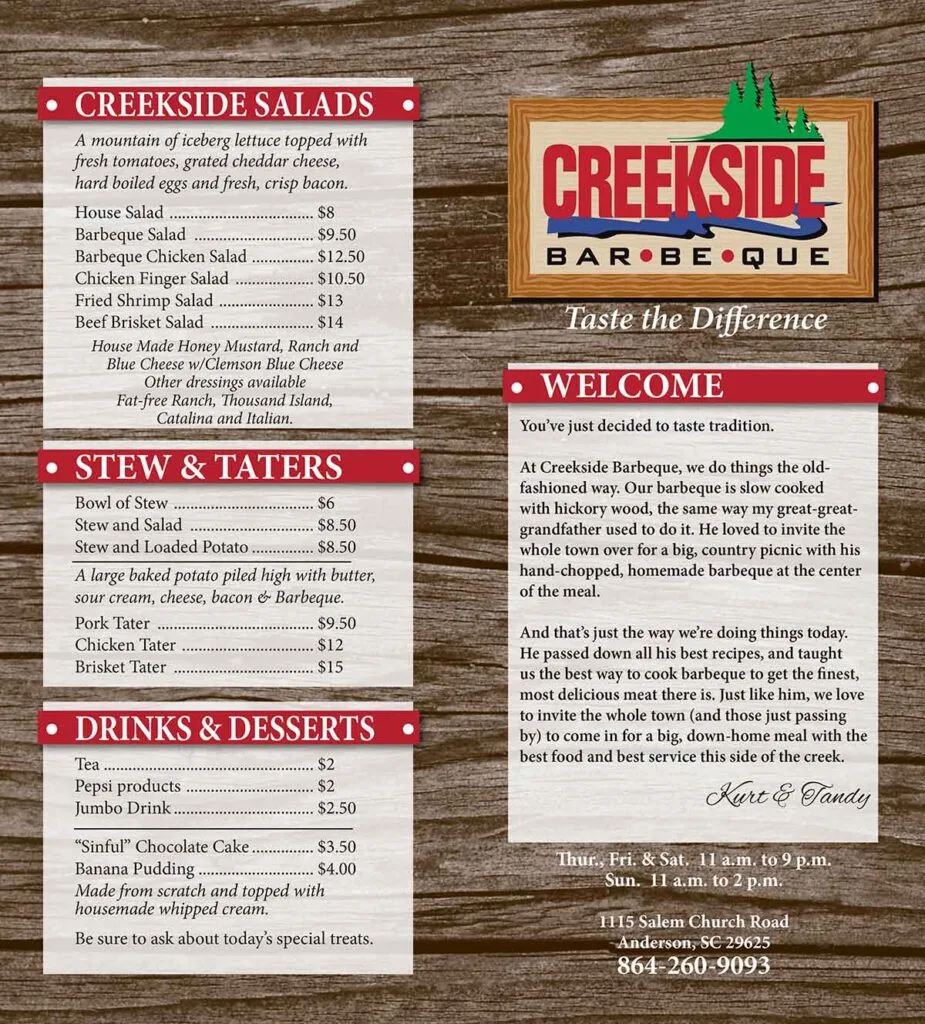 Location, Hours, Contact Info, and More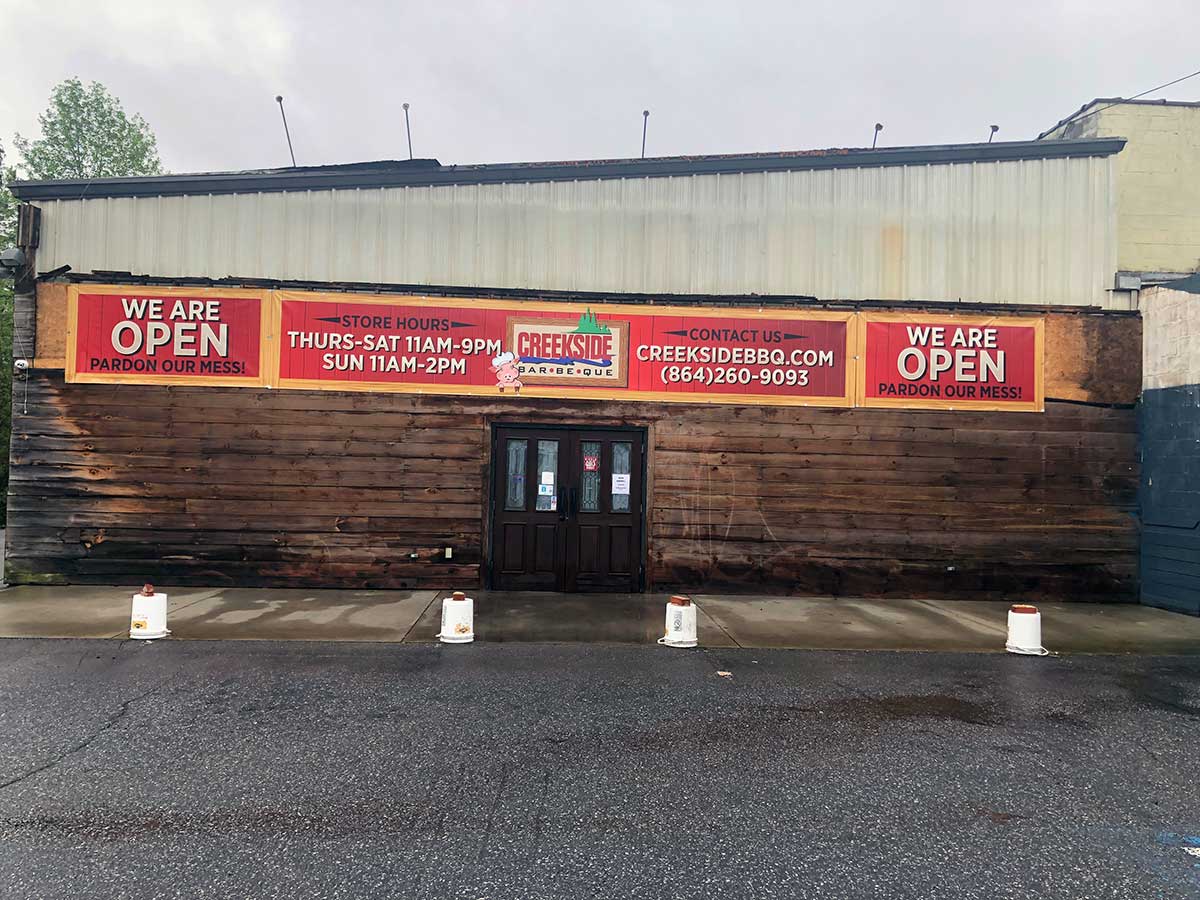 Map
Directions
Contact Creekside Bar-Be-Que
1115 Salem Church Road
Anderson,
SC
29625
Hours of Operation
| | |
| --- | --- |
| Monday | Closed |
| Tuesday | Closed |
| Wednesday | Closed |
| Thursday | |
| Friday | |
| Saturday | |
| Sunday | |
Review Sites
Features
Cards and Cash, Heavy Tomato Sauce, Light Tomato Sauce, Mustard Sauce, True 'Cue Certified, Vinegar Pepper Sauce