Barbecue in South Carolina, by tradition, is a whole hog, cooked low and slow for 12+ hours over wood embers burned down and shoveled in from a burn barrel nearby.
It's hard, hot, time-consuming work to bring barbecue like this to the table. And that is one reason why whole hog barbecue is such a rare treat.
Moree's Bar-B-Que built its reputation on that whole hog tradition.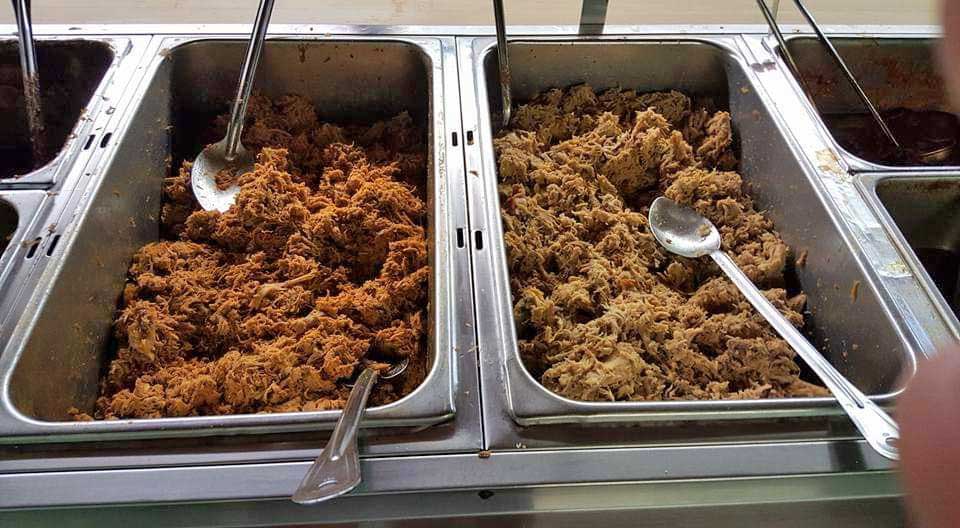 In fact, customers missed the incomparable Moree's so much that when it closed briefly during the coronavirus outbreak they set a new sales record the weekend it reopened.
That weekend they sold 500 plates of Moree's delicious whole hog barbecue.
Moree also makes a pristine hash, following the recipe his parents worked out when they opened the white cinderblock restaurant in 1964.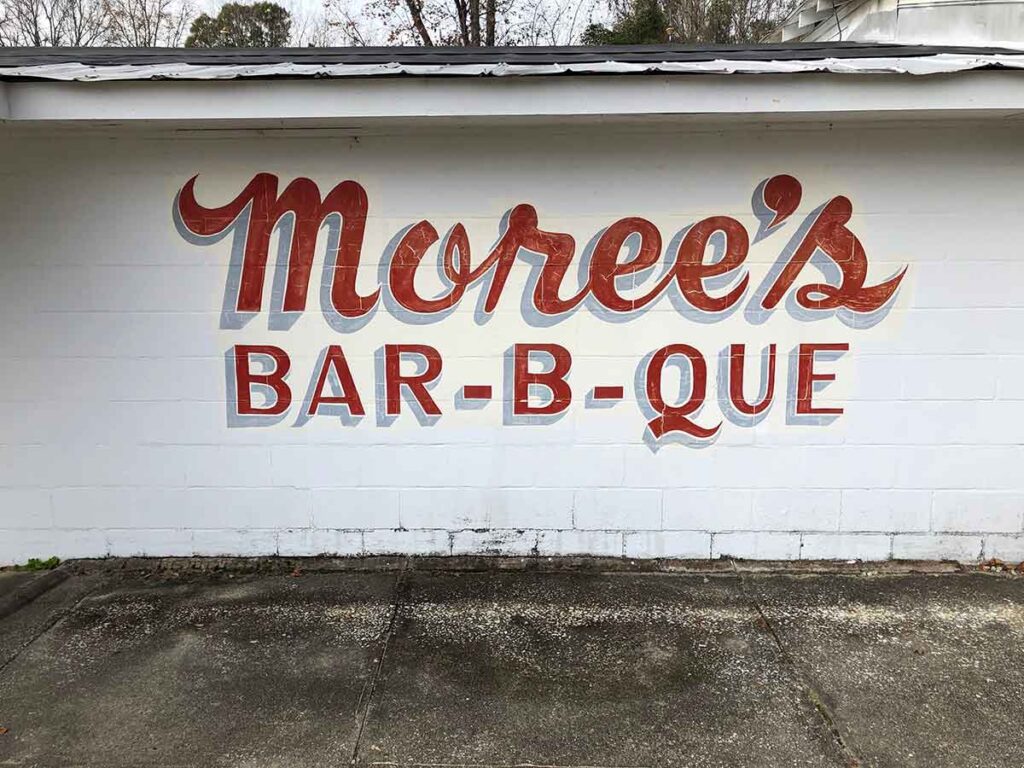 Moree's Bar-B-Que was featured in an article on SC BBQ Hash written by Post & Courier Food Editor Hanna Raskin. In her article, Raskin features the "non-liver" hash makers of SC.
She wrote the following about Moree's"
By far the finest of the hashes that shun liver, Moree's peppery hash is a soul-satisfying triumph of seasoning.
In fact, Donald Moree says, "A little piece of liver would ruin the whole pot." Moree follows the recipe which his parents worked out when they opened the restaurant in 1964; he thus far hasn't disclosed its details to any of the many people who've asked, relatives included.
"The family knows some of it, but they don't know it all," he says.
Whether you go for the hash or the whole-hog, wood-cooked barbecue, a trip to Moree's Bar-B-Que should be added to your bucket list.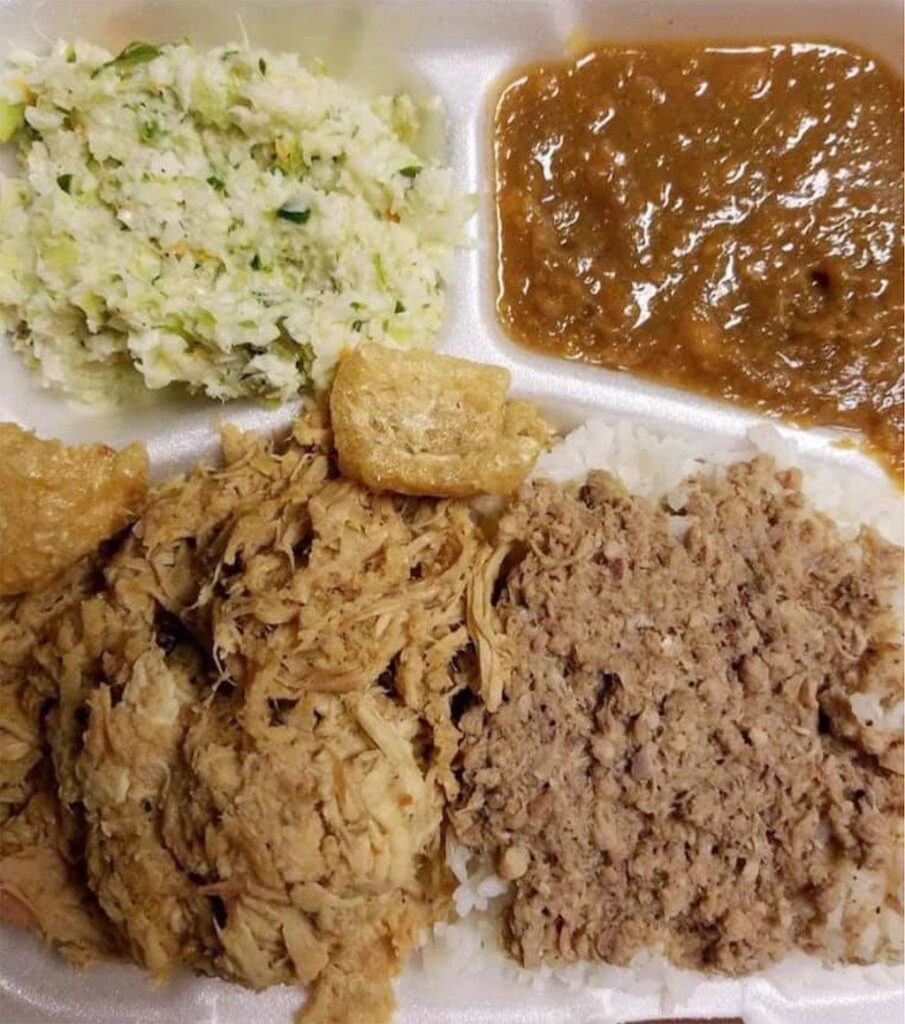 What Folks are Saying
Google Review
Among the many Google Reviews, Local Guide "Jamie" always seems to have a good time when dining at Moree's Bar-B-Que:
A family-owned restaurant known for their simplicity in approach to serving you their Nationally Famous Southern BBQ!
What you will find here are folks who will welcome you to dine in or get it to go. I highly recommend dining in; good conversation always ensues and humor is not far to follow!
Another Local Guide, Jimmy Cook, has dined at Moree's Bar-B-Que for years:
My family lived in Warsaw S.C.! This is a family tradition to eat at Moree's BBQ!
Mr. Bob Moree owned this place and operated it for many years! Some of the best Southern BBQ I have ever eaten!
After Mr. Bob passed away his brother took over and he still has the best BBQ and friendly people.
5 STARS !!
Yelp Review
Over on Yelp, Andrews local Rachael D believes Moree's Bar-B-Que is the best around:
In short, this the best BBQ in the area!
I love the people, the place, and the price! It is located in a little community called Warsaw.
It's hometown people cooking hometown food.
The buffet serves the essentials. BBQ pork in mild and hot, BBQ chicken, white rice, extra sauce, baked beans, sweet potatoes, coleslaw, hash, and some of the best banana pudding around. Not to mention homemade pork rinds!
---
Menu for Moree's Bar-B-Que near Andrews
Note: Menu prices and options are subject to change over time. Therefore, contact the restaurant for the most up-to-date information.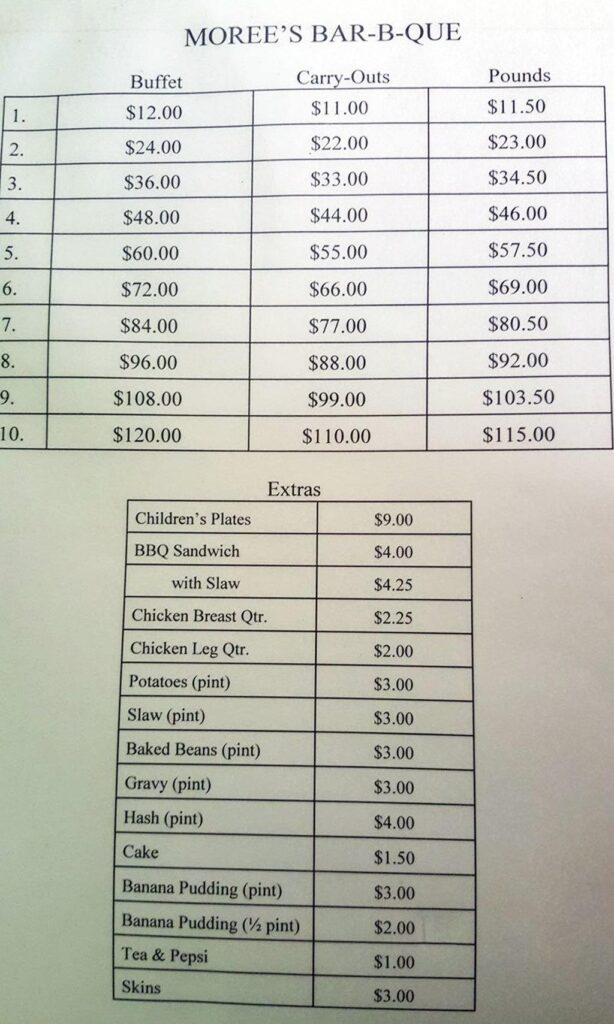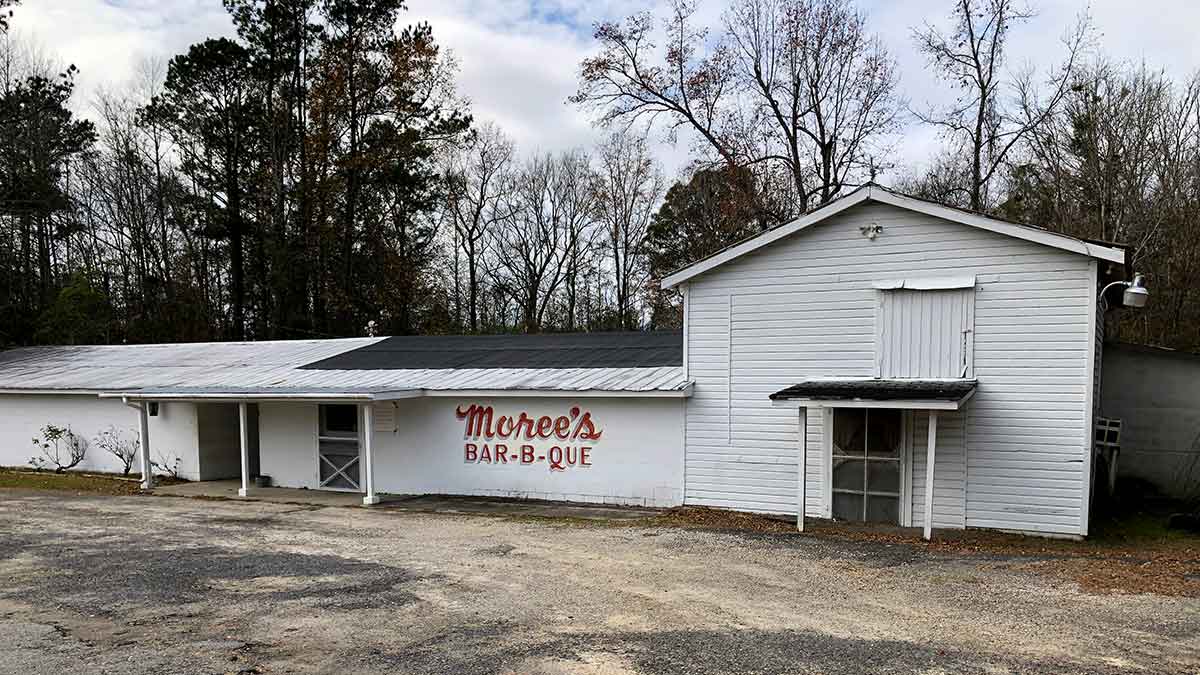 Moree's Bar-B-Que
677 Morrisville Road
Andrews,
SC
29510
| | |
| --- | --- |
| Monday | Closed |
| Tuesday | Closed |
| Wednesday | Closed |
| Thursday | Closed |
| Friday | |
| Saturday | |
| Sunday | Closed |
Social Media
Review Sites
Features
Cash Only, Buffet, Hash, Whole Hog, Mustard Sauce, Vinegar Pepper Sauce, Heavy Tomato Sauce