The Twisted Pig BBQ and More
This post may contain affiliate links to Amazon or other vendors I trust. Please read my disclosure policy. As an Amazon affiliate, I earn from qualifying purchases.
The Twisted Pig in Lugoff serves true wood-cooked barbecue, but their origin story might be just as authentic. Here is their story as only co-owner Amber Coker can tell it:
Couple years ago my husband Jerry (the grill master) had a massive heart attack and the doctor said, "You need to slow down." But that's not what he does!
He says to me! Let's build a food trailer!
He wanted to do what he loved! So that's just what we did!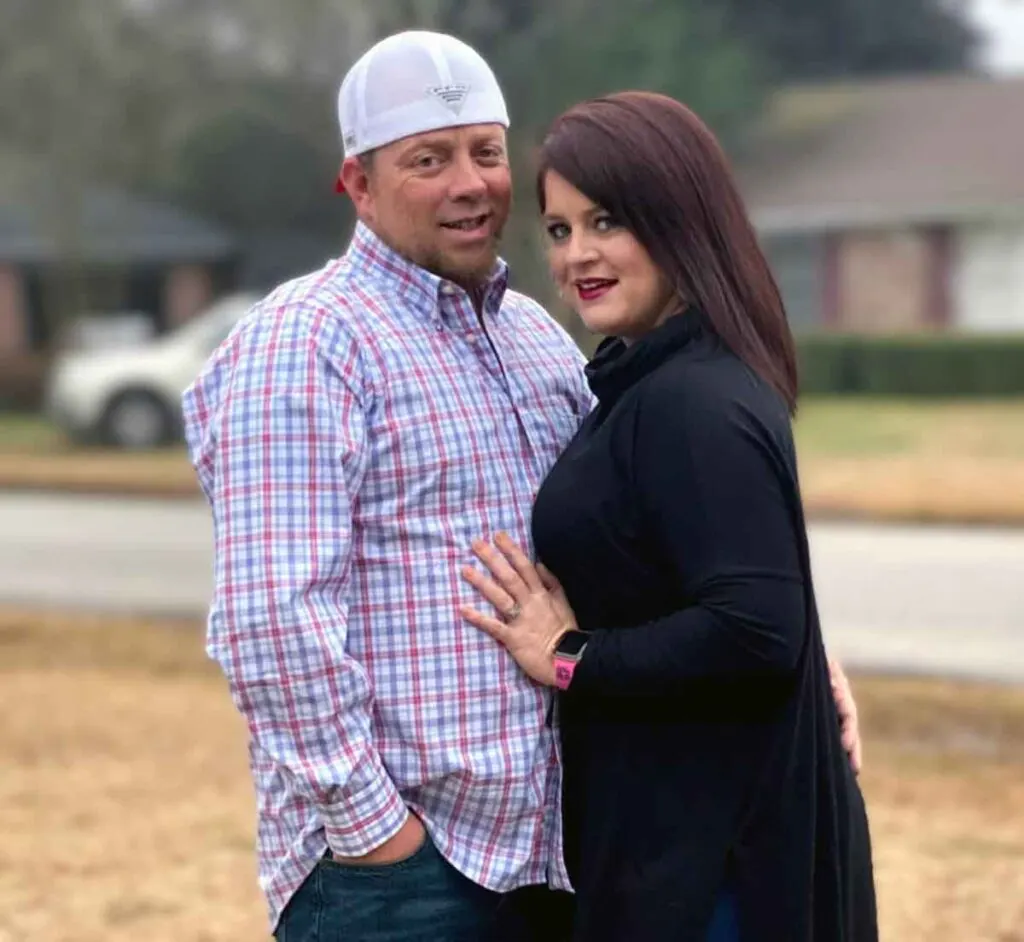 Built it from the ground up! We opened it in July 2022, and I thought, "Ok! We are good now." But nope!
He called me one day and says, "Honey, I found us a building!" I was like ummm, but as I always say to him…I got your back!
We opened the restaurant in January 2023 and could not have ever imagined we would be where we are! It's been a dream come true and a testament that GOD is good!
We are blessed beyond words! We are also looking for a new location to open another! Wish us luck! But a prayer would be better!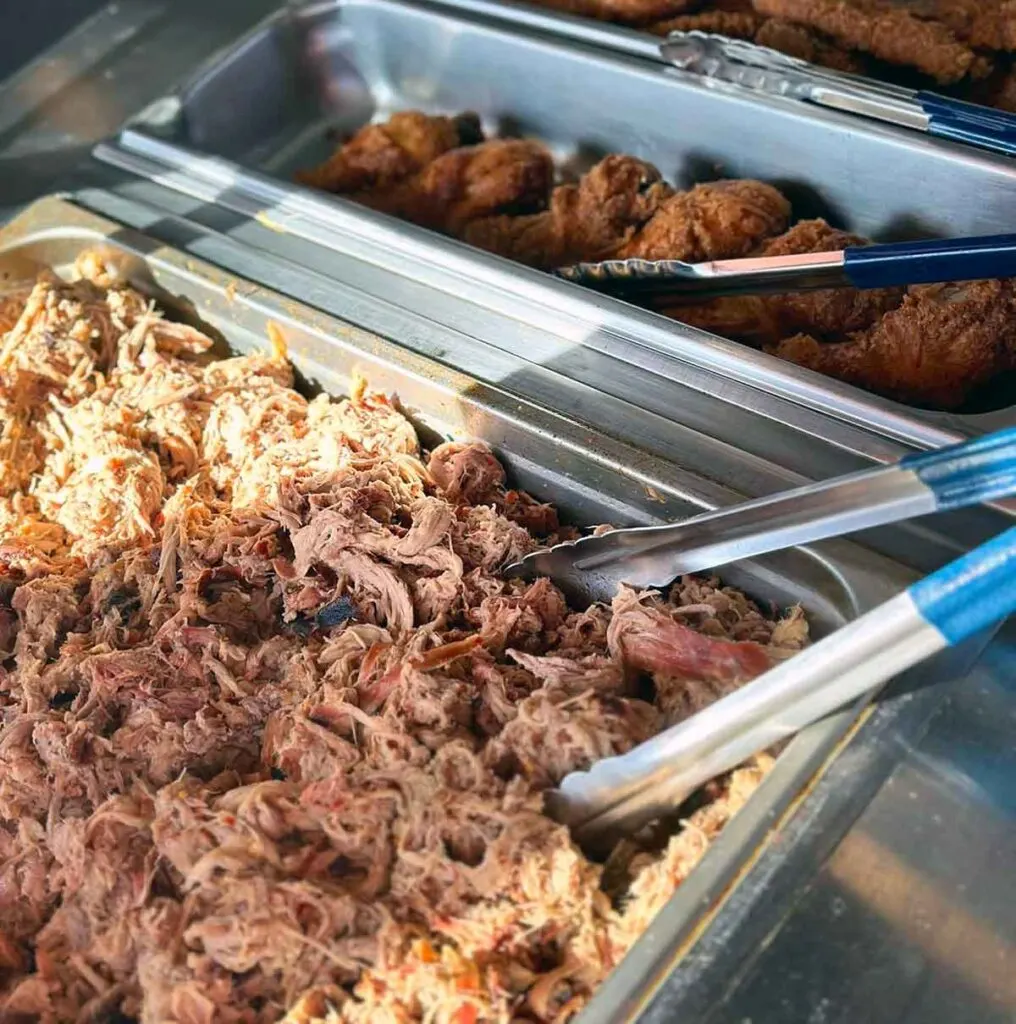 Hickory Seasoned
We do the traditional pulled pork, but we take it to the cook shed (after it's been delicately seasoned) where we cook it on hickory wood for hourssss! Pull up a seat cause you gonna be there a while!
We also serve up the most tender smoked brisket you will ever put in your mouth! And our pork ribs are so tender with just the right amount of tug!
All wood-cooked, but you'll see that in that beautiful smoked ring!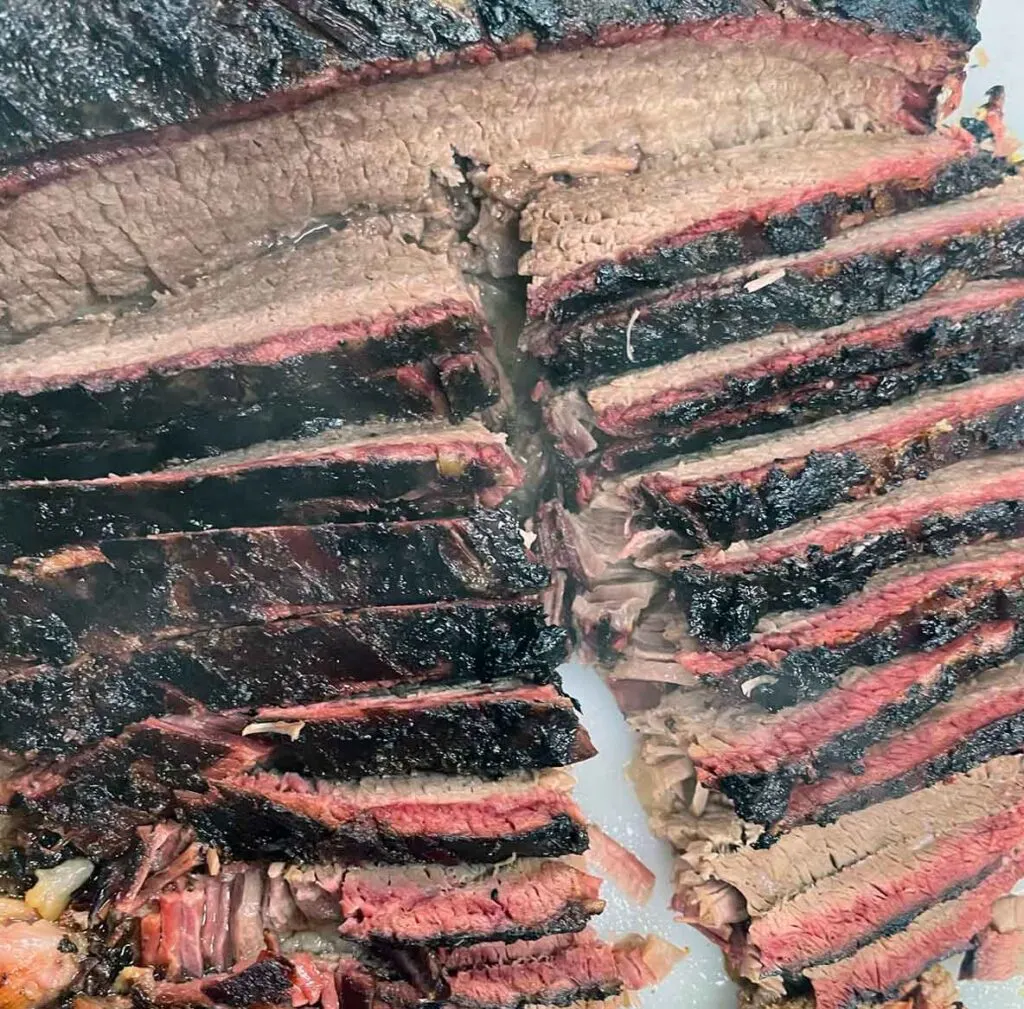 And for those who like fried food, we got pork chops that will make your mouth water, fried chicken legs, and all the fixins!
We serve what they call a "red" hash! We make it out of butts! None of that extra stuff though! It's a sweet saucy flavor…and man it's goooood, if I do say so myself!
We have an all-you-can-eat buffet every day we are open from open to close! All freshly prepared!
Hash and rice, Mac-n-cheese, collards, the sweetest cowboy beans, yams, flat beans, coleslaw, potato salad, fried okra, and man are them hush puppies tasty! And don't forget the southern banana pudding cause who can eat BBQ without it!
All sauces are homemade in house Most popular is Sweet Red… it's our sweet, vinegar house sauce that will make you wanna slap your momma, but you better DONT! Mustard BBQ sauce for those who like that kind of stuff! Hot mustard cause I mean why not! Pepper Vinegar Sauce for those who like to take it back ol school!
What Folks Are Saying
Facebook Review
Among the many reviews for The Twisted Pig, Christina Napoli Ross writes her review from experience:
Visited twice so far once for carry-out and once for dining in on the buffet.
I ordered the loaded potato the first time because of the photos on Facebook and it did not disappoint! The only feedback on this is that there was a TAD too much slaw on this, it sort of drowned out the taste of the sauce but I will definitely order this again!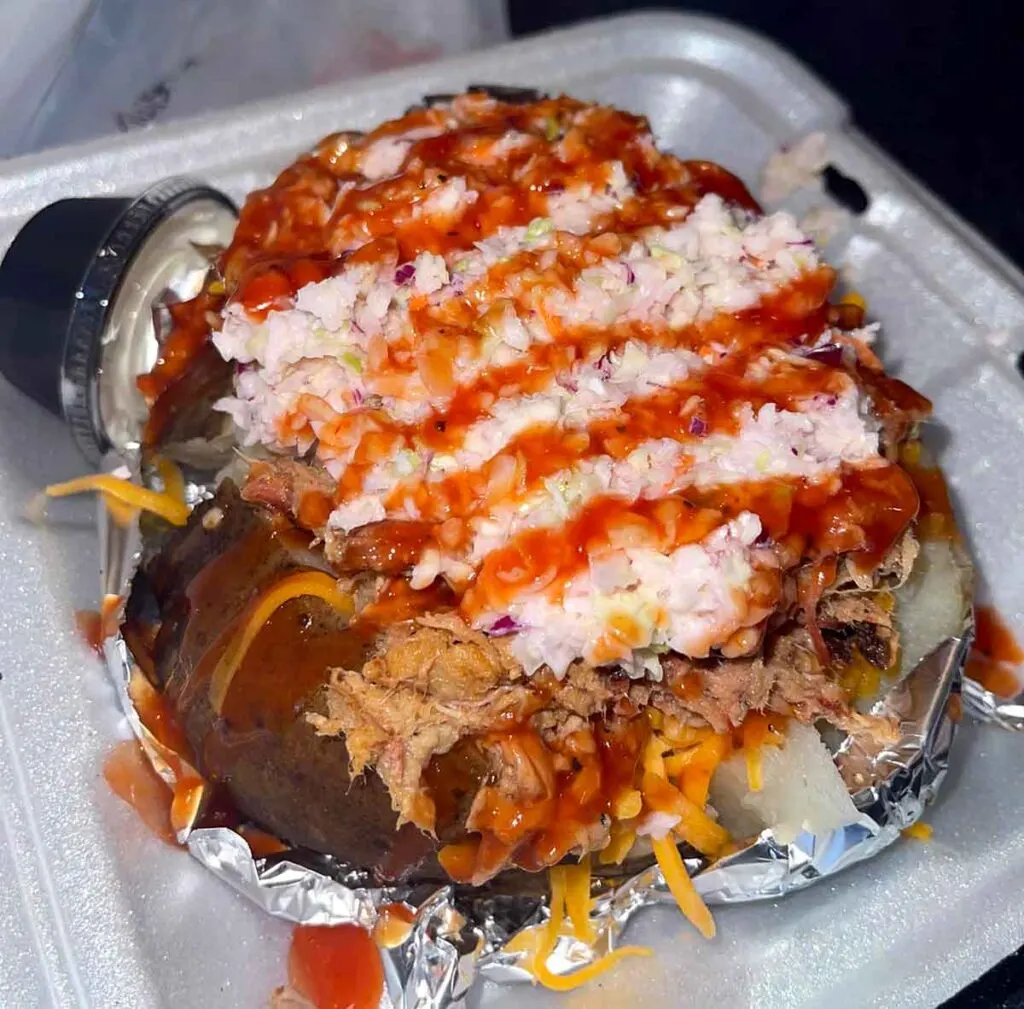 My second time there I went with my husband for the buffet so I could taste a little bit of everything.
The meats were tender and fall off the bone which is what I would expect from a BBQ place, and everything was hot and fresh. The hush puppies are a HIT.
The green beans are super spicy – more spicy than I like but I'm sure there are other people out there that like them.
I liked the option of mustard sauce, vinegar, or sweet sauce. I'm not a mustard-based sauce person so having the option of the sweet sauce was a nice addition.
I can't do this review without talking about the staff. Super friendly and kind.
They were noticeably busy for their small corner of the world and kept a smile on their faces and never made anyone dining in feel like they were being rushed.
Given all the food on the buffet and the economy that we are in, I feel that the prices are just right for what was offered. I will be back — I want another potato!
Google Review
Local Guide Mary Garner was much more succinct but equally pleased in her review of The Twisted Pig:
Tried the twisted Mac bowl and it was pretty good! I totally forgot to ask to have the jalapeños removed but through the spicy, the pork was tender and the Mac was cheesin'!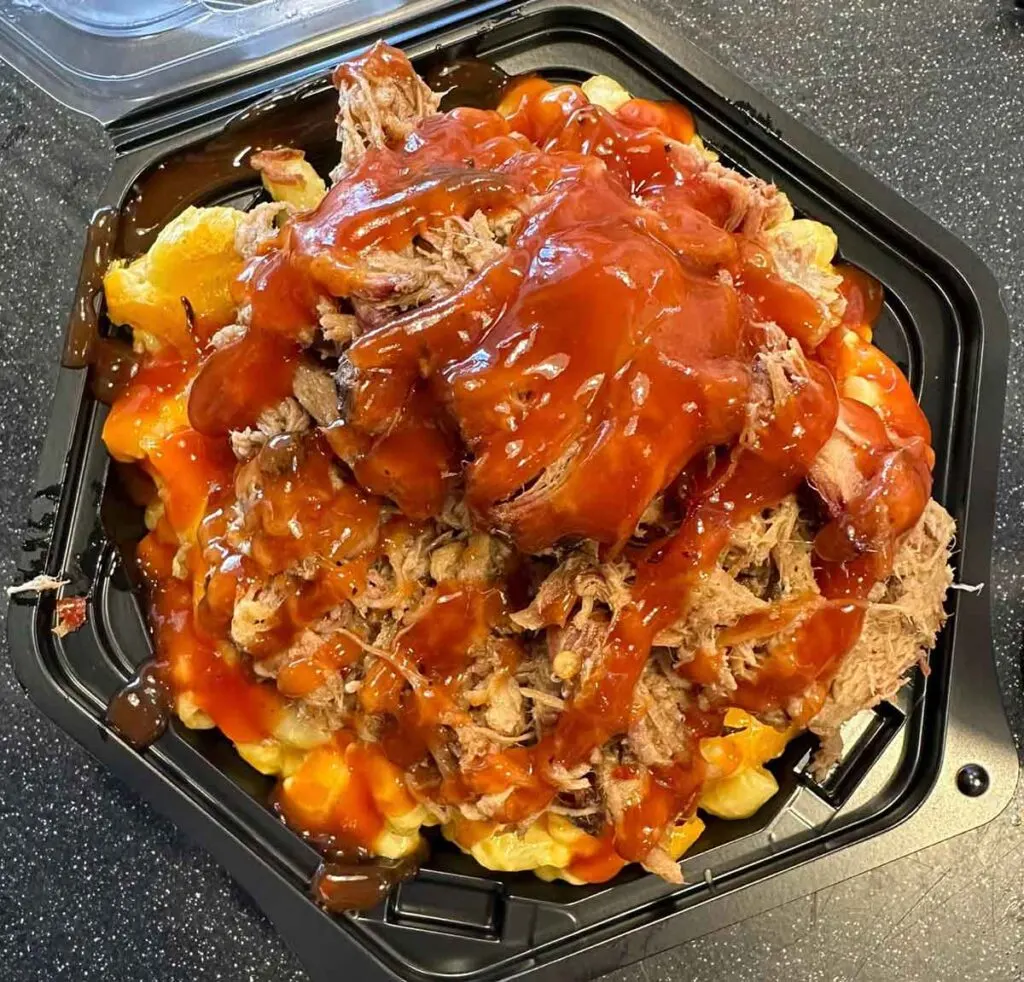 Menu for The Twisted Pig
Note: Menu prices and options are subject to change over time. Contact the restaurant for the most up-to-date information.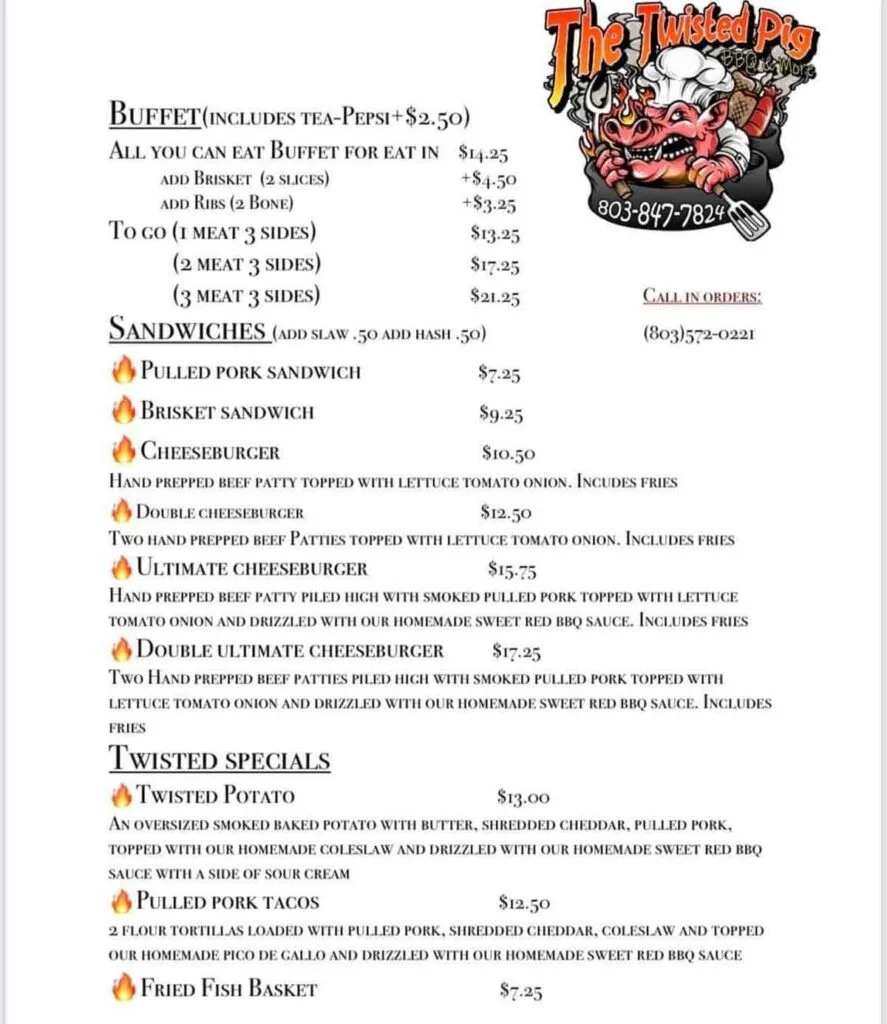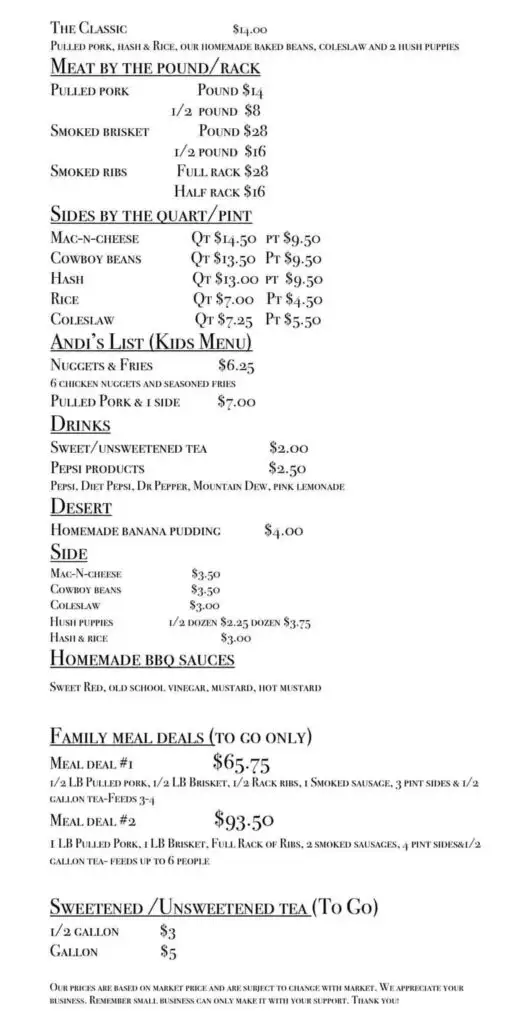 The Twisted Pig BBQ and More
694 Highway 1 South
Lugoff,
SC
29078
| | |
| --- | --- |
| Monday | Closed |
| Tuesday | Closed |
| Wednesday | |
| Thursday | |
| Friday | |
| Saturday | |
| Sunday | Closed |
Social Media
Features
Buffet, Cards and Cash, Hash, Heavy Tomato Sauce, Light Tomato Sauce, Mustard Sauce, Vinegar Pepper Sauce