B & D Bar-B-Que: Serves the Best…Dixie-licious!
As the small sign in their window says, B & D Bar-B-Que is "Good as the Rest and Better than the Best!" That's what makes it worth the drive off the beaten path to taste some authentic, old-school South Carolina barbecue and hash.
Owned and operated by Bobby and Dixie George, B & D Bar-B-Que in Smoaks, SC, is only open on Saturdays from 11 a.m. to 7 p.m….or until they run out of food. And they only accept cash or check.
However, you certainly find it more than worth the trip, though we would recommend calling ahead.
The menu seems simple, but what more do you really need? Hearty servings of chopped barbecue, hash and rice, and coleslaw with pickles, pork rinds, and mustard-based sauce.
Order some cake for dessert! Simply great food.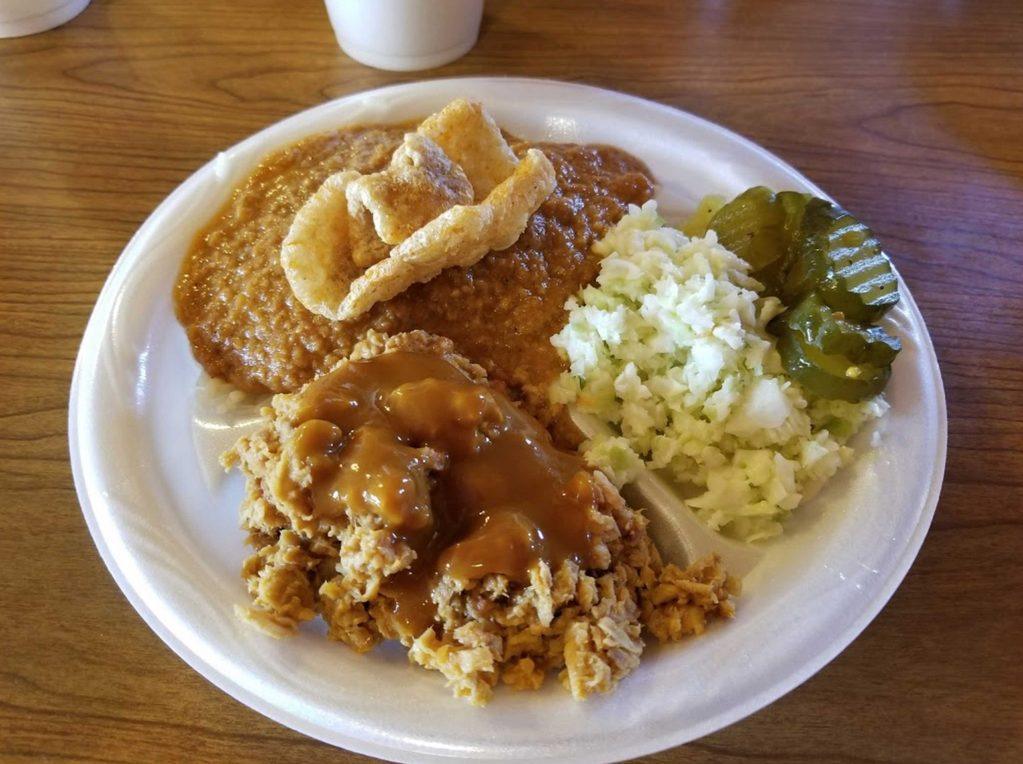 Speaking of great food, many say their hash is the best in the state. Now, South Carolina is renowned for its hash, a dish that is an SC BBQ original.
For the uninitiated, you will find hash to be sort of a meaty gravy (see photo above) — some think of it a "liquid sausage" — which usually made with pork and is most often served over rice.
Probably doesn't sound all that appetizing in print, but on your plate, it is delectable, especially the version they serve at B & D. (Learn more about SC BBQ Hash and find all the SC BBQ restaurants where it is served.)
What Folks are Saying
Google Review
Google reviewer Steve Barton, the author of 72 Google Reviews, clearly thinks B & D Bar-B-Que is worth the drive:
Well, there ain't no stoplights out here. B & D is out in the country. No…past there.
Bobby & Dixie have been making bbq for years and the recipe hasn't changed one bit. No buffet, just bbq. BBQ made with love and attention.
They are as pleasant as country folk should be. BBQ, hash, rice, and slaw. That's it. Don't have all that other stuff to distract you.
BBQ made right.
Yelp Review
Over on Yelp, Thomas C has B & D Bar-B-Que on his To-Do list each and every time he returns home:
Best BBQ around!!!!! Hands down!!!!!!
I have lived out of state for the past 16 years and come back to visit family as much as possible. Go here every time I come home. I LOVE this BBQ.
IDK why David gave a 1-star rating, but every time I have been here, everything is always delightful and fulfilling.
Mrs. Dixie and her family are always very pleasant and all of the food is always fresh. Will go here to eat as long as they stay open!!!
Now, Joseph B didn't give B & D Bar-B-Que five stars because he would have liked to see more on the menu, but loved what they did have:
I had the pleasure of visiting B & D about a week ago. It is in the middle of nowhere which is a good sign.
The first impression of the building was very clean and a little rustic which is another good sign. The people were as friendly as they can be.
Miss Dixie made you feel like family.
Now the food, My wife, daughter, and I all agree the hash was the best that we have ever tasted. The pulled pork was tender and not greasy. The slaw was good.
The only reason for four stars and not five was they only had two types of pickles and no other sides. I would like to have seen baked beans as a side.
If you are in the area give them a try.
Menu for B&D
Note: Menu prices and options are subject to change over time. Contact the restaurant for the most up-to-date information.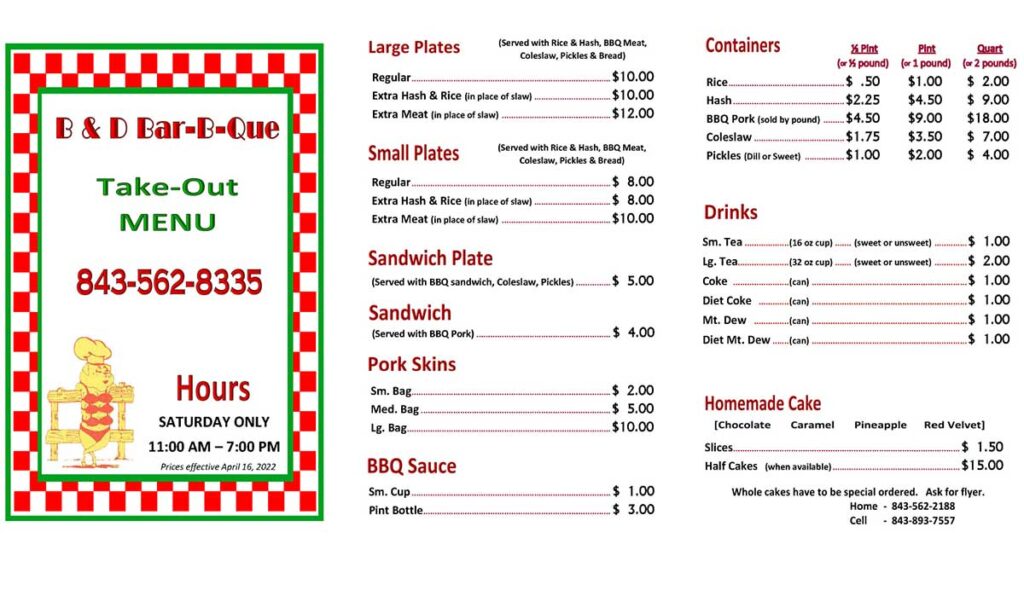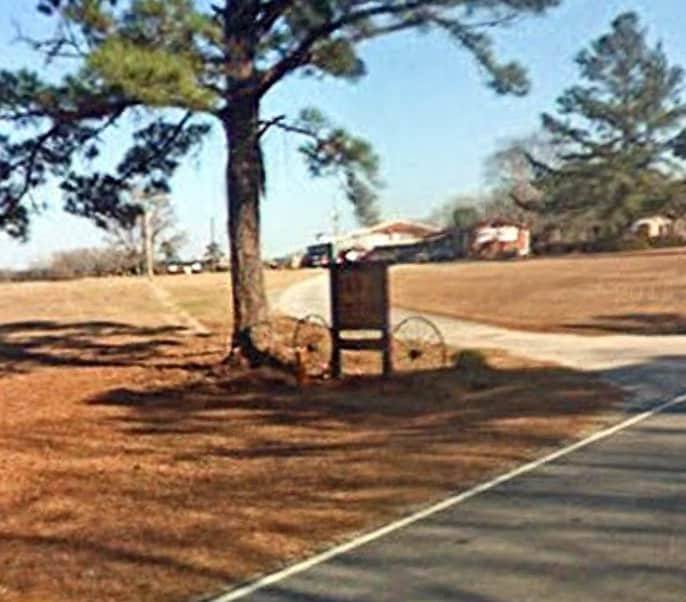 B & D Bar-B-Que
17245 Hunters Chapel Road
Smoaks,
SC
29481
| | |
| --- | --- |
| Monday | Closed |
| Tuesday | Closed |
| Wednesday | Closed |
| Thursday | Closed |
| Friday | Closed |
| Saturday | |
| Sunday | Closed |
Social Media
Features
Cash Only, Hash, Mustard Sauce, Heavy Tomato Sauce