Big T's Bar-B-Que on Congaree
This post may contain links from which I earn a commission. Please read my disclosure policy. As an Amazon affiliate, I earn from qualifying purchases.
If you're looking for true SC BBQ at its finest, look no further than Big T's Bar-B-Que. Larry or "Teddy" "Big T" Brown has served barbecue to the Columbia area for over 30 years.
What makes Big T's authentic SC BBQ?
First, Big T's cooks BBQ the right way. They cook pork shoulders using wood embers burned down from hardwoods in a burn barrel.
"Travis [Big T's son] slow-smokes hog shoulders over hot coals in low metal pits. He burns down piles of wood to coals in a large, warped burn box behind the smokehouse and then shoveled into the pits.
"Once the pork is done, they pull and mix it with a sweet, tangy mustard-based sauce characteristic of the area. Departing from typical old-school barbecue menus, there is also fried fish, fried chicken, burgers, and pork chops. But, as is the case across SC, there is also barbecue hash," writes Robert Donovan in Eater.
Second, as you have read, Big T's BBQ is served with a great mustard sauce, a true SC original recipe.
Third, Big T's BBQ offers hash, yet another SC original. For those not from here, people sometimes described SC BBQ hash as "pork gravy." It is a thick, meaty stew that often sits atop a bed of rice.
Big T's offers a classic SC hash recipe made of pork and offal. (Find out all you ever wanted to know about SC BBQ hash.)
If you want an authentic SC BBQ experience, Big T's Bar-B-Que has it all: wood-cooked pork, mustard sauce, and SC BBQ hash.
Big T's Bar-B-Que Video Feature
Get to know more about Big T's and see them in action in this video feature by SCETV hosted by Dr. Dick Pillsbury. Wait until you see how they cook their pork shoulders. True SC BBQ.
What are Folks Saying about Big T's Bar-B-Que?
In his Google review, Rom Webster writes that Big T's is among the best BBQ joints in SC:
Doesn't get much better than this!
They cook over hickory almost everyday of the week and "import" their Q to the two Columbia restaurants. But why do when you can go to the "mother ship" in Gadsden and get it fresh off the smoker!
Best of all, you'll meet Bit T too! And don't forget to pick up a bottle of Mr. T's Original Sauce in leading grocery store chains in SC! One of the best BarBQ restaurants in the Palmetto State!!!
Over on Yelp, Jane M calls Big T's a "must stop" location:
A Must Stop for great BBQ. Saw great reviews for this BBQ spot, and stopped for lunch after a trip to Congaree National Park.
It was terrific! Absolutely the best pulled pork sandwich and collard greens we've had in a long time.
Friendly staff, simple diner with sports decor. You will be glad you came. Really good food!
What about those SCBBQ experts from the SC BBQ Association?
The SC BBQ Association has named this place one of the Top 100 BBQ houses in the state.
What he is doing right is barbeque and ribs.
He cooks them slow over coals and wood at his Gadsden operation and then delivers the meat to his other two restaurants. And fine, tender barbeque it is with the ribs being especially tender and juicy.
And there is something strangely compelling about Big T's barbeque. Each fork full makes you want to taste another. You won't be leaving any on your plate.
---
Menu for Big T's Bar-B-Que on Congaree
Note: Menu prices and options are subject to change over time. Contact the restaurant for the most up-to-date information.
Click AddClick Add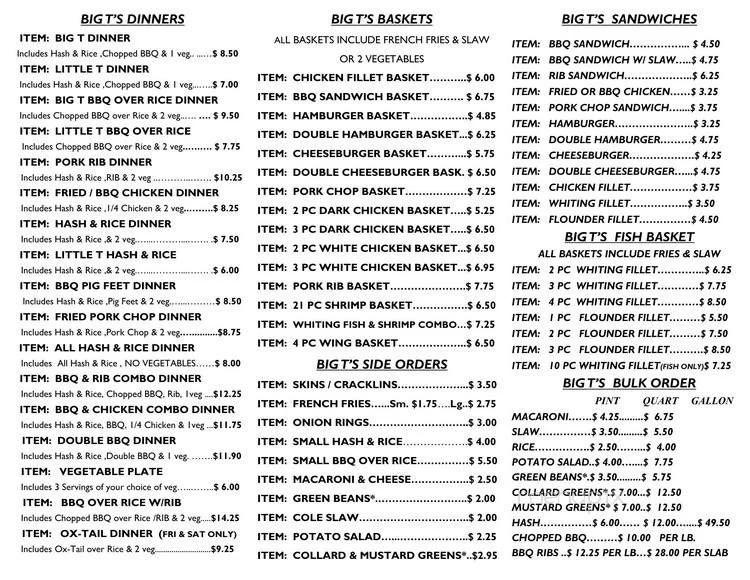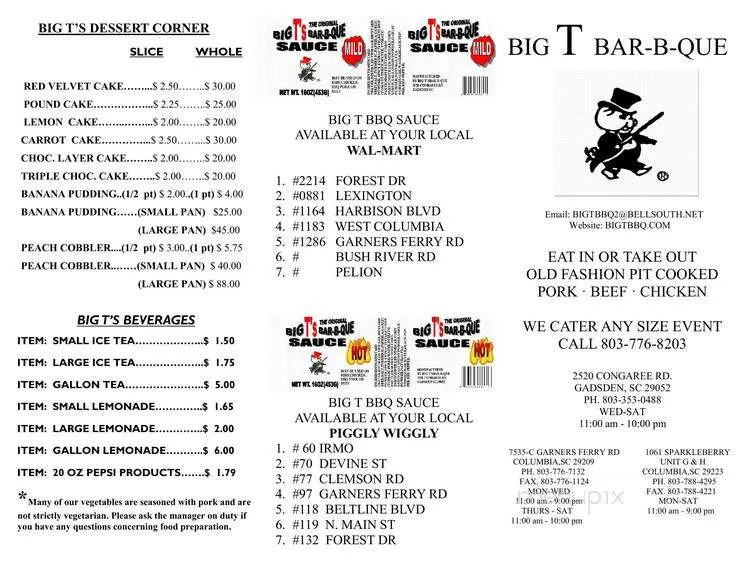 Location, Hours, Contact Info, and More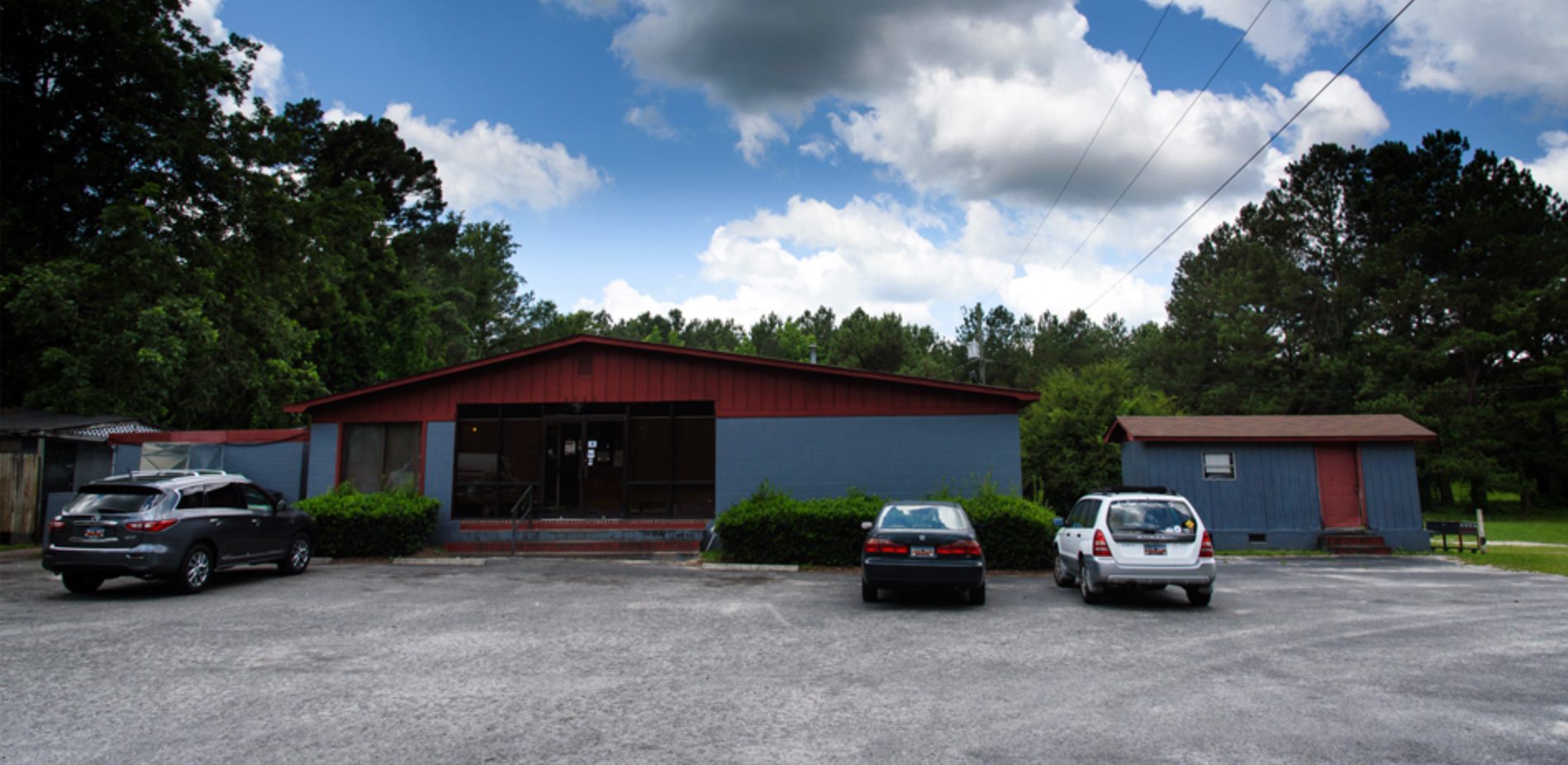 Map
Directions
Contact Big T's Bar-B-Que on Congaree
2520 Congaree Road
Gadsden,
SC
29052
Hours of Operation
| | |
| --- | --- |
| Monday | Closed |
| Tuesday | Closed |
| Wednesday | |
| Thursday | |
| Friday | |
| Saturday | |
| Sunday | Closed |
Review Sites
Features
Cards and Cash, Hash, Heavy Tomato Sauce, Light Tomato Sauce, Mustard Sauce, Vinegar Pepper Sauce