Shuler's Barbecue in Latta
This post may contain affiliate links to Amazon or other vendors I trust. Please read my disclosure policy. As an Amazon affiliate, I earn from qualifying purchases.
Shuler's Barbecue in Latta has been voted Best of the Best Carolina Barbeque according to the Reader's Picks of the Dillon Herald virtually every year since they started in 2008.
In addition, Shuler's Barbecue has been designated "100 Mile Barbeque" by the South Carolina Barbeque Association. This is the SCBA's highest distinction.
In 1956, Shuler Hughes first developed his unique sauce.
It took forty years before Norton decided to share the family's delicious sauce with the world.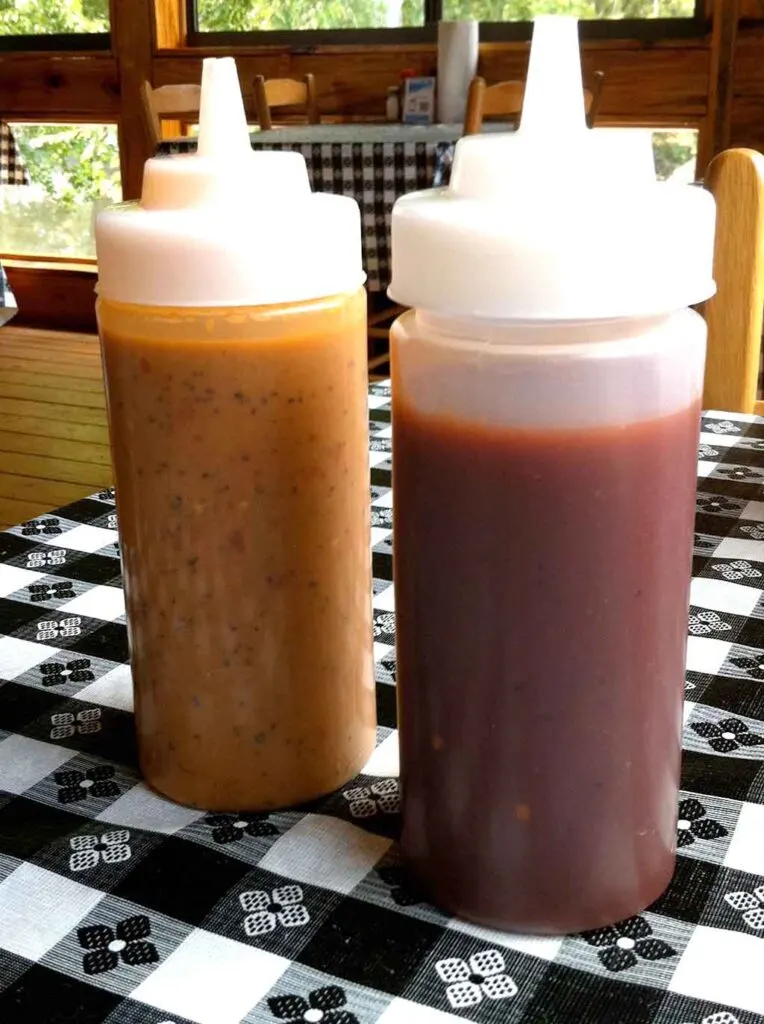 That was over 25 years ago in Latta when the first Shuler's Barbecue was born.
At Shuler's Barbecue in Lake City and Latta, Southern hospitality remains their cornerstone. The friendliest staff around remains ready to bring you a refill with a smile or is happy to just shoot the breeze.
Of course, the food is what brings you to Shuler's; it's the people who bring you back.
The 20 plus item buffet features homestyle BBQ ribs, pulled pork, and chicken. And many of Grandma Loraine's recipes, literally, make up the rest of the buffet line.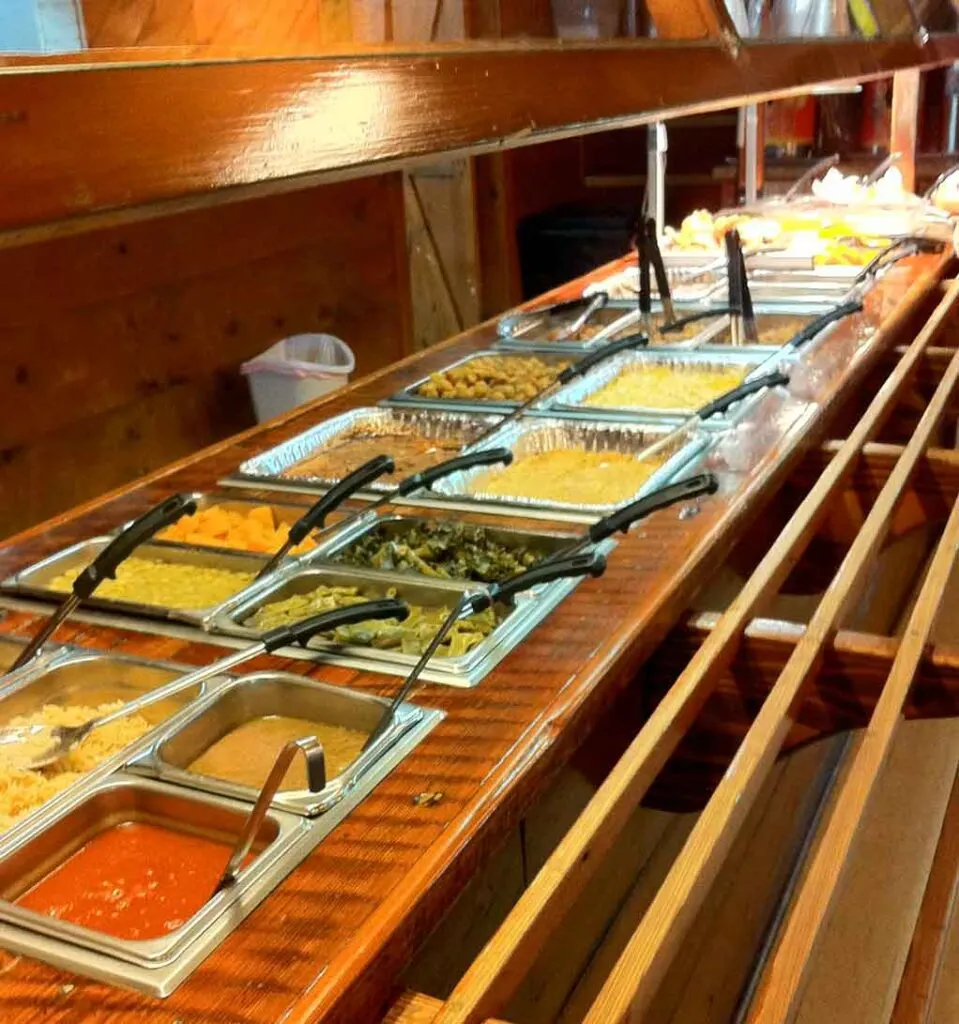 At Shuler's, they make barbecue the way it's supposed to be made- no bones about it!
While the buffet is all you can eat, Norton likes to affectionately refer to the dining experience at Shuler's as "eat 'til ya hurt!"
We hope you like good old-fashioned home cooking, because that's what you're going to get from Shuler's.
They use recipes passed down through the generations of the Hughes family, and Norton and his wife, Lynn, maintain his father's time-honored methods of cooking pork, chicken, and ribs over wood coals.
The "low and slow" method is the only way to cook truly authentic Southern barbecue, and that's how we do things 'round here.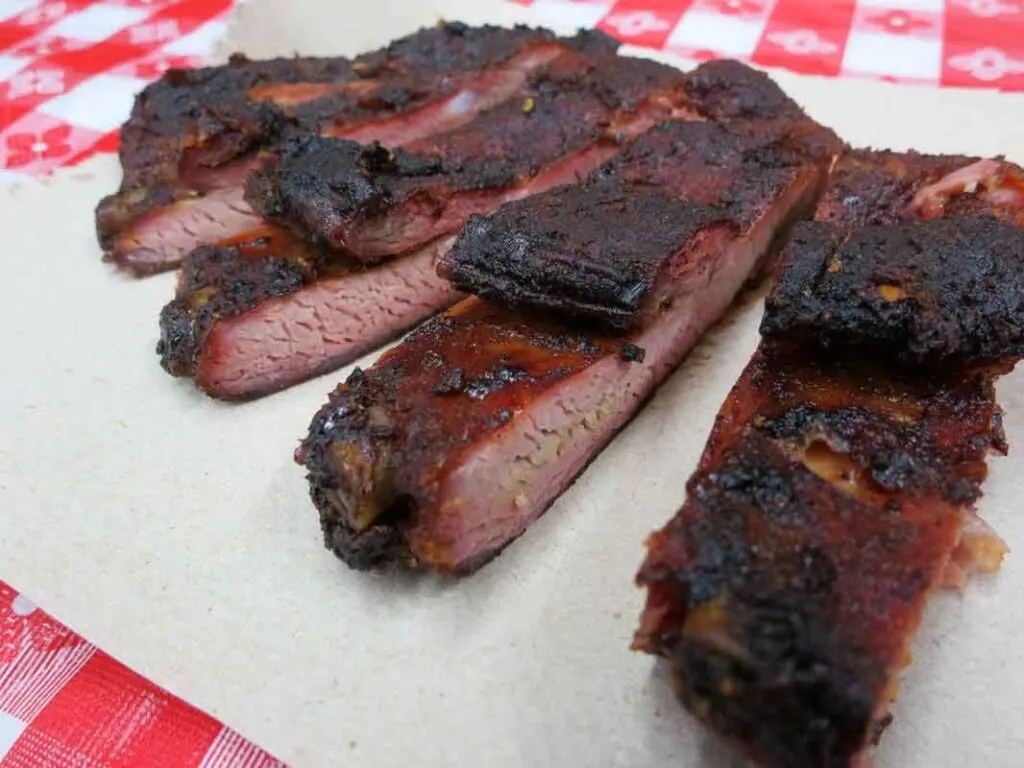 No matter where you call home, you can bring Shuler's great taste and Southern hospitality with you.
Shop our selection of world-famous barbecue delivered right to your door.
Shuler's was featured on CNBC's The Profit starring Marcus Lemonis. See the preview on YouTube here: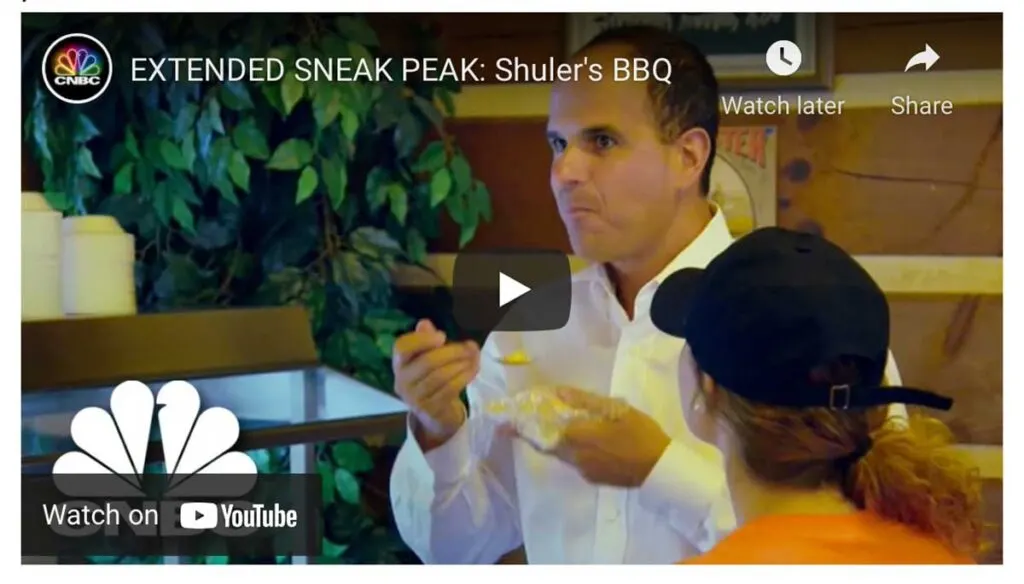 What Folks are Saying about Shuler's Barbecue in Latta
Google Review
Among the hundreds of Google Reviews, Local Guide "Happy Wife" satisfied a craving at Shuler's Barbecue in Latta:
My husband and I have been on a pork fest lately, craving barbecue food, but not from any chain, we want the real deal.
That's exactly what you get here. This is authentic southern barbecue at its best, and if you're in the area, it is a must-go-to STOP.
The ribs, for me, were too spicy and after a few nibbles, I was done. However, if you go for either variation of pulled pork you will be completely satisfied.
The grilled chicken, fried chicken, chicken bog, baked beans, grilled corn on the cob, greens, cornbread, and even the desserts were amazing. The bathrooms are clean and well attended to.
This is a buffet-style meal, with the waitress providing beverages. The prices are reasonable and this is a family-style restaurant.
My only dislikes were that you had to pass by their event room and souvenir shop to finally find the door to the restaurant.
It should be visible from the parking lot. My other dislike is that you must go through the souvenir shop in order to get to your car.
(Editorial note: the restaurant is accessible without going through the attached country store. Just park at the left end of the building.)
Knowing all that, this is an excellent southern barbecue at its finest.
Yelp Review
Over on Yelp, Courtney M. had to visit Shuler's Barbecue in Latta two times before she was willing to write this review:
I rarely give 5 stars, and even in this case waited over a year – until after our second visit – to give this review.
But if any barbecue spot deserves 5-stars, it is Shulers.
We discovered this on a fluke a year or so ago, and despite the great reviews, we were a bit dubious when we saw that it is a buffet. I mean, how often can any buffet keep its dishes fresh and hot, let alone when the dishes include crispy fried chicken and homemade cornbread?
Well, on our first visit we ended up leaving Shuler's shaking our heads at how outrageously good it all was, feeling fat and happy, with a few pounds of pulled pork in coolers to take home for friends.
And our second visit today didn't disappoint.
The same friendly ladies were still working there, and poured our tea and lemonade with a smile while we loaded up at the buffet multiple times.
Every dish they serve is prepared like the best of my southern family's best cooking – from the sweet potato casserole to the house-made pickles.
But the stars of the show are the pulled pork and fried chicken.
My husband and I agree that both are the best we've ever had, and that's with decades of southern experience. 🙂
SC BBQ Association
Sure, folks on review sites often have great things to say about a place, but what about the folks who really know SC BBQ better than anyone? What about the folks who actually train the judges for SC BBQ competitions?
What do they think of this place?
While these two excerpts from their review below were written years before their newest location, Shuler's Barbecue in Lake City, opened, it remains applicable today:
Thank heavens for Shuler's Barbeque because it is in the middle of a virtual barbeque desert.
Dillon County and Marlboro County are almost barbeque-free, as is most of Horry County except for the Beach areas.
But smack dab in the middle of that area, near Latta, SC, just about 4 miles off of I-95, sits Shuler's barbecue and it is true 100 Mile Barbeque.…
If I were traveling on I-95 and if it was anywhere close to lunch or supper time and if I was within 100 miles of Shuler's, then that would be my destination.
Shuler's is where you can find out "what barbeque ought to be."
Read their full review of Shuler's Barbecue
Our Review
Finally, what did we have to say about Shuler's? Here's some of what we wrote in our review:
Overall, Shuler's is definitely a great place to stop.
The BBQ is fantastic as were most of the sides. Not only do you get to enjoy great food, but the location is very convenient for those traveling nearby, and the setting is about the best you will find of any BBQ spot in SC.
What's not to love?
Read our full review of Shuler's Barbecue
Menu for Shuler's Barbecue in Latta
Note: Menu prices and options are subject to change over time. Contact the restaurant for the most up-to-date information.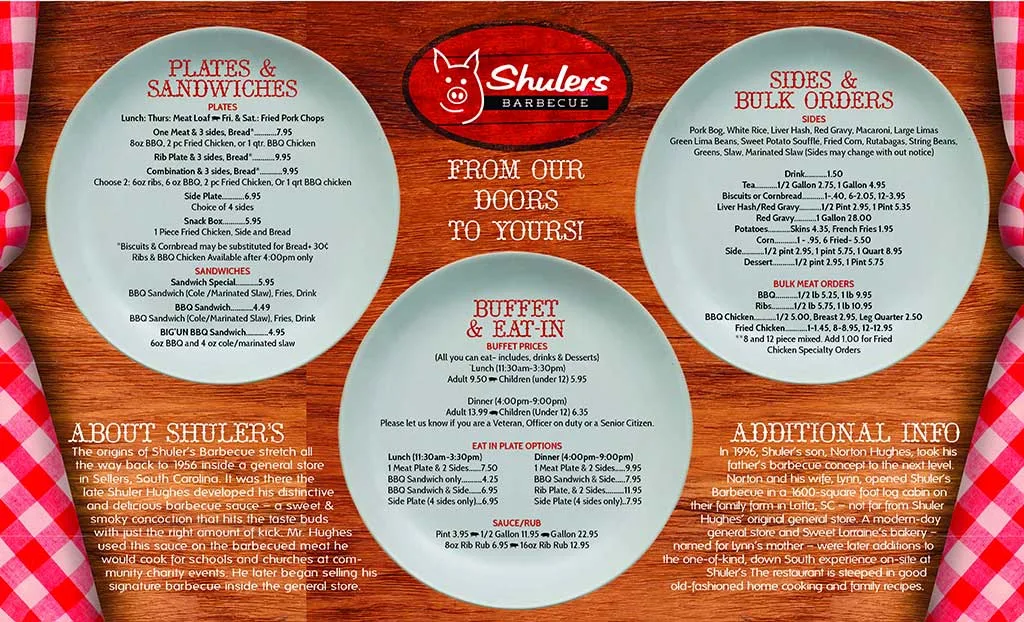 Location, Hours, Contact Info, and More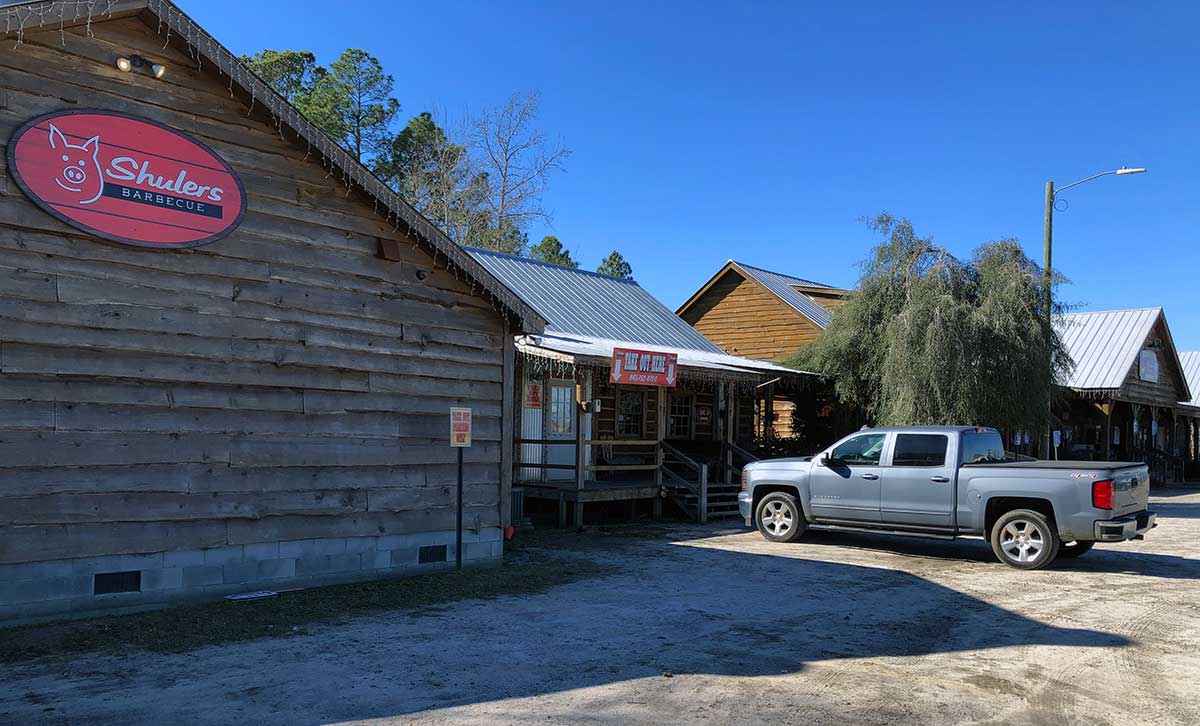 Map
Directions
Contact Shuler's Barbecue in Latta
419 Highway 38 W
Latta,
SC
29565
Hours of Operation
| | |
| --- | --- |
| Monday | Closed |
| Tuesday | Closed |
| Wednesday | Closed |
| Thursday | |
| Friday | |
| Saturday | |
| Sunday | Closed |
Review Sites
Features
100 Mile BBQ, Buffet, Cards and Cash, Hash, Mustard Sauce, True 'Cue Certified, Vinegar Pepper Sauce