Shuler's Barbecue in Lake City ***Permanently Closed***
This post may contain links from which I earn a commission. Please read my disclosure policy. As an Amazon affiliate, I earn from qualifying purchases.
Shuler's Barbecue in Lake City is the new sister restaurant to the original in Latta. Widely considered among the best BBQ restaurants in South Carolina, Shuler's Lake City restaurant expands their footprint.
Regularly selected Best of the Best Carolina Barbeque according to the readers' picks of the Dillon Herald, Shuler's Barbecue's reputation is sterling.
In fact, Shuler's has been designated "100 Mile Barbeque" by the South Carolina Barbeque Association.
Shuler's Barbecue is family-owned, founded by Lynn and Norton Hughes and named after their grandson Shuler, who was named in honor of Norton's father.
In 1956, Shuler Hughes first developed his unique sauce.
It took forty years before Norton decided to share the family's delicious sauce with the world.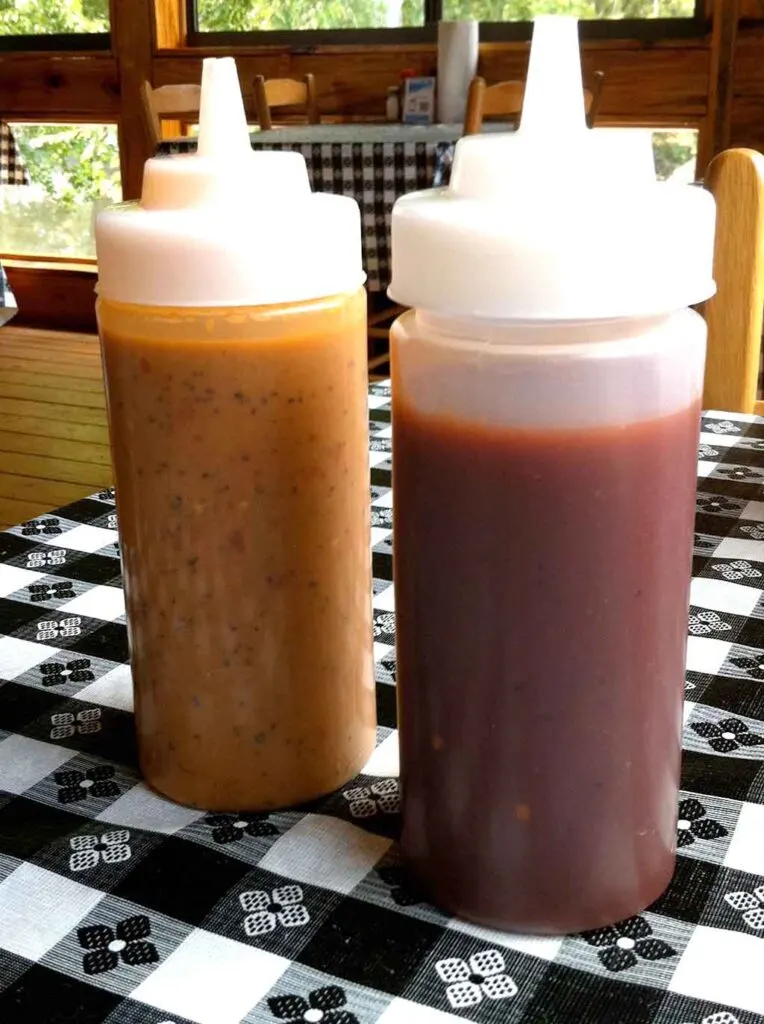 That was over 25 years ago in Latta when the first Shuler's Barbecue was born.
At Shuler's Barbecue in Lake City and Latta, Southern hospitality remains their cornerstone. The friendliest staff around remains ready to bring you a refill with a smile or is happy to just shoot the breeze.
Of course, the food is what brings you to Shuler's; it's the people who bring you back.
The 20 plus item buffet features homestyle BBQ ribs, pulled pork, and chicken. And many of Grandma Loraine's recipes, literally, make up the rest of the buffet line.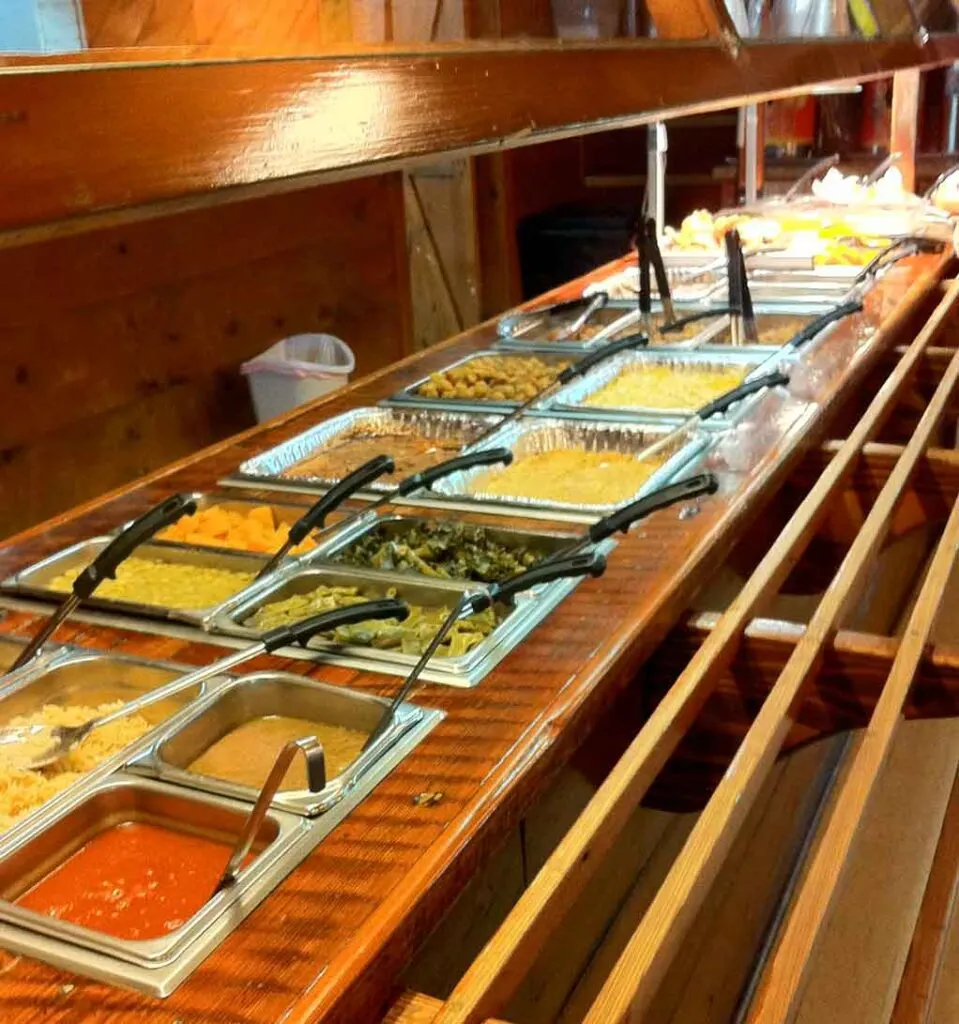 At Shuler's, they make barbecue the way it's supposed to be made- no bones about it!
While the buffet is all you can eat, Norton likes to affectionately refer to the dining experience at Shuler's as "eat 'til ya hurt!"
We hope you like good old-fashioned home cooking, because that's what you're going to get from Shuler's.
They use recipes passed down through the generations of the Hughes family, and Norton and his wife, Lynn, maintain his father's time-honored methods of cooking pork, chicken, and ribs over wood coals.
The "low and slow" method is the only way to cook truly authentic Southern barbecue, and that's how we do things 'round here.
No matter where you call home, you can bring Shuler's great taste and Southern hospitality with you.
Shop our selection of world-famous barbecue delivered right to your door.
Shuler's was featured on CNBC's The Profit starring Marcus Lemonis. See the preview here: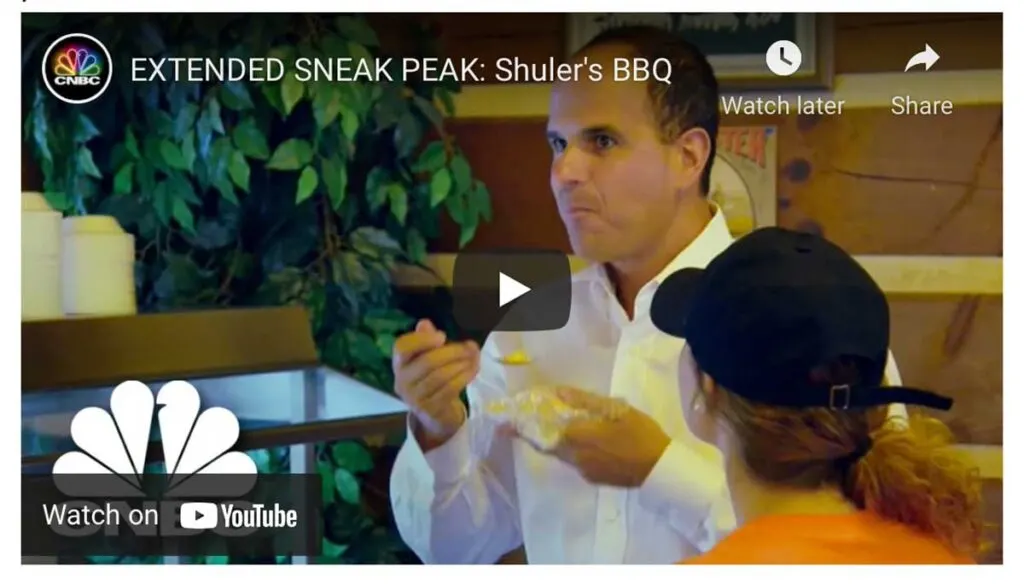 What Folks are Saying about Shuler's Barbecue in Lake City
Google Reviews
Among the Google Reviews, Local Guide Chris Fueckstar declares Shuler's Barbecue in Lake City to the be area's new destination BBQ joint:
100 mile BBQ. Shulers is the new best Q in the area.
The pulled pork was fantastic. The ribs were the best I have had on a buffet ever.
The liver hash was seasoned perfectly and flavorful, finally. Fried corn,pork chops, chicken, greens – all delicious!
Sorry Schoolhouse and Browns, Shulers is now the BBQ destination in the area.
Another reviewer on Google, Joe Rimer recommends Shuler's Barbecue's buffet or take out:
Shulers is great Southern BBQ, ribs, chicken and all the sides! The staff is very friendly and helpful.
The ribs, BBQ chicken and pulled pork were awesome!
The buffet has more selections than you can possibly try. It's all very tasty.
I highly recommend Shulers BBQ to anyone who loves good food. You can also order from menu or get takeout as well
SC BBQ Association
Sure, folks on review sites often have great things to say about a place, but what about the folks who really know SC BBQ better than anyone? What about the folks who actually train the judges for SC BBQ competitions?
What do they think of this place?
While these two excerpts from their review below were written years before Shuler's in Lake City opened, it remains applicable today:
Thank heavens for Shuler's Barbeque because it is in the middle of a virtual barbeque desert.
Dillon County and Marlboro County are almost barbeque-free, as is most of Horry County except for the Beach areas.
But smack dab in the middle of that area, near Latta, SC, just about 4 miles off of I-95, sits Shuler's barbecue and it is true 100 Mile Barbeque.…
If I were traveling on I-95 and if it was anywhere close to lunch or supper time and if I was within 100 miles of Shuler's, then that would be my destination.
Shuler's is where you can find out "what barbeque ought to be."
Read their full review of Shuler's Barbecue
Finally, what did we have to say about Shuler's? Like before, the review below was written about the original location, years before Shuler's Barbecue in Lake City opened.
Here's some of what we had to say:
Overall, Shuler's is definitely a great place to stop. The BBQ is fantastic as were most of the sides.
Not only do you get to enjoy great food, but the location is very convenient for those traveling nearby and the setting is about the best you will find of any BBQ spot in SC.
What's not to love?
Read our full review of Shuler's Barbecue
Menu for Shuler's Barbecue in Lake City
Note: Menu prices and options are subject to change over time. Contact the restaurant for the most up-to-date information.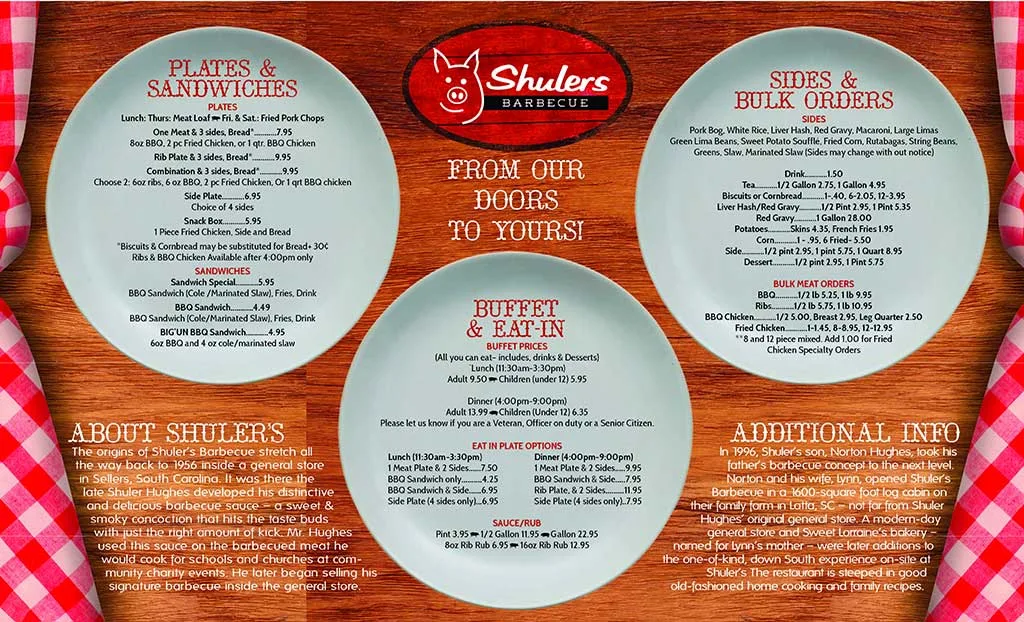 Location, Hours, Contact Info, and More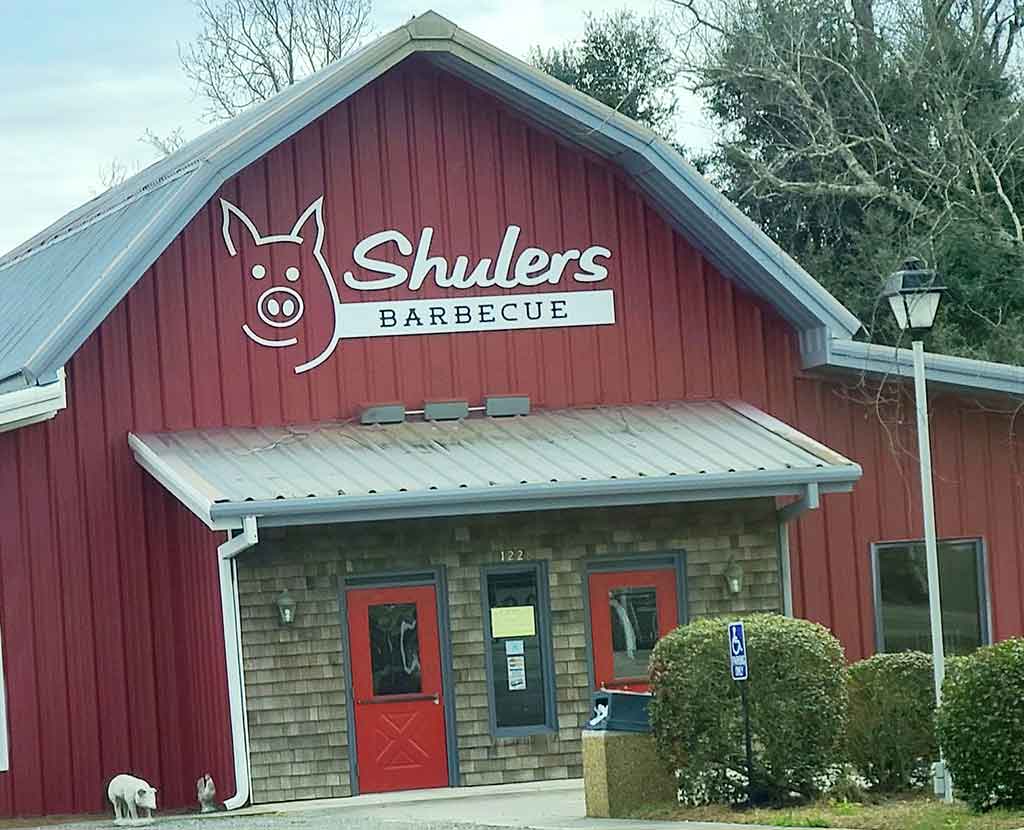 Map
Directions
Contact Shuler's Barbecue in Lake City ***Permanently Closed***
1224 West Turbeville Hwy
Lake City,
SC
29560
Hours of Operation
| | |
| --- | --- |
| Monday | Closed |
| Tuesday | Closed |
| Wednesday | Closed |
| Thursday | |
| Friday | |
| Saturday | |
| Sunday | Closed |
Features
100 Mile BBQ, Buffet, Cards and Cash, Hash, Mustard Sauce, True 'Cue Certified, Vinegar Pepper Sauce