True BBQ of Myrtle Beach: Home of the Best Barbeque you can find on the Grand Strand
Simply put, True BBQ of Myrtle Beach is not some fancy place you have to get dressed up for, nor is it some obscenely large buffet.
In fact, you won't even find a dining room, but they do provide picnic tables out front if you just cannot wait. However, what True BBQ of Myrtle Beach lacks in size and space they make up for in providing authentic South Carolina smoked barbecue.
Ture BBQ stands out as a family-owned and operated business. Joseph Evans and his wife Sheila have been serving up slow-smoked BBQ in Myrtle Beach since 2013.
The couple boasts four beautiful children, four grandsons, and one granddaughter named True, for whom they named the restaurant.
A Bit of History
Evans, born in 1957 in Georgetown, SC, lost his mother when he himself was quite young. His grandmother, Mrs. Effie Hemingway, a nanny and cook by trade, helped to raise him.
At an early age, she taught him how to cook and instilled in him a work ethic that would carry him through life.
As he got older, Evans started working in restaurants, first as a dishwasher. Quickly, he started working the fryer and worked his way up to the grill.
By questioning the experienced cooks, Evans learned a lot. As time went on, he would take cooking jobs all over the area.
Each summer, Evans would expand his skills by working in a new restaurant, learn from some of the best cooks in Myrtle Beach.
Eventually, God blessed Joseph and Sheila, allowing them to open True BBQ where he cooks Myrtle Beach's best slow-cooked ribs, Boston butts, chicken, and beef brisket in two Cookshack pits.
What's on the Menu
Simply put, Evans' lifetime of knowledge cooking in Myrtle Beach restaurants is obvious in every bite. Without question, he has perfected his craft.
Infused throughout Evans' meats, you will savor the smoky flavor of the hardwood he uses. The pork barbecue is amazing, the tender pulled smoked chicken is nothing less than fantastic.
But let's not forget about the ribs. Simply the best ribs you'll ever taste: juicy, tender, full of the right note of smokiness.
Despite what some folks think, the meat of ribs should not fall off the bones. Rather, it should easily bite through leaving a visible bite mark.
That's just what the ribs at True BBQ of Myrtle Beach do.
On the other hand, even the most seasoned pitmasters know brisket is a challenge to cook. Getting it to come out tender and moist is difficult, but Evans has mastered the process.
The brisket at True BBQ of Myrtle Beach is thinly sliced and is so succulent you're likely to devour a pound before you think to even grab a fork.
The Evans' make great side dishes. The coleslaw is crisp, creamy, and sweet, and the potato salad boasts nice chunks of skin-on potatoes.
An SC BBQ Original
True BBQ of Myrtle Beach serves a true SC BBQ original, hash, and rice.
For those of you visiting Myrtle Beach from out of state, this dish is probably not what you think, as it is not often found outside of SC.
Hash is a meaty "gravy," often based on pork barbecue, which people usually serve over white rice. To die for!
As for the barbecue sauce, True BBQ of Myrtle Beach offers several varieties. The first is a sweet tomato-based sauce labeled A** Kickin Sauce.
Another is traditional South Carolina-style mustard with a mild but spicy kick known as Tangy Gold. The eastern SC BBQ tradition is represented with their True House Vinegar.
There is also a Fire Hot and True Sweet sauce.
Take note of their hours, however. True BBQ of Myrtle Beach is open from 11 a.m. to 6 p.m. Thursdays through Saturdays, as is common among SC BBQ joints.
Most of the best do not operate every day….there is a reason for that.
NOTE: True BBQ of Myrtle Beach was so successful they opened a second, much bigger location. However, a fire destroyed the building and they chose not to rebuild. Here is what they posted about it on their Facebook page:
"Our hearts are truly heavy with the unfortunate event that happened tonight. Our second location on 341 Robert Grissom Parkway has caught on fire and is ruined.
"We are permanently closed at this location. Thank you all for your support and prayers. If you would like to continue to patronize us, please join us at our Socastee Location. God Bless."
What Folks are Saying
Google Review
Myrtle Beach resident and Texas transplant Jon Mayhall had given up on SC BBQ until now according to his Google Review:
I'm originally from Dallas, TX and have grown up on BBQ.
I've lived in Myrtle Beach for over two years and quit eating BBQ anywhere on the east coast. Little did I know that there is a fabulous place right down the street from me.
I love the fat that was in my brisket sandwich and the Bun was so fresh. The ribs had a great taste but were a little tough.
In addition, the sides were both simple and great. I'll be eating here a lot more.
Yelp Review
Ironically, over on Yelp, Julie M. originally hails from SC but now lives in Texas. She teared up at the taste of the food at True BBQ of Myrtle Beach:
Firstly, I'm a South Carolina girl living in Texas. There's nowhere in the state that caters to my Carolina taste buds.
I've been missing true southern-style BBQ for almost 20 years.
Recently, I visited True BBQ, and Tamika's hash literally brought tears to my eyes! Loved every bite of my pulled pork and couldn't get enough of her tangy House Vinegar Sauce. I put that sauce on eeeverything!!
True BBQ did not disappoint. If you're looking for real South Carolina southern BBQ while visiting Myrtle Beach, don't pass up True BBQ!
The sweet tea is serious and the food is amazing. I even had to ask for an extra order of hash, to go! 😉
---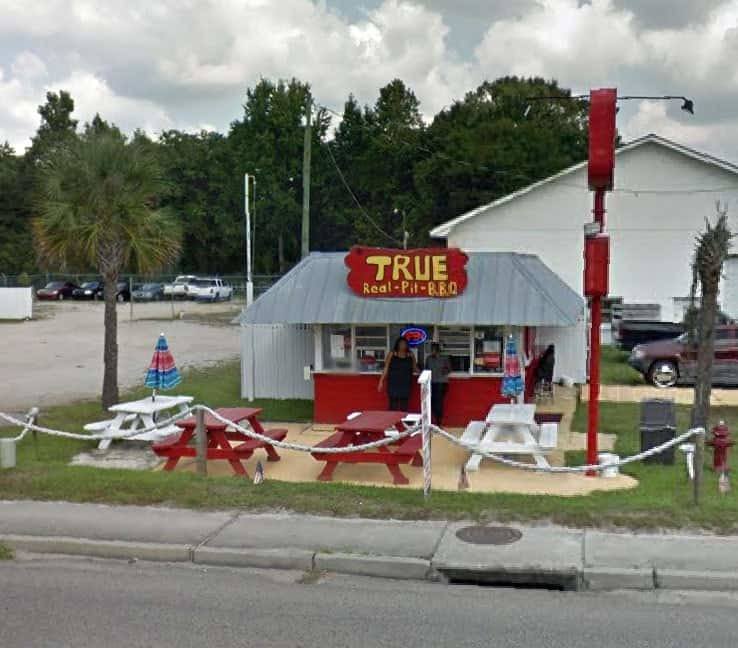 True BBQ of Myrtle Beach
4002 Socastee Blvd.
Myrtle Beach,
SC
29588
| | |
| --- | --- |
| Monday | Closed |
| Tuesday | Closed |
| Wednesday | |
| Thursday | |
| Friday | |
| Saturday | |
| Sunday | Closed |
Review Sites
Features
True 'Cue Certified, Cards and Cash, Hash, Mustard Sauce, Vinegar Pepper Sauce, Light Tomato Sauce, Heavy Tomato Sauce