November 19, 2022
@
11:00 am
–
4:00 pm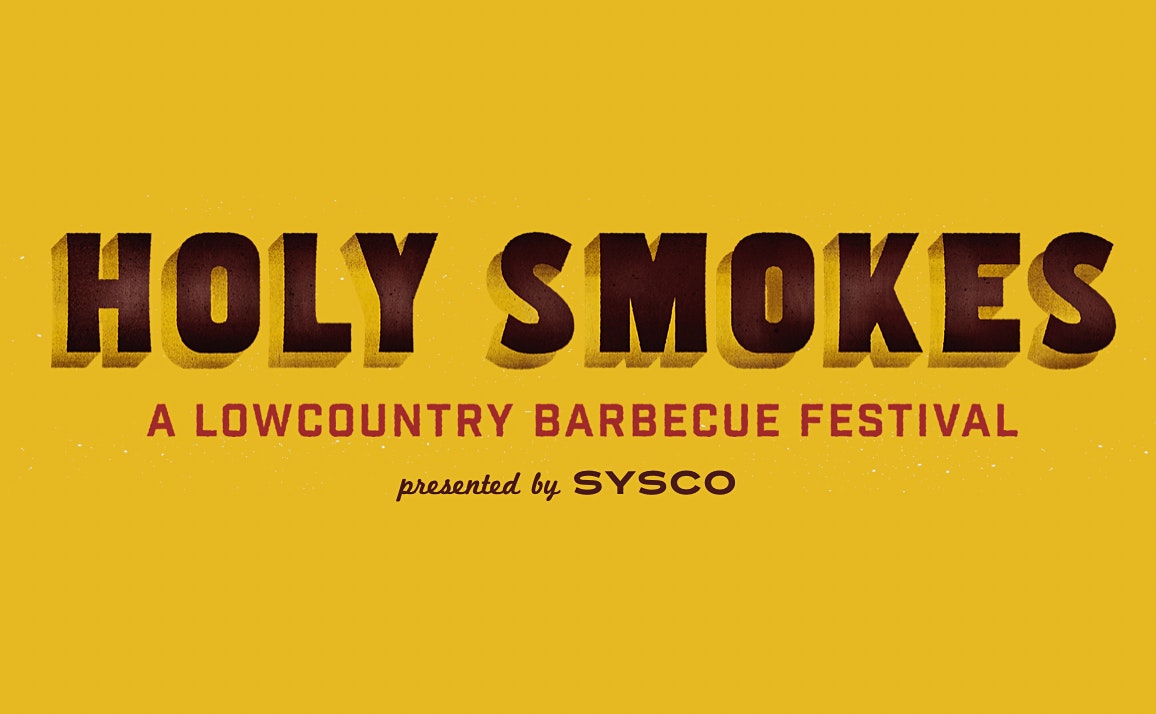 Join Us at Riverfront Park from 11 am-4 pm on November 19th, 2022!
Holy Smokes BBQ Festival brings the leaders of the national barbecue community together in Charleston for a festival paying homage to the history, culture, and traditions of American barbecue.
At the same time, they are raising awareness and funds for families affected by pediatric brain cancer through donations to Hogs for the Cause, MUSC Shawn Jenkins Children's Hospital, and the Ronald McDonald House of Charleston.
This barbecue festival is truly unique from other BBQ festivals across the nation with over 30 pitmasters coming to the Lowcountry from 11 states including Texas, New York, California, and right here in South Carolina.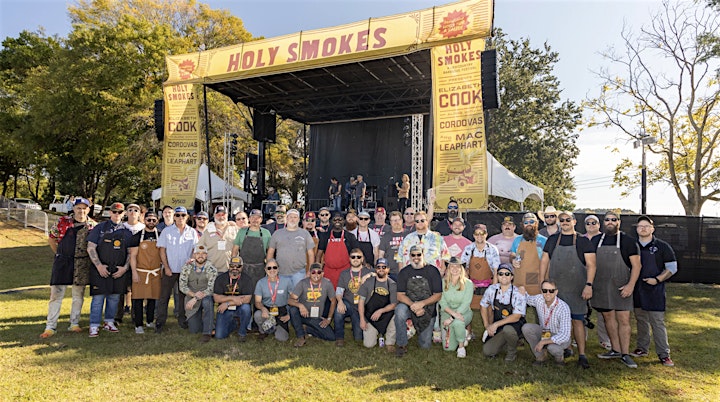 Aaron Siegel and Taylor Garrigan of Home Team BBQ, Anthony DiBernardo of Swig & Swine, and Robert Moss, the Contributing BBQ Editor for Southern Living, have invited the leaders of the barbecue community from around the country to come together in Charleston on November 19th, 2022 at Riverfront Park.
Collaboration not Competition
When you think of a barbecue festival, you may immediately think of a cook-off-style competition where attendees only get to watch. But at Holy Smokes you have all-you-can-eat access to some of the best BBQ flavors grill masters can dream of.
Holy Smokes is a festival of pitmasters that collaborate instead of competing. The pitmasters work together in groups of 6-7 to prepare three plates in each village (Texas, Traditional, New School, and Coastal).
This incredible range of smokey creations is for all festival attendees to sample, experience, and enjoy (and boy, will they enjoy.)
Robert Moss, a member of the Holy Smokes planning team, says, "It's amazing to see the different pitmasters bring their unique styles to the table to share experiences and techniques, and truly work together to create some great barbecue."
Each village has a different theme; allowing attendees the opportunity to appreciate barbecue flavors from every style including classic, Texas, coastal, and new school barbecue.
The Coastal Village is a new addition to this year's festival, bringing the Lowcountry's famous fresh-caught seafood into the BBQ mix.
Expect to taste slow-smoked whole hog, pork and beef ribs, Texas-style brisket, smoked sausage, BBQ tacos, and much, much more.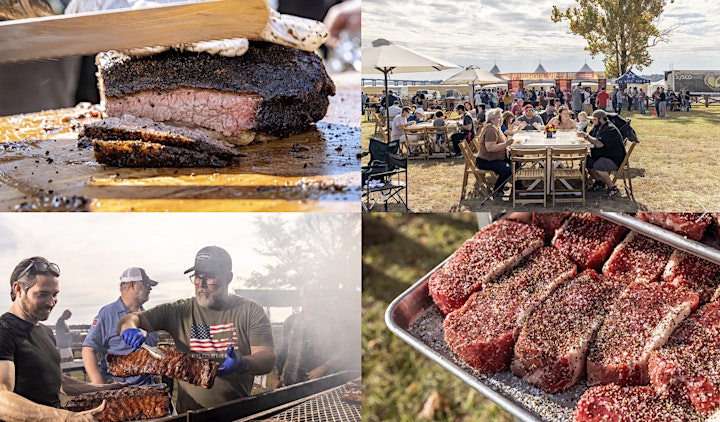 Great Music Great Place
This year, Holy Smokes is being held along the Cooper River at the beautiful waterfront venue Riverfront Park in North Charleston.
The venue's large layout offers more room to spread out and allows the space for three bands to play in a lineup on a large stage. Attendees can enjoy live performances by 49 Winchester, Travers Brothers, and Warrick McZeke.
Great Cause
In addition to great music and excellent barbecue, this festival raises awareness and funds for families affected by pediatric brain cancer through donations to Hogs for the Cause, MUSC Shawn Jenkins Children's Hospital, and the Ronald McDonald House of Charleston.
Hogs for the Cause is a charity 501c23 assisting families with children who are battling brain cancer. The charity began in New Orleans to help children battling brain cancer and their families. Today, barbecue festivals from all around, including Charleston, partner with this great cause. Holy Smokes is a proud to partner with such a wonderful organization.
There will also be even more pitmasters at this year's festival. While many of last year's collaborators had an amazing time and couldn't wait to get back on the BBQ lineup, some new faces joined the team and are eager to bring their skill set to the Lowcountry.
When asked about his personal favorite aspect of the festival, Robert Moss had many options come to mind. He said, "One of the things I love most about this festival is the unique location on the water in the Lowcountry at a venue you can't find anywhere else. And the pitmasters are so creative and talented– you never truly know what to expect. In the best way."
As far as what type of barbecue you'll enjoy? It'll be a wonderful surprise for all. But one thing is certain; you'll be able to sample the barbecue classics– like the whole hog and ribs.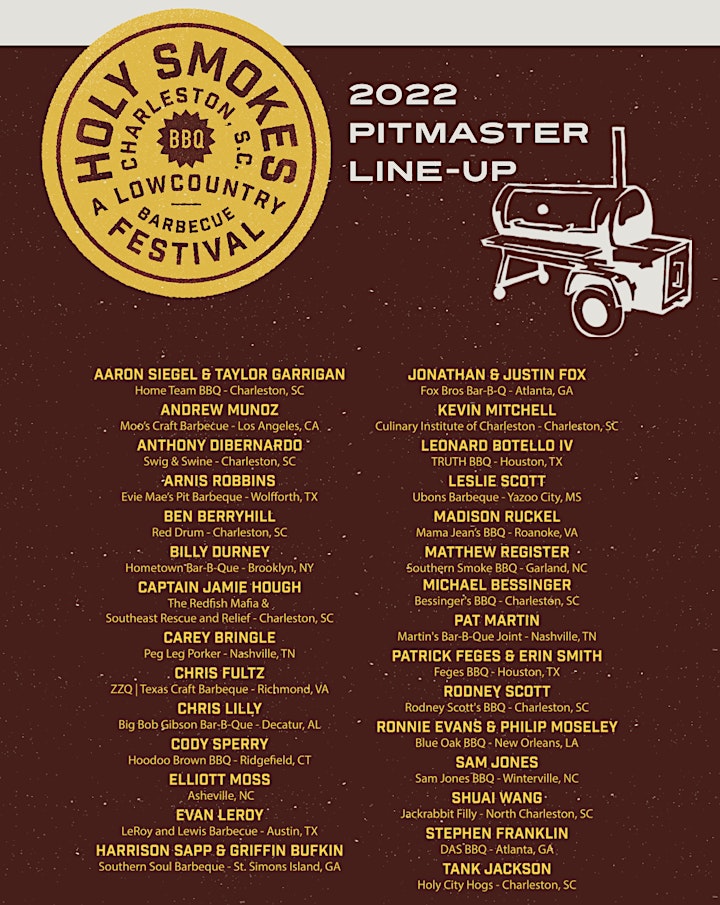 Click here to visit our website and sign up for the newsletter!
Related Events