BBQ by Robbie at the Tin Zoo ***Permanently Closed***
BBQ by Robbie, like all great SC BBQ joints is only open on weekends.
Long-time Columbia-area caterer Robbie Robertson has built his reputation on amazing food.
"We cook and serve authentic South Carolina BBQ," Robertson said. "Along with our melt-in-your-mouth BBQ, we offer all kinds of sides and desserts. We do catering for any event where you serve food."
On the menu, you will find sandwiches and plates of pulled pork, pulled chicken, and brisket. There are barbecued chicken plates, racks of ribs, and BBQ rice trays as well.
In addition, BBQ by Robbie serves a South Carolina original, hash and rice. Among other sides, you will find classics like baked beans, slaw, and Mac 'n' cheese.
On the dessert menu, don't overlook the banana pudding or the peach cobbler.
What Folks are Saying about BBQ by Robbie
Google Review
Among the many Google Reviews, Local Guide Mike Ward has tried a lot of the menu and keeps coming back:
BBQ by Robbie at the Tin Zoo is phenomenal. It is rare that I'm over the moon about a restaurant, but Robbie's BBQ is great.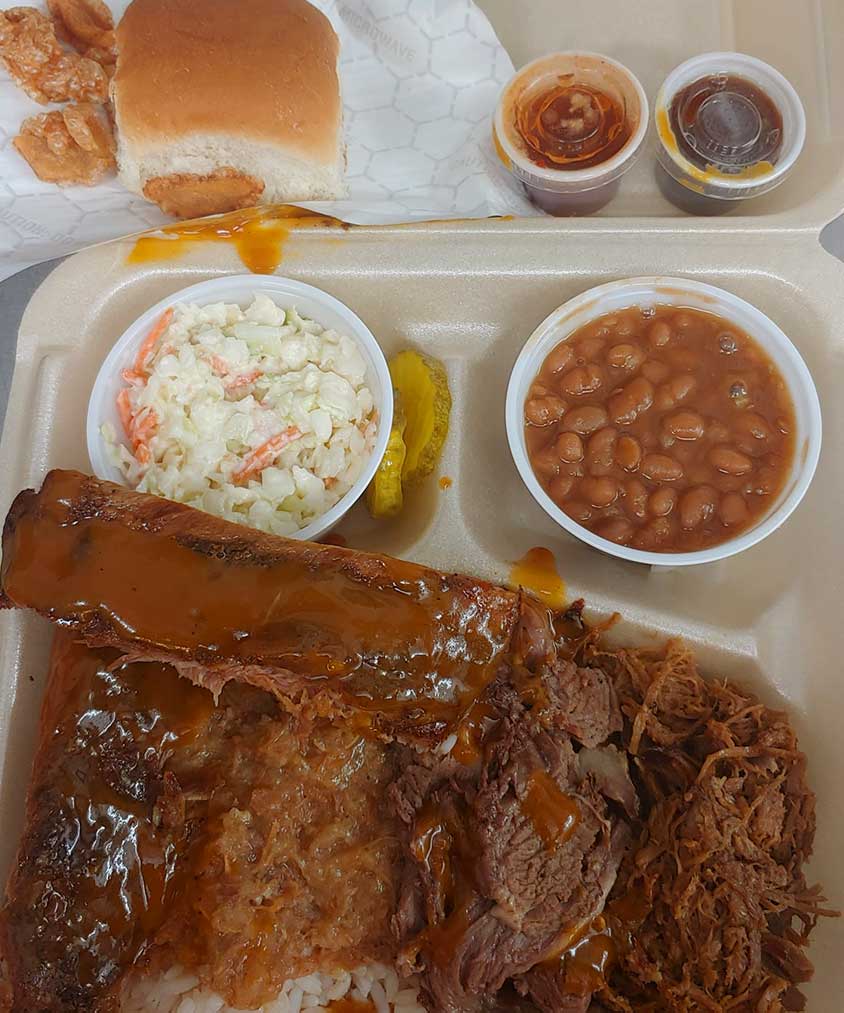 We have tried his BBQ pork family with hash and rice, baked beans, coleslaw, rolls, and banana pudding! WOW. Keep it up. I've even had his brisket and that was worth every bite.
BBQ by Robbie is a great addition to the Irmo area. I hope you keep up the great work and stay in business for a long time. Feel free to share this anywhere that anyone wants to know about your food!
TripAdvisor Review
Over on TripAdvisor, Columbia-area local "Citallwic" also has visited more than once and is looking forward to his next visit to BBQ by Robbie's:
Tasty BBQ and eye catching yard art
BBQ by Robbie is new to the Irmo restaurant scene as of last fall, but many 'que-loving folks in the Midlands know that Robbie Robertson has been cooking toothsome BBQ for a long time. This food-to-go joint is tucked into Shoppers Walk in that colorful little building next to Irmo News that formerly housed Parrotphernalia.
On my first visit I bought a brisket plate for $10.95. Yum! The next time I ordered a full rack of ribs, a delicious treat that you can order either wet or dry, and it's a real bargain at just $12.
I'll probably order pulled pork or pulled chicken next and also try some of that catfish stew.

BBQ by Robbie is open Friday from 10:30 am to 6:00 pm and Saturday from 10:30 "until they run out." Likely as not, Robbie himself will be there to greet you and chat.
BTW, this place is also known as "BBQ by Robbie at the Tin Zoo." The Tin Zoo part of the moniker refers to the large array of Mexican yard art and signs occupying a good deal of space in the building. I haven't bought any of that stuff, but it's been fun to browse.
Menu for BBQ by Robbie
Note: Menu prices and options are subject to change over time. Contact the restaurant for the most up-to-date information.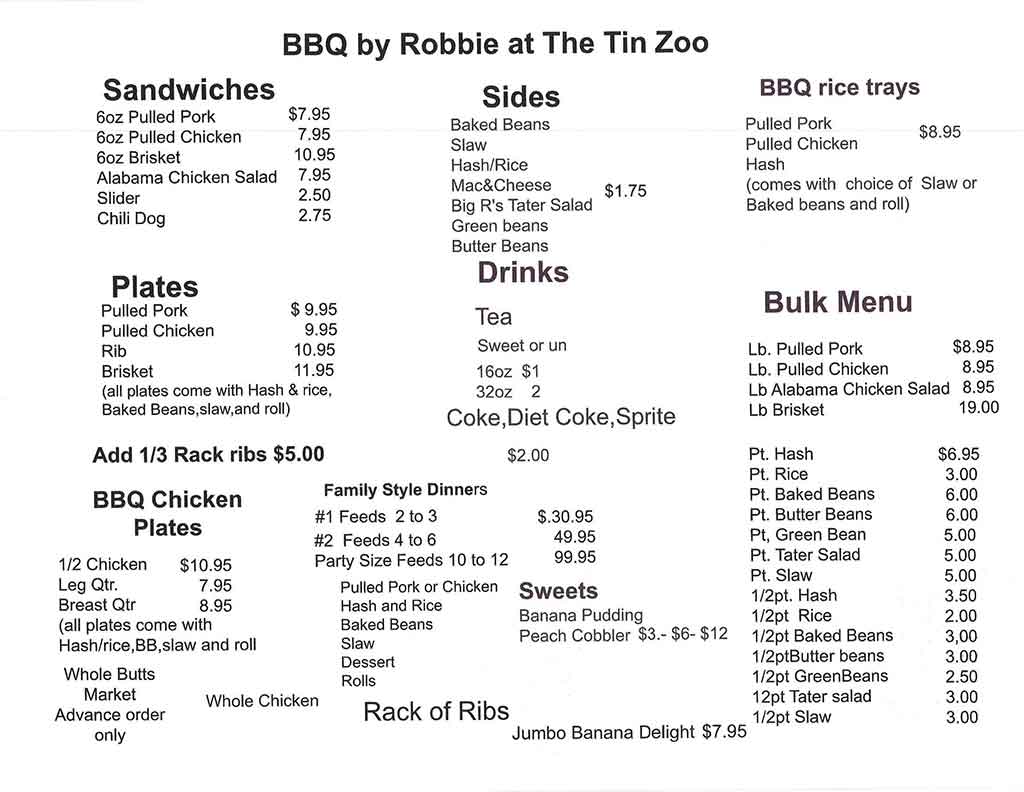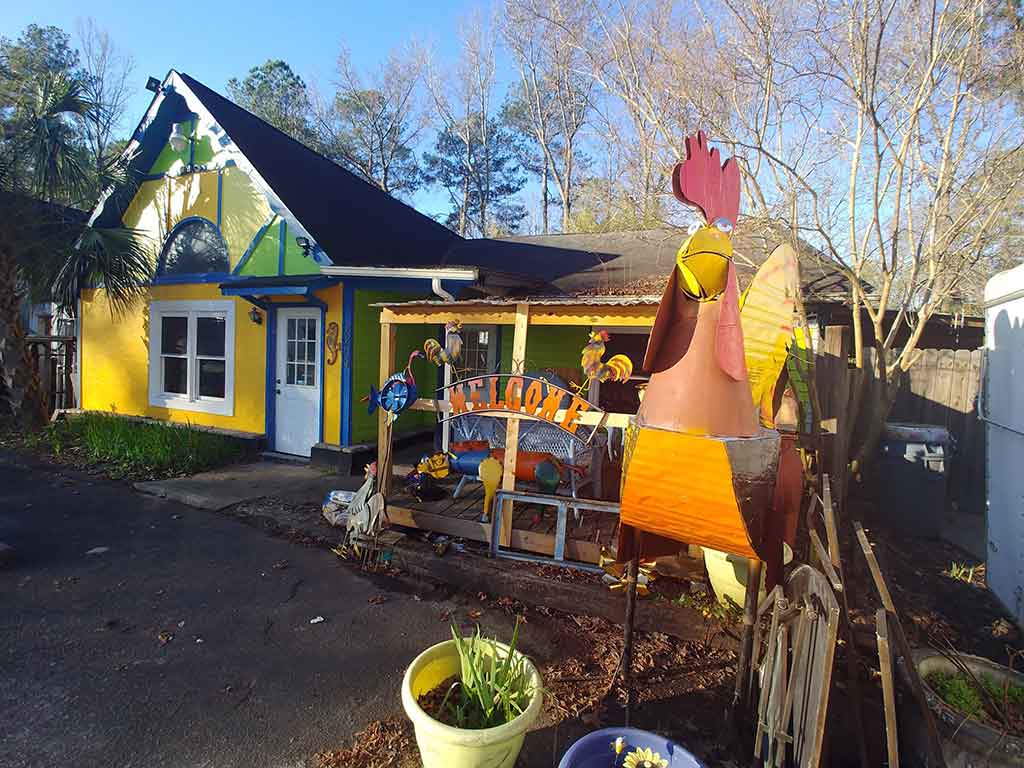 BBQ by Robbie at the Tin Zoo ***Permanently Closed***
7709 St. Andrews Rd.
Irmo,
SC
29063
| | |
| --- | --- |
| Monday | Closed |
| Tuesday | Closed |
| Wednesday | Closed |
| Thursday | Closed |
| Friday | |
| Saturday | |
| Sunday | Closed |
Social Media
Review Sites
Features
Cards and Cash, Hash, Mustard Sauce, Light Tomato Sauce, Heavy Tomato Sauce