Belly's Southern Pride Bar-B-Que
This post may contain links from which I earn a commission. Please read my disclosure policy. As an Amazon affiliate, I earn from qualifying purchases.
Belly's Southern Pride Bar-B-Que opened in 2002 by Lexington County natives Tom and Gloria Shealy.
A veteran of the barbecue cook-off circuit, Tom figured a restaurant was the next logical step and a way to supplement the family income. In recent years, Chef Chris Hyler purchased the restaurant.
Hyler is both a Lexington local, having attended Lexington High School which is literally right across the street.
After studying culinary arts at Johnson and Wales and working in restaurants from Charleston to Columbia — including a stint working for the Kennedy family in Massachusetts — Hyler returned to his roots.
With high-level training and respect for a local landmark, Hyler worked first to maintain Belly's sterling reputation. Then, he added his own twist with specials that are to die for.
Belly's remains predominantly a carry-out place, but seating is now available.
What's on the Menu
The menu features all of Belly's favorites – pulled pork, chicken, ribs, and beef brisket. They do not heavily sauce their dry-rub ribs and chicken and the meat is perfectly cooked.
Hyler continues to serve three sauces – mustard, vinegar-pepper, and tomato-based.
All the sides come from family recipes. They include seasoned mac & cheese, baked beans, coleslaw, potato salad, and green beans.
In addition, Belly's serves a mustard-based pork hash that sits nicely on top of the white rice they serve it upon – just as it always has. Some say that the hash and rice echoes the one once used by the famous Oak Grove Barbecue before that restaurant was lost to fire.
Maybe so or maybe it's the stuff of Lexington Barbecue Lore. Either way, it is an excellent example of South Carolina barbecue hash.
You will order from the menu. There is no buffet as is common in some BBQ joints in the area, but the helpings served are plenty for even the healthiest appetite.
Bulk orders please call 24 hours in advance.
What Folks are Saying about Belly's Southern Pride Bar-B-Que
Firstly, there is an organization in SC that hosts competitions and trains judges on the BBQ cook-off circuit. They also rate many of our state's BBQ restaurants, saving their highest rating for the most special restaurants.
The SC BBQ Association awarded that distinction to Belly's Southern Pride Bar-B-Que, naming it "100-Mile BBQ" — BBQ worth driving 100 miles for. Here's part of what they had to say about Belly's:
Some of our judges — and it is not a small number — think Belly's has the best ribs in the state.
There are lots of competitors for that honor so getting so many votes from our several hundred judges really means something.
Plus, Belly's is right in the middle of Lexington County and it has to be able to hold its own among the four other 100 mile barbeques that you will find in that barbeque-rich county, a task which it is quite equal to.
Google Review
Google reviewer Brandy Johnston knows you will not be disappointed eating at Belly's Southern Pride Bar-B-Que as she insists in her Google Review:
By far, it is the best BBQ in the state cooked by a brilliant and very talented chef, whose daily specials veer far from BBQ.
Such specials include seafood chowder made with rock shrimp, and if you've ever had rock shrimp you know it is fabulous on its own. Smoked chicken and dumplings that will go toe to toe with your grandmas!
Smoked brisket chili that will knock your socks off! Fresh Maine lobster rolls, and oyster stew that was divine, and just right for these chilly days.
The chef, Chris Hyler will soon be doing some Italian dishes including his luscious lasagna!! And we're all anxiously awaiting his Tiramisu!
Go by and visit for an incredible experience with this chef and his equally knowledgeable staff. You won't be disappointed!!
Yelp Review
Over on Yelp, Lexington native Megan P and her husband ordered delivery — more than once — from Belly's Southern Pride Bar-B-Que and found the food arrived both hot and well seasoned:
We ordered through bite squad and I honestly wasn't expecting much. The food is amazing.
Perfect BBQ with your choice of sauce and 3 sides plus a roll under 10$ delivered yes, please! I got the mustard bbq and my husband got vinegar. Both were awesome.
The macaroni & cheese is better than I can make at home. It's cheesy and creamy but baked. The Lima beans…perfectly seasoned, too.
Even ordering through bite squad the food arrived quickly and still steaming hot. We ordered last Friday and again today that's how good the food is!
Also on Yelp, Alistair T considers Belly's Southern Pride Bar-B-Que the best BBQ in Lexington:
I read some reviews about Belly's and my friend had them cater his birthday party, but when I went myself one Sunday evening, I experienced the friendliest staff I've ever encountered at a BBQ joint.
The food. OMG the pork, ribs, and chicken were absolutely amazing. I will be honest and say the chicken was a little dry, but it was the last day close to closing, so I'll give them another try on that.
However, the pulled pork, ribs, mac and cheese, and the hash were phenomenal.
Best BBQ place around here hands down. If you think Hudson's is good, you have not even brushed the surface of good local Carolina BBQ!
---
Menu for Belly's Southern Pride Bar-B-Que
Note: Prices and options are subject to change over time. Also, note that Belly's often offers a number of different daily specials.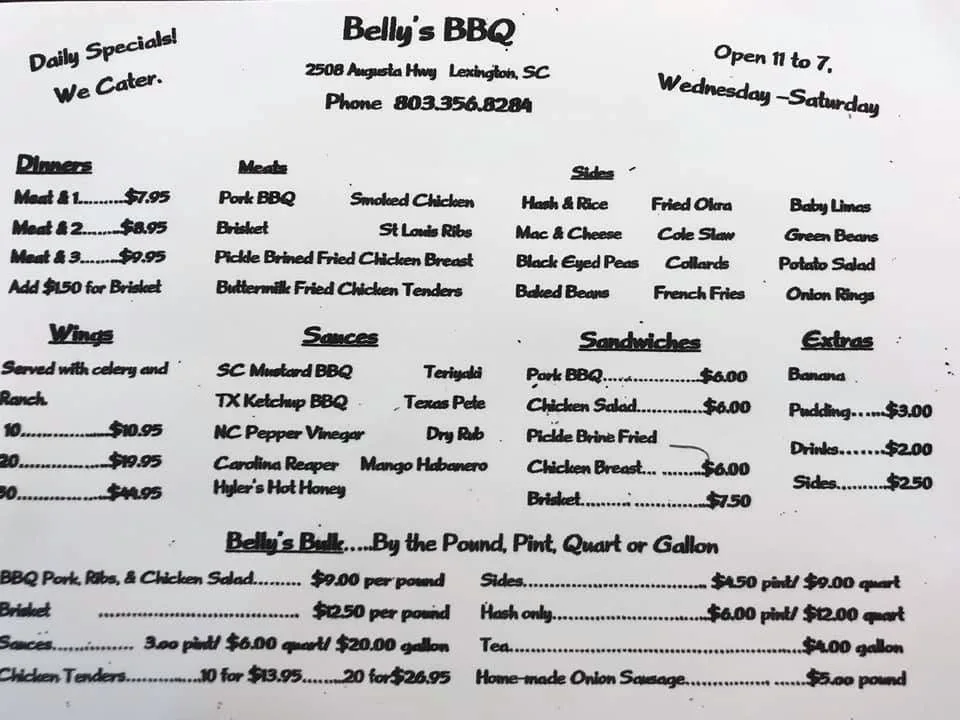 Location, Hours, Contact Info, and More
Map
Directions
Contact Belly's Southern Pride Bar-B-Que
2508 Augusta Highway
Lexington,
SC
29072
Hours of Operation
| | |
| --- | --- |
| Monday | Closed |
| Tuesday | |
| Wednesday | |
| Thursday | |
| Friday | |
| Saturday | |
| Sunday | Closed |
Review Sites
Features
100 Mile BBQ, Cards and Cash, Hash, Heavy Tomato Sauce, Light Tomato Sauce, Mustard Sauce, True 'Cue Certified, Vinegar Pepper Sauce