Bluffton BBQ: "We're not a restaurant; We're a BBQ Joint"
Bluffton BBQ is not fast food; it's slow-cooked for at least 12 hours.
To some true Southerners, BBQ is almost a religion or a science. When you find someone who understands the tradition of the technique it's like finding an artist whose paintings you love.
Ted Huffman's friend, Joe Harden brought up a quote by Jason Sheehan that summed up how we feel.
"I believe in the art of generations of pitmen working in relative obscurity to keep alive the craft of slow cooking as it's been practiced for as long as there has been fire.
"A BBQ cook must have an intimate understanding of his work. The physics of fire and convection, the science of heat and meat and smoke — and then forget it all to achieve a sort of Zen instinct for the process."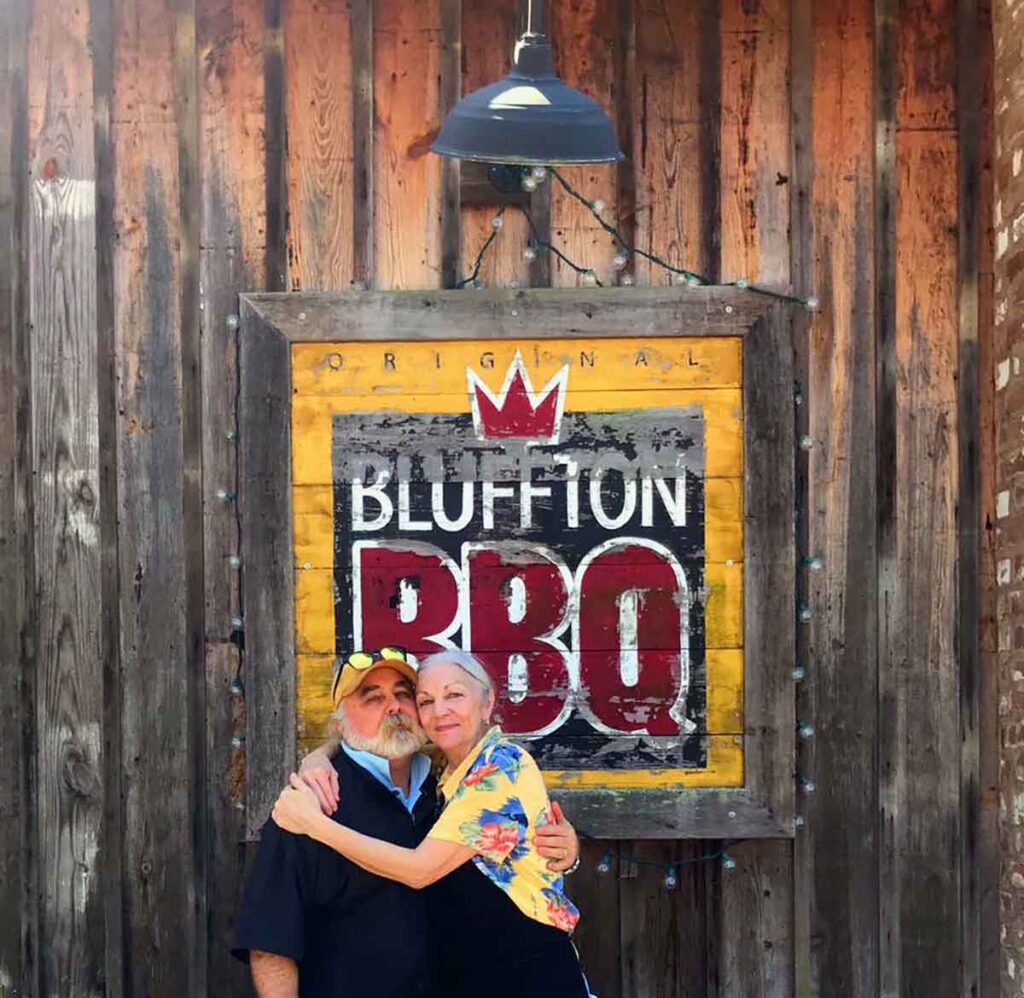 Another good friend said the following:
"There are three things absolutely necessary for any reputable town, a good church, a fun place to gather, and a decent purveyor of BBQ – which under the right circumstances can act as all three."
What Folks are Saying
Yelp Review:
A man of many words, but few actual reviews, Matthew P's visit to Bluffton BBQ inspired him to write the following on Yelp:
Fast, Local, and Great BBQ!

BBQ joints in the South are the equivalent of white mares dressed as unicorns on Halloween. They are not necessarily a rare sight.
They all believe themselves deserving of the lone horn, and yet the majority of them aren't worth a second glance. Bluffton BBQ on the other hand has earned its sparkles!

A local eatery in downtown Bluffton, this unicorn delivers everything you are looking for in southern BBQ but with a unique and special touch.
The slaw is perfectly crisp and free from the mayonnaise soup many establishments deliver. It contains unique ingredients like corn and a dash of red seasoning that I can only take a guess at.
It provides you with that soulful feeling of selecting a genre staple but the comfort of knowing its health benefits might keep that waistline exactly where it was when you walked in.

Speaking of waistline…..the mac and cheese was worth every savory bite! (I didn't say we were aiming for Mr. Olympia here in personal physique).
But seriously, in today's world, everybody and their grandmother tries to get fancy with their mac and cheese recipes when in reality we just want our plastic Velveeta over shells.
Bluffton BBQ does you one better, real cheddar cheese over sizable macaroni noodles. Its basically what Velveeta should have been before they realized how far government cheese could take them….and what they could charge for it.
If you don't opt for the Mac & Cheese at Bluffton BBQ you are certainly missing out.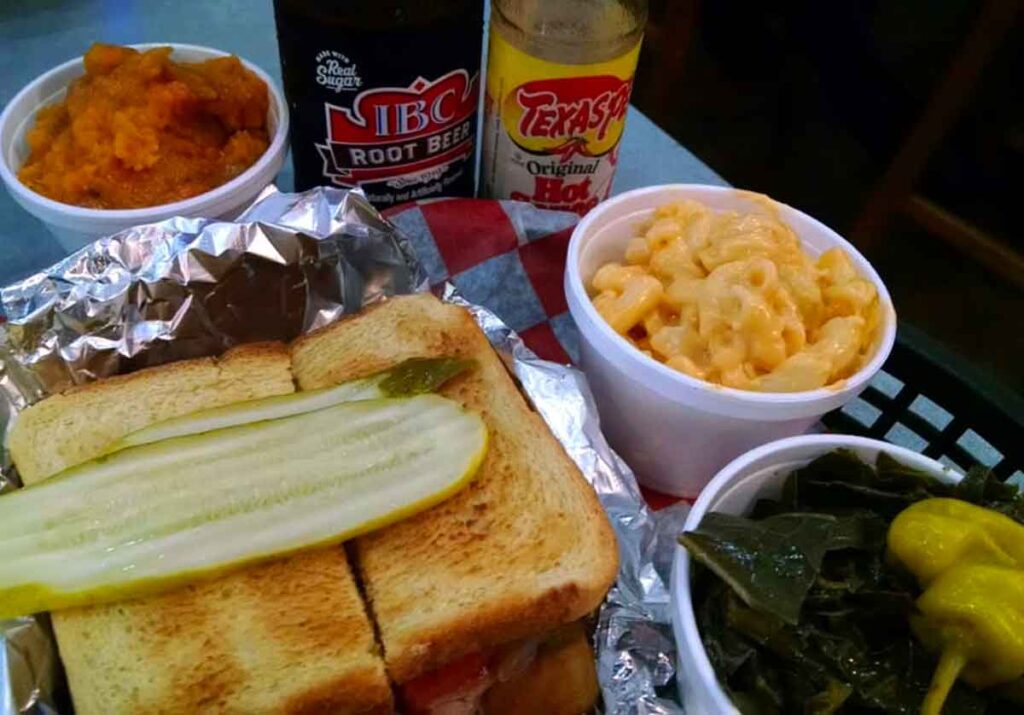 Last but not least was the main course.
I always struggle when I go to order at BBQ joints. My heart says RIBS!, my mouth says BRISKET!, and my wallet doesn't say either, and in the end, I feel I must try the classic pulled pork sandwich at new BBQ places. The classic sandwich is the foundation that every BBQ place is built on.
Fortunately for the guests…Bluffton's mouthwatering, high piled, pulled pork sandwich on golden, perfectly toasted bread is the epitome of BBQ in this area.
Here again, comes the unique touch of 1 tomato slice and their own house-made sauce.
I was unsure about the tomato addition at first but stepping away from the norm of a pickle or slaw on top of my BBQ proved to be a decision I will stick with more frequently.
Did I mention all the above was a mere $10?

This establishment and its owner have found a lasting customer, and I encourage those reading this to commit to the same. Nice food, nice ambiance, great price.
Google Review:
More succinct in his praise but a lover a Bluffton BBQ nonetheless, Local Guide Doc Campbell wrote the following in his review:
Ted has created a BBQ masterpiece!
I say Ted like I know him and I feel like I do, extremely friendly chap who knows his way around a pit. Food is excellent.
Not a fan of counter-serve, but this place does it right. Great feel, wonderful staff, you can't go wrong in old town. Dog-friendly patio to boot!"
Get to Know Ted Huffman, owner of Bluffton BBQ
---
Menu for Bluffton BBQ
Note: Menu prices and options are subject to change over time. Contact the restaurant for the most up-to-date information.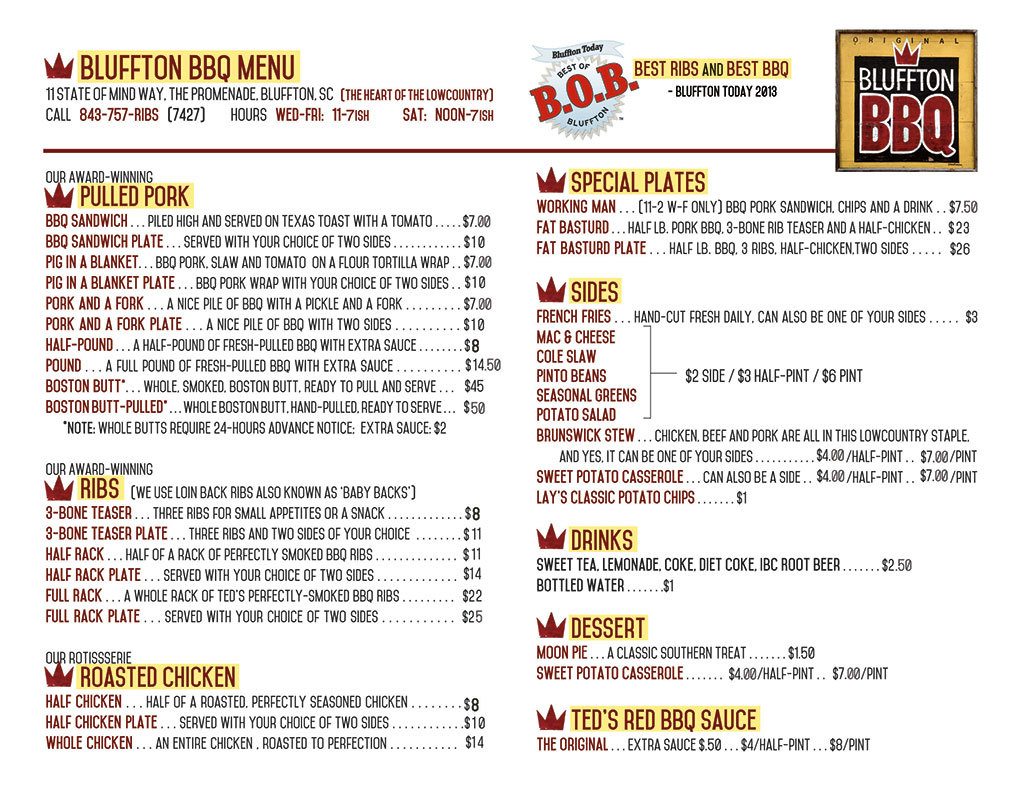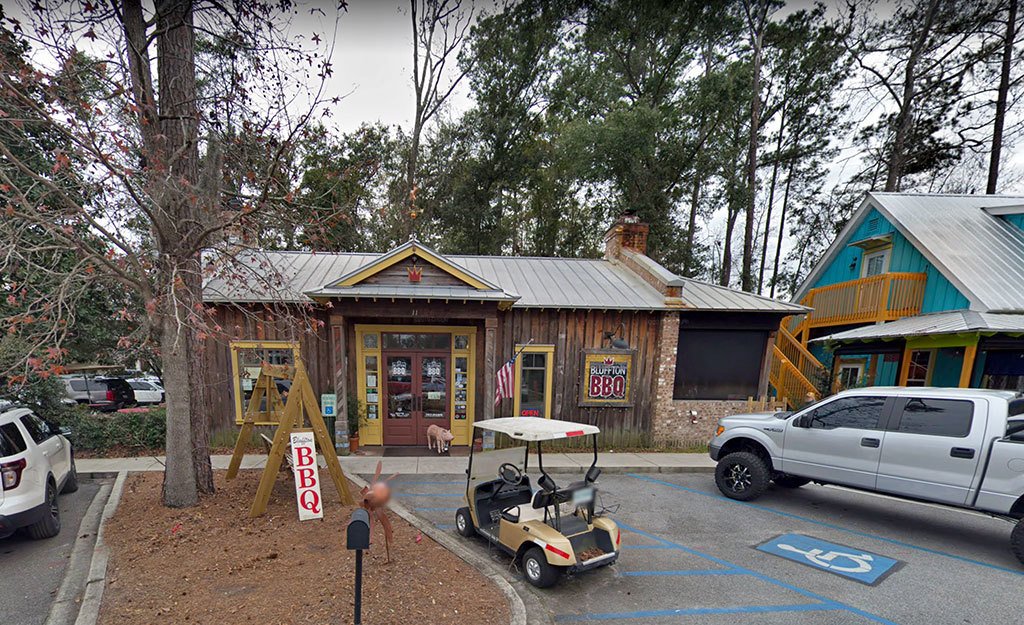 Bluffton BBQ
11 State of Mind Way
Bluffton,
SC
29910
| | |
| --- | --- |
| Monday | Closed |
| Tuesday | Closed |
| Wednesday | |
| Thursday | |
| Friday | |
| Saturday | |
| Sunday | Closed |
Review Sites
Features
Cards and Cash, Heavy Tomato Sauce