Boondocks Fish Camp & BBQ
This post may contain affiliate links to Amazon or other vendors I trust. Please read my disclosure policy. As an Amazon affiliate, I earn from qualifying purchases.
A Family Legacy
Tucked away in the peaceful countryside of Gray Court, SC, is a hidden gem that has been delighting barbecue enthusiasts since its inception. Welcome to Boondocks Fish Camp & BBQ, a family-owned restaurant that's as rich in flavor as it is in history.
Owned and operated by Christian and Christine Perry, the restaurant's name, Boondocks, is a tribute to its idyllic location.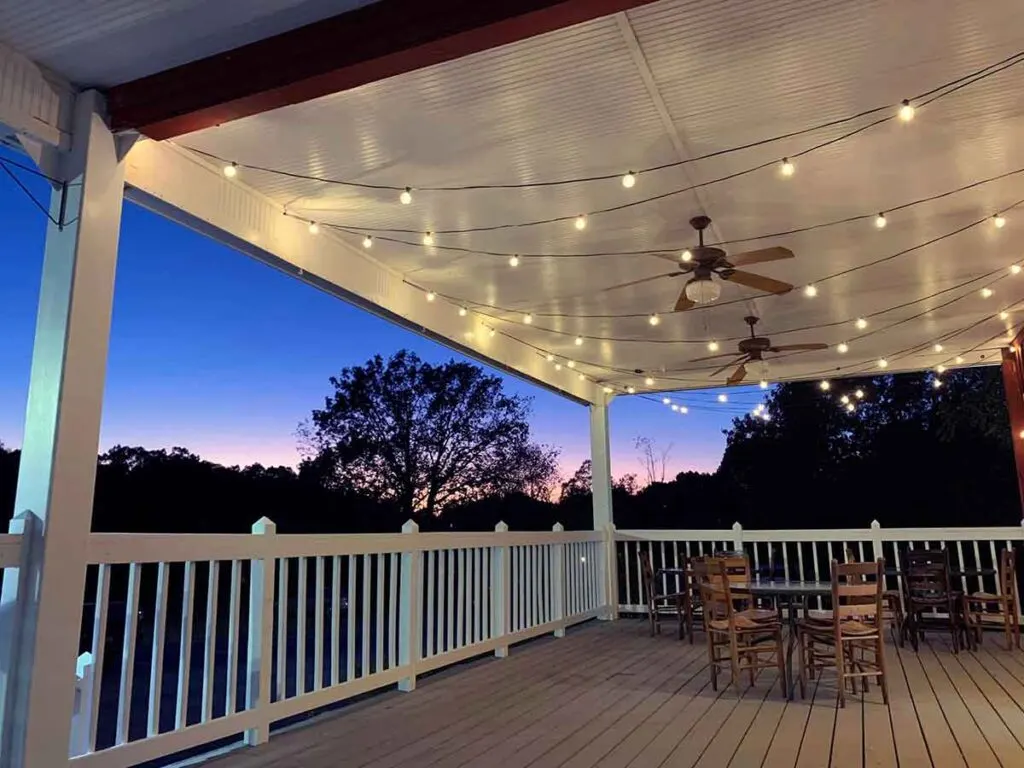 "The name Boondocks came from the location… we are literally in the boondocks (country, away from the city). When at our restaurant, you have a view of a pond, and cow pasture with cows, a bull, and horses!" the Perrys told us.
The Perrys have been serving the South Carolina community since 1995.
Their journey took an unexpected turn in 2022 when their original restaurant was destroyed by a fire. However, they turned adversity into opportunity when they discovered the Gray Court location.
"We were introduced to our current location 12 years ago but were not interested in a second restaurant. When the owner didn't want to rebuild after the fire, we pursued the Gray Court location and it was available… and here we are!" they shared.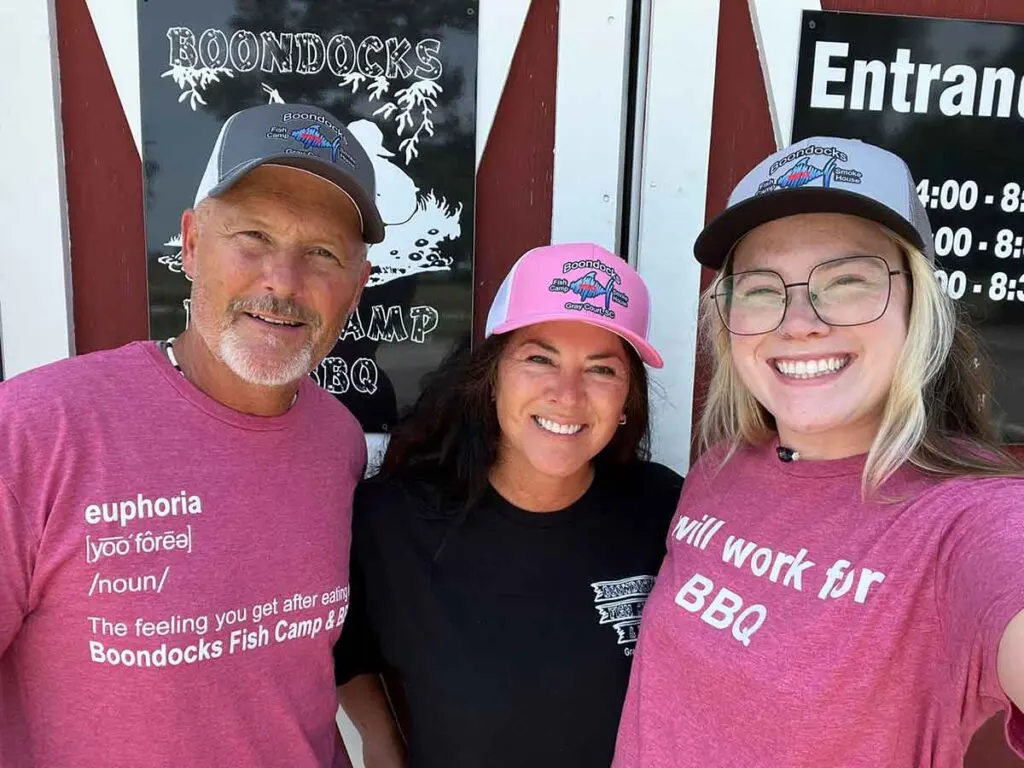 The Art of Barbecue at Boondocks
At Boondocks, the barbecue is a labor of love.
"We've always tinkered around with barbeque but never got serious with it. The new location came with two, brand new, huge, smokers in a separate smokehouse on the premises so we gave it a whirl, and our customers continue to rave about our products; especially our ribs. The barbeque side of our business continues to grow."
"Our pork is smoked in-house, with oak, in a smokehouse on the premises then pulled by hand," the Perrys said. They use pork shoulder/butts for their pulled pork, a cut of meat known for its rich flavor and tenderness.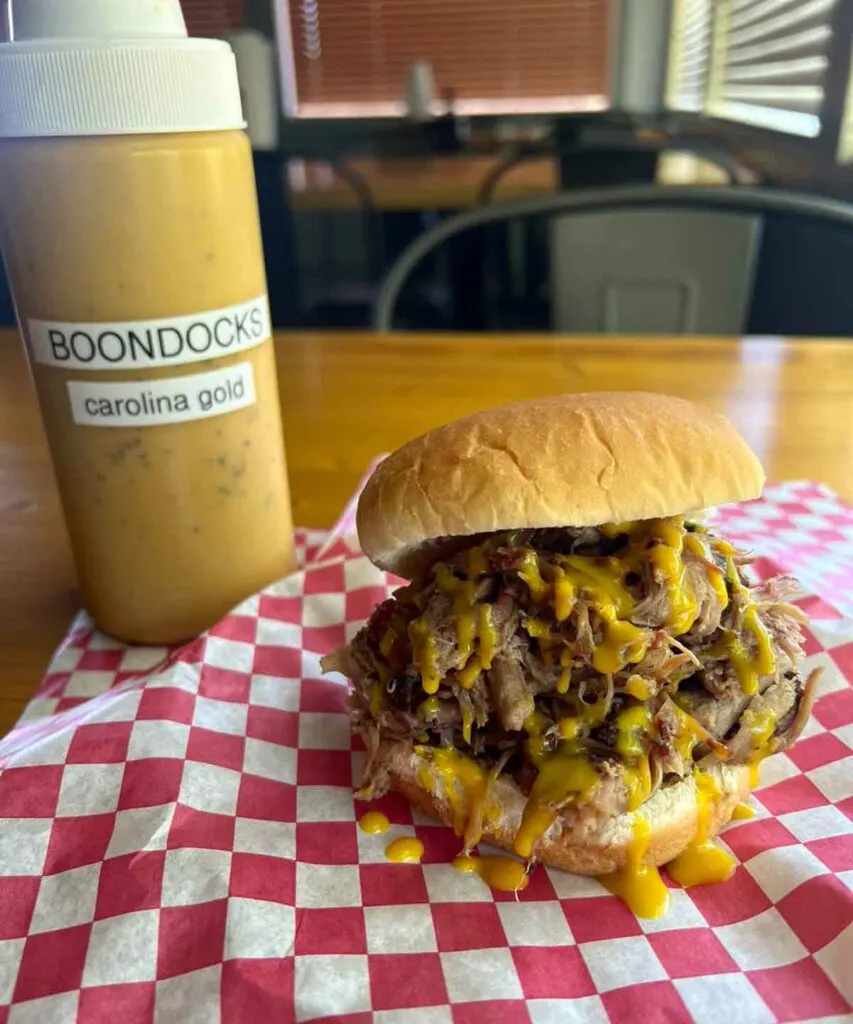 But the barbecue offerings don't stop there. "We smoke Baby Back ribs with oak wood. When a customer orders one we glaze it on our grill with our sweet red sauce or serve dry with our scratch-made rub," they added.
The sauces at Boondocks are as diverse as they are delicious.
"All of our sauces are made in-house. We have a sweet heat that is tomato-based," the Perrys explained. From the tangy Vinegar-Pepper and Mustard sauces to the rich Heavy Tomato and unique White Sauce, there's a sauce to complement every dish.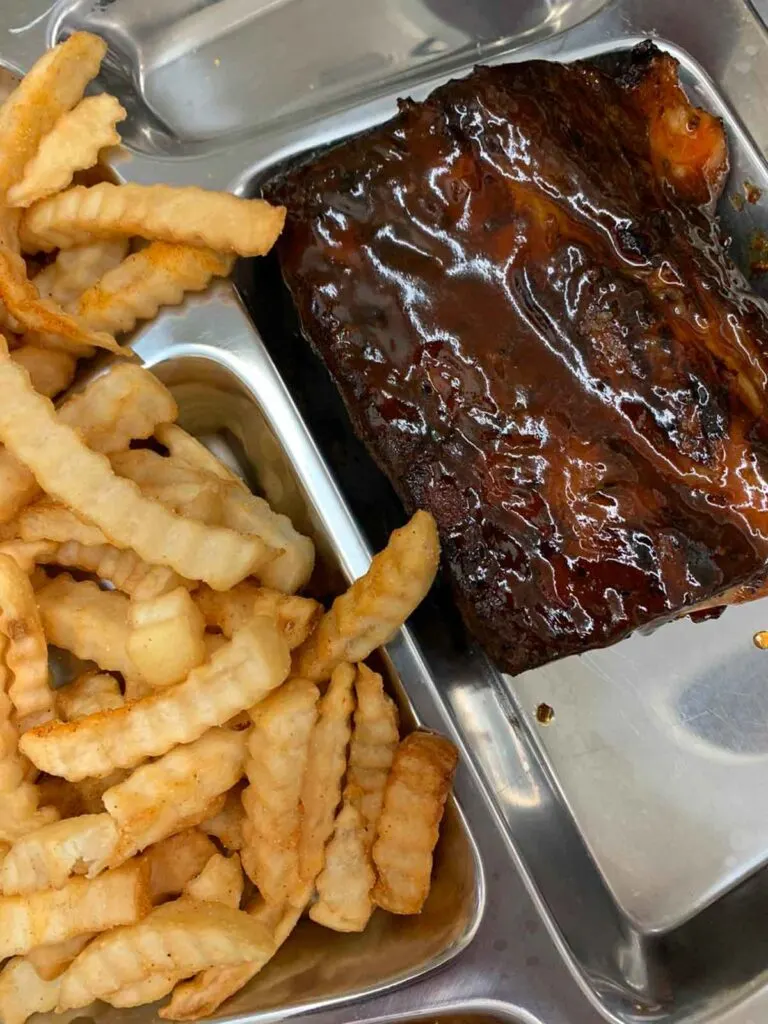 More than BBQ
Barbecue isn't the only SCBBQ tradition the Perrys are upholding, Boondocks serves a mouthwatering pork hash.
"We do serve hash. We use our pulled pork with potatoes, onions, and other seasonings. Customers have the option to have it over rice or grits. It is served with our homemade pickles. It is not pureed into a mash but still has some strings of meat," the Perrys told us.
While meat is the star at Boondocks, the restaurant even offers a variety of vegan-friendly sides, providing something for folks with a range of dietary considerations.
"We offer vegetables as sides such as slaw, green beans, collards, baked beans, house-made pickles, grits, baked potatoes, etc… that are vegan friendly," they shared.
Maintaining SC's Fish Camp Tradition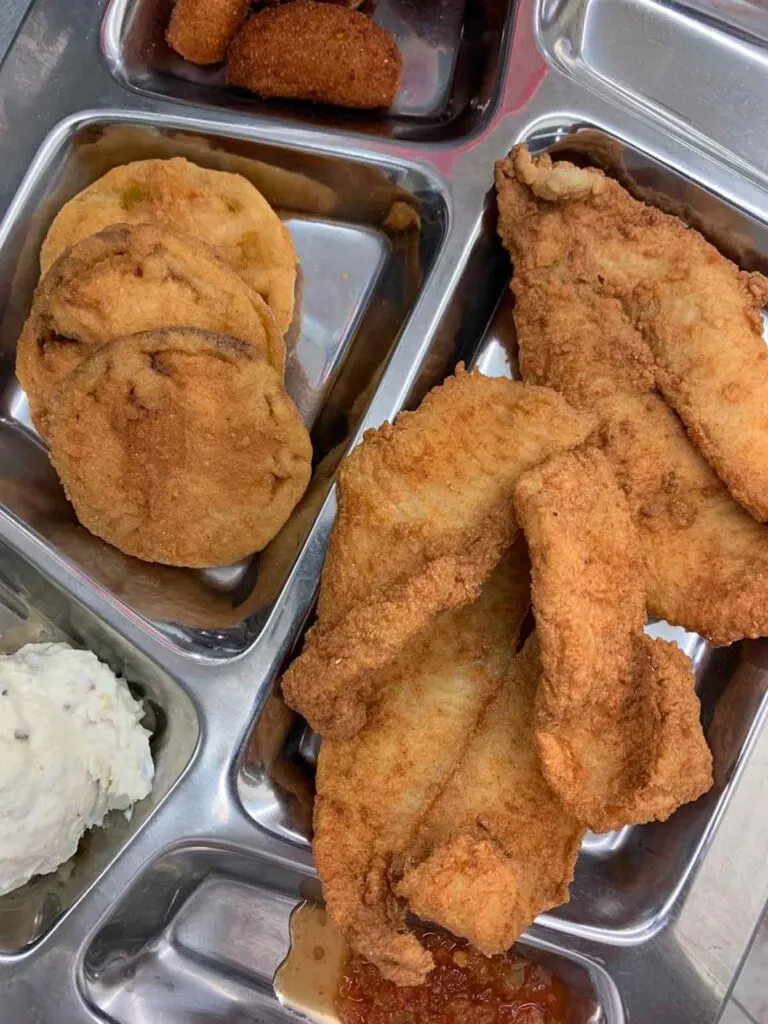 In addition to their mouthwatering barbecue, Boondocks Fish Camp & BBQ also carries on a longstanding South Carolina tradition: the fish camp.
"We've been in the fish camp business since 1995; same location for 27 years until it burned. The owner did not want to rebuild so we ended up in Gray Court," the Perrys shared. They also mentioned their sister location, Boathouse Fish Camp, in Cross Hill, which is owned by their youngest daughter and son-in-law.
Fish camps, once a mainstay in Spartanburg County, have dwindled in number over the years due to various circumstances.
"Three have burned down, several have closed. Only two 'true' fish camps remain that we are aware of. We wanted to continue the tradition in Laurens County," the Perrys explained.
They found that the barbecue fit well with the fish camp model, given their existing menu of hush puppies and country-style sides.
"We debated to bring back the metal 'slop trays' as some call them. They are a fish camp tradition. We decided they were great for keeping bbq separate from seafood on one plate!"
Seafood Specialties and More
The seafood offerings at Boondocks are as varied as they are delicious.
"Our most popular seafood items are the flounder and shrimp," the Perrys said.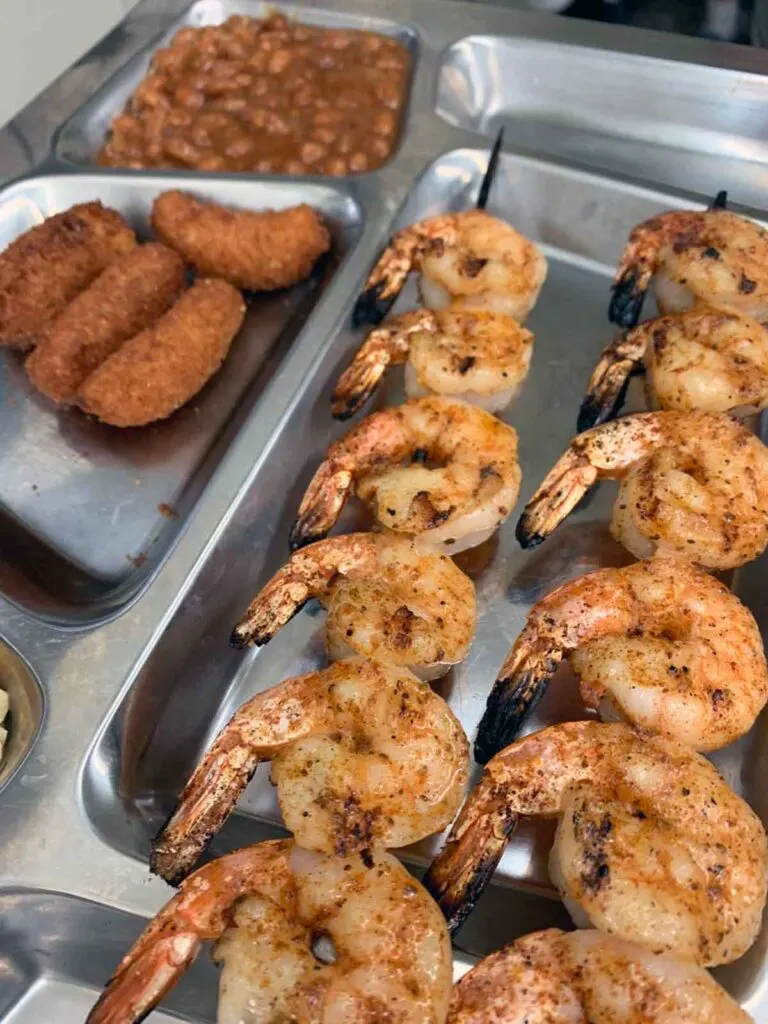 The shrimp is prepared in several ways: fried, boiled, scampi, grilled, broiled, in a dip, and even wrapped in a wonton skin and served with a sweet/spicy Asian sauce for their popular Firecracker Shrimp special. The flounder can be enjoyed fried, broiled, or stuffed with crab dressing and their creamy shrimp dip, then broiled. The Maple-glazed grilled salmon is another crowd favorite.
But the innovation doesn't stop there.
Boondocks also offers a rotating selection of specials and homemade desserts. "We try to alternate specials meaning we offer a seafood special then the next one will be BBQ inspired.
"We also offer daily homemade desserts from cakes to cobblers. Right now we are working on a 'Cobbler tour'. We have a different cobbler each week. We are up to about 30 different kinds so far," the Perrys shared.
Looking ahead, the Perrys are excited about introducing new dishes to their menu. "September we will be introducing our version of a loaded pulled pork fry AND possibly a brisket meat pie (similar to a chicken pot pie)," they revealed.
Worth the Trip
Whether you're a barbecue enthusiast, a seafood lover, or simply someone who appreciates good food in a beautiful setting, Boondocks Fish Camp & BBQ is a destination worth seeking out. The Perrys continue to innovate and delight their customers, all while preserving a cherished South Carolina tradition.
The Perrys have created a place that's more than just a restaurant. It's a testament to resilience, a celebration of tradition, and a welcoming spot where every guest is treated like family.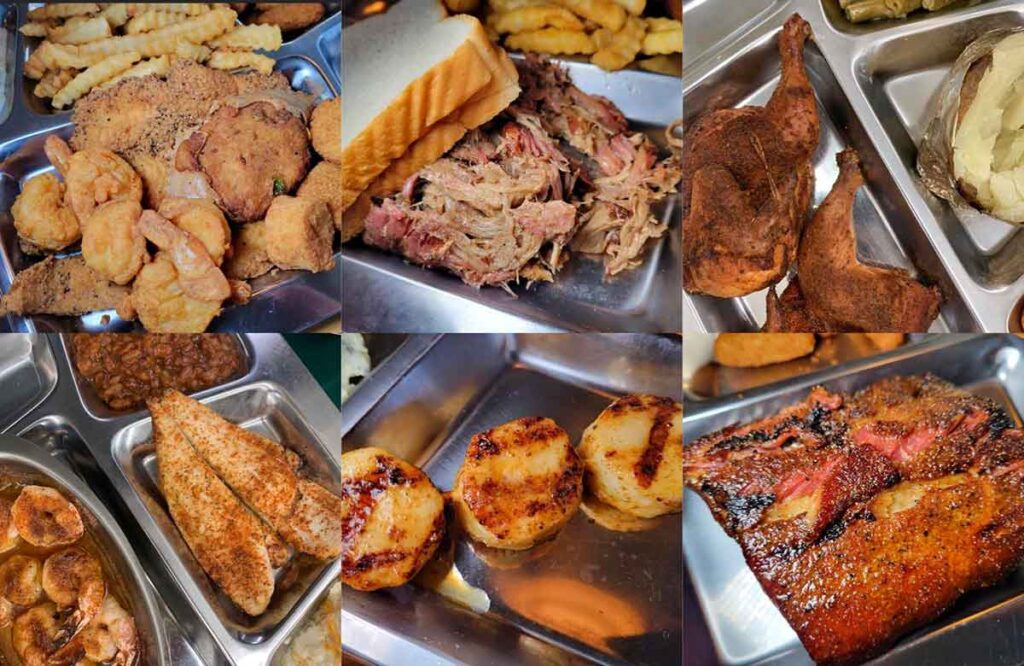 What Folks Are Saying
Google Review
Among the many Google Reviews, Local Guide JJ's 5-star review hits the highlights:
Catfish fillet you can break with your fingertips and eat like catfish balls. Mac-n-cheese that will put your Mama on the defensive. Scallops… not sure if there are words suitable but you don't have to drive to the beach for them anymore.
Now, about the ribs, I'm not saying they're better than my ribs but I'll admit I'm gonna need to gather more data for the tiebreaker. Y'all like hush puppies? You're about to like them more.
Krysten is awesome and kept our glasses full and the conversation friendly while she saw to our every need.
Get yourself to the boondocks.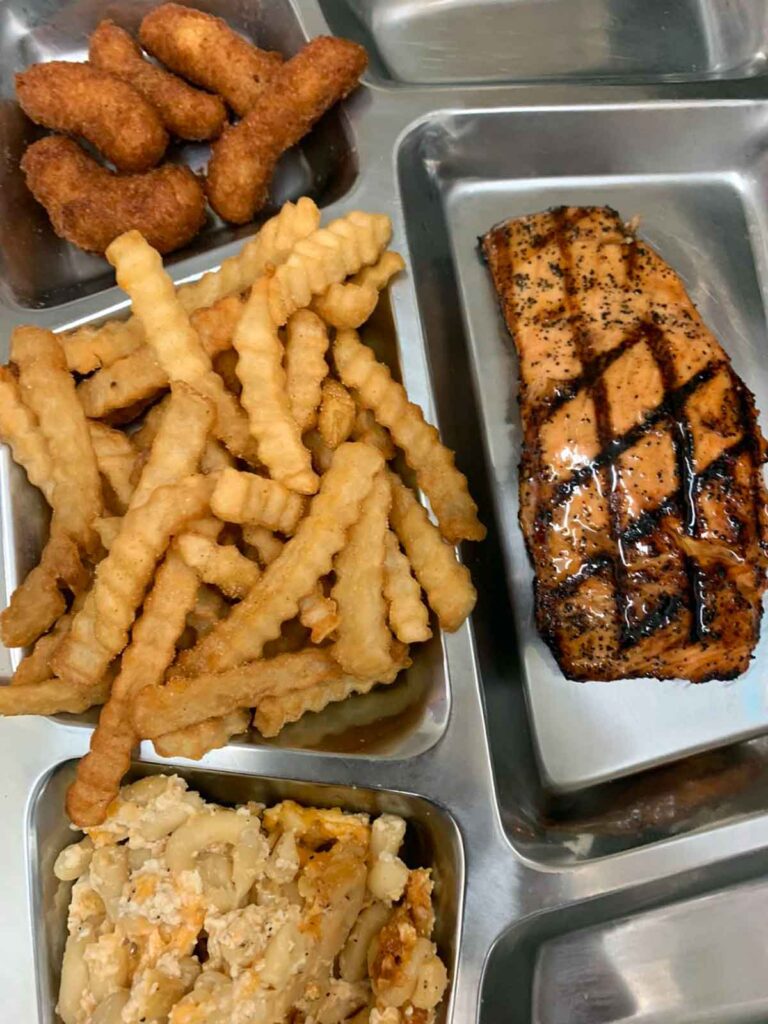 Yelp Review
Over on Yelp, Donna W warns not to eat to much and save room for dessert:
My husband and I had a wonderful meal at this restaurant last night.
It was really busy, but we only had to wait a few minutes for a table. Our waitress Holly was very attentive and helpful with our menu choices as this was our first time.
They serve seafood and barbecue and have a separate smokehouse building for their ribs, pulled pork, and hash preparation. We opted for the seafood tonight but will be trying the barbecue next time.
Everything was wonderful and served hot. As busy as they were, I was surprised at how quickly our food came out. The dessert this weekend was an amaretto cake and it was so delicious so save room for dessert or get you some to go.
They have a front room for large parties and there was one going on while we were there. They also have some outdoor seating but it was too cold tonight for that.
This is a hidden gem and I hope everyone tries it because you'll love it and definitely be back for more.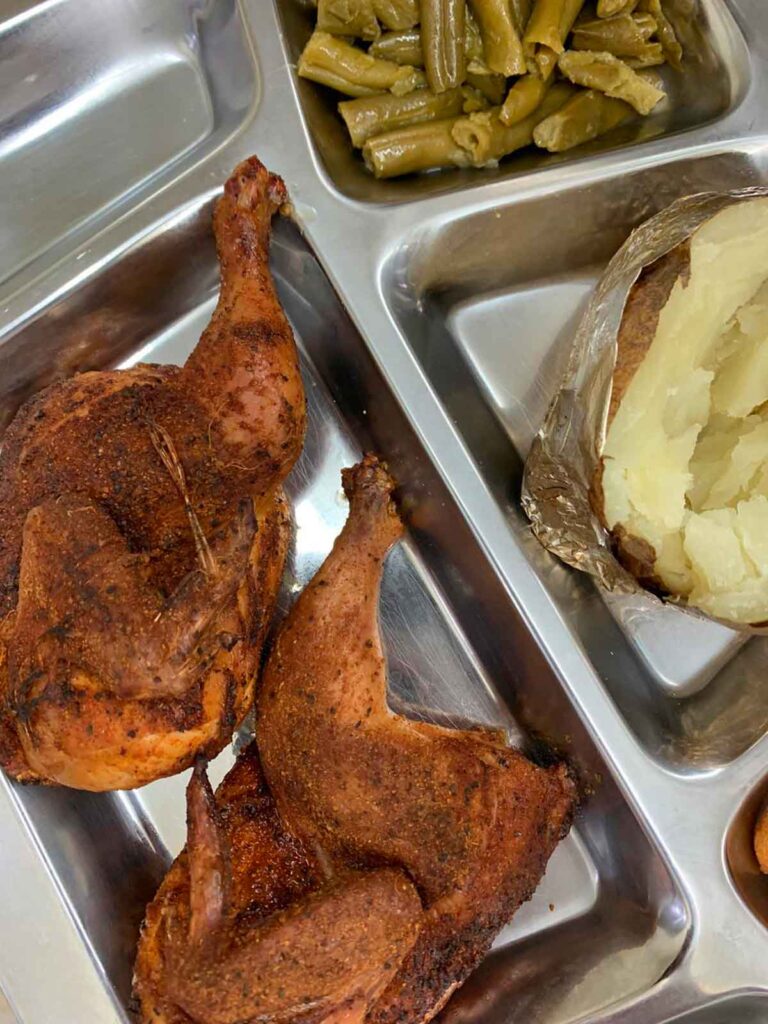 Menu for Boondocks
Note: Menu prices and options are subject to change over time. Contact the restaurant for the most up-to-date information.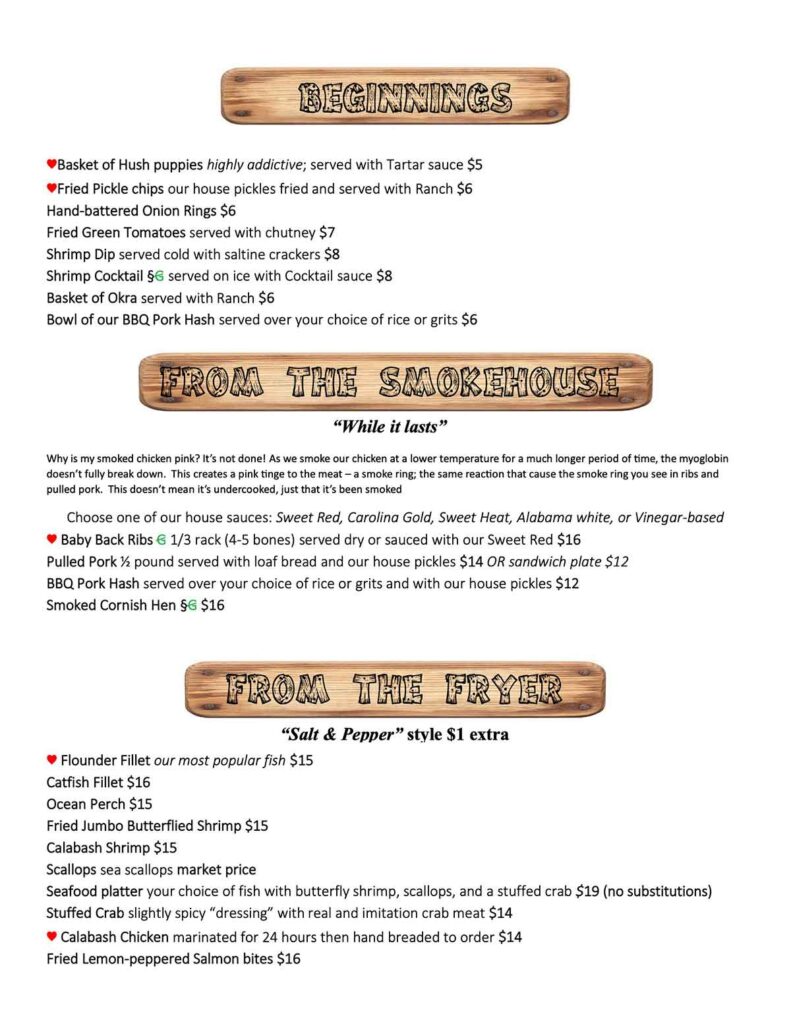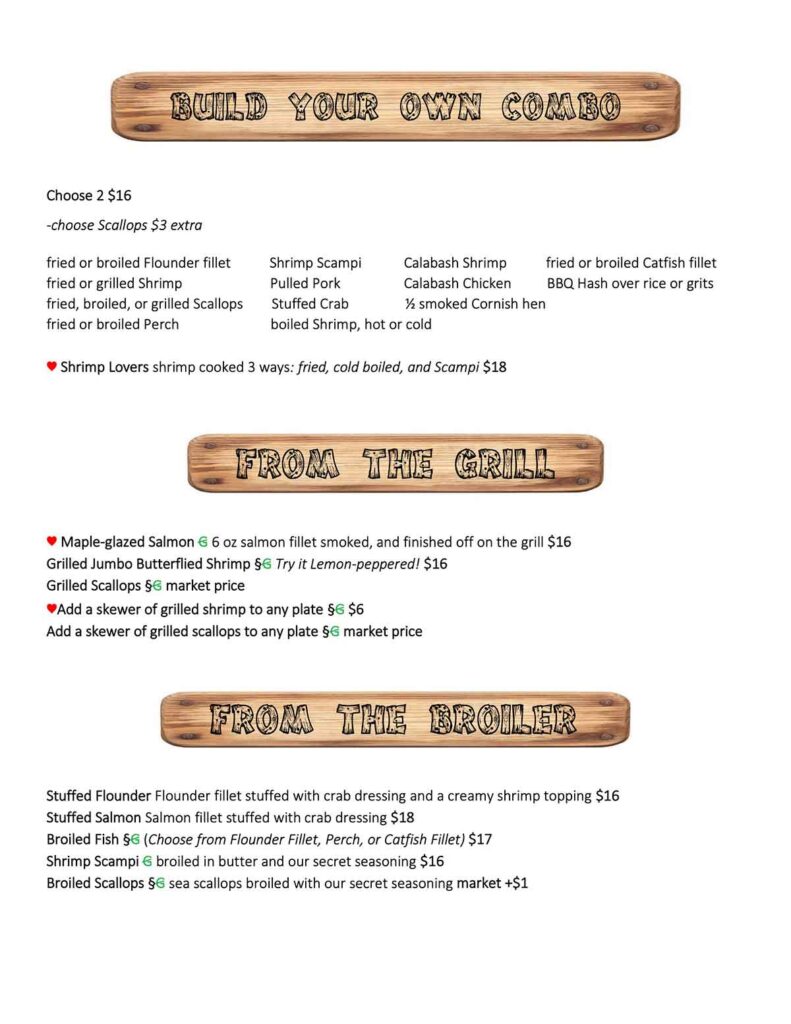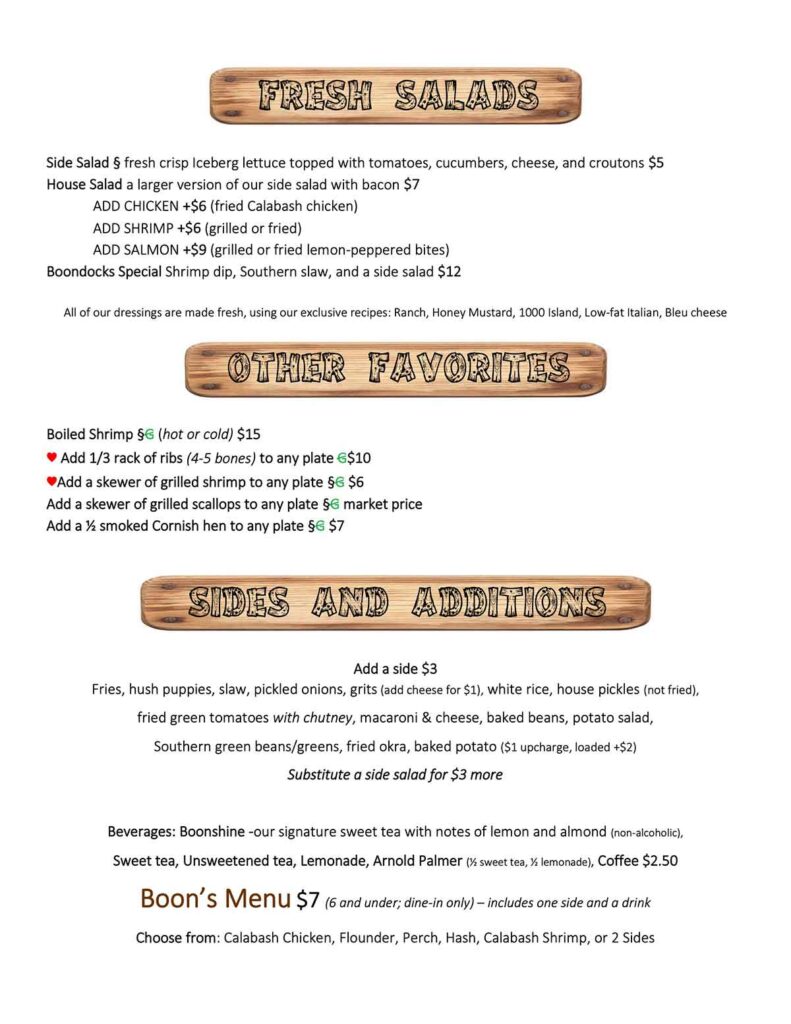 Location, Hours, Contact Info, and More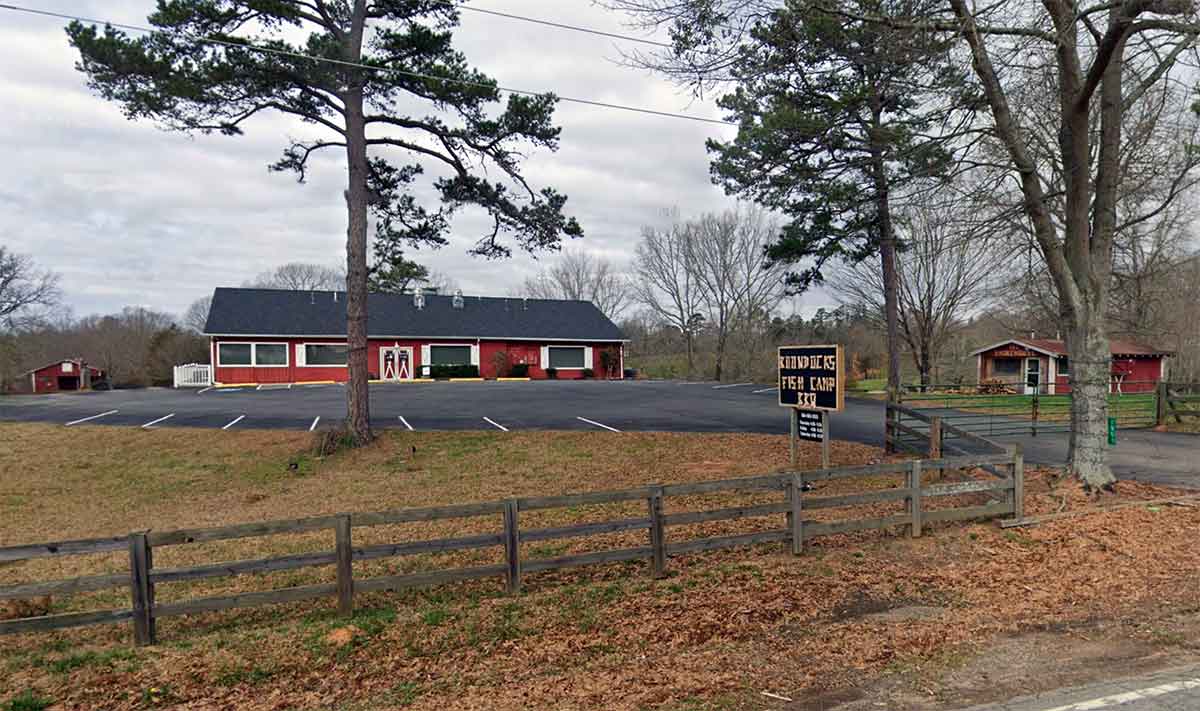 Map
Directions
Contact Boondocks Fish Camp & BBQ
1955 Trinity Church Rd
Gray Court,
SC
29645
Hours of Operation
| | |
| --- | --- |
| Monday | Closed |
| Tuesday | Closed |
| Wednesday | Closed |
| Thursday | |
| Friday | |
| Saturday | |
| Sunday | Closed |
Social Media
Review Sites
Features
Cards and Cash, Hash, Heavy Tomato Sauce, Mustard Sauce, Vinegar Pepper Sauce, White Sauce