Brasstown Creek Gathering Place BBQ
Brasstown Creek: Great BBQ in a beautiful, family-friendly setting
This post may contain links from which I earn a commission. Please read my disclosure policy. As an Amazon affiliate, I earn from qualifying purchases.
Brasstown Creek Gathering Place BBQ sits off the beaten path just outside of Westminster, but the trip is worth it.
Where else can you eat SC BBQ outdoors next to a babbling creek with fire pit, horseshoes, and plenty of room for kids to run around. Indoors you will find a large fireplace to warm you up in the winter and refreshing AC in the warmer months.
Brasstown Creek Gathering Place BBQ awaits, tucked away along a quiet little mountain road in a place you won't find fancy tablecloths and sterling silver. But that's not what you're looking for.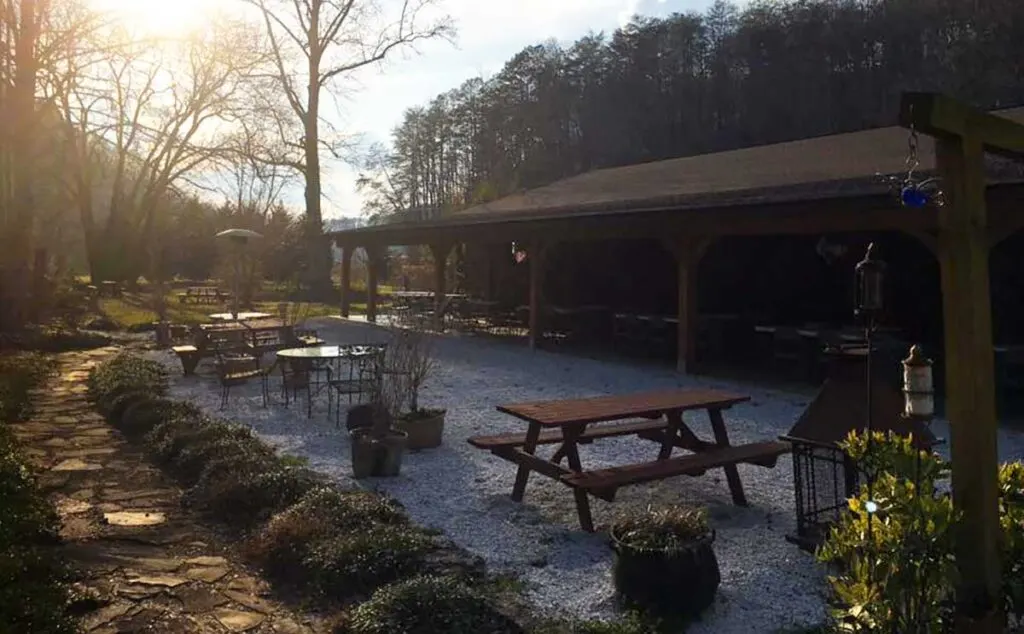 So where is this hidden restaurant?
Brasstown Creek Gathering Place BBQ is located in South Carolina's land of waterfalls, Oconee County. In fact, if you take this road trip, you'll find seven nearby waterfalls that you can fold into the adventure.
All of this is a mere 3.5 miles from Long Creek, SC. Just turn onto Brasstown Rd from Long Creek Hwy (76). Drive about 2.2 miles and Brasstown Creek Gathering Place BBQ will be on your right.
How About the Food
Unforgettably good food and cheerful times often happen in the most humble of places. So what's on the menu? Well…lots!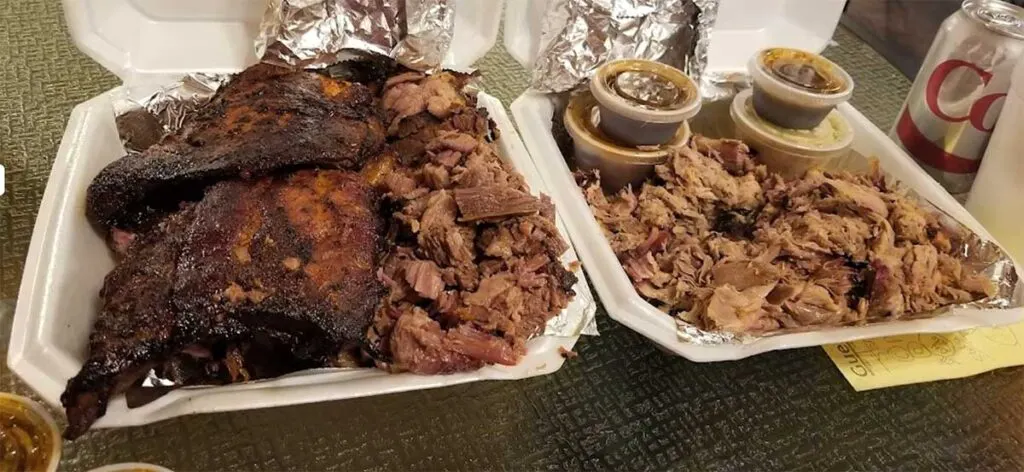 Your options are served by the plate when you order from the menu. You can get single plates or combos.
Meats include pork, beef, chicken, and ribs.
All plates include two sides. Your options for sides include coleslaw, baked beans, potato salad, Brunswick stew, and more.
Additional sides include baked potato or seasonal, fresh corn on the cob, each for and extra charge.
To drink, you have soft drinks, beer, and wine.
They're only open on the weekends on Friday and Saturday from 4:00 p.m. to 9:00 p.m. (Open until 9 PM during Summer.)
Are you ready to make a BBQ run and try it out?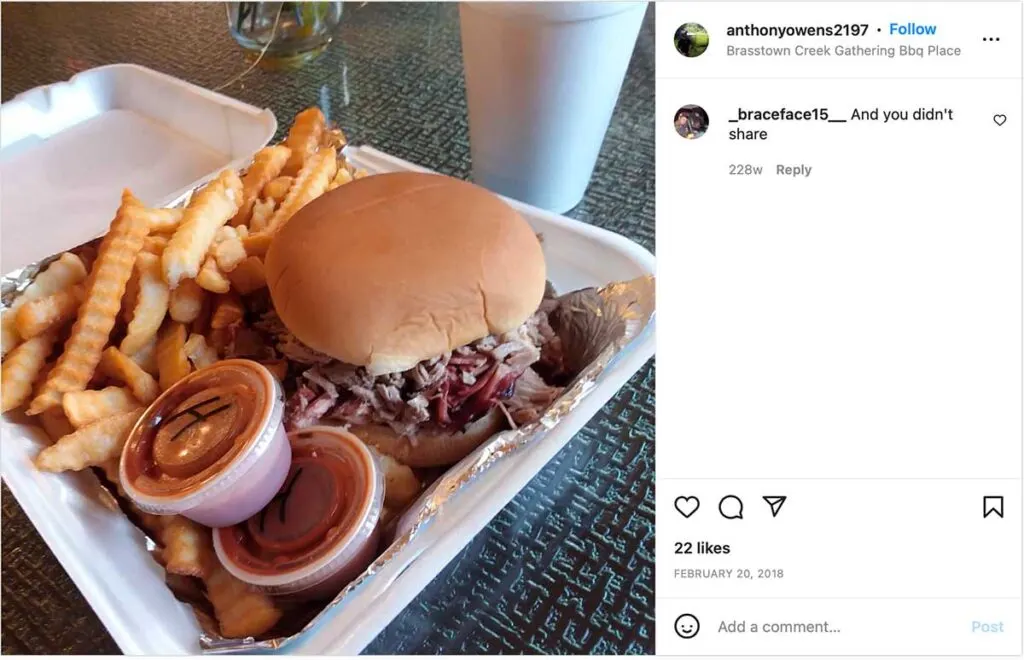 Any time you find yourself traveling through SC, be sure to check out our SC BBQ Road Trip series. In it, we highlight every SC BBQ joint within 10 miles of an interstate exit.
Unfortunately, you won't find Brasstown Creek in that series because it lies outside of that radius, but you will find it about a half-hour from Exit 1 off of Interstate 85.
What Folks are Saying about Brasstown Creek
In the end, the simple fact is that people LOVE Brasstown Creek Gathering Place BBQ. How else do you explain the 4.5-star rating on both Yelp and TripAdvisor and the stunning 4.9-star rating from Google reviews?
TripAdvisor Review
Norton Wine T on TripAdvisor thinks you should add Brasstown Creek to your bucket list:
If you plan on finding this gastronomic experience, don't eat for two days prior to going out in the woods to explore this BBQ eat place (as they would say it in Mississippi).
DON'T USE A GPS in driving to this location because you will wind up next to a trout farm instead.
Just carefully look for the sign telling you where to turn somewhere between Westminster, SC, and Clayton, GA.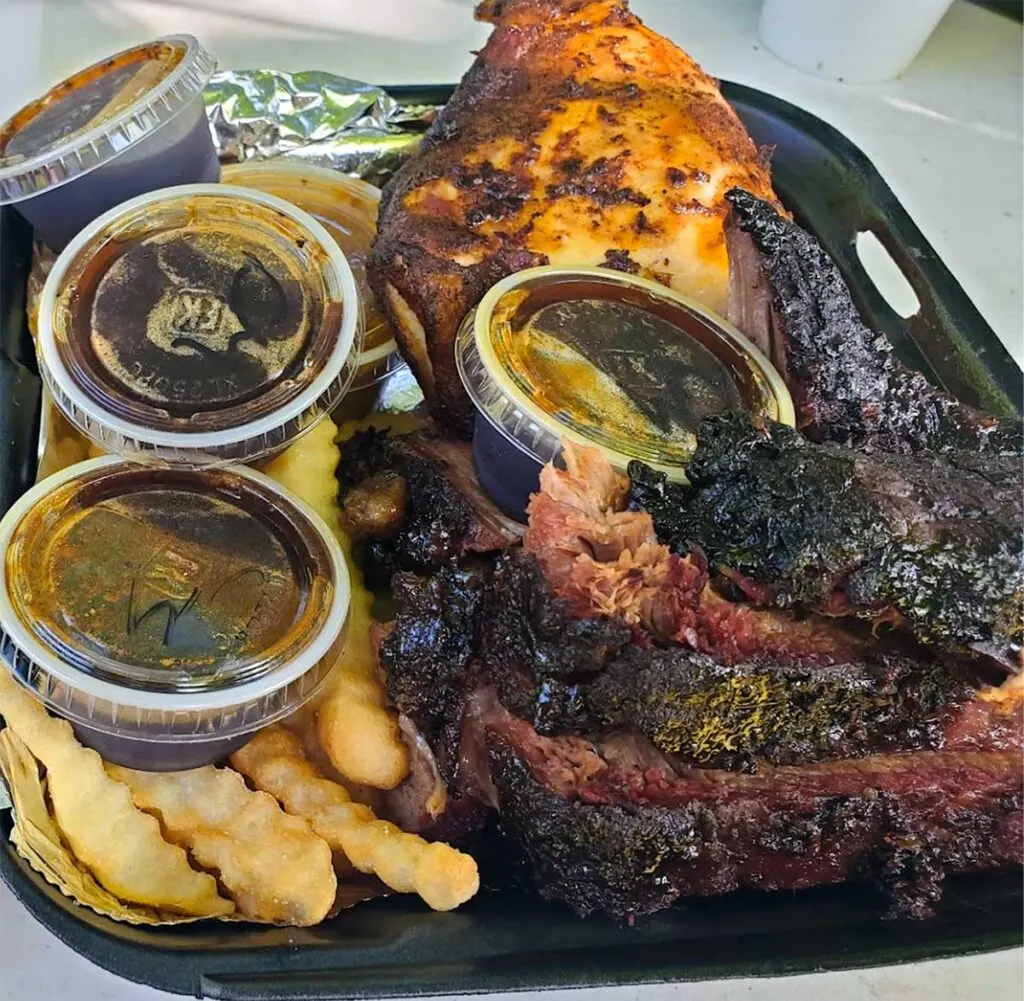 Ginormous servings of the very best one could wish for in BBQed pork and chicken. The ribs are awesome.
Now here is the hitch to all this, ~ they are open only 4:00-8:00 Friday and Saturday.
You get there after six on Saturday and there will be a good chance you will have a choice of chips and a pickle slice. Don't tempt your luck on this one.
Eat inside or out along a stream (covered and uncovered tables).
Go ahead and put this one of your 'bucket lists' of things to do before your gastroenterologist tells you that you are limited to fruits and vegetables for the rest of your life.
Did I mention a nice selection of sweet potato, real coleslaw, vegetables and desserts (you'll wind up taking the desert home with you since there is no way you can eat what comes first)?
There are so many make-believe-BBQ joints, but why not go to a real house of smoked meats located somewhere up in the woods of Oconee County?
While there, we saw license plates from SC, NC, GA, FL, WV, AR, and AK (yes, Alaska).
Yelp Review
In a Yelp review, HonestyisKey N. ironically asks you not to tell anyone about Brasstown Creek:
There are good restaurants, homey restaurants, and then there are the places where owners and family pour their heart and soul into the entire operation. These gems are hard to find, rare, and once discovered, risk losing their charm.
Brasstown was recommended to us by a local raft guide who referred to it as "the gathering place." I now understand why!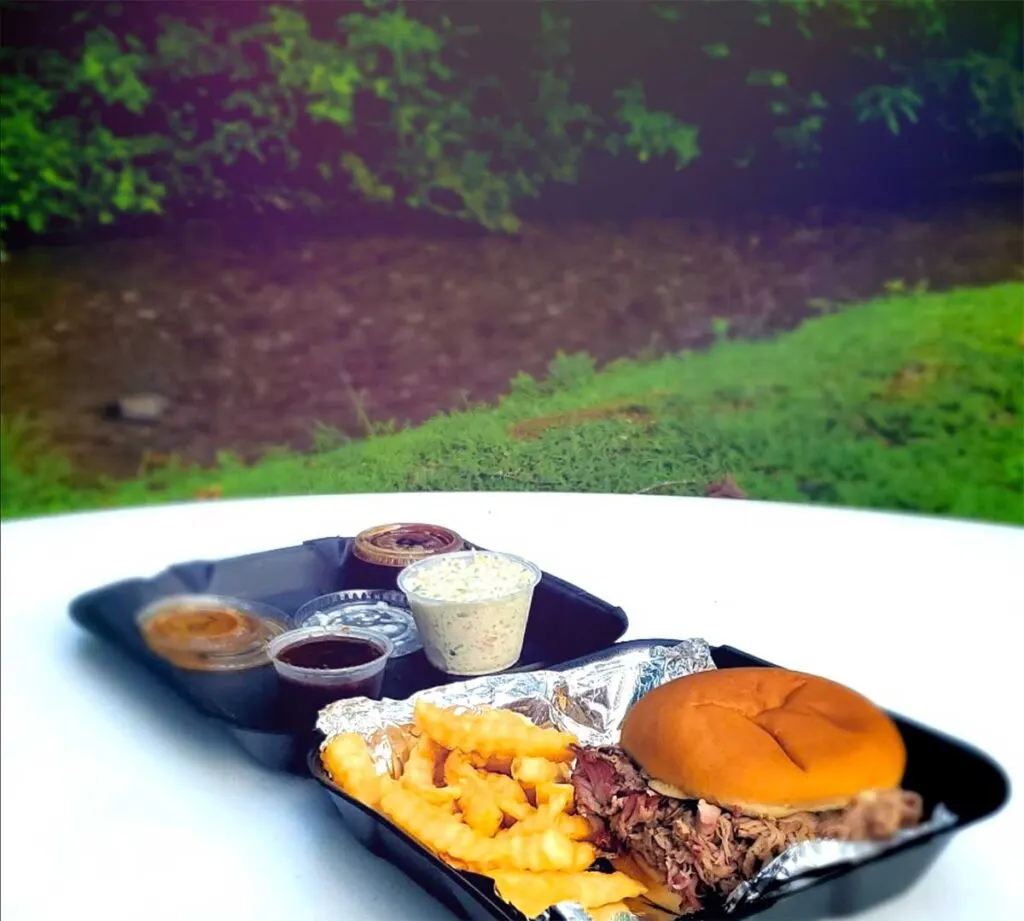 Huge seating along a creek and indoor picnic and table style dining await you after a counter-served line of fresh, daily meat and side options. The brisket was lovingly smoked, ribs delicate yet bold.
Four different sauces of all American BBQ regions were homemade and fantastic.
From a value standpoint: outstanding: For $25 we had lunch AND dinner from one-half rack of ribs and pound+ of brisket. All the sauces, fries, and a chicken stew with unlimited sweet tea (and that price includes a service tip!).
Not the best brisket I've ever had, but very, very good and well-above-average ribs. Sauces were top-notch and service blew our minds.
The older woman who runs the show truly cares, and I'm sure she's working more than the two days a week the joint is open to keep things running.
Don't tell anyone about this place, but be sure you make the drive if you're within 2 hours!
---
In the News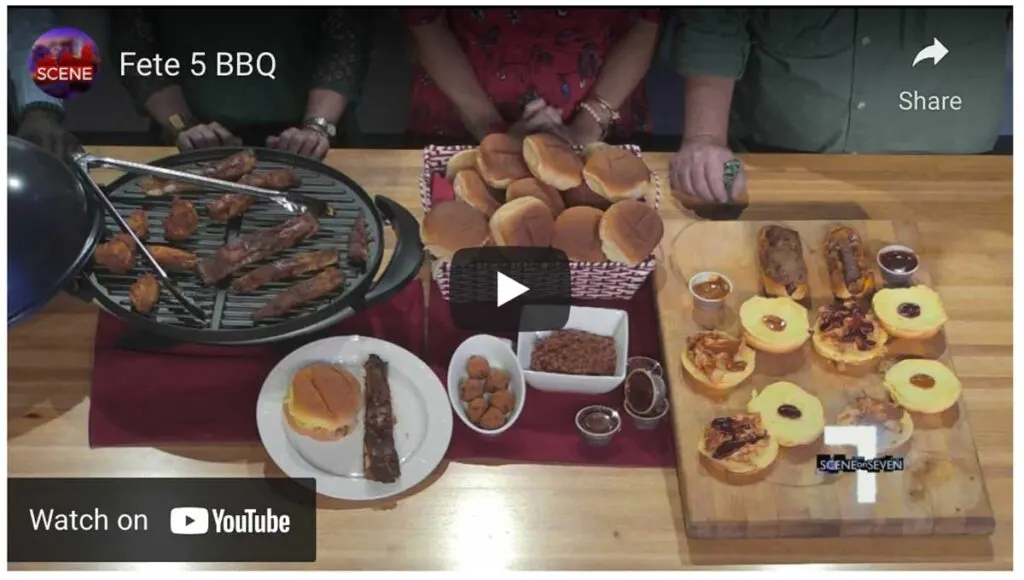 Menu for Brasstown Creek Gathering Place BBQ
Note: Menu prices and options are subject to change over time.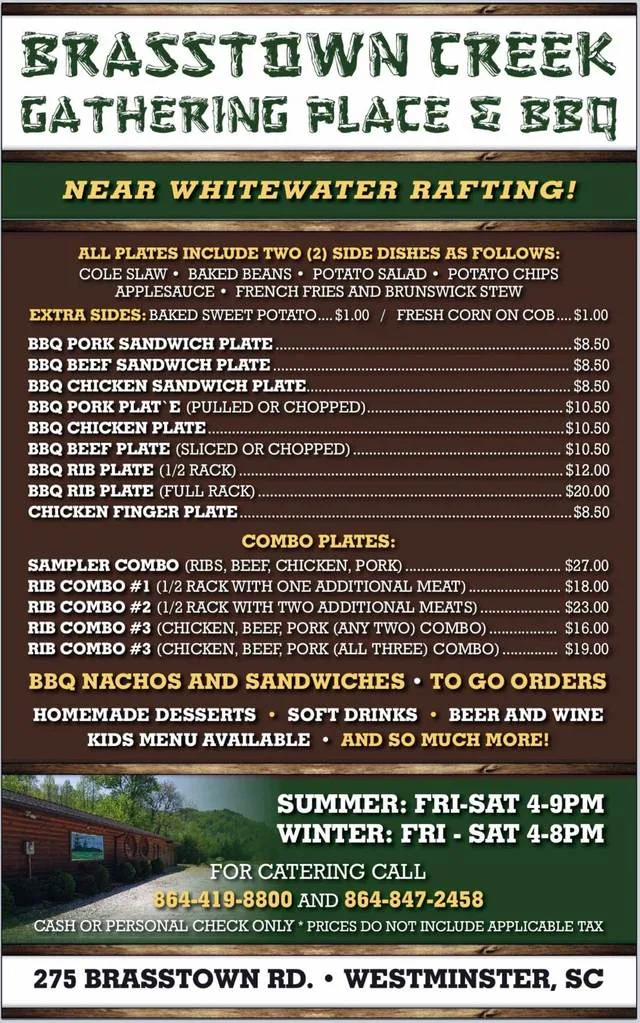 Location, Hours, Contact Info, and More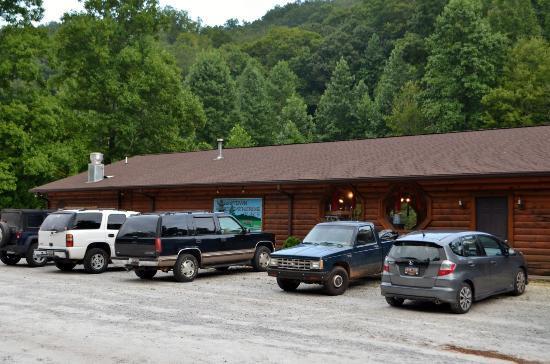 Map
Directions
Contact Brasstown Creek Gathering Place BBQ
275 Brasstown Road
Westminster,
SC
29693
Hours of Operation
| | |
| --- | --- |
| Monday | Closed |
| Tuesday | Closed |
| Wednesday | Closed |
| Thursday | Closed |
| Friday | |
| Saturday | |
| Sunday | Closed |
Social Media
Review Sites
Features
Cash Only, Heavy Tomato Sauce, Mustard Sauce