Brown's Bar-B-Q: One of SC's Best
This post may contain links from which I earn a commission. Please read my disclosure policy. As an Amazon affiliate, I earn from qualifying purchases.
Brown's Bar-B-Q, family-owned and operated for over 30 years, has been tempting taste buds for decades with their spicy barbecue seasoned with what they call "barbecue gravy."
That gravy is their BBQ sauce made with vinegar and hot peppers. The gravy is mopped on the pork while on the pit.
Later, customers pour that same sauce on their barbecue…and even veggies.
Speaking of veggies, Thomas M. Brown, Jr. is a farmer.
Not only does he grow soy, wheat, hay, and oats to sell commercially, he also grows corn, squash, zucchini, and broccoli, okra, butter beans, collards, and cabbage for the huge buffet line at Brown's Bar-B-Q.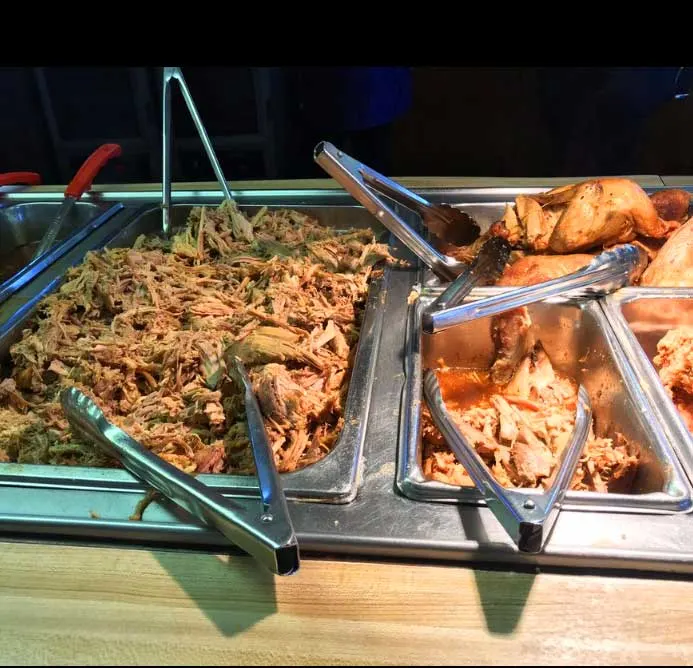 You will find these fresh seasonal veggies served along with perloo and rice, macaroni 'n cheese, sweet potatoes, coleslaw, potato salad, barbecued and fried chicken, barbecued and baked turkey, ribs, smoked ham, and, of course, chopped barbecue.
Details
As SCBA founder Lake High wrote, Browns Bar-B-Q Kingstree has "the typical large 'Pee Dee area' buffet, even though Williamsburg County isn't Pee Dee but rather low-country; that is, it has catfish stew, chicken bog, fried chicken, fried fatback and remarkable vegetables.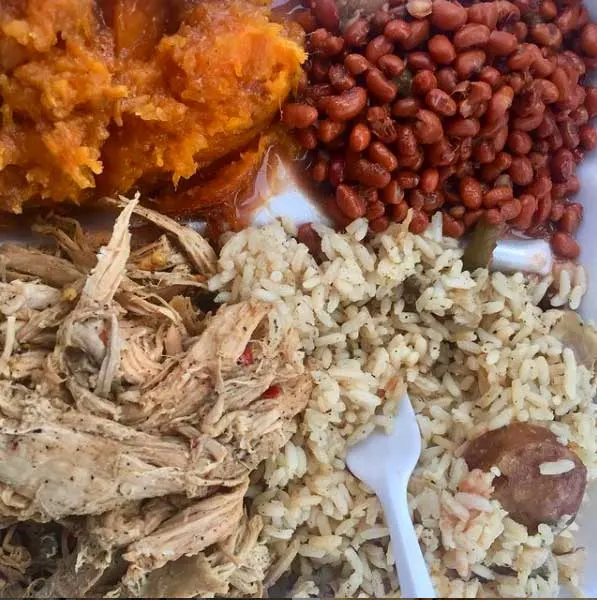 "They even have vegetable soup. The sweet potatoes (called "yams" down there) are legendary and are not to be missed.
"The deserts there are wonderful. The homemade pecan pie is not only my favorite but it's as good as I make myself and I pride myself on my pecan pie."
Brown's is open every day except Monday. Stop by on your way to or from the beach.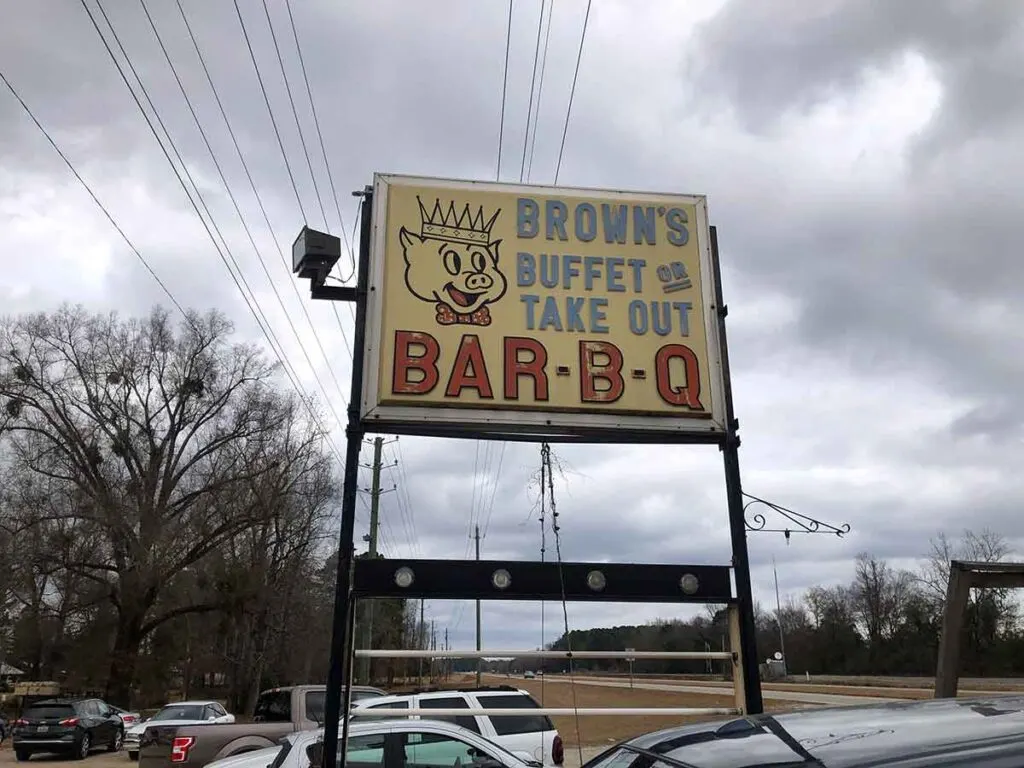 Located on Highway 52, Brown's Bar-B-Q has been named one of the Top Barbecue Houses in South Carolina by the South Carolina Barbeque Association.
What Folks are Saying
Google Review
In her Google review, Kristina Edge wins over her husband (and the argument) after a visit to Brown's Bar-B-Q.
I grew up eating Brown's BBQ with my family. Every holiday, every family gathering. It is a constant.
The best BBQ in the world, hands down.
My husband used to always argue with me that mustard-based barbeque was the best. I kept telling him he was wrong, that hot pepper and vinegar was the best.
This went on for a couple of years until he went to a family gathering with me and had the chance to sample some for himself.
He put the first bite of red pepper and vinegar pulled pork in his mouth, closed his eyes, and said "Now I understand."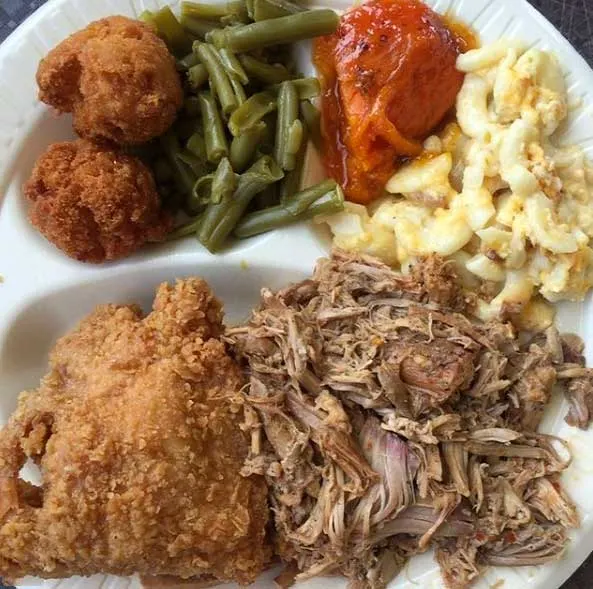 Brown's has perfected the classic red pepper and vinegar sauce pulled pork recipe.
Their buffet is phenomenal, full of everything good, Southern, and pure. Chicken and rice, butter beans, greens, barbeque, fried okra, fried chicken (but why would you eat fried chicken when the best BBQ in the world is there?)… the list goes on and on.
"If you love Southern food or just want to try the most perfect red pepper and vinegar pulled pork ever, eat at Brown's Bar-B-Q."
Yelp Review
Matthew K from nearby Andrews understands why the SCBA thinks so highly of Brown's Bar-B-Q. Here's what he had to say in his Yelp review:
No wonder the South Carolina BBQ Association ranks them as one of the best in the state.
Not only do you get some of the best BBQ but you get fantastic portions of it.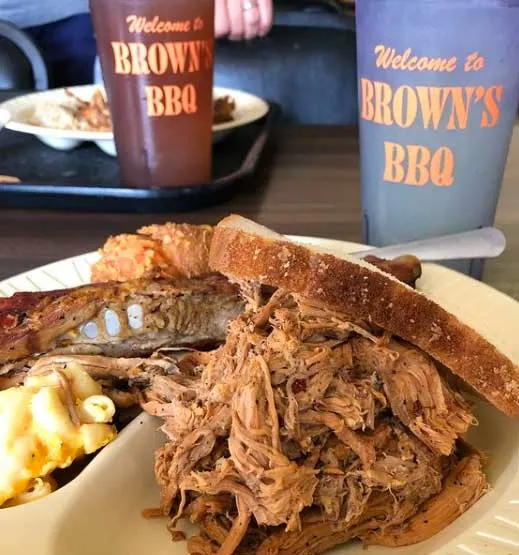 A lot of people claim that Bessinger's is the best in the state, I have never had it but they are going to have to be damn good to beat Brown's Bar-B-Q.
Pork: the pork is fantastic. Juice, spicy, sweet, and everything that pulled porn BBQ should be.
Turkey: the turkey has a fantastic smoke flavor with a sauce that has just the right amount of kick and sweetness to it. Something I love with my poultry is sweetness in the sauce
Fried chicken: FANTASTIC! Some of the best I have ever had. Juicy and crispy in all the right spots.
Side dishes: I tried the mashed potatoes, sweet potatoes, coleslaw, pilau, and red rice and I have no complaints.
Not a single thing I had was bad and I would eat it all over again every chance I got."
Other Reviews
The SC BBQ Association has named Brown's Bar-B-Q one of the Top 100 BBQ houses in the state. Here's how they begin their review:
If there was ever a 100-mile barbeque Brown's was it. It's amazing how many people I know (including my wife) who make a side trip to Brown's to get barbeque when they are on their way to the beach.
People who like vinegar and pepper barbeque, the "original" barbeque, and like it spicy considered Brown's to be the ultimate.
If you ever got up a conversation about barbeque anywhere in South Carolina it wasn't long before the name "Brown's" cropped up.
We had the chance to visit way back in 2012 as we were just getting started. Read our Review of Brown's Bar-B-Q
Get to know Brown's Bar-B-Q
Enjoy this interview with Angela Brown of Brown's Bar-B-Q:
---
Menu for Brown's Bar-B-Q in Kingstree
Note: Menu prices and options are subject to change over time. Contact the restaurant for the most up-to-date information.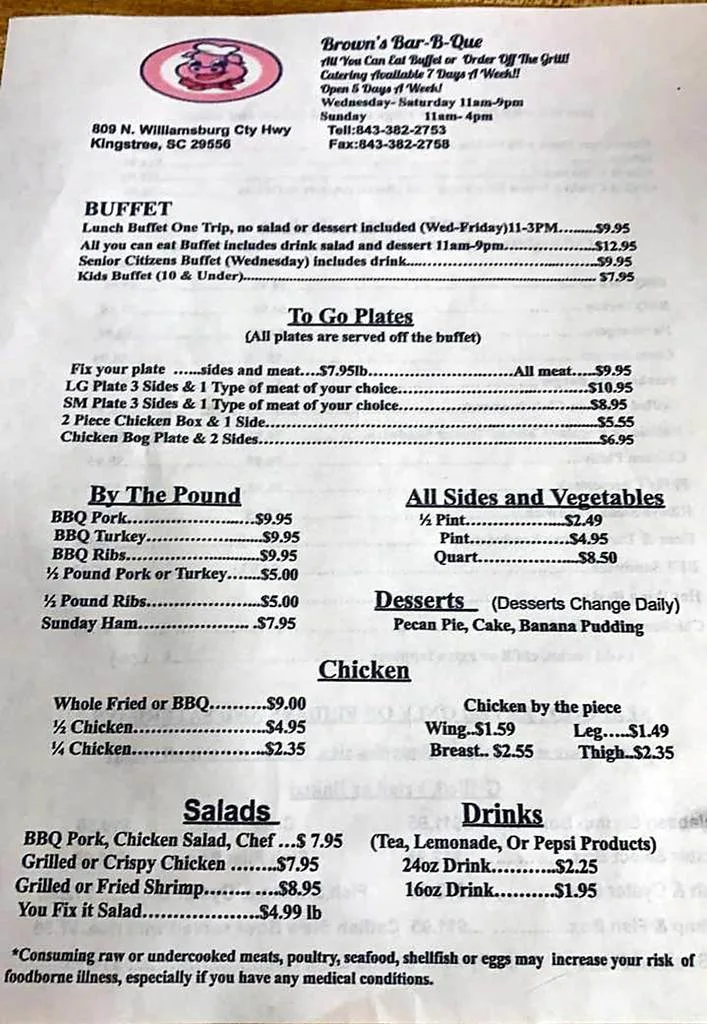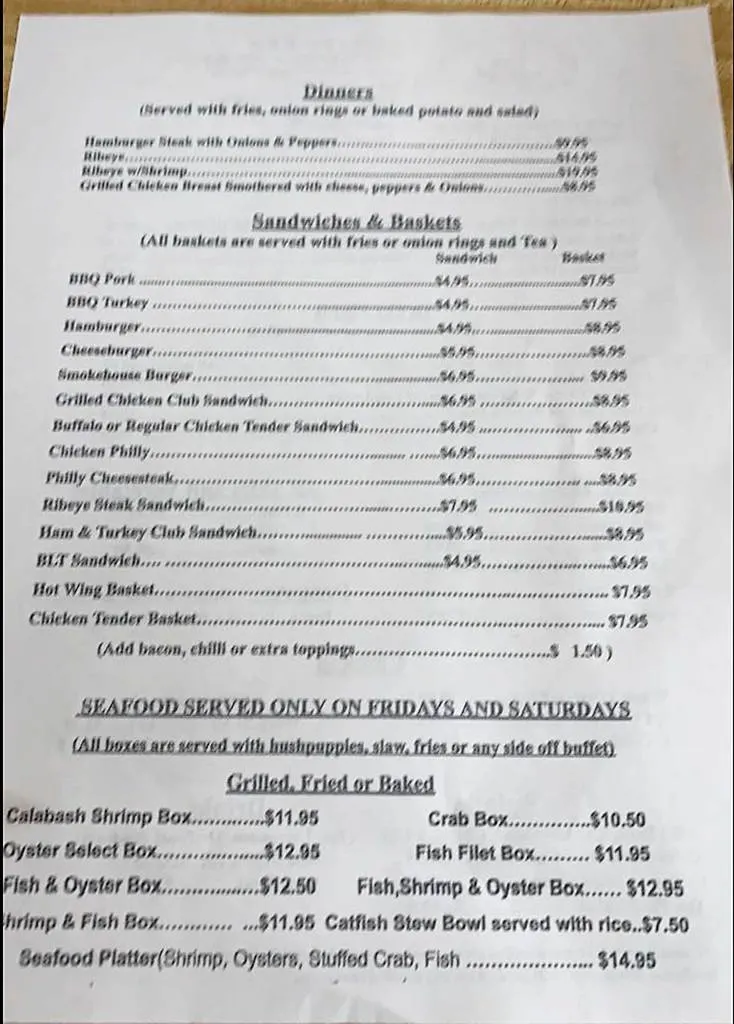 Location, Hours, Contact Info, and More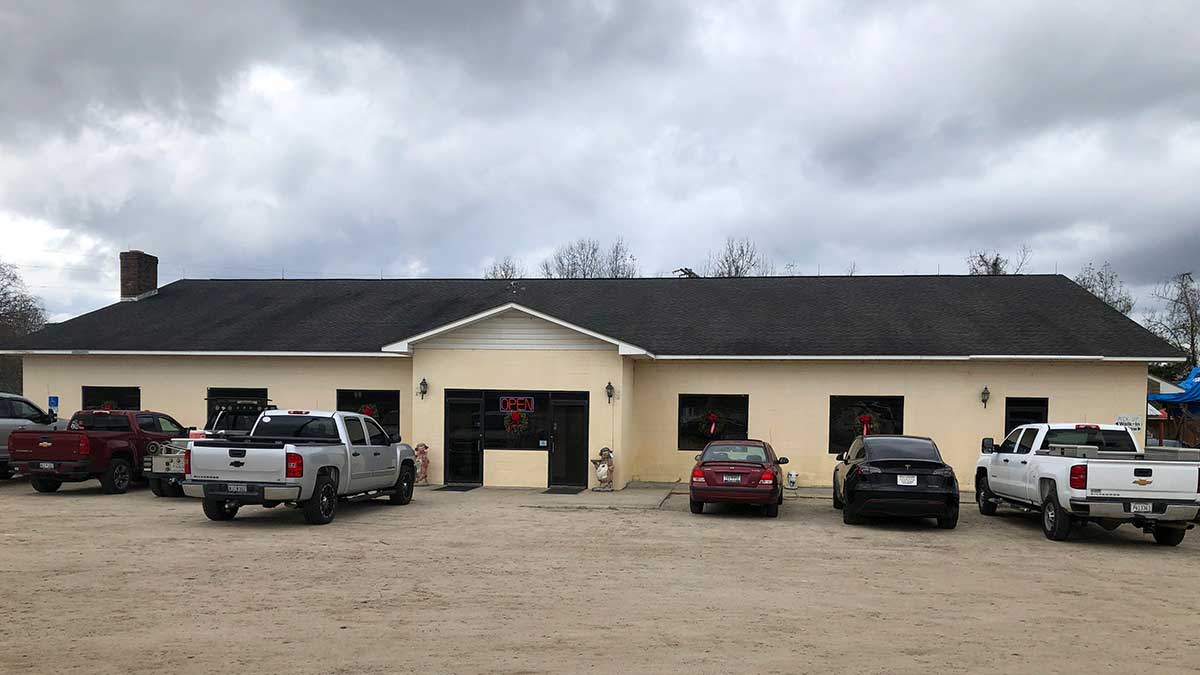 Map
Directions
Contact Brown's Bar-B-Q
809 N. Williamsburg County Highway
Kingstree,
SC
29556
Hours of Operation
| | |
| --- | --- |
| Monday | Closed |
| Tuesday | |
| Wednesday | |
| Thursday | |
| Friday | |
| Saturday | |
| Sunday | |
Social Media
Review Sites
Features
Buffet, Cards and Cash, Hash, Vinegar Pepper Sauce, Whole Hog