D&H Bar-B-Que: Locally owned since 1947
This post may contain links from which I earn a commission. Please read my disclosure policy. As an Amazon affiliate, I earn from qualifying purchases.
D&H Bar-B-Que is THE place to stop for traditional South Carolina BBQ. Henry Brailsford and his family have the best little place around.
If you want a true SC BBQ experience, their all-you-can-eat buffet has lots of options.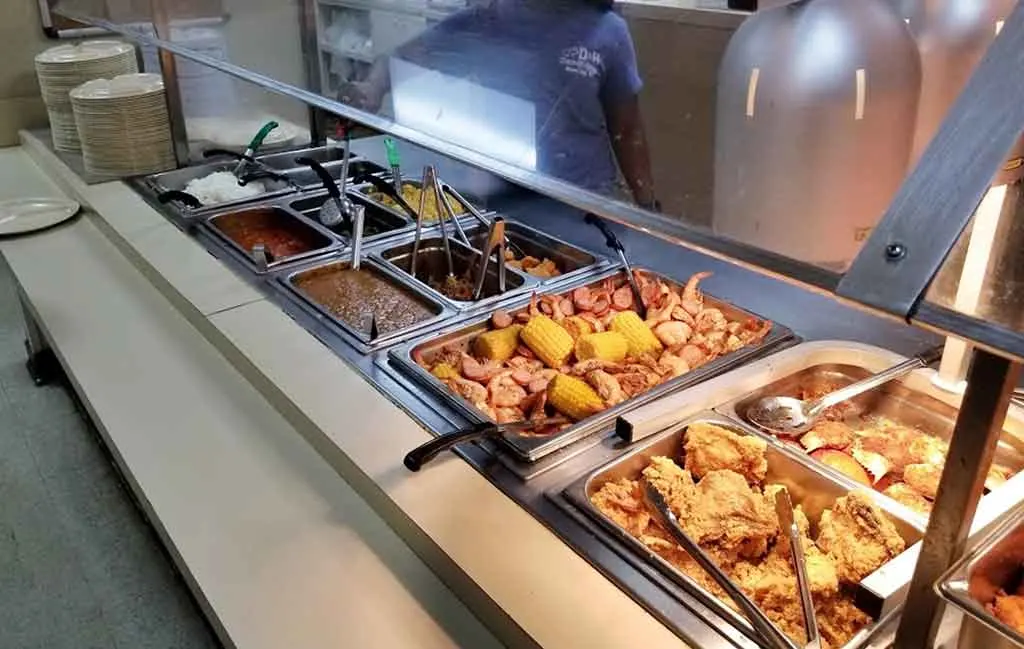 Or, in a nod to the SC fish camp tradition, stop in on seafood night. D&H serves catfish nuggets, catfish stew, and some of the largest fried shrimp you've ever seen.
And make sure you save room for dessert at this place, the pecan pie is fantastic!
D&H exists in what was originally a fast-food drive-in. The décor is simple, but the food is special.
D&H Bar-B-Que specializes in homemade barbeque, fried chicken, fried pork chops, hash and rice, and best of all, homemade mac and cheese.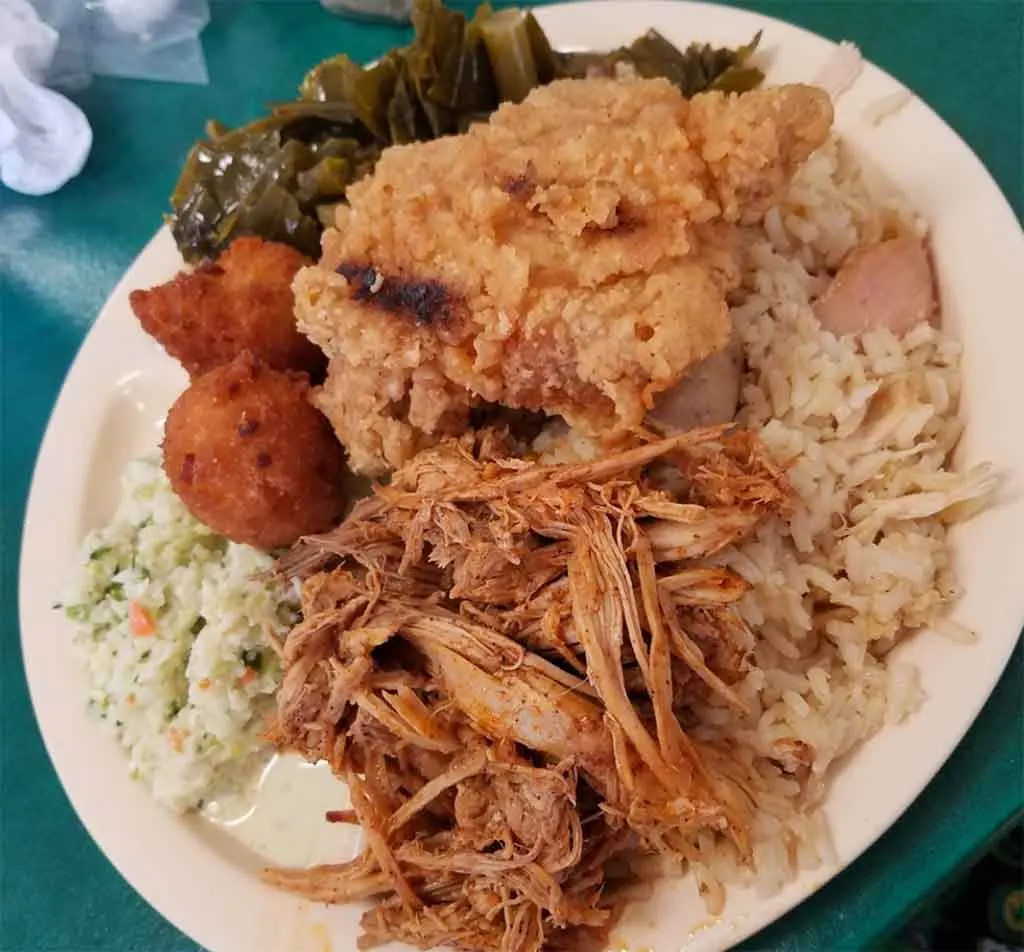 They offer a secret homemade sauce recipe that they make fresh every day.
In fact, D&H offers the "Williamsburg County" style of BBQ doused with a vinegar-based sauce. It's a very nice change of pace from the standard mustard-based BBQ which predominates much of South Carolina.
The hash, yet another SC BBQ staple and an original to the state, is a bit different but quite tasty.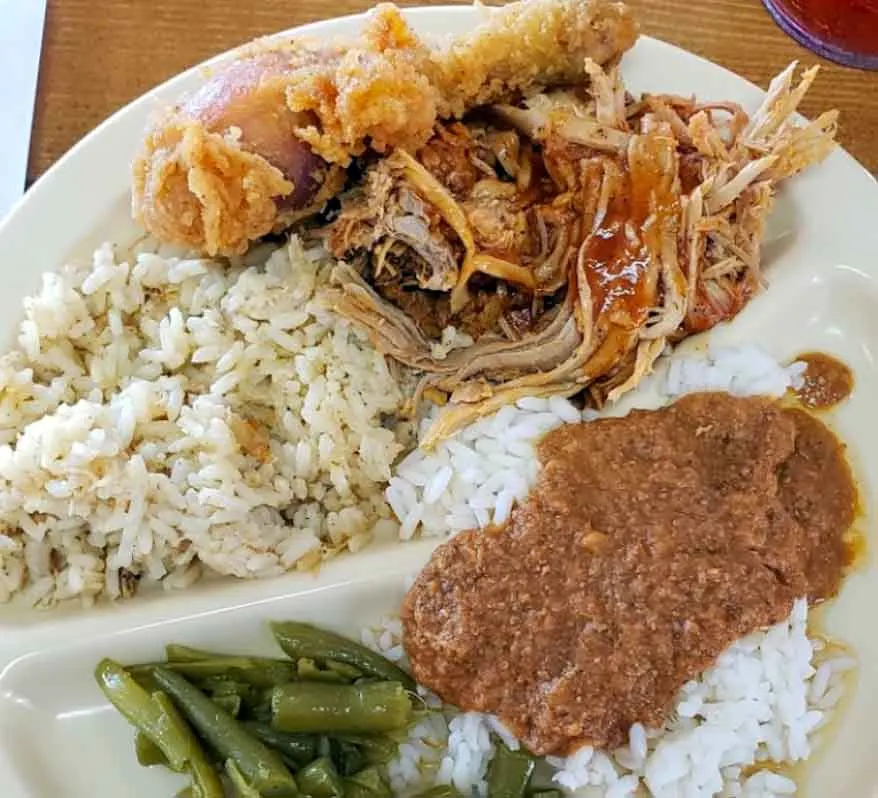 The sauce isn't the only thing fresh on the menu. D&H Bar-B-Que always serves fresh vegetables, coleslaw, and potato salad.
Oh, and don't forget the hush puppies…..never, ever forget Henry's delicious hush puppies!
During the week, the lunch deal can't be beaten! Seafood is offered every Tuesday and Saturday after 5:00 pm.
So, if you find yourself on a Road Trip or are just in the area, be sure to give D&H Bar-B-Que a try. Our Interstate 95 restaurant guide will help you find all the SC BBQ joints like D&H Bar-B-Que within 10 miles of an exit.
What Folks are Saying
Yelp Review
On Yelp, Aimee S took a chance on D&H Bar-B-Que on her family's trip back home:
"Oh my goodness! Based on the reviews I knew D&H would be good, but they did not do it justice.
If you love homestyle bbq with all the fixin's this place is for you.
We were driving back to Raleigh from Hilton Head on a Sunday. Our LO woke up ready to eat, so I yelped the closest restaurant with good reviews.
Boy, were we glad she woke up when she did. D&H is a short distance off of 95 so it was perfect.
It's a small diner, that exudes southern hospitality.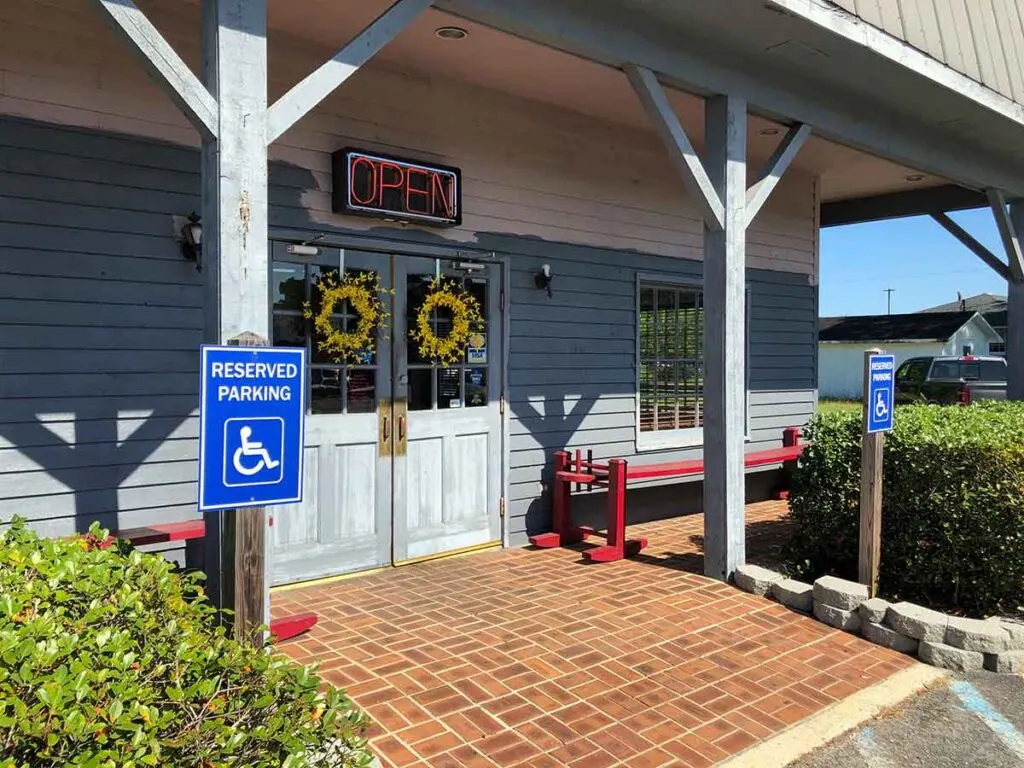 On Sundays, they have an all you can eat buffet for $8.26.
Pork bbq, fried chicken, mac 'n cheese, green beans, sweet potatoes, slaw, potato salad, stuffing, hush puppies, and quite a few different pies. Between the 2 of us, we sampled everything but the chicken.
AMAZING. We both kept saying how different items tasted like our grandmother's recipe. So delicious!
Every time we drive past Manning on I-95, we'll be certain to stop at D&H's.
Google Review
Local Guide Karen Marlowe shared the fact that she is happy to drive almost an hour just to eat at D&H Bar-B-Que in her Google review:
This place is excellent! They have a buffet all the time but they also have a menu.
We live out in Eutawville and we will travel here (45-50 min) to eat especially on Saturday night because they have all you can eat seafood. It is a great variety of seafood, too.
It is a very small place and nothing fancy but always worth the trip.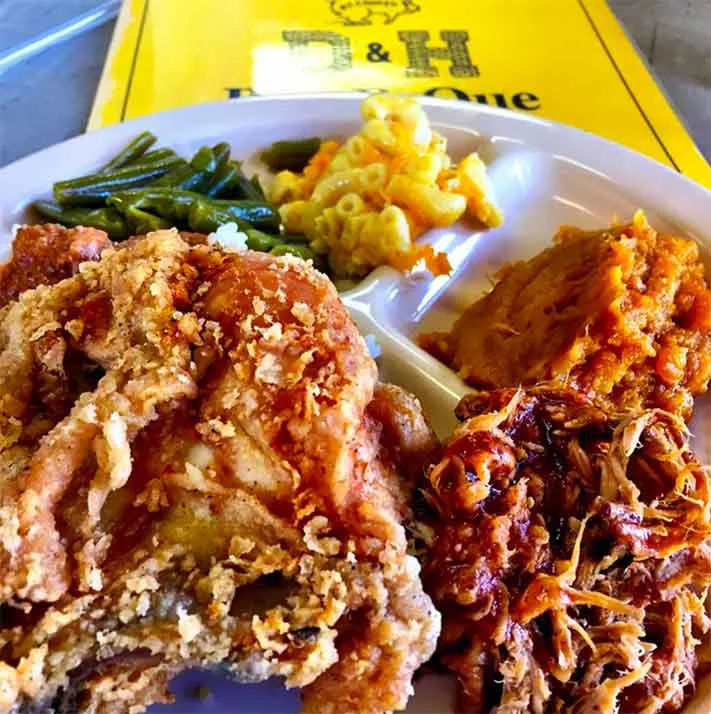 "They have excellent BBQ, fried chicken, green beans, rice, hash, dessert, potato salad, slaw, etc. on most nights.
The cost is good too. So I suggest if you are visiting Santee, Summerton, Elloree, Eutawville, Holly Hill, Vance or the surrounding cities stop by and try it out!
SCBA
Sure, folks on review sites often have great things to say about a place, but what about the folks who really know SC BBQ better than anyone? What about the folks who actually train the judges for SC BBQ competitions?
What do they think of this place?
The SC BBQ Association has named this place one of the Top 100 BBQ houses in the state. SCBA founder Lake High, writing his review, had this to say about D&H Bar-B-Que:
D&H is housed in an ex-fast food drive-in and the décor is a bit plain but they make up for it with the food. The fried chicken is tempting but the slow-cooked barbeque is the best.
Menu for D&H Bar-B-Que in Manning
Note: Menu prices and options are subject to change over time. Contact the restaurant for the most up-to-date information.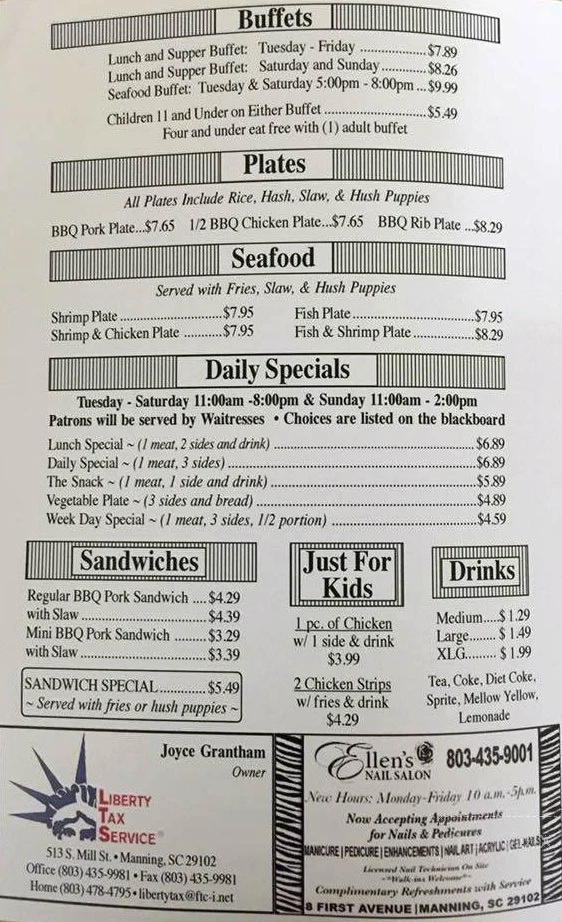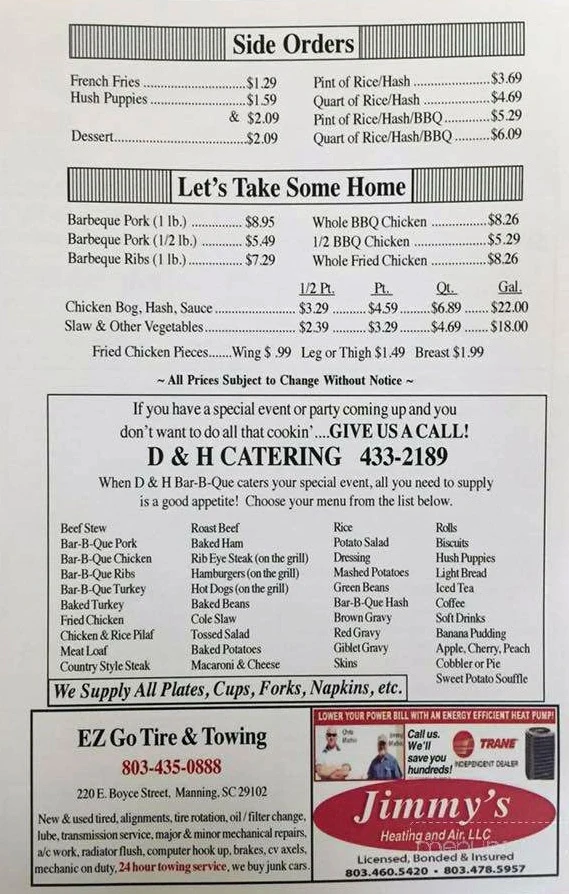 Location, Hours, Contact Info, and More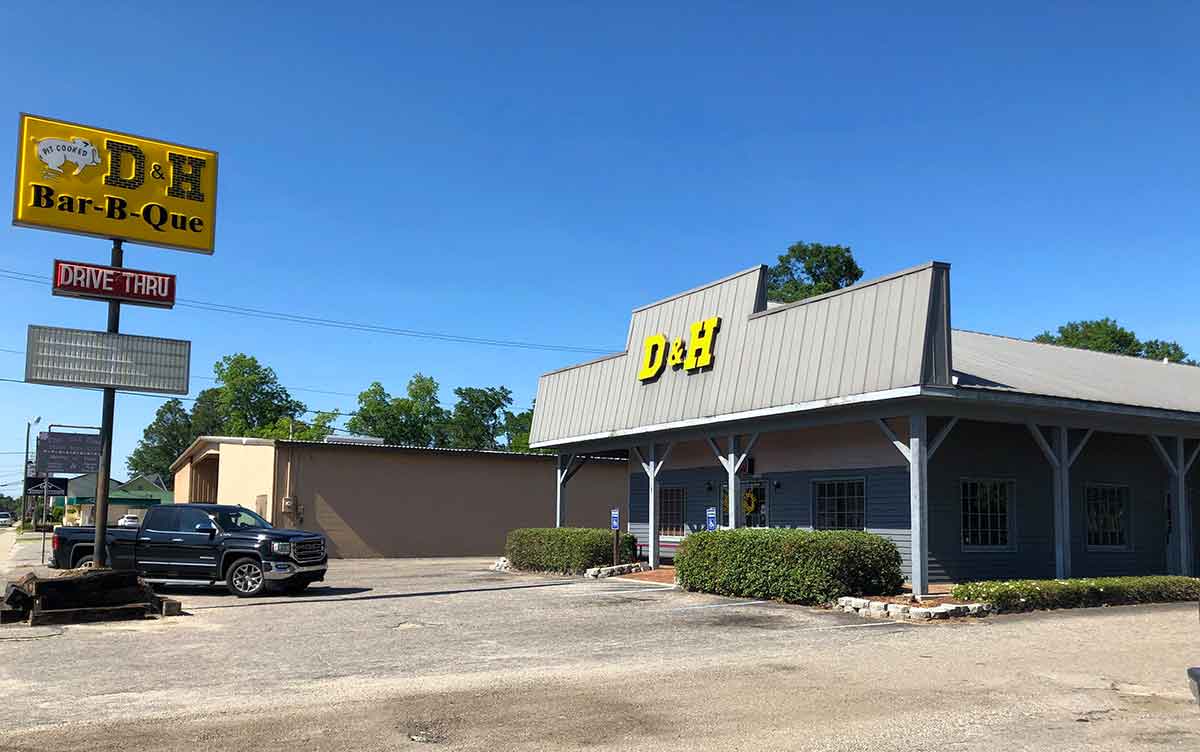 Map
Directions
Contact D&H Bar-B-Que
412 S. Mill Street
Manning,
SC
29102
Hours of Operation
| | |
| --- | --- |
| Monday | Closed |
| Tuesday | |
| Wednesday | |
| Thursday | |
| Friday | |
| Saturday | |
| Sunday | |
Social Media
Review Sites
Features
Buffet, Cards and Cash, Hash, Vinegar Pepper Sauce