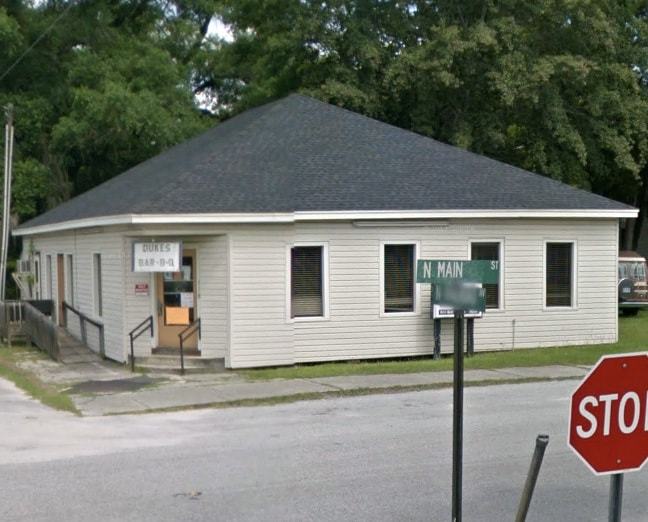 A Taste of History
Dukes Bar-B-Que in Ridgeville was started almost 40 years ago by the current owner Scotty Thomas' family. As always, Dukes strives to keep everything family-oriented.
When it comes to SC BBQ, Dukes is one of the great family names. There are a number of Dukes restaurants scattered throughout the Lowcountry of South Carolina.
Dukes, however, is not a chain and while all are loosely connected by family ties, they're all separate and unique restaurants.
This article by Robert Moss sheds some light on the Dukes BBQ business and its history, going back to the original Earl Dukes of Orangeburg.
On the Menu
As for the Dukes Bar-B-Que in Ridgeville, they are famous for great food and an amazing buffet. Pulled pork is, of course, the staple but on the menu (see below), you'll also find chicken and some of the best SC BBQ hash you'll ever enjoy. Among other things, sides include mac & cheese, hush puppies, baked beans, and slaw. On the dessert table, you'll find banana pudding, various bread pudding, blueberry dump cake, and their classic Watergate Salad.
What Folks are Saying about Dukes Bar-B-Que in Ridgeville
Google Review
Among the many Google Reviews, Google Local Guide Mike Diamond, author of over 200 reviews, find Dukes Bar-B-Que in Ridgeville is so tasty it will put you in a coma:
It's a hole in the wall place, but they are consistently good. Buffet of pulled pork nicely pulled and chopped, fried chicken is good, too. Hash and rice is one of my favorites. Lots of good country vegetables. The corn nuggets are unique and tasty. Blueberry cobbler, bread pudding, and banana pudding were a sweet treat, too. Hard to beat the price. Definitely good enough to put you into a food coma.
Yelp Review
Over on Yelp, Brad P has enjoyed Dukes Bar-B-Que in Ridgeville for decades:
Dang, I love this place. I've been going here for around 30 years and it's the one I long for while stranded up in Yankee territory.
This is no-frills dining. Bring a big appetite to fill up those styrofoam plates with that impressive spread.
Some of the standouts here are, in no particular order: the hash, the chicken, the corn nuggets, the hush puppies, and the banana pudding. And there's a surprising amount of vegetables to go along. You don't see rutabagas on many BBQ buffets, but they rock it here.
But the star in my opinion is the mild barbecue sauce. My best guess is that the base is a combination of mayonnaise and mustard, but I'm not sure. It's a bit creamy and on the thicker side–you won't find sauces like this outside the Lowcountry. I would definitely buy it by the bottle if they sold it.
---
Menu for Dukes Bar-B-Que in Ridgeville
Note: Prices and options subject to change over time.
Dukes Bar-B-Que in Ridgeville
118 N. Railroad Ave.
Ridgeville,
SC
29472
United States
| | |
| --- | --- |
| Monday | Closed |
| Tuesday | Closed |
| Wednesday | Closed |
| Thursday | Closed |
| Friday | |
| Saturday | |
| Sunday | |