Michael D'z Pit BBQ in Mars Bluff
This post may contain links from which I earn a commission. Please read my disclosure policy. As an Amazon affiliate, I earn from qualifying purchases.
If you find yourself in the Mars Bluff area driving down Old Marion Highway and suddenly begin to smell the temptation of smoked meat in the air, start slowing down. Keep your eyes open.
You'll likely first see the sight of smoke billowing from the side of the road near a stack of hardwoods.
Set back slightly from the road, you'll soon see a black food truck permanently stationed on the side of the road with BBQ lettered in bold on the side.
Here you will find D'z Pit BBQ.
D'z is certainly off the beaten path, but that is exactly where you will find the best pulled pork and ribs in the Pee Dee. This is a favorite stop for locals who take this rural road to and from Myrtle Beach.
Their setup is basic, but D'z Pit BBQ offers both outdoor and indoor seating. They provide a comfortable building with seating for those who prefer an indoor setting.
The building houses not only tables, booths, and even a bar area for sitting, but you'll find pool tables and motorcycles inside…and clean restrooms, too!
Of course, D'z Pit's pulled pork earns a lot of praise for its smoky flavor.
Sample the rib basket with crinkle fries and coleslaw or go for the beef brisket with special D'z sauce. Stop by Tuesday through Sunday between 10 a.m. and 8 p.m.
If you're on a road trip heading through South Carolina or simply from the area, D'z Pit BBQ is about 5 miles from Exit 170 on Interstate 95. Do yourself a favor and take this short detour to enjoy some of the Pee Dee's finest BBQ.
What Folks Say about D'z Pit BBQ
Universally, there is a lot of respect for D'z. As of today, D'z Pit BBQ has earned 4.5 of 5 stars with over 170 reviews on Google. On Yelp, the rating is the same. Can't get much better than that.
From Yelp
Wayne G., a local from nearby Florence, had a lot of great things to say in his lengthy review on Yelp:
"First time eating at D'z Pit BBQ today. It was well worth the drive "all the way" from Florence. I sampled the pulled pork and beef brisket.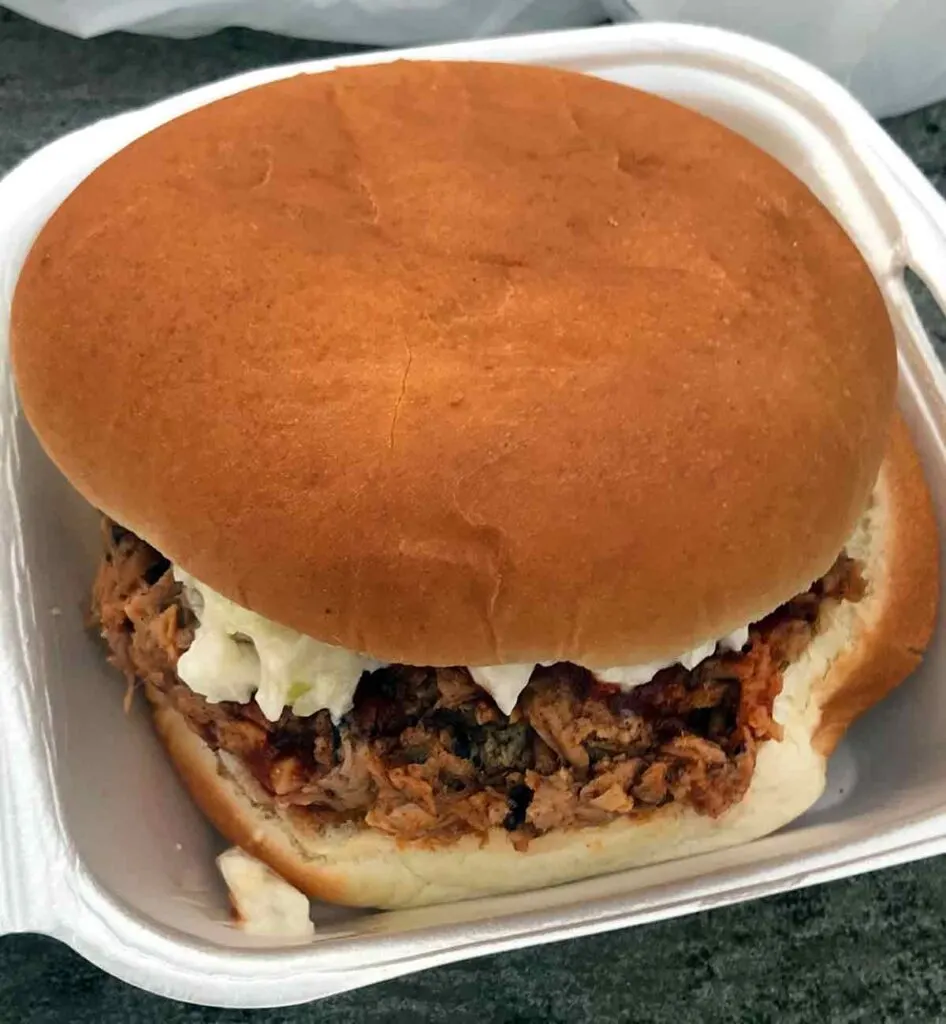 The Food
The pork was chopped with sauce. A very generous portion on a large burger bun.
The bun was fluffy and fresh. I was mainly wanting to dig into the BBQ so used the fork and skipped most of the bun. It had a small but tasteful smoke to it.
Very lean chop with zero gristle I saw.
The D'z Pit BBQ sauce is a darker red vinegar base and as others mentioned had a slight kick. I would stop short off calling it spicy, however, and I have a very low spice tolerance.
The brisket is cooked well and sliced very thin, almost deli thin. I also asked for mine to be chopped.
The brisket was very lean with very little fat, I know this is somewhat abnormal, but this is exactly how I prefer mine. I started here and enjoyed every bite.
While I imagine it is cooked in the same smoker as the pork. It did not have near the smoke taste (which was mild) as the pork.
The brisket was also sauced with D'z sauce which complimented the brisket and had a slightly different flavor than the pork. Mine came out piping hot and might be the best brisket I've had outside of Texas.
The Location
The location and atmosphere are 100% rural South Carolina. This feels like a hidden gem trapped in timewarp off of the beaten path.
Order at the food truck trailer and eat in the bar. Pool tables and motorcycles and signs of an almost forgotten produce stand.
If you're looking for a high-class refined establishment, the venue here is not for you. If you are looking for quality cooked fresh BBQ with a unique local twist D'z Pit BBQ should be a must stop.
I'll be back for sure, I read too many reviews about the ribs to not come back and try them.
From Google Reviews
Google Local Guide Tommy McRae had this to say about D'z Pit BBQ in his review:
I have been riding by this place 5 out of 7 days per week for 3 years and always said I wanted to try this place. I tried a pulled pork sandwich and about a month ago and Man, why did I wait so long.
This place is a gem!
The food was so good and the portions were very generous. I tried the brisket the very next week and I was equally impressed.
I highly recommend this place. Some of the best bbq around. Great smoked flavor with just the right amount of spice.
As a matter of fact, I'm about to order a pound of the pulled pork on my way home from work. That'll be our dinner tonight!
Clearly, D'z Pit BBQ is a great spot for some great BBQ.
---
Menu for D'z Pit BBQ
Note: Menu prices and options are subject to change over time.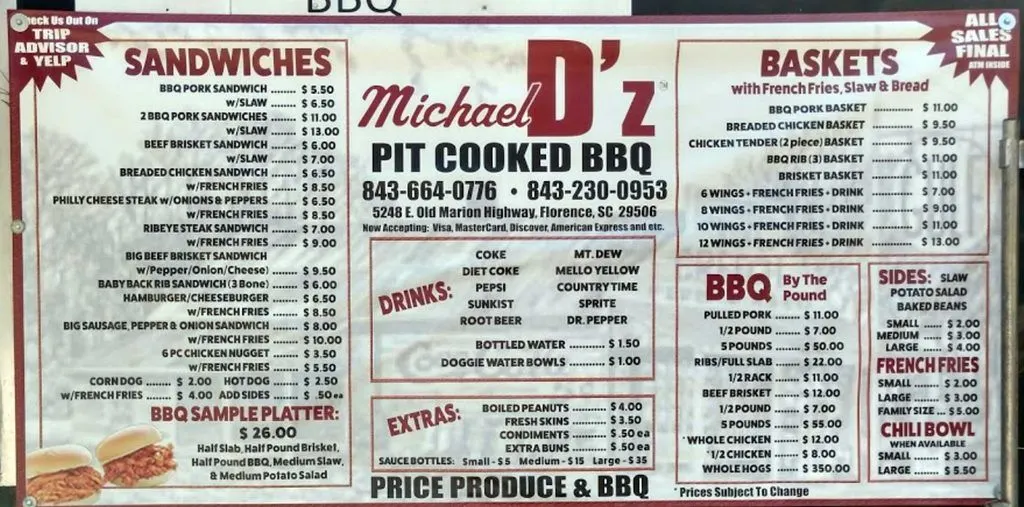 Location, Hours, Contact Info, and More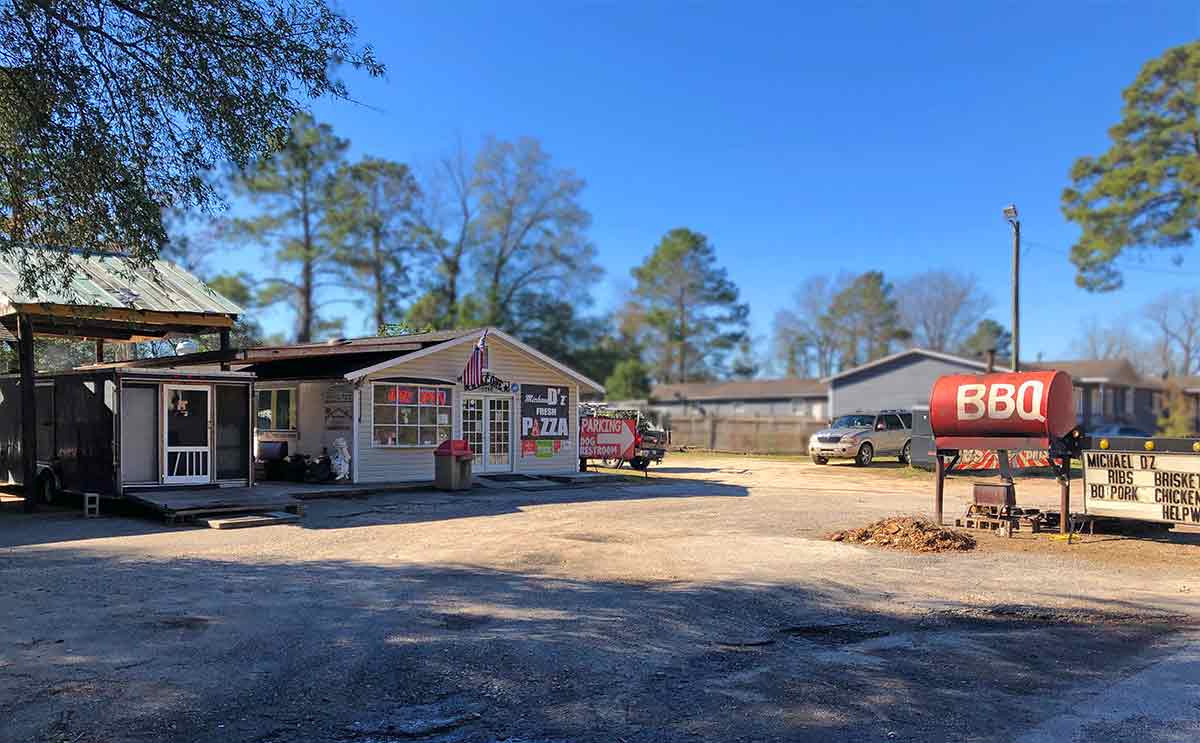 Map
Directions
Contact Michael D'z Pit BBQ in Mars Bluff
5248 E Old Marion Hwy
Florence,
SC
29506
Hours of Operation
| | |
| --- | --- |
| Monday | Closed |
| Tuesday | |
| Wednesday | |
| Thursday | |
| Friday | |
| Saturday | |
| Sunday | |
Social Media
Review Sites
Features
Cash Only, Mustard Sauce, Vinegar Pepper Sauce