Hog Heaven BBQ, Seafood and Country Cooking
Hog Heaven BBQ is located in Pawleys Island, SC, serving seafood, BBQ, and country cooking for the Myrtle Beach area.
They have a daily buffet and provide catering.
Hog Heaven BBQ really is a little slice of paradise in Pawleys Island. With many upscale eateries to choose from, Hog Heaven stands alone as a place you can wear comfortable clothes and fill up on some of the area's best grub.
Families make up the majority of the customer base, but special oyster roasts and pig-pickin's can attract a party crowd.
Hog Heaven BBQ makes great barbecued pulled pork, ribs, and chicken slow-smoked over hickory coals. Diners can also select from a country cooking buffet featuring a wide selection of meats, vegetables, and seafood, including fried shrimp, oysters, scallops, and crab legs.
Hungry visitors can order the all-you-can-eat shrimp and oysters, or try a seafood platter combination featuring only your favorites.
Wine and beer are available but no alcoholic drinks.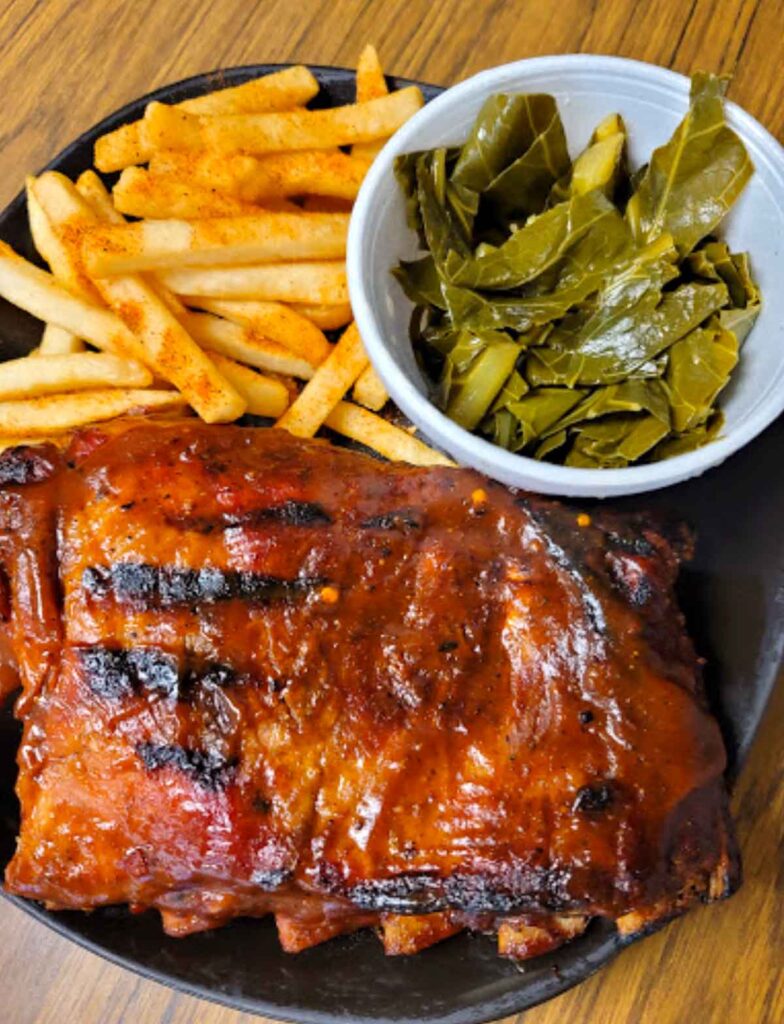 What Folks are Saying about Hog Heaven BBQ
Google Review
Among the many Google Reviews, Local Guide Suzanne Kruse knows where to go for a great barbecue buffet:
This is a MUST place to dine if you're anywhere near Pawleys Island!!
For $8.15 per person, you get all-you-can-eat BBQ and Southern side dishes! The side dishes are amongst the BEST we've had on this trip.
The fried chicken is THE BEST. It is perfectly crisp and melts in your mouth. The pulled pork is tender and full of flavor!
Each side dish tastes as if it was made with lots of Southern love. There is also a salad bar if you're trying to be healthy.
I'm not a huge dessert fan but I made a concerted effort to sample both puddings (chocolate and banana). I had another piece of fried chicken for my actual dessert!!
Yelp Review
Over on Yelp, Irene H echoes the thoughts of the Google reviewer above about Hog Heaven BBQ:
If you pass by or are in the vicinity and have an inkling for real southern cooking at its best, Hog Heaven BBQ is where you go for authentic southern BBQ. I'm not saying I like my string beans overcooked and soggy, but that's how they do it in the south.
The pulled pork is meaty and tender and at each table, you are provided with an assortment of different barbecue sauces to sample, mix or use on your foods as you like. The fried chicken, I usually don't like, but I will eat it here, it's to die for and always cooked in batches proportional to the size crowd, to ensure its freshness.
Some of the veggies, I'm just not fond of, but this is authentically the way it is cooked in the south. I'm not saying it would come out of my kitchen this way, but it's always nice to try something different.
My husband dives to the collards every time. A salad bar is part of the dessert bar.
Some type of chocolate pudding/Oreo/whipped topping and Banana pudding are on the menu for dessert. This is not Gordon Ramsey-style cooking, this is authentic, old homestyle southern cooking.
Get the buffet, wear old clothes as you're sure to spill something on yourself, dig in and enjoy. The parking lot is limited because it's generally pretty full.
The prices are reasonable and beverages are refilled at no extra cost.
SC BBQ Association
Sure, folks on review sites often have great things to say about a place, but what about the folks who really know SC BBQ better than anyone? What about the folks who actually train the judges for SC BBQ competitions?
What do they think of this place?
The SC BBQ Association has listed Hog Heaven among their Top 100 BBQ places in SC. Here's part of what they had to say:
The barbeque at Hog Heaven BBQ is good.
It is cooked in a Southern Pride rotisserie as is much of the barbeque that is offered in many of today's restaurants and, all in all, since it has a wood smoker attached, it comes off pretty good.
At Hog Heaven the sauce is low country vinegar and pepper and they have a "tangy" that they also serve on the tables along with a mustard sauce but, stick with the barbeque as it comes off of the buffet as it doesn't need any more sauce; it is juicy and tender as it is.
Indeed, I found the sauce on the table to be a bit too sharp for my taste so it was good that the barbeque didn't need it.
---
Check out our Review of Hog Heaven.
Menu for Hog Heaven BBQ
Note: Menu prices and options are subject to change over time. Contact the restaurant for the most up-to-date information.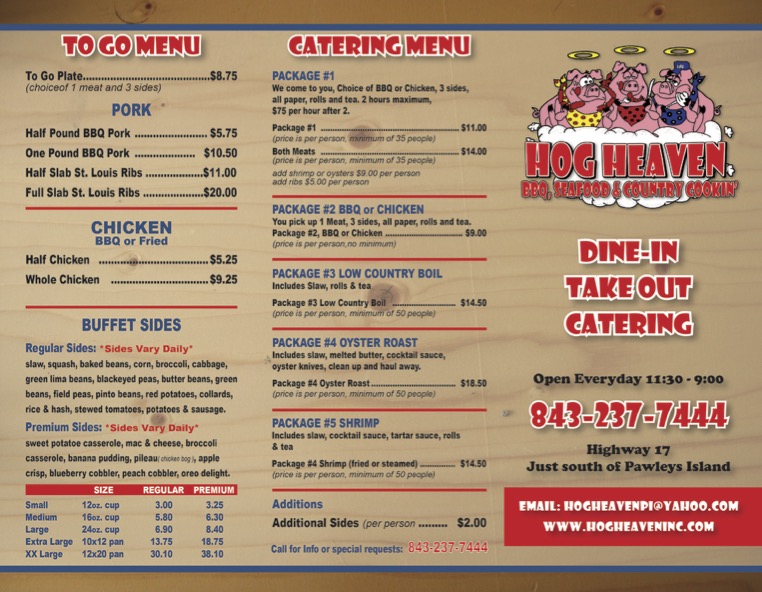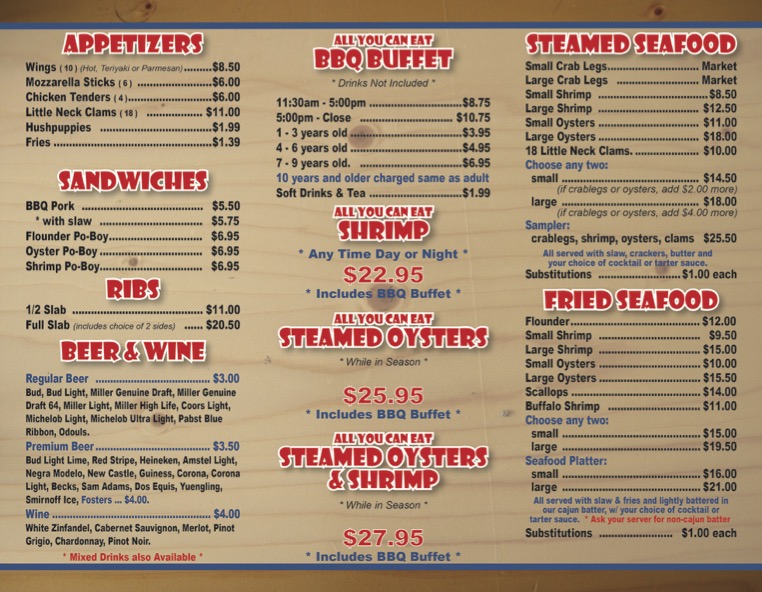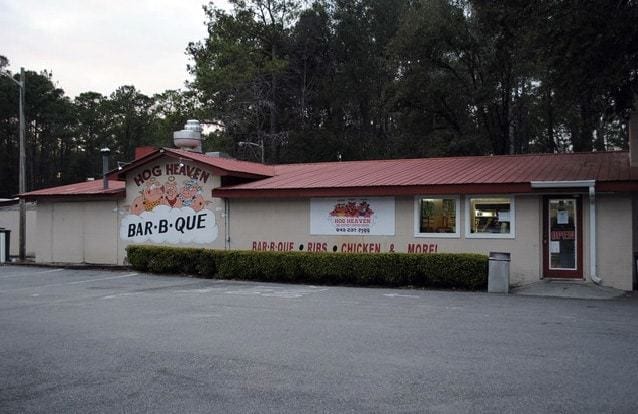 Hog Heaven BBQ, Seafood and Country Cooking
7147 Ocean Highway
Pawley's Island,
SC
29585
| | |
| --- | --- |
| Monday | |
| Tuesday | |
| Wednesday | |
| Thursday | |
| Friday | |
| Saturday | |
| Sunday | |
Social Media
Review Sites
Features
Cards and Cash, Buffet, Hash, Mustard Sauce, Vinegar Pepper Sauce