This post may contain links from which I earn a commission. Please read my disclosure policy. As an Amazon affiliate, I earn from qualifying purchases.
McCabe's Bar-B-Que in Manning simply cooks some of the best barbecue you will ever taste.
It stands out as true, old-school South Carolina BBQ that you cannot find just anywhere these days. If you are looking for an authentic SC BBQ experience, McCabe's is the place to stop.
Then, there is the rest of the food on the buffet. The sides alone would make it worth a 100-mile drive.
(Note: Due to some health problems, McCabe's shut down for a long while. In mid-2018, with good health returning, they opened again and have been working a regular schedule since.)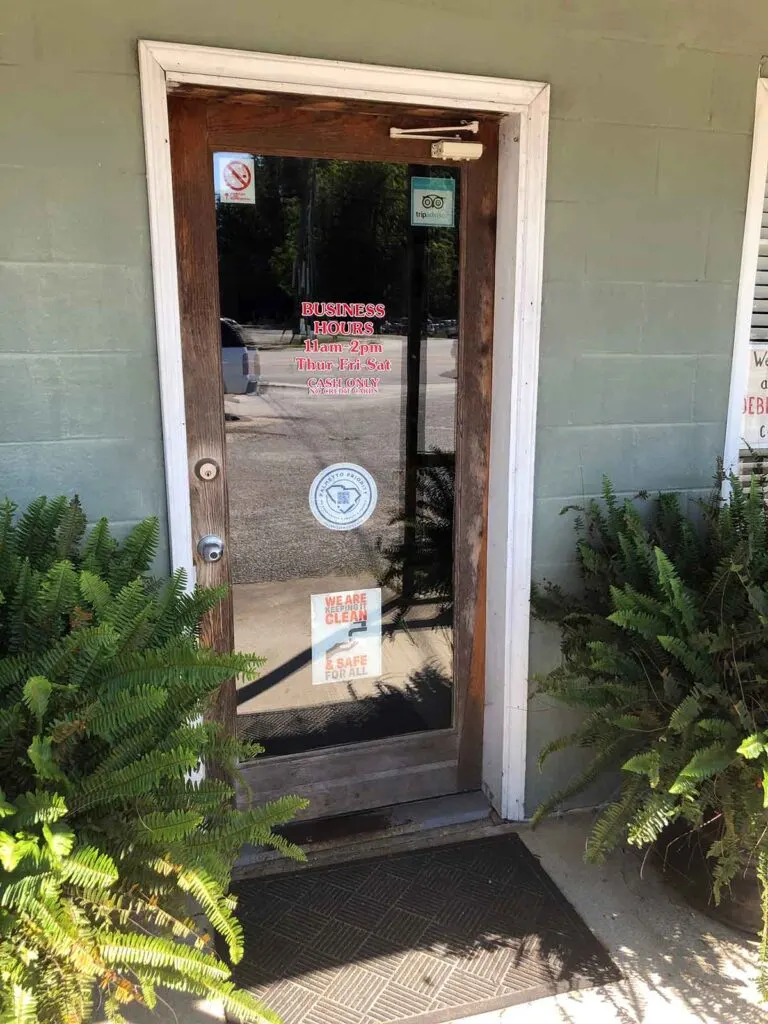 "There are plenty of barbecue buffets in the Midlands and Pee Dee region of South Carolina, but none can match the consistent high-quality of McCabe's," Southern Living BBQ Editor Robert Moss wrote.
"Everything on the small steamtable – the pulled pork, steeped in peppery vinegar sauce, the fried chicken, the sweet potatoes, greens, hush puppies, and coleslaw – is top-notch."
The combination of classic, wood-cooked BBQ with such a tasty selection of sides makes McCabe's one of SC's best BBQ joints.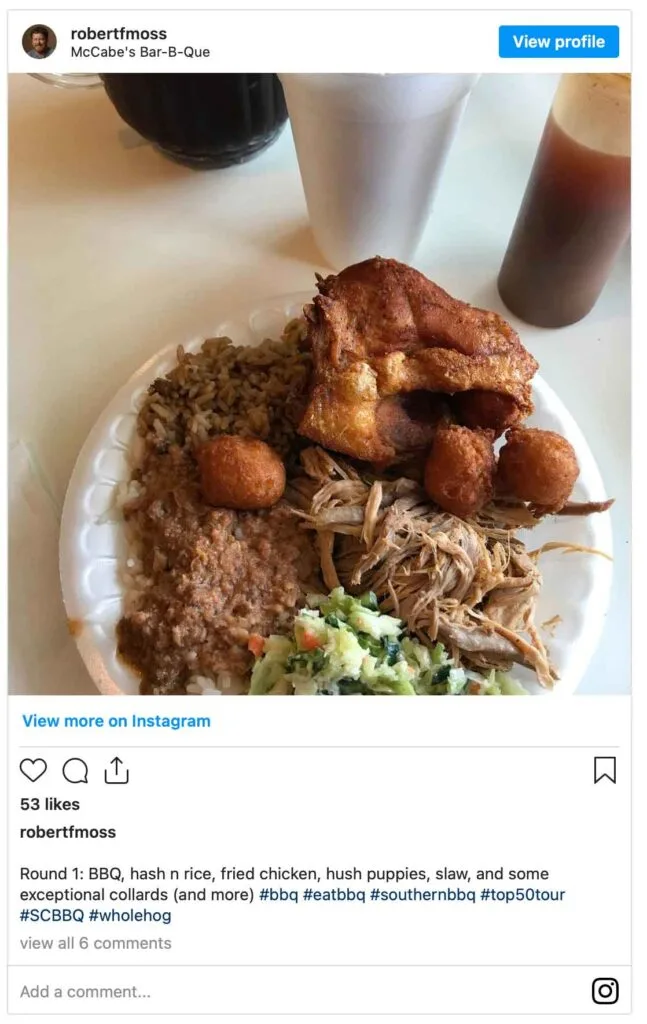 There is a lot to love about McCabe's Bar-B-Que
First, David McCabe and family serve their BBQ the way it was meant to be eaten. They will not give you a wide selection of sauces for you to pick and choose from.
McCabe's Bar-B-Que serves the sauce that has historically been served in this region of South Carolina. It's a vinegar and pepper sauce that is slightly sweet with a bit of heat.
The sauce is "the big secret," McCabe said. "It's vinegar-based with salt, pepper, and ketchup…and our secret ingredient."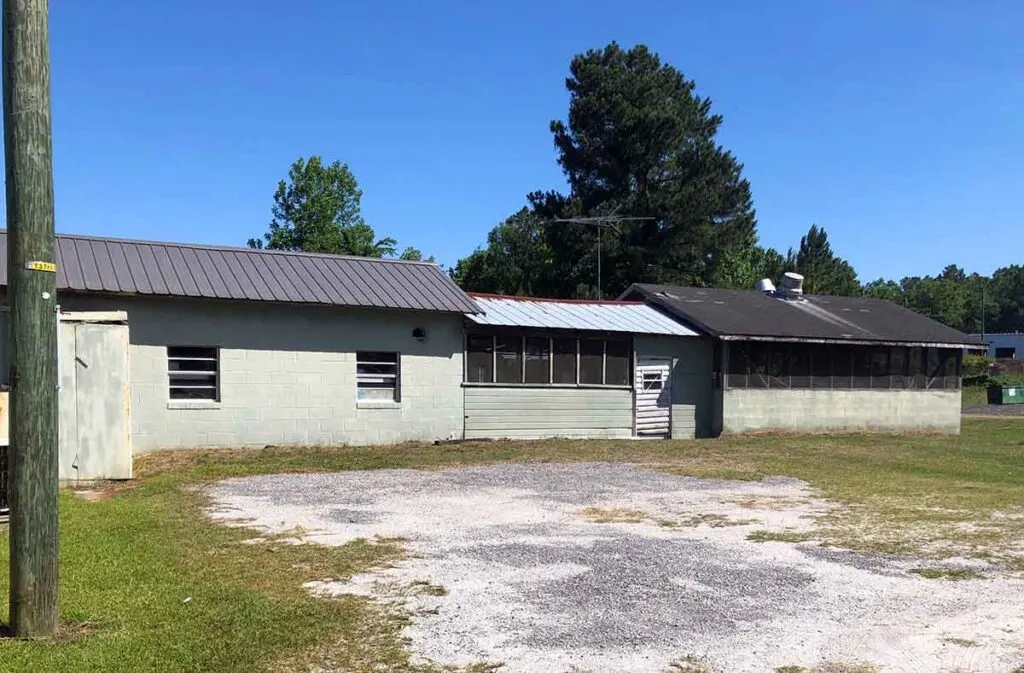 Second, the McCabe's cooks their pulled pork over wood embers in a screened room off the back of the restaurant. So mouth-wateringly perfect, it would be delicious without any sauce.
McCabe's barbecue is made from the whole hog, shoulders, and hams, cooked 10 to 12 hours.
"It combines all the parts," McCabe said. "It enhances and helps the taste."
Because shoulders tend to be moist while hams have more chew, combining all the parts gives you a taste you simply cannot get without using the whole animal. That unique blend provides McCabe's the texture and depth of flavor most other places lack.
Finally, the other foods on the buffet are simply amazing. The McCabe's regularly serve rice and hash, perloo, green beans, greens, cabbage, sweet potatoes, peas, coleslaw, and hush puppies.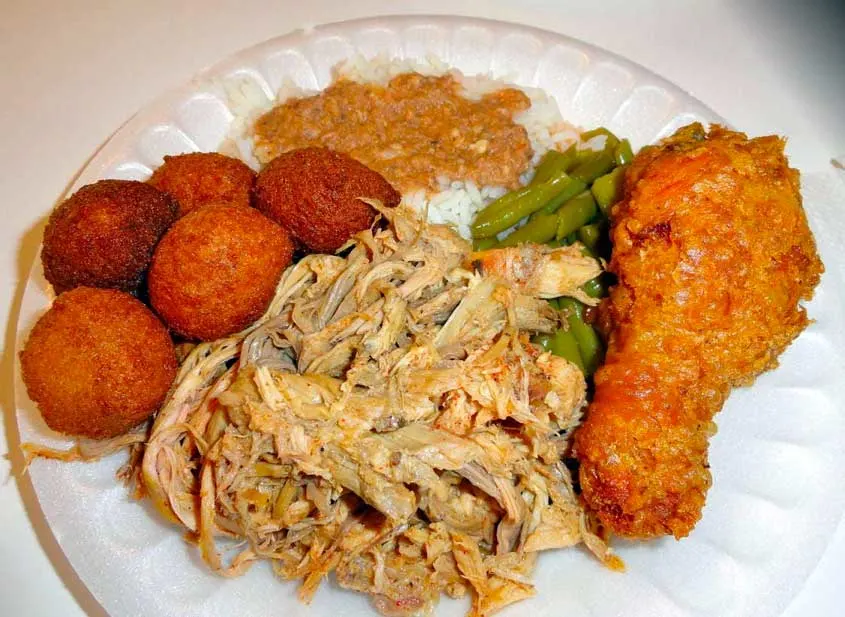 And the fried chicken… you will never eat better fried chicken anywhere.
Inside the small restaurant, hanging on the walls, are copies of published articles that praise McCabe's Bar-B-Q.
One states, "With each mouthful, you'll wonder if the good Lord put the McCabes on the earth to answer the question: Who makes the best barbecue on the planet?"
We know the answer. Find out for yourself.
NOTE: McCabe's takes CASH ONLY!
---
What the Critics Say
On Yelp, John H wrote the following about McCabe's Bar-B-Que:
So I was a little confused trying to check this place out online. It was closed for a while, at least a year.
I called before driving down there today, and the owner said they'd been open about eight weeks. I hopped in the car and rode, and so glad I did.
This is a small but mighty buffet. They have great hash and rice, no livers, not too sweet. They also do perlou–think dirty rice–and it is tasty stuff.
All the veg were great: greens, cabbage, yam patties swimming in syrup, slaw, great hush puppies, okra and tomatoes, butter beans, and of course pulled pork–and fried chicken. It was all fresh and just very good–well-seasoned, hot, delicious.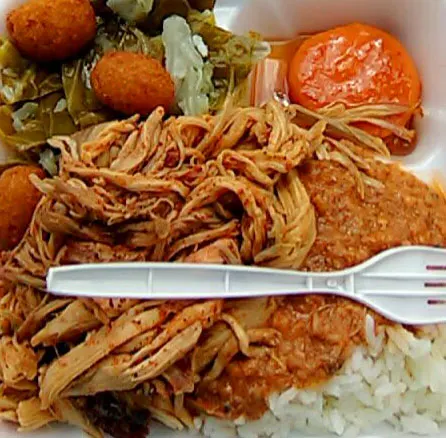 The ladies in the back are magic and I want to go to their church so I can follow them home for Sunday dinner. And I don't go to church.
Yes, cash only, and yes, only three days a week, and your drinks are lemonade and tea, which is only fitting, but man–this is worth a trip.
On his Google review, Jon Baucher wrote the following about McCabe's:
They are BACK!
I was fortunate enough to be passing through and stopped in for lunch. David and his family are open for business and the food is as good as it was 2 years ago when I was here last.
The pork is perfect, the hash is heavenly and the service is superb.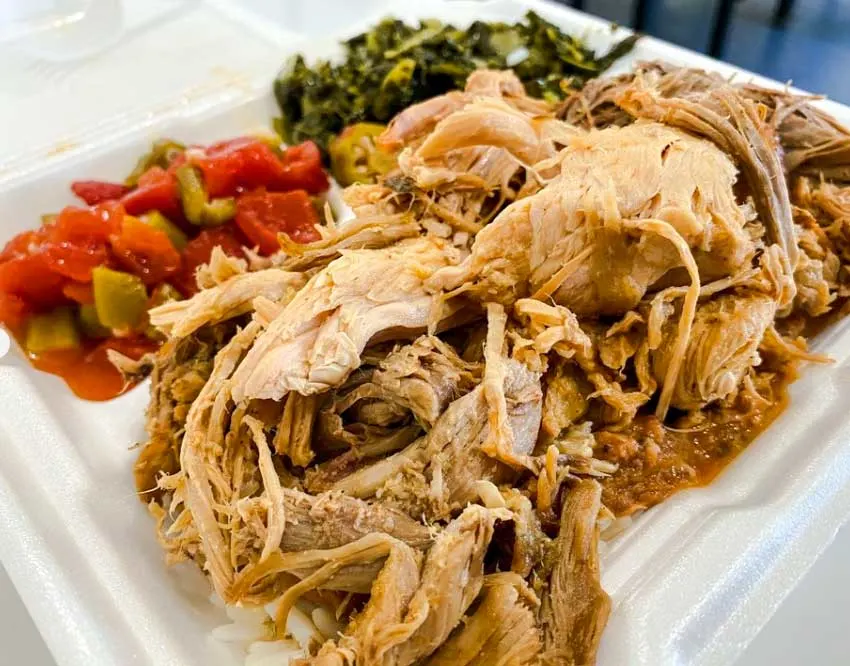 Stop in and make a plate. You can thank me later.
The SC BBQ Association has deemed McCabe's BBQ to be 100-Mile BBQ, BBQ worth driving 100 miles for. Here's an excerpt from their review:
McCabe may be small, but the flavors he dishes up are large. He cooks in pits that he built himself over real coals that he creates himself. Almost everyone working in the restaurant is family one way or another or they've been there so long they are almost like family.
McCabe usually serves it up buffet style but sometimes he even has a pig picking. And that buffet line features real down-home cooking by real down-home cooks.
They always serve fresh vegetables when they are in season and the high summer, when the famous Manning tomatoes are being picked and shipped, some people will travel many miles just to eat a plate of nothing but barbeque and those remarkable red delicacies.
Southern Living lists McCabe's as one of the South's Top 50 Barbecue Joints.
The Ryno Zoom Cast dropped in on McCabe's and recorded this review. Take a tour with him as he enjoys a meal.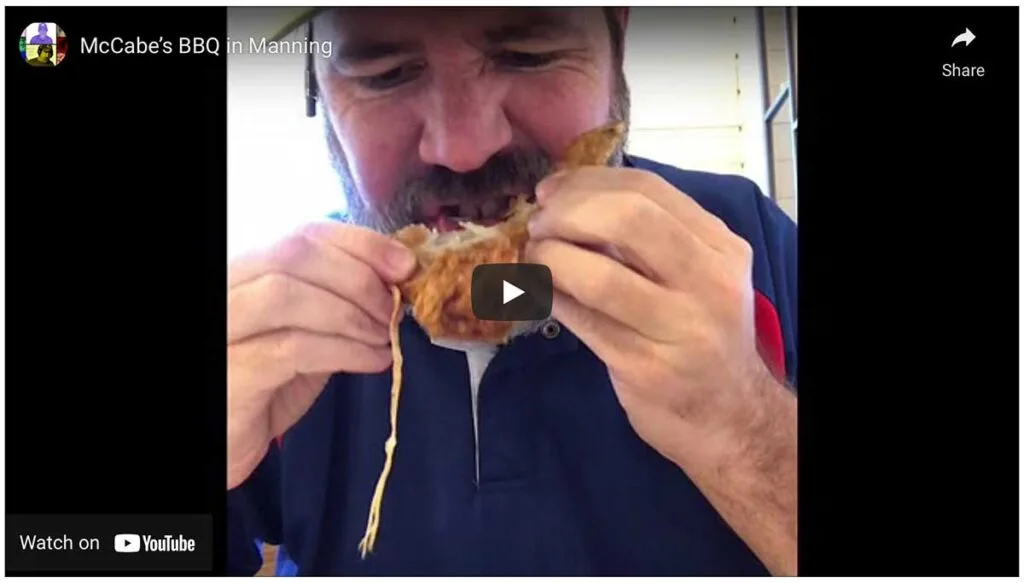 Menu for McCabe's Bar-B-Q
Note: Menu prices and options are subject to change over time. Contact the restaurant for the most up-to-date information.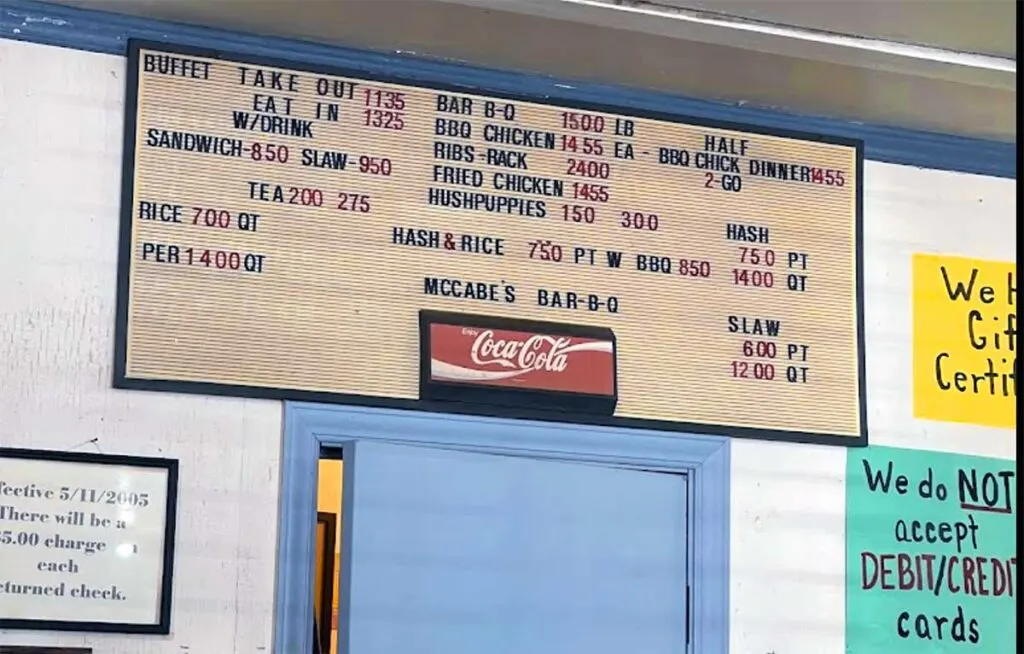 Location, Hours, Contact Info, and More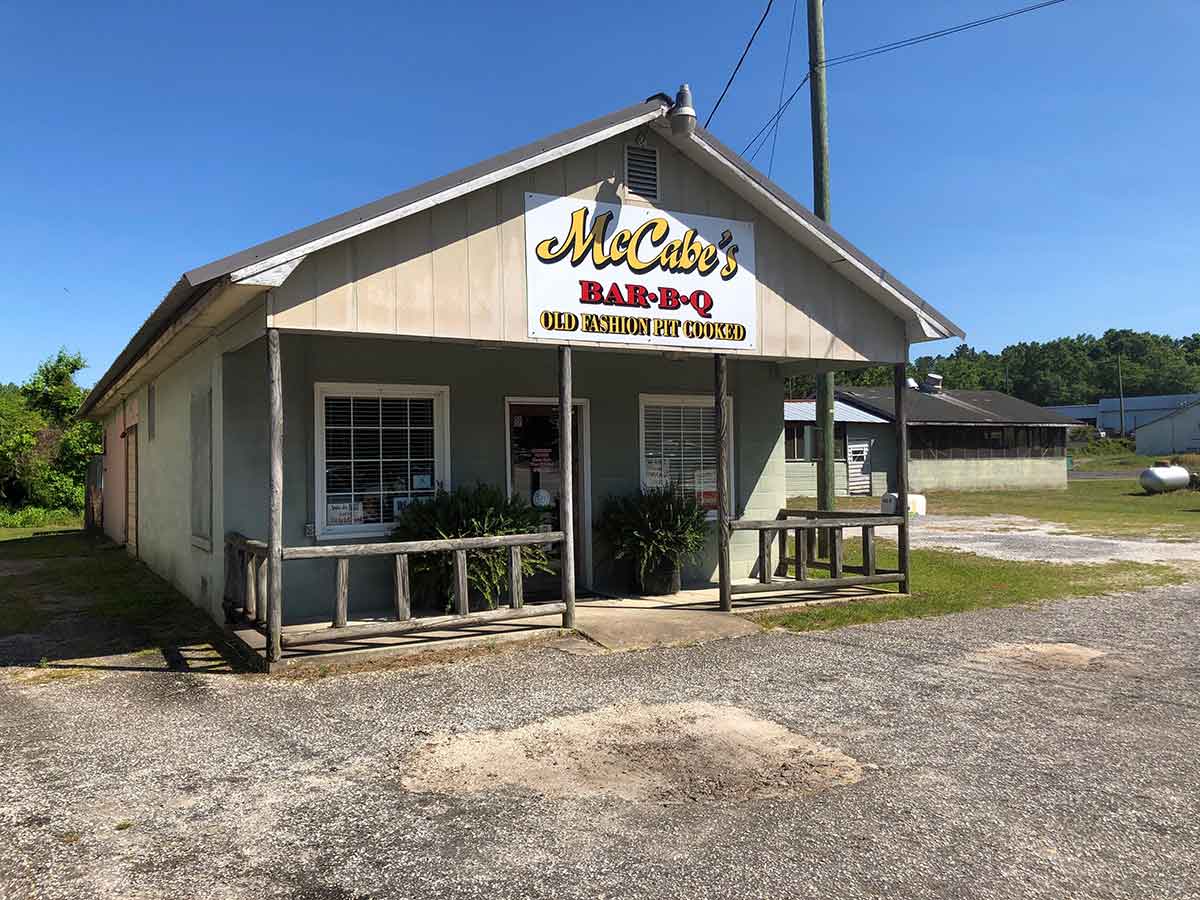 Map
Directions
Contact McCabe's Bar-B-Q
480 North Brooks Street
Manning,
SC
29102
Hours of Operation
| | |
| --- | --- |
| Monday | Closed |
| Tuesday | Closed |
| Wednesday | Closed |
| Thursday | |
| Friday | |
| Saturday | |
| Sunday | Closed |
Review Sites
Features
100 Mile BBQ, Buffet, Cash Only, Hash, True 'Cue Certified, Vinegar Pepper Sauce, Whole Hog