Midwood Smokehouse Barbecue is strongly rooted in the BBQ traditions of both the Carolinas and Texas. Whole hog, beef brisket, and other smoked meats are dry-rubbed and slow-cooked on over wood.
Midwood is your neighborhood smokehouse using nothing but Carolina hickory hardwood and hard work to make the best barbecue around. They meld the traditions of Texas, Carolina, and Kansas City barbecue to really give the full experience.
They only use USDA Prime brisket, because you can't take a bad product and make it good. They're famous for their ribs and burnt ends, too.
Don't sleep on Midwood's Tex-Mex barbecue tacos, bourbon selection, and craft beers.
---
What Folks are Saying
Google Review
Among the many Google Reviews, Local Guide Matthew Durham found Midwood Smokehouse will be a "must-visit" restaurant whenever he visits Columbia:
Midwood Smokehouse was not on our radar but a search led us to it. It is a true BBQ joint that really delivers on atmosphere, friendly service at the bar and at your table, excellent food, and very generous portions.
We both ordered the small version, and it was all we could do to eat it all.
My brisket was excellent and came with one side. I picked collard greens and they were great but it also came with some very tasty hush puppies and some pickled cucumbers and onions that reminded me of old fashioned "refrigerator pickles."
I don't live in Columbia, but this will definitely be a must visit next time I am in town.
Yelp Review
Over on Yelp, Linda K reported that she's tried BBQ across they country and haven't found better than Midwood Smokehouse:
The best BBQ we have ever had! We had 4 people with us and we all agreed on that!
The smoked wings with their garlic hot sauce …. The brisket… sides …. all the sauces ….. even the salads…. all OUTSTANDING! We ended up getting 2 more orders of the wings and taking a pint of the sauce togo.
We were on our way back from Charleston to Atlanta and this was the best place we went to our whole trip! We've tried a lot of BBQ on our travels across the US, and this is the best we have had so far!!!
Just stop by! You won't regret it.
Menu for Midwood Smokehouse
Note: Menu prices and options are subject to change over time. Contact the restaurant for the most up-to-date information.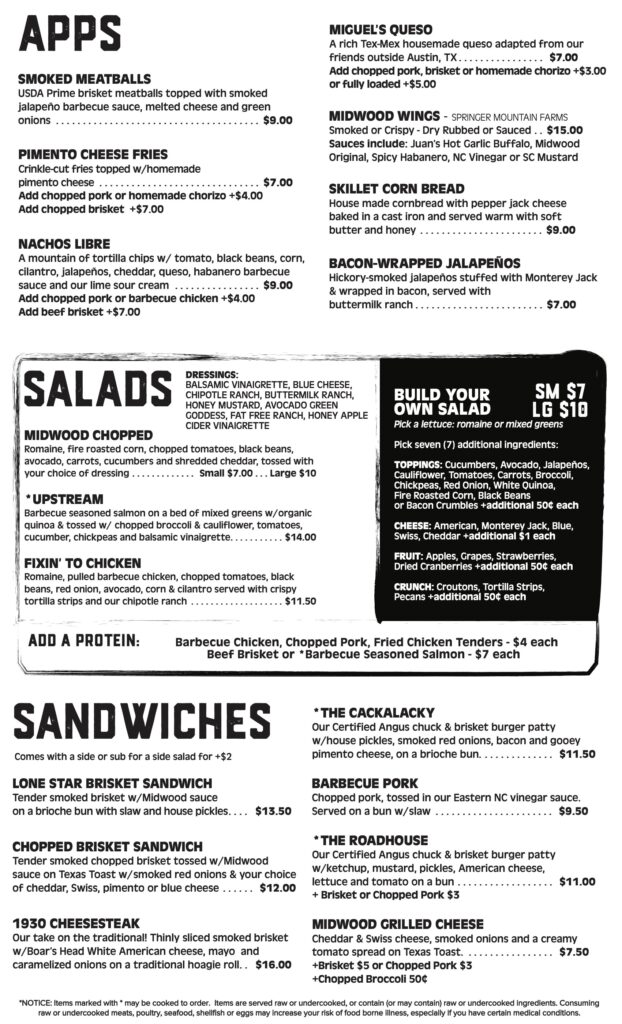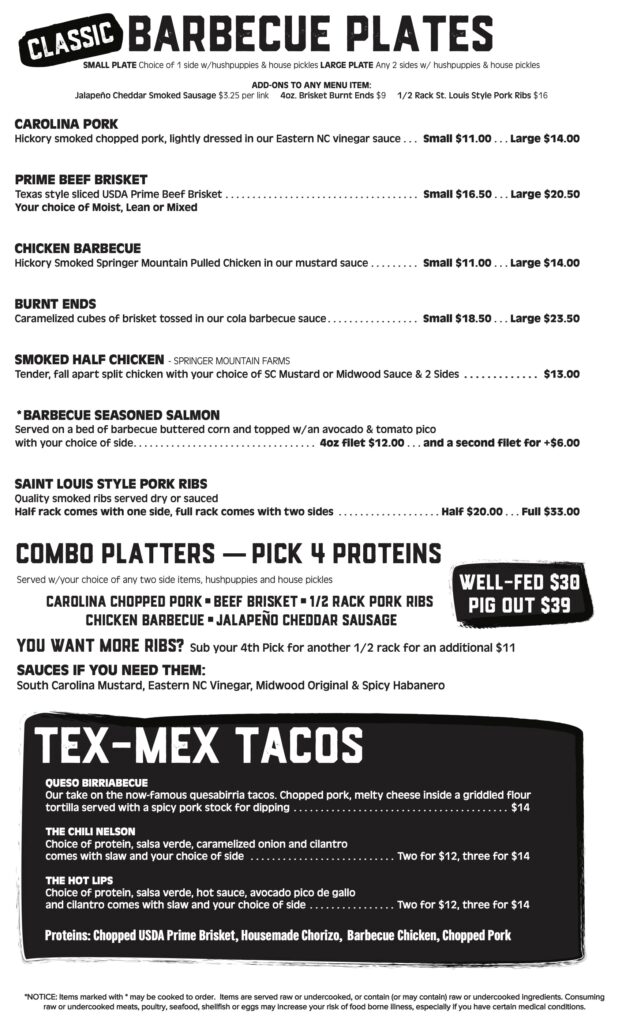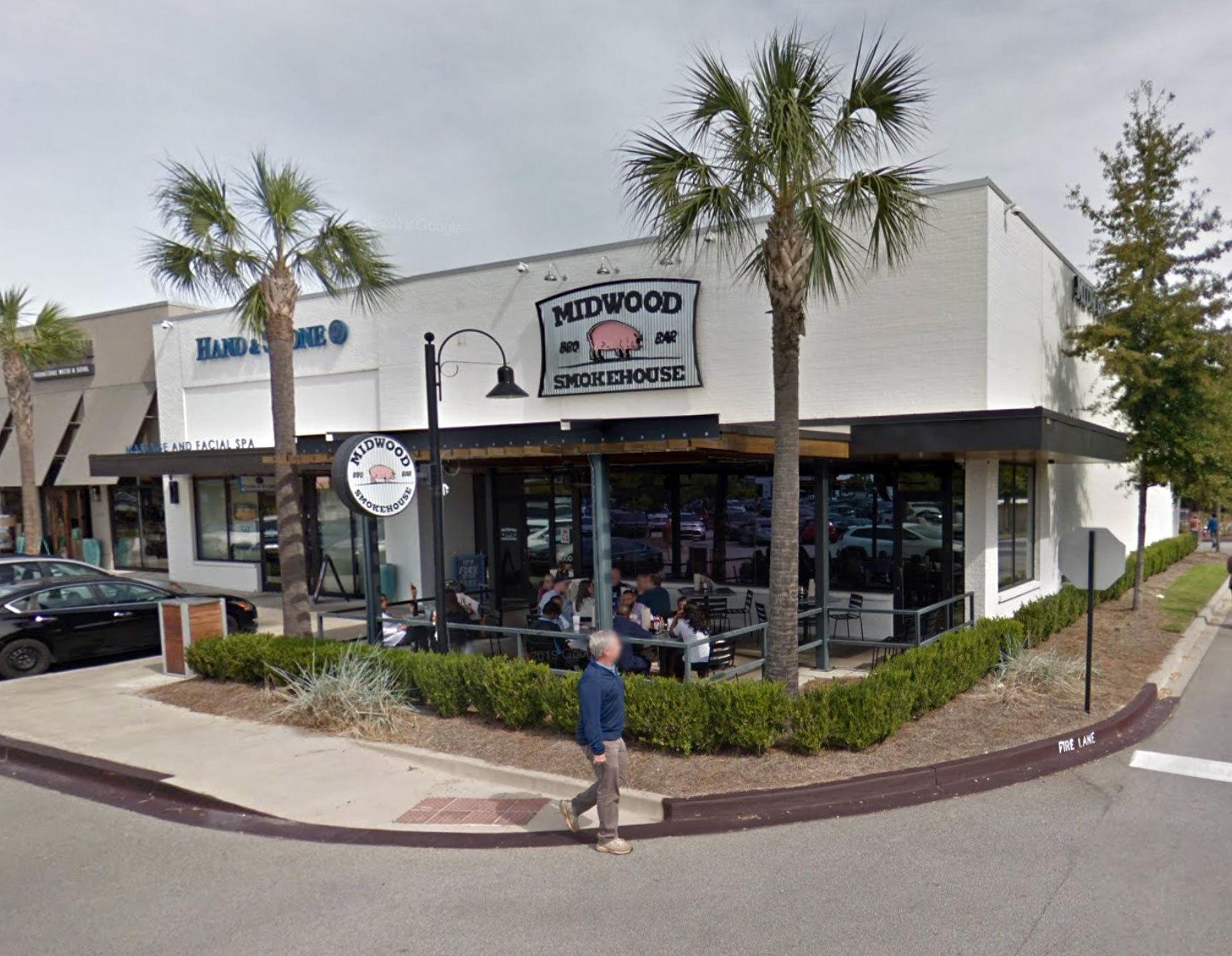 Midwood Smokehouse
702 Cross Hill Rd.
Ste. 400D
Columbia,
SC
29205
| | |
| --- | --- |
| Monday | |
| Tuesday | |
| Wednesday | |
| Thursday | |
| Friday | |
| Saturday | |
| Sunday | |
Review Sites
Features
True 'Cue Certified, Cards and Cash, Whole Hog, Mustard Sauce, Vinegar Pepper Sauce, Heavy Tomato Sauce