Radd Dew's Bar-B-Que Pit: A Bite of History
This post may contain links from which I earn a commission. Please read my disclosure policy. As an Amazon affiliate, I earn from qualifying purchases.
"Radd Dew was my grandfather," writes Lindsay Dew Tompkins. "The original location was actually a grocery/general store called Dew's grocery. In 1965, he closed it and opened Radd Dew's Bar-B-Que Pit there.
Unfortunately, he became ill in the early '70s, and my dad, Jim Dew, quit his job and came to work full-time there.
"He took over cooking on the pits and delivery and pretty much everything. My granddaddy died in 1983. My grandma, Betty Dew, and my dad ran the business together until her death in 2008.
"At that time, my dad took over sole ownership and I came to work with him full-time."
When Radd's son Jim Dew was much younger, he would spend a lot of time helping his dad with the family barbecue business. In those days, the cooking happened in giant wood stoves in the back of the store and restaurant on south U.S. Highway 701, just outside of Conway.
Now, Jim supervises his workers as they cook close to 4,000 pounds of Boston Butt pork roasts every week in huge electric cookers.
"(The meat) cooks for about 8 hours," said Dew.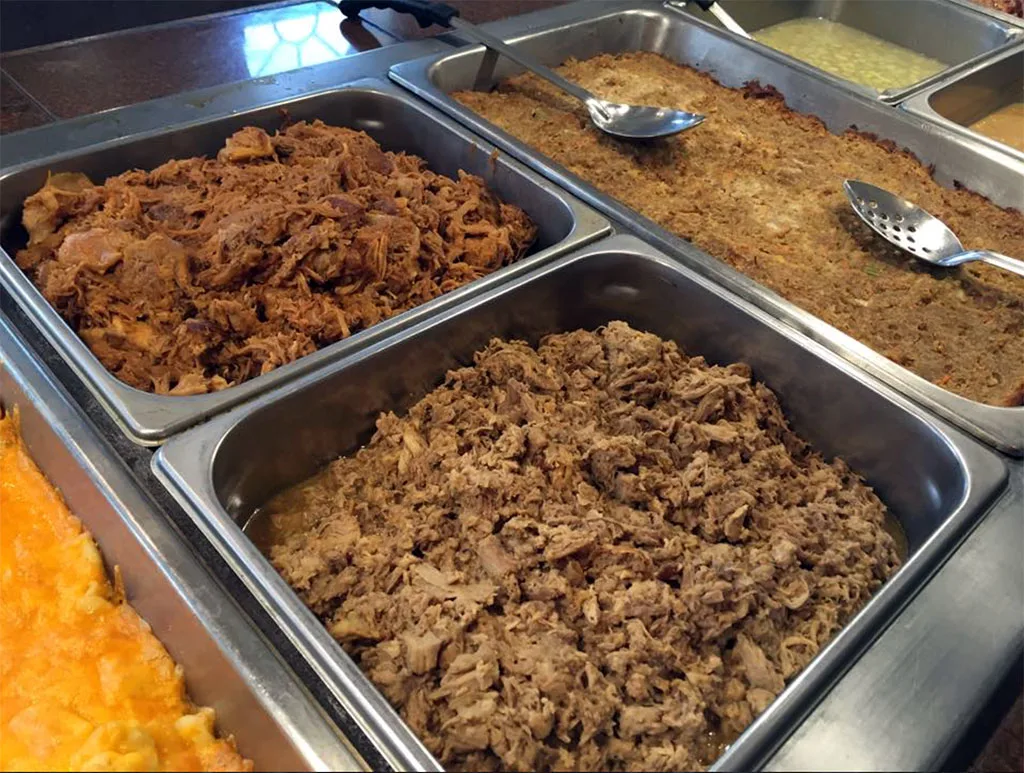 Oh, that Sauce!
Dew said his father's sauce recipe–basically white vinegar, mustard, Worcestershire sauce, and several "secret" family ingredients–came about almost by accident the first time Radd and his friends decided to whip up some barbecue.
"They were cooking the meat, but they hadn't thought about a sauce," Dew said. "So, they widdle and diddle and doodle and dawdle, and come up with one, and it's worked well!" he said.
The sauce goes on after the meat is cooked and chopped–and nice and hot.
"It kind of draws it in and puts that good taste in it," Dew said.
The signature dish is joined on the Radd Dew's buffet by a different sort of barbecue–pork with a red, more tomato-based sauce because Dew said customers wanted an alternative to the more North Carolina-style house dish.
Complement that with chicken bog, pork liver hash gravy and rice, coleslaw, and a bit of banana pudding, and customers keep the tables full every Friday and Saturday night as they have for years.
Dew said every community has a restaurant or two that its residents say has the best barbecue around.
"Every community you go into, they say, 'We've got the best sauce there is in the world,'" said Dew. "Why? 'Because we love it!' they say," he says and laughs his big, contagious laugh.
Photos from Radd Dew's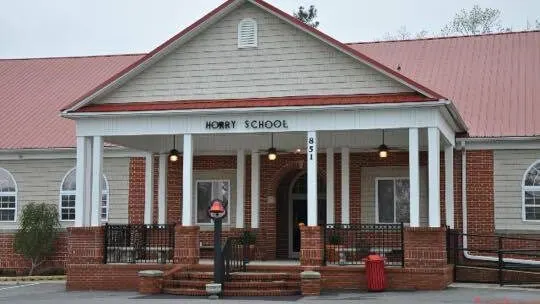 What Folks Are Saying
Google Review
Among the hundreds of Google Reviews, David S's review pretty much sums up the Rad Dew's experience:
Wow! Totally surprised and happy we stopped this place had way more than just BBQ. Like Sunday dinner at grandma's house!
Fresh farm-to-table style food and plenty of options from Turkey and dressing, pork chops fried chicken, popcorn shrimp BBQ, etc….with all the veggies and fixins one could expect to go with it. Dinner included drinks and dessert. I had a slice of the best homemade pecan pie that I have had in years.
I'm looking forward to going back as soon as I get an opportunity.
Yelp Review
Over on Yelp, Myrtle Beach area local Brian G enjoys both the atmosphere and the food at Radd Dew's Bar-B-Que Pit:
Where to start… this is southern country cooking in an easy informal atmosphere.
Food is buffet style, served on disposable plates. The buffet features local favorites including several kinds of pulled pork and fried chicken.
Food is good to excellent depending on the pick and the diner's specific tastes. Plenty of options.
The restaurant is in a converted elementary school and has a relaxed and open family ambiance.
SC BBQ Association
Sure, folks on review sites often have great things to say about a place, but what about the folks who really know SC BBQ better than anyone? What about the folks who actually train the judges for SC BBQ competitions? What do they think of this place?
The SC Barbecue Association ranks Radd Dew's as one of the Top 100 BBQ restaurants in SC.
The barbeque, as I say, is good and the vinegar and pepper sauce complements the barbeque well.
But it is the homemade biscuits, the macaroni and cheese just like your mother and grandmother made, the lima beans, the collards, the sweet potato soufflé, and all of the other sides that let you know that you are in for a treat.
Menu for Radd Dew's
Note: Menu prices and options are subject to change over time. Contact the restaurant for the most up-to-date information.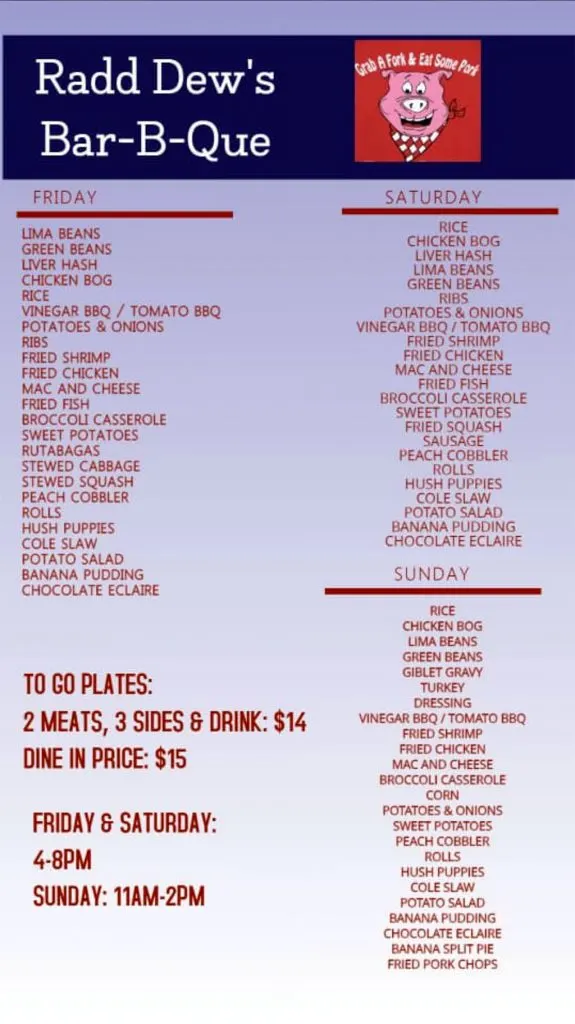 Location, Hours, Contact Info, and More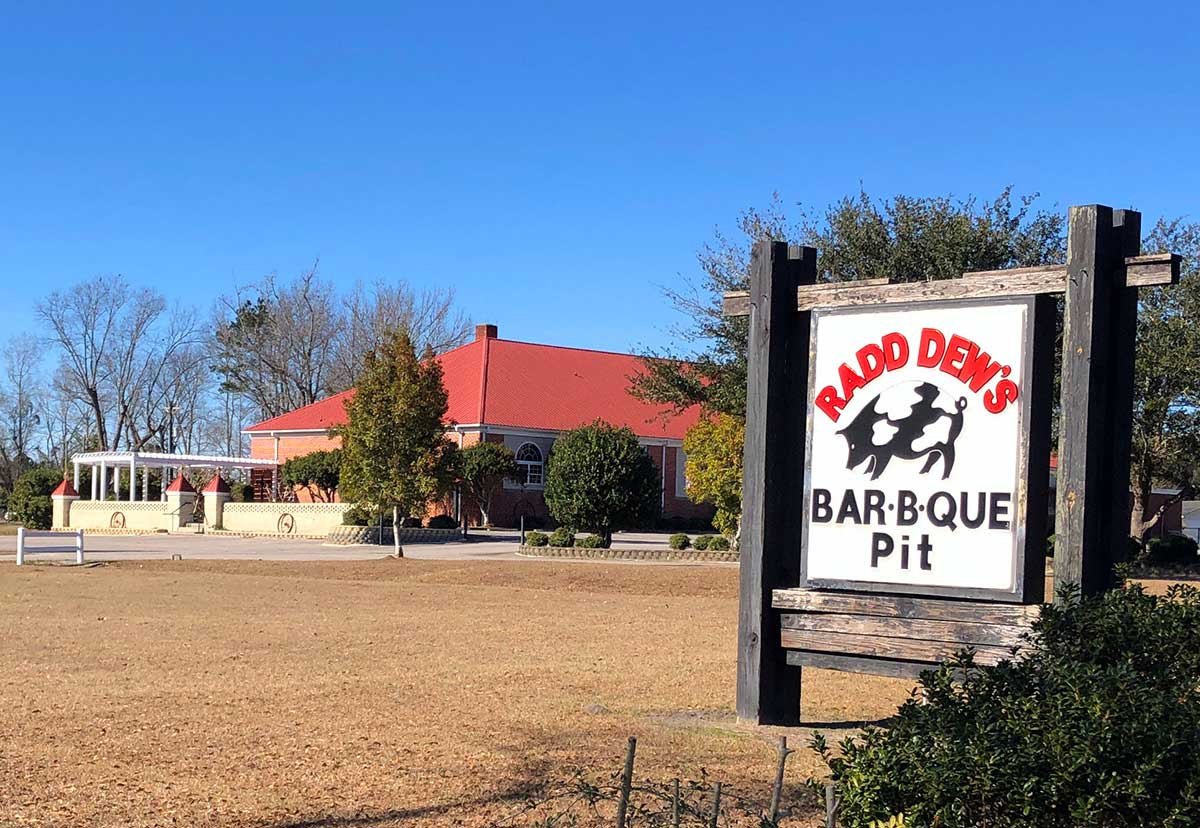 Map
Directions
Contact Radd Dew's Bar-B-Que Pit
851 Horry Road
Aynor,
SC
29511
Hours of Operation
| | |
| --- | --- |
| Monday | Closed |
| Tuesday | Closed |
| Wednesday | Closed |
| Thursday | Closed |
| Friday | |
| Saturday | |
| Sunday | |
Review Sites
Features
Buffet, Cards and Cash, Hash, Heavy Tomato Sauce, Vinegar Pepper Sauce