The Pink Pig***Temporarily Closed***
This post may contain affiliate links to Amazon or other vendors I trust. Please read my disclosure policy. As an Amazon affiliate, I earn from qualifying purchases.
The Pink Pig: About Us
Printed on the menu at The Pink Pig is a short story that shines a light allowing you to glimpse who they are and what the place is like. The story reads as follows:
Welcome! Bienvenido! Willkommen! Bienvenue! Aloha! However you like to say it, welcome and thanks for choosing to dine with us at The Pink Pig.
As you will see, we may not look like other BBQ joints. We are a little quirky, a little eclectic, but rest assured our food is something a little more familiar and conventional. And by familiar and conventional, we mean delicious.
Inspiration
Inspired by their father's home-cooked BBQ, siblings Mark Bryan and Rita Thomas opened The Pink Pig on Labor Day weekend, 1993. Mark created original sauces, sides, and desserts for the family business.
His three sauces, Original Honey Mustard, Traditional Gullah Spice, and Lowcountry Fire are hard to keep on the shelves! Rita's oldest son, Leonard, introduced his own sauce, Sweet Vermont Style, and it has rapidly developed a rabid following!
Mark's idea was to establish a not-so-typical BBQ restaurant. Absent from the scenery is the common, rustic wood look of so many other BBQ hotspots across the south.
In its place are bright pink walls and cherub-like piglets with golden wings that hover over patrons as they eat.
Keeping in mind Marks' concept of an atypical smokehouse, younger son, Brian, has injected the ears of The Pink Pig's patrons with an eclectic sampling of music ranging from the soulful sounds of Sam Cooke, to classic and contemporary R&B like Bobby Womack and Alicia Keys, and various reggae and island artists including Israel Kamakawiwo'ole.
In the News
In the summer of 1999, Rita took over as full-time owner.
She would nurse the little nondescript shack along with the help of sons Brian and Leonard and the "Grande Dame" of the family, Rita's mother, Wilma Fender Brian.
We've been fortunate enough to have been featured on the Food Network and in such publications as Southern Living, The Sandlapper, Abercrombie & Fitch, American Heritage, Travel & Leisure, The South Magazine, and many other travel guides!
In a time dominated by large corporate restaurants, we are proud to keep alive the dying tradition of a small family-owned and operated business.
Finally, a very special thank you to all of our loyal customers and a gracious invitation to others. Come, taste and see that The Pink Pig is good, Really Good! You might just think you're in "Hog Heaven."
What's on the Menu
The Pink Pig is indeed a funky little restaurant, with dancing pink pigs decorating the ceiling and walls. And there with her classic Southern drawl and charming banter, Wilma will likely be waiting to meet you when you arrive.
Before you dig into the menu, chew her ear about the decor or menu. She is sure to delight.
Coastal Influence
As for that menu, Hardeeville is in the South Carolina Lowcountry.
Because the coast is so near — and because they are a bit, well…eclectic — The Pink Pig offers what may be a bit of a surprise for an SC BBQ restaurant, a selection of fresh seafood. Rumor has it that the shrimp is quite good, but most folks first stop in for their Que.
BBQ, Sauce, and Sides
The Pink Pig smokes Boston butts slowly over oak, hickory, and pecan embers in a pit room right behind the restaurant. The pork is slow-cooked and it is as juicy and tender as you will ever find and carrying a mild smoky flavor.
When ready, they chop the BBQ and top it with their "original" BBQ sauce, Gullah Spice, unless you ask them to hold the sauce.
The sauce is a tasty mix of vinegar, mustard, and spices attributed to descendants of West African slaves, from which the "Gullah" culture arose. While it is worth tasting, you may want to have them put it on the side so you can sample all the sauces they offer.
Low Country Fire is a thick tomato-based sauce with a good bit of spice, but it is not as hot as the name implies. The Honey Mustard seems to be a tamer version of Gullah Spice.
However, the Sweet Vermont may well be tapped from a maple tree, a sweet red sauce.
Along with your BBQ, The Pink Pig offers a few sides.
They are the ones you'll typically find in SC BBQ joints: baked Beans, coleslaw, French fries, hushpuppies, and Brunswick Stew. The Brunswick stew offers a zesty helping of tomato broth, southern-style veggies, and pork.
Finally, if you find yourself on a Road Trip on Interstate 95 just over the SC/GA border near Hardeeville, drop into the Pink Pig.
The friendly staff and laid-back atmosphere is a well-earned break from the highway traffic. The food is also better than any fast food you'll find along the way.
What Folks are Saying about The Pink Pig
Google Review
Google's Local Guide Darcia Cowart writes about the treat that is The Pink Pig in her Google Review:
This was truly a treat!
The brisket was melt-in-your-mouth amazing. Homemade coleslaw that was so good we bought some to take home. They have a Vermont barbecue sauce that is soooooo yummy.
I got the large shrimp platter. Very fresh, excellent batter. The hush puppies were melt-in-your-mouth yum!
Seriously, I'd order a basket of them and be happy! They were that good.
Normally not a fan of fried okra. But I'll go back for some more. You bite into fresh-cut crisp okay not freeze-dried that's soaked up the grease.
Excellent staff. Super quick service. What sold us was the fact that a family got out of their car and their little girl skipped to the front door and pulled it open.
She's been before and approves!
In addition, we took a pound of BBQ home and it was a huge hit w the rest of the family.
Yelp Review
Over on Yelp, Andrew W found The Pink Pig tastefully tacky….or was it just tasteful…whatever it was, he found it worth going back for over and over again.
The Pink Pig is a wonderful BBQ place. Tacky as all get out while being wonderful at the same time.
Plastic pigs hung from the ceiling on fishing line. Everything is served on plastic plates and plastic silverware.
They have most all Southern BBQ items you can imagine.
For instance, hushpuppies, coleslaw, baked beans, ribs, chopped BBQ pork, shrimp, chicken, flounder, hamburgers, and chicken fingers. I love all four of their sauces they make and also sell.
I love that I can actually get Sweet Tea here. Come to think of it, I think The Pink Pig introduced me to Sweet Tea.
I drove by The Pink Pig during my commute to work every morning and every evening. I'd stop probably once a week, while I actually wanted and craved it every day.
Our company even catered Pink Pig to meetings and we would drive here from Palmetto Bluff to get lunch.
From Savannah, GA, just take Oglethorpe Ave to the Talmadge Bridge. The bridge becomes 17 North. Follow 17 about 4 miles.
Take a right onto Hwy 170A. Proceed 3.5 miles. The building is on the right just before the caution light.
---
Menu for The Pink Pig near Hardeeville
Note: Menu prices and options are subject to change over time.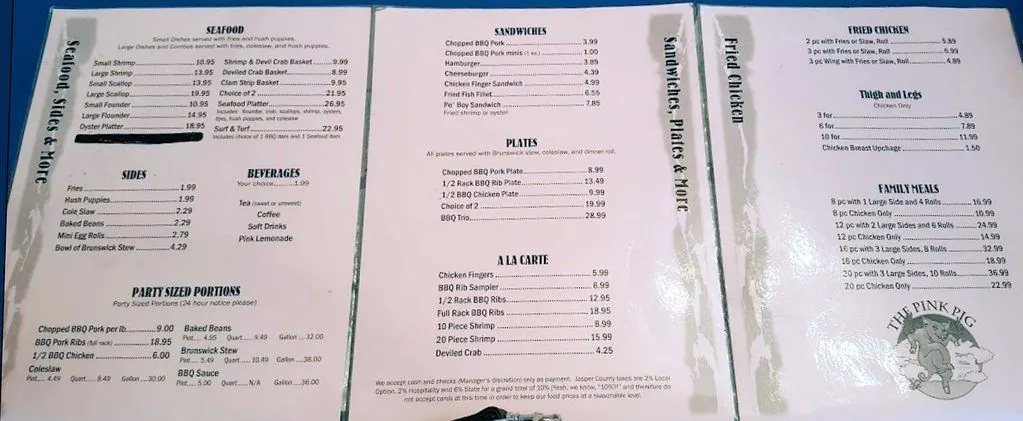 Location, Hours, Contact Info, and More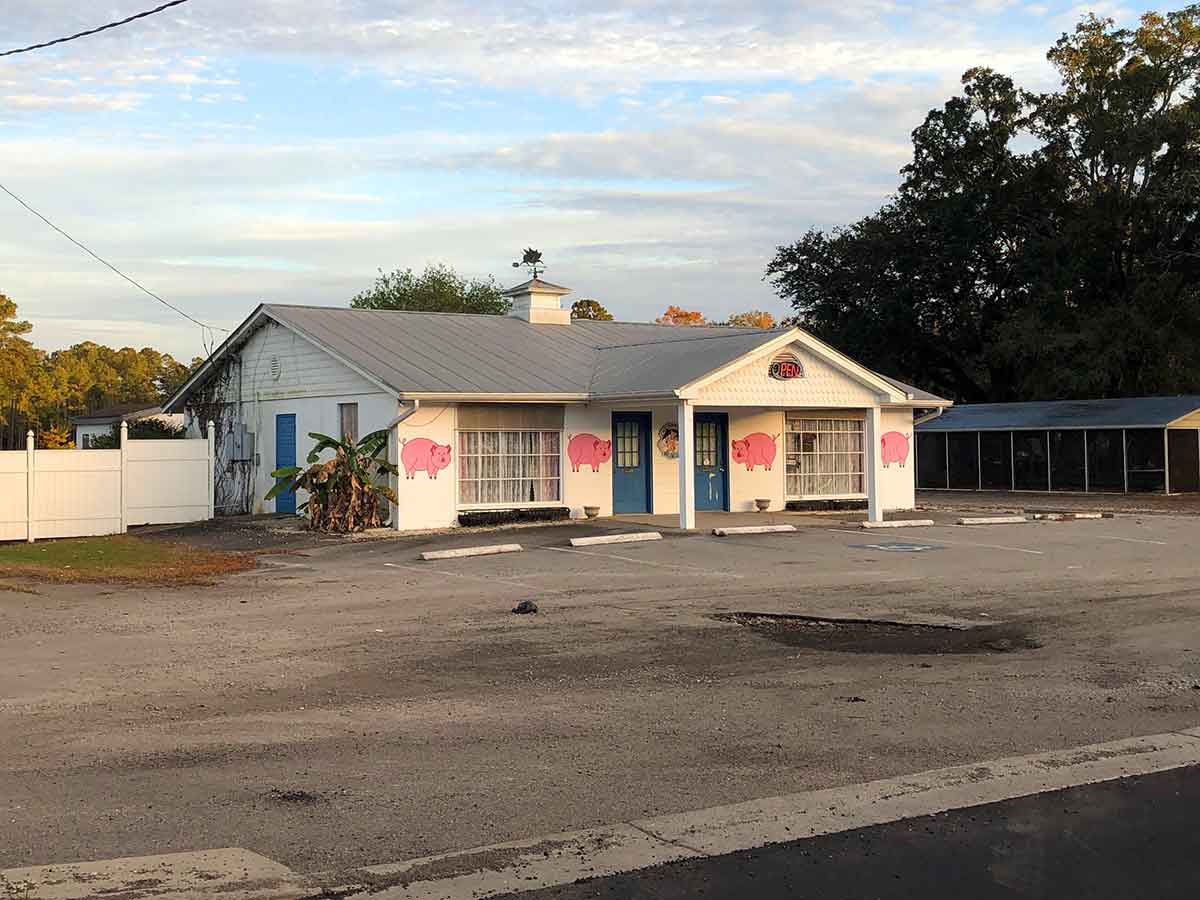 Map
Directions
Contact The Pink Pig***Temporarily Closed***
3508 S. Okatie Highway
Hardeeville,
SC
29927
Hours of Operation
| | |
| --- | --- |
| Monday | Closed |
| Tuesday | |
| Wednesday | |
| Thursday | |
| Friday | |
| Saturday | |
| Sunday | Closed |
Social Media
Review Sites
Features
Cards and Cash, Heavy Tomato Sauce, Mustard Sauce, Vinegar Pepper Sauce