This post may contain affiliate links to Amazon or other vendors I trust. Please read my disclosure policy. As an Amazon affiliate, I earn from qualifying purchases.
The Pompous Pig has been serving up deliciously authentic barbecue to the fine folks throughout the South for over 15 years.
Smoked on-site daily, each flavor-packed bite you taste takes up to 20 loving hours to prepare. Their craft and care are so precise because they know that the difference in quality comes down to it.
Never sauced, each of their meats is paired with a specific style of rub that when smoked brings out the best flavor it can. The Pompous Pig uses a variety of woods (hickory, pecan, oak) that they believe truly enhance the BBQ.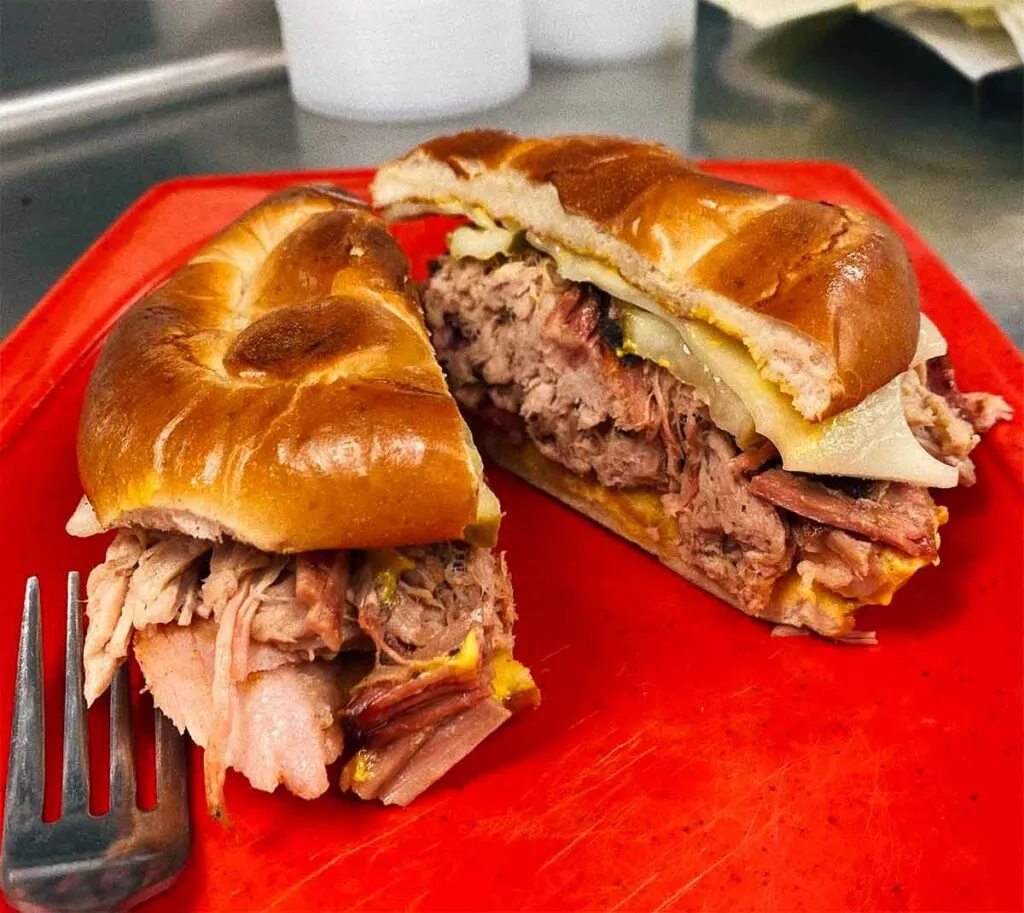 Because they take their barbecue seriously, they're able to only smoke a certain amount of meat each day. If you're a BBQ lover, get there early–they sell out of an item when demand is unusually high!
Though they wish they had enough to always go 'round, they refuse to boil, nuke or grill meat and call it barbecue! Never compromising their competition-quality barbecue, you'll never get less than their best at The Pompous Pig.
With their wide menu of everything from BBQ nachos to the popular brisket melt, they have much more than staples.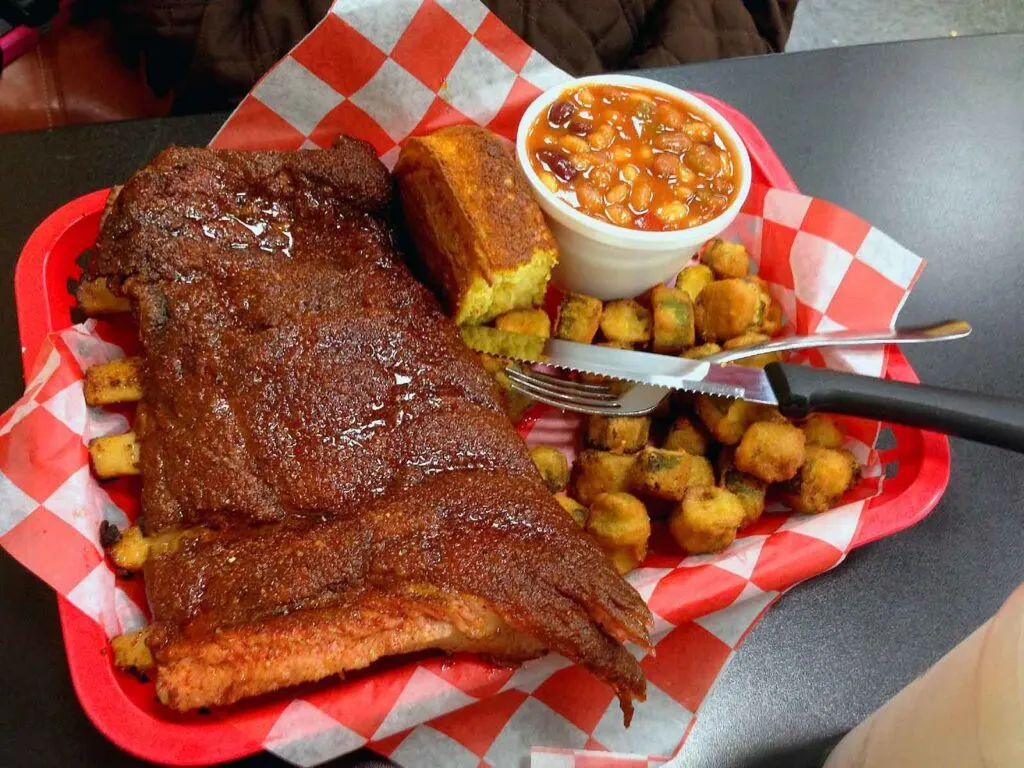 The Pompous Pig is available for full-service catering for groups as small as 25 or as large as 5000. And if you don't see something on their menu, feel free to ask about their specialty smoked meats and side dishes.
They also offer items such as whole hog, smoked steamship rounds (both beef and pork), smoked rack of lamb, and cedar-planked salmon.
Let your taste buds roam in mouth-watering bliss at The Pompous Pig!
What Folks Are Saying
Google Review
Among the many Google Reviews, Local Guide Ules wasn't sure what to expect, but The Pompous Pig went beyond what she expected:
This place has a delicious pulled pork sandwich, just the right amount of smoke and they had two hot BBQ sauces (red and vinegar) that were amazing.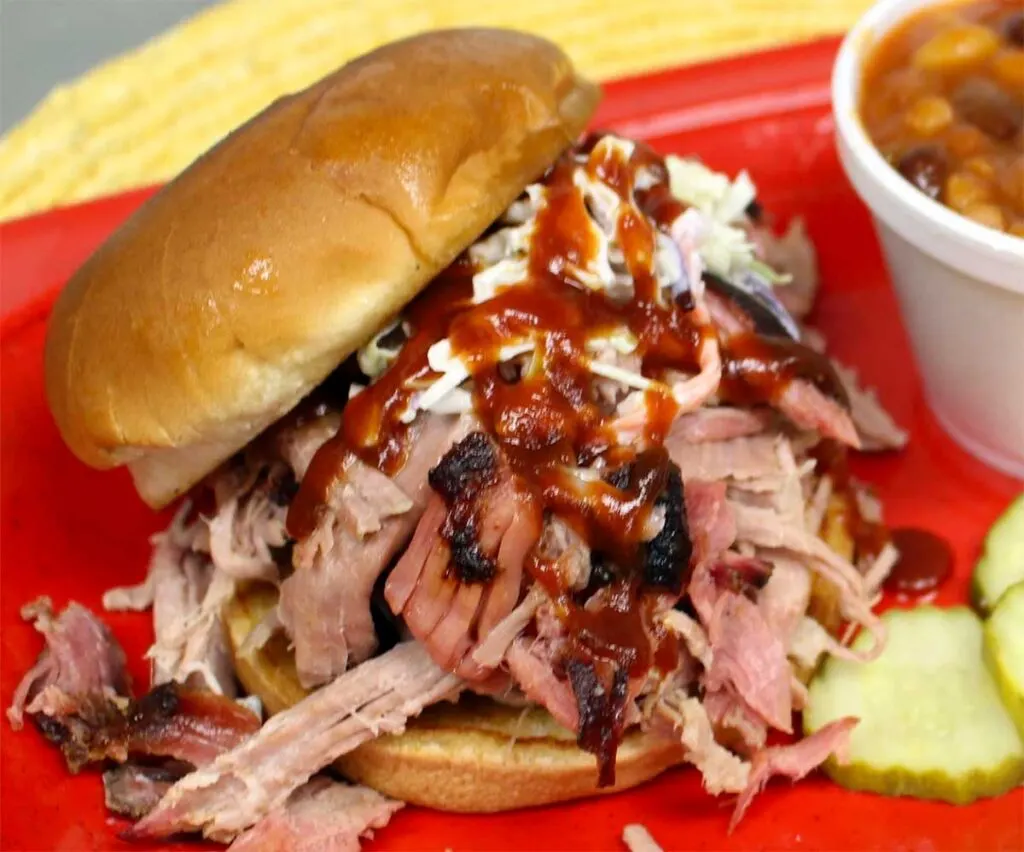 I had half of a sandwich with each and can't pick a favorite.
I picked coleslaw as a side and slapped it on my sandwich because that's how I like it. I tasted the coleslaw on its own and it was better than most places I've tried.
The place was so clean and even the bathroom was spotless. The food came out quickly and exceeded my expectations for a quick walk-in BBQ joint.
I will definitely be back.
Yelp Review
Over on Yelp, Greg P reports that he found good food and good people at The Pompous Pig:
Wow! Everything was so good.
The chicken was nicely smoked, flavorful, and very juicy. The fried okra was outstanding, best I've ever had. They must hand cut and bread fresh okra right here in house?
Good brisket, collard greens were pretty good but got way better when I splashed some of their vinegar sauce on top!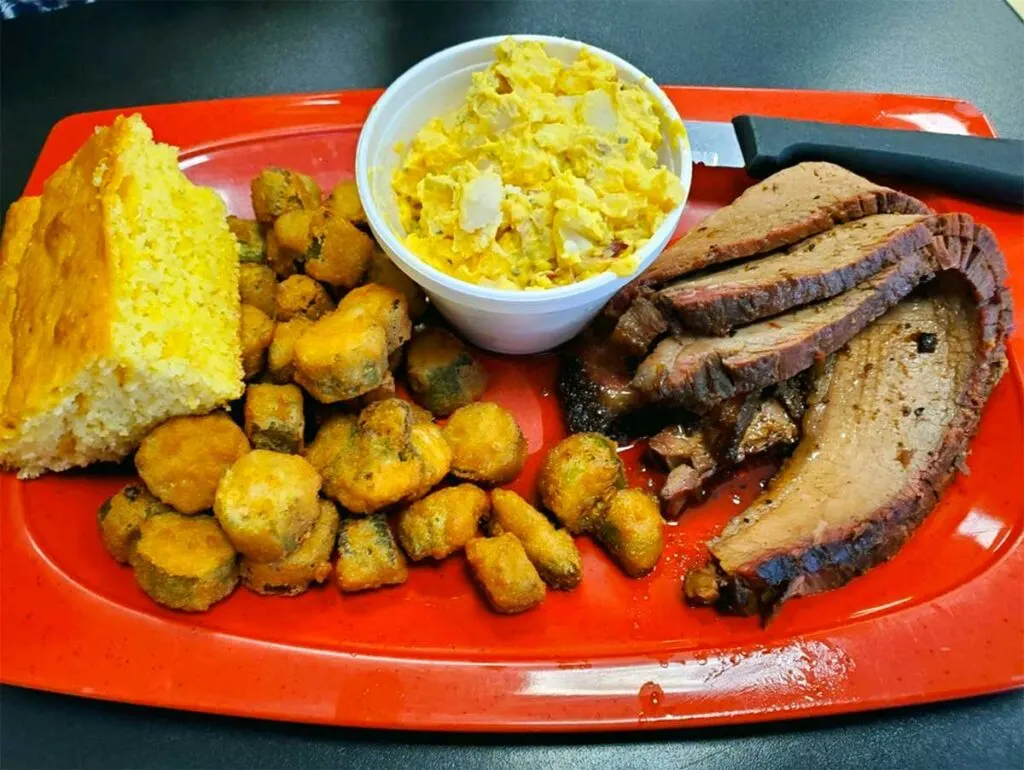 The cornbread, which usually seems to be an afterthought at most BBQ spots this one was outstanding! I meant to ask for butter but as it turned out it did not need anything else on it. Moist, buttery, and delicious!
Every single person that works here was genuinely nice, not that nice because it's my job nice. They all really made me feel welcome and wanted to be certain that I had everything I needed.
What a great spot! I need to come back and try the ribs ASAP!
SC BBQ Association
Sure, folks on review sites often have great things to say about a place, but what about the folks who really know SC BBQ better than anyone? What about the folks who actually train the judges for SC BBQ competitions?
What do they think of this place?
The SC Barbeque Association has named this place one of the Top 100 BBQ houses in the state. Here's an excerpt from their review:
If you are anywhere near Anderson, SC you've got to try The Pompous Pig.
The owners of The Pompous Pig have a little history they are glad to share on the back of their menu sheet. They say that after cooking successfully in the backyard to rave reviews from friends they decided to open a business.
Those rave reviews were right on. The business is only about three years old (2011) but when I was there, about 2:00 pm on a Saturday, it was doing a booming business.
And when you taste the pork and the ribs you will see why.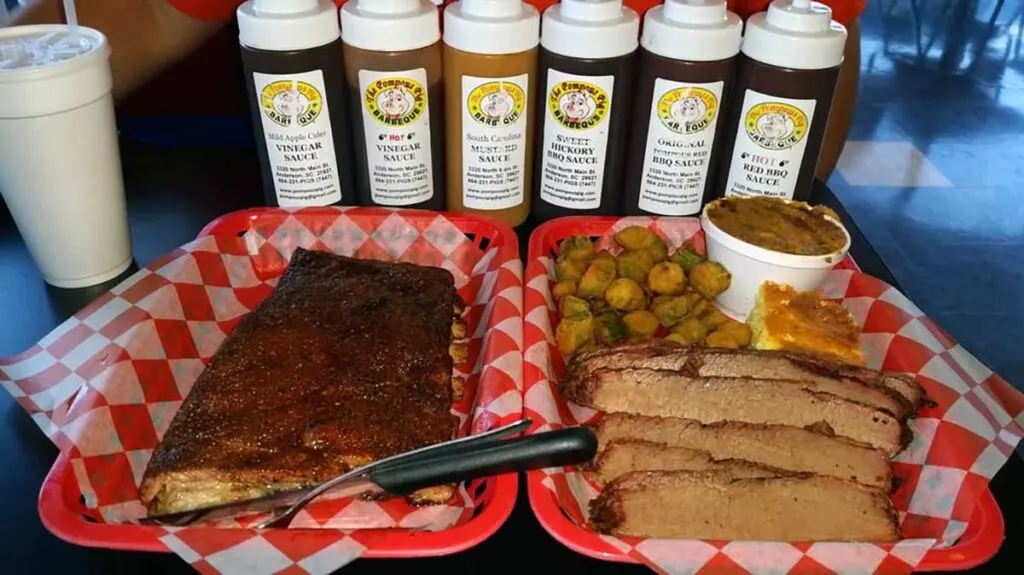 ---
Menu for The Pompous Pig
Note: Menu prices and options are subject to change over time. Contact the restaurant for the most up-to-date information.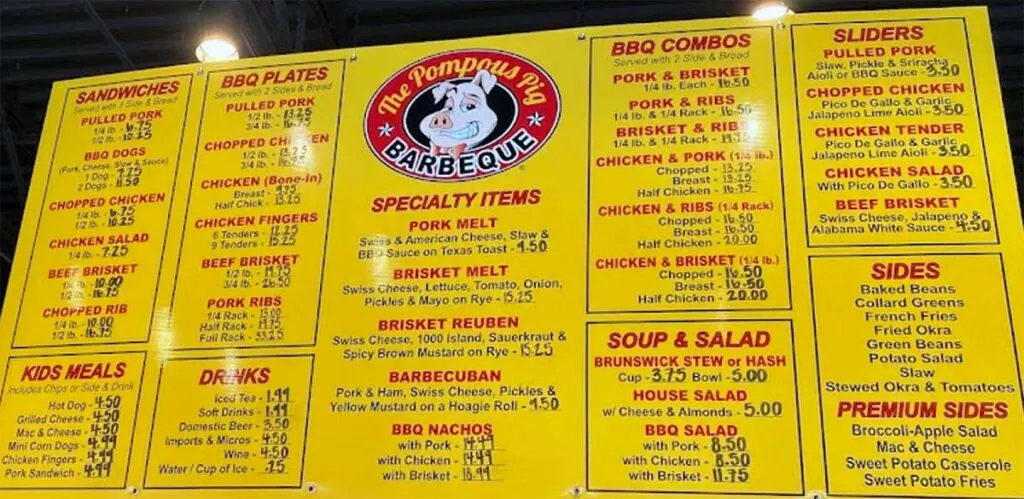 Location, Hours, Contact Info, and More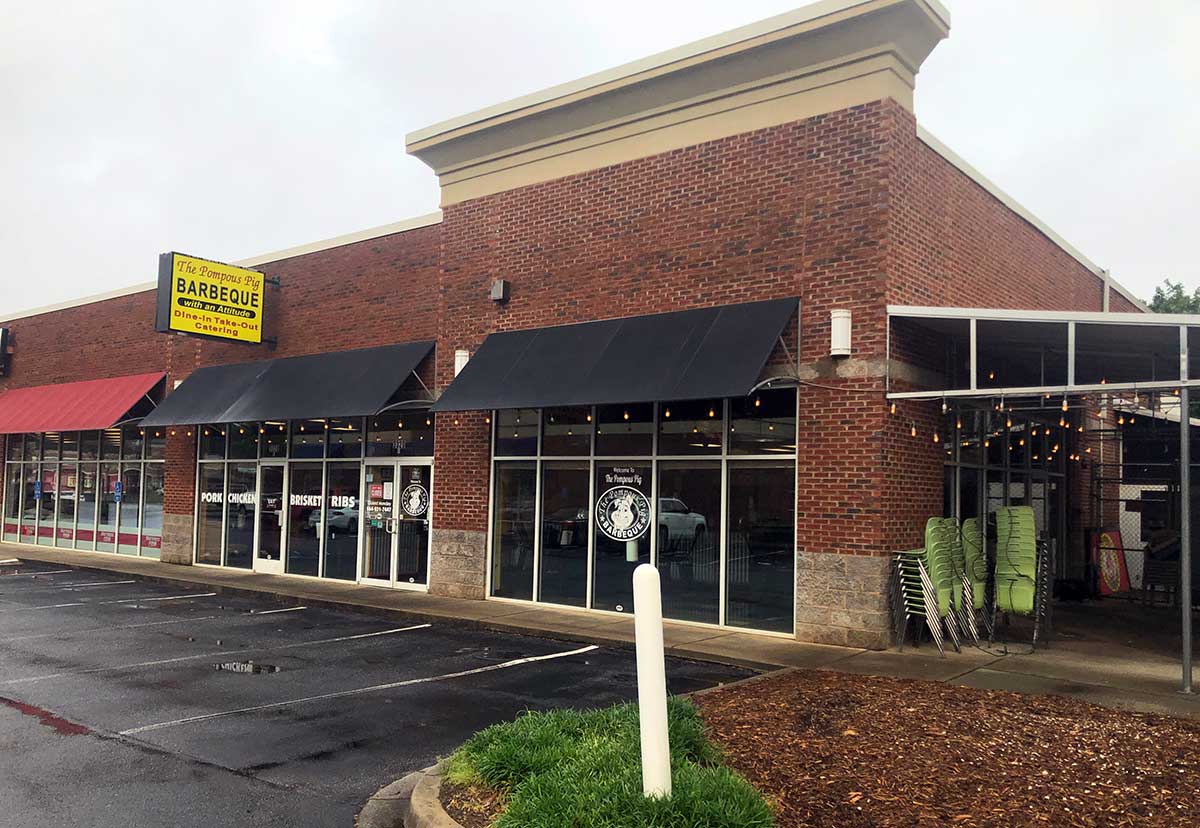 Map
Directions
Contact The Pompous Pig
3320 N. Main Street
Anderson,
SC
29621
Hours of Operation
| | |
| --- | --- |
| Monday | Closed |
| Tuesday | |
| Wednesday | |
| Thursday | |
| Friday | |
| Saturday | |
| Sunday | |
Review Sites
Features
Cards and Cash, Heavy Tomato Sauce, Mustard Sauce, Vinegar Pepper Sauce