This post may contain affiliate links to Amazon or other vendors I trust. Please read my disclosure policy. As an Amazon affiliate, I earn from qualifying purchases.
Not your typical BBQ joint. The Spotted Pig BBQ in Fair Play is known for its tender, smoky meats & mouth-watering sides.
Tucked away in a quiet corner of the Upstate, The Spotted Pig BBQ offers locals and motorists alike a tasty menu in a family-friendly atmosphere, and it's only a few miles off I-85 at Exit 1.
This classic SC BBQ joint is sure to please any BBQ connoisseur with its brisket, ribs, and pulled pork.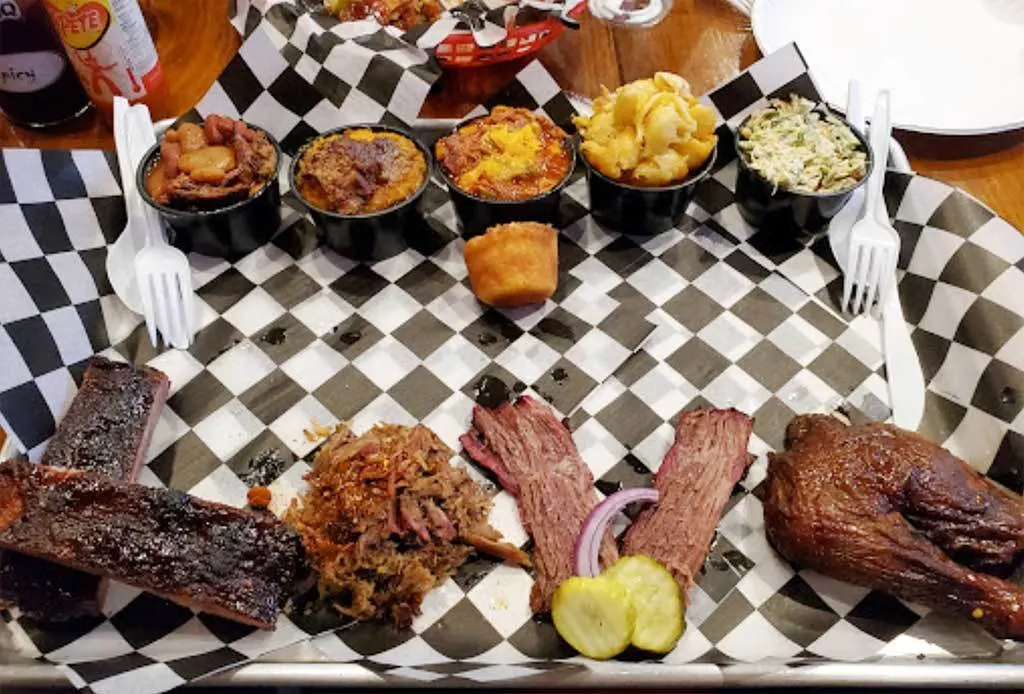 You can enjoy these with your choice of spicy, mustard, or sweet sauce.
The Spotted Pig offers an extensive menu. While that menu is more modern than many old-school joints in South Carolina, the taste of barbecue history still seeps through.
In addition to the standard meats, you'll find salads, sandwiches, and seafood.
Don't overlook the appetizers. You'll find the expected items like wings and the unexpected like BBQ Nachos or BBQ Egg Rolls.
There are also dessert offerings and kid's menu.
And if you're so inclined, the beer options are worth looking over as well.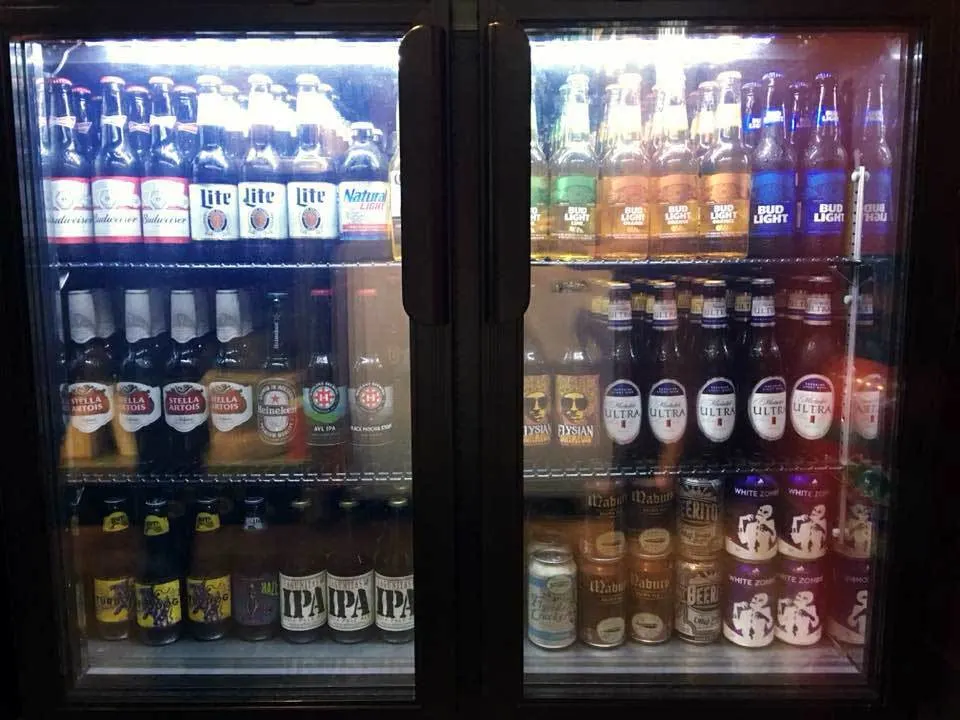 No matter what you choose from the menu, we're confident you're going to enjoy your meal. Just look what others have had to say:
What Folks are Saying about The Spotted Pig
Google Review
Google's Local Guide and author of over 35 Google Reviews Alvin Crawford has eaten BBQ throughout the Southeast and never found better than The Spotted Pig:
I'm somewhat of a bbq junkie. I've tried tons of places from the oldest bbq place in Georgia to places all over the southeast including Lexington bbq which is very good.
The Spotted Pig is the best I've tried, and for what I ordered, it's not even close.
I had a pulled pork sandwich, a brisket sandwich, baked beans, and stew. The sandwiches were packed full of meat and the meat was real slow-cooked bbq.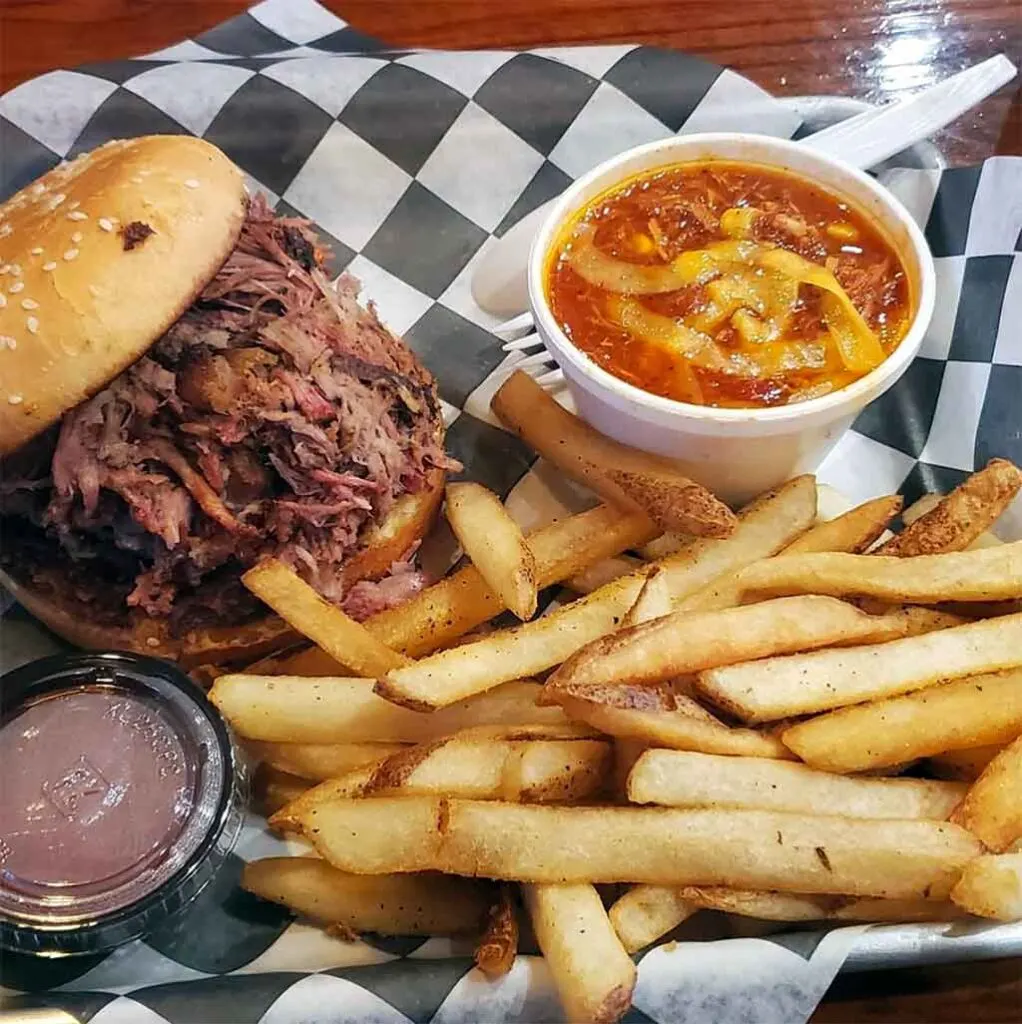 The beans had different kinds of beans including kidney beans which made them great. The stew also has more meat than I've ever seen in a stew.
The staff is well above average in every aspect. Highly, highly recommend The Spotted Pig to anybody.
Yelp Review
Over on Yelp, nearby local from Westminster Trey S is a bit of a barbecue connoisseur and a fan of The Spotted Pig:
I love BBQ and I am now in love with the Spotted Pig BBQ. I just finished half a slab of ribs, baked beans, and coleslaw; what a fantastic meal and a great way to start a great weekend.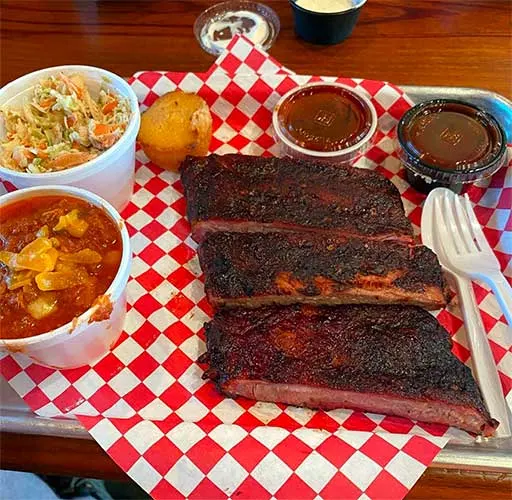 Although they offer 3 different sauces (smoky sweat, vinegar mustard, and hot spicy) the ribs don't need it. They stand alone with their own flavor.

The baked beans are another favorite of mine. It's 4 different beans in a brown sugar spicy sauce.
The coleslaw is also good with a little kick. What I like about the slaw is that it cools your mouth when the spicy from the ribs and beans begin to grow.

The beef brisket also rocks and I've heard several people say it's the best beef brisket they've had this side of Texas. For brisket fans, that's saying something.

This is the 3rd time I've eaten at the Spotted Pig. Each time the ribs were meaty, juicy, and tender.
They know a good deal about how to cook excellent ribs. It's really good and a good value for your money. I'm glad they're here.
With food like this and the growing number of folks who are finding out about the Spotted Pig, I think they're going to be here a good long while.

It's worth stopping by if you are ANYWHERE near Lake Hartwell just inside South Carolina on Hwy 11.
Drop By The Spotted Pig
So true! If you happen to be traveling on Interstate 85 or just off on an SC BBQ Road Trip, The Spotted Pig in Fair Play is a stop you have to make.
In fact, the good folks at 1st Class RV Adventures happened to drop by The Spotted Pig in Fair Play on one of their journeys and did us the favor of sharing their experience.
After some difficulty with the water in their RV (which the video is cued to skip), they take you into the restaurant with them: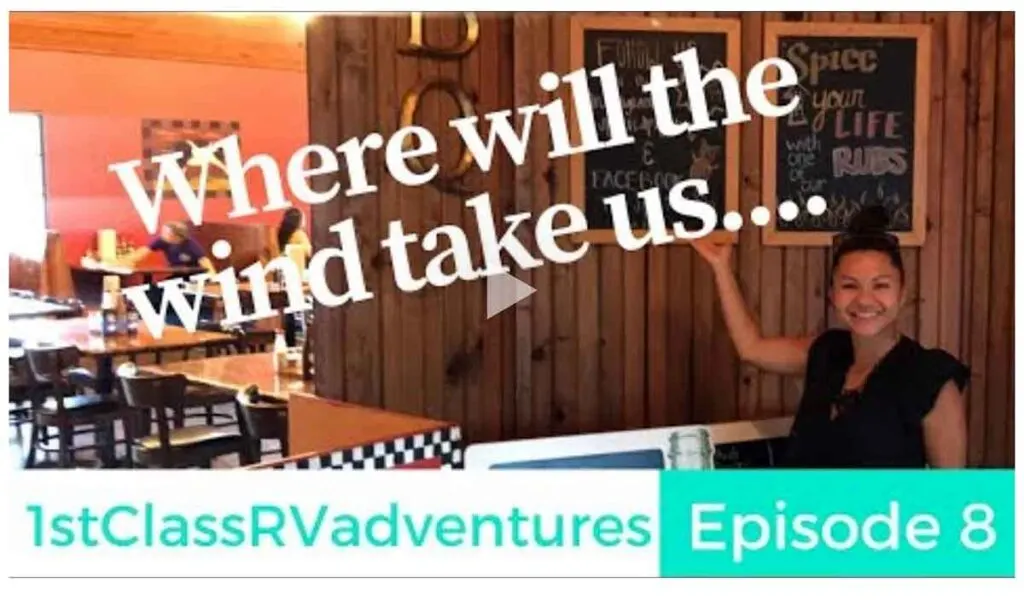 Like What We're Doing?
Want to see more coverage and features? Just want to show your support?
---
Menu for The Spotted Pig in Fair Play, SC
Note: Menu prices and options are subject to change over time. Contact the restaurant for the most up-to-date information.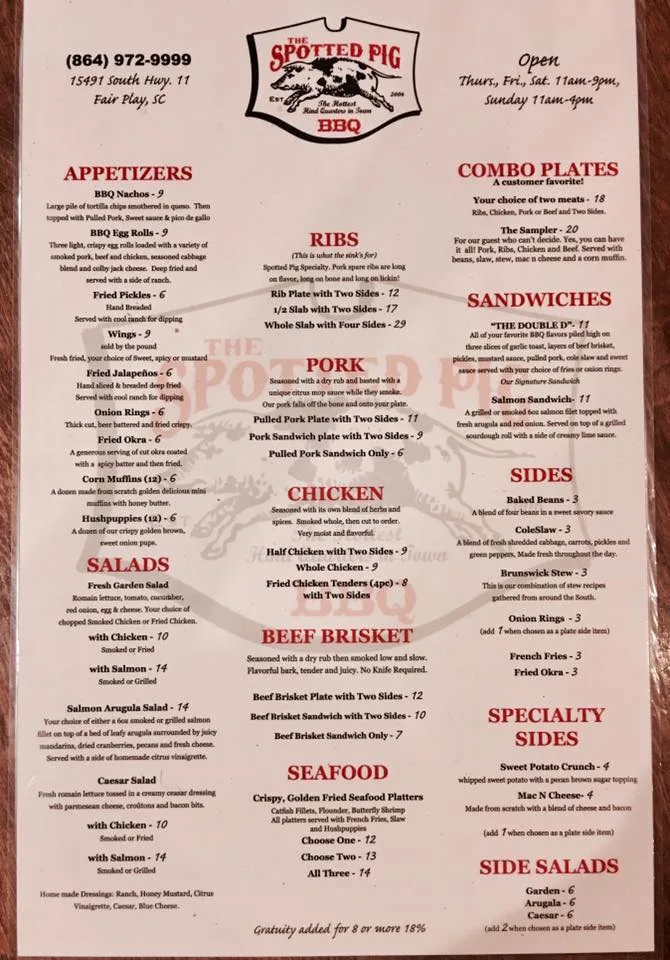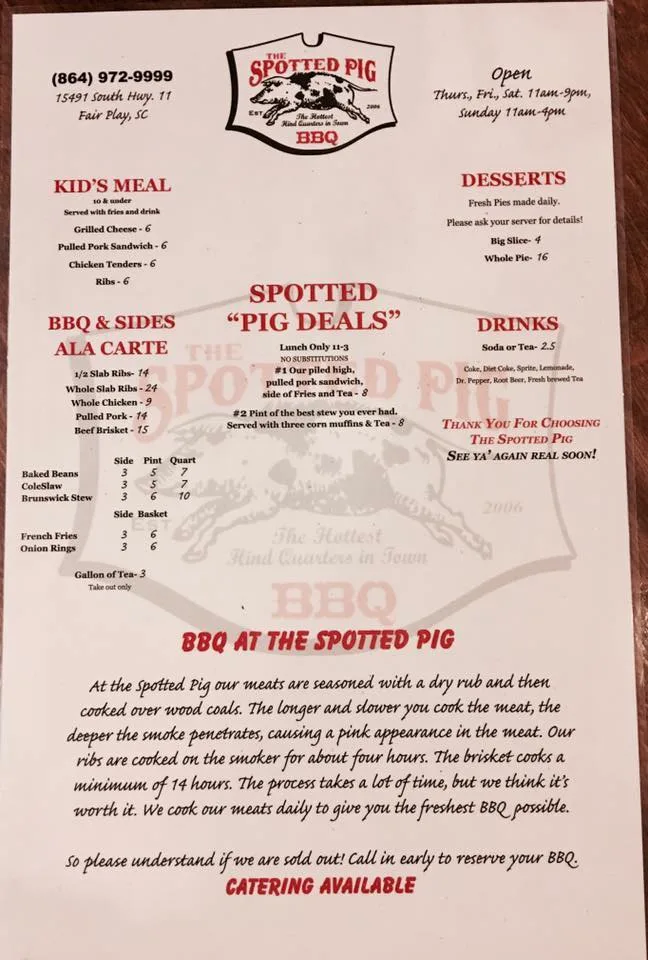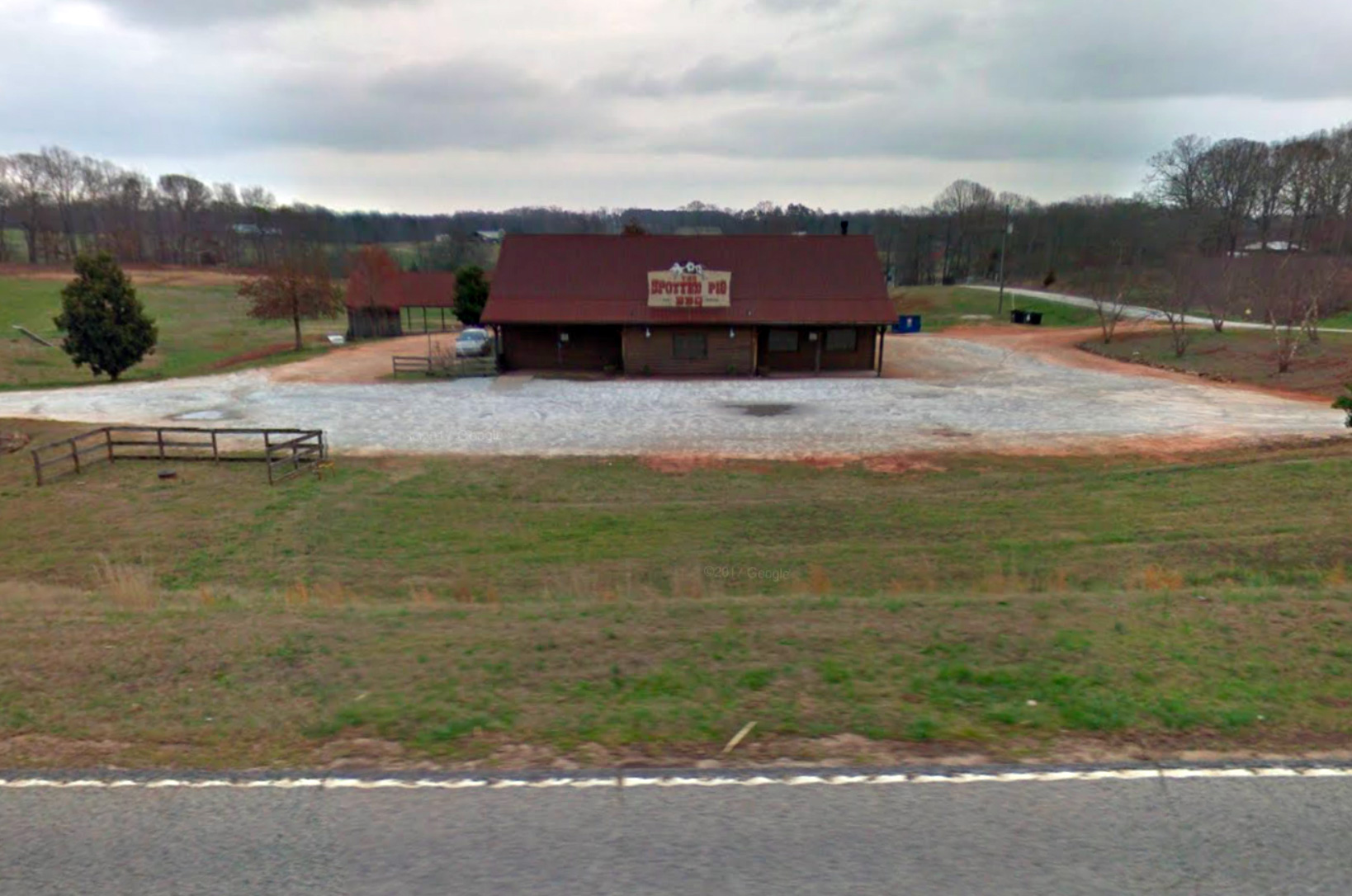 The Spotted Pig BBQ
15491 S. Highway 11
Fair Play,
SC
29643
| | |
| --- | --- |
| Monday | Closed |
| Tuesday | Closed |
| Wednesday | Closed |
| Thursday | |
| Friday | |
| Saturday | |
| Sunday | |
Social Media
Review Sites
Features
Cards and Cash, Heavy Tomato Sauce, Mustard Sauce