This post may contain affiliate links to Amazon or other vendors I trust. Please read my disclosure policy. As an Amazon affiliate, I earn from qualifying purchases.
Old-School SC BBQ in New Ellenton
Carolina Bar-B-Que: a legend and simply one of South Carolina's best and most well-respected BBQ restaurants. That is why it has been in business for over half a century.
For instance, Southern Living magazine named Carolina Bar-B-Que one of "The South's Top 50 Barbecue Joints."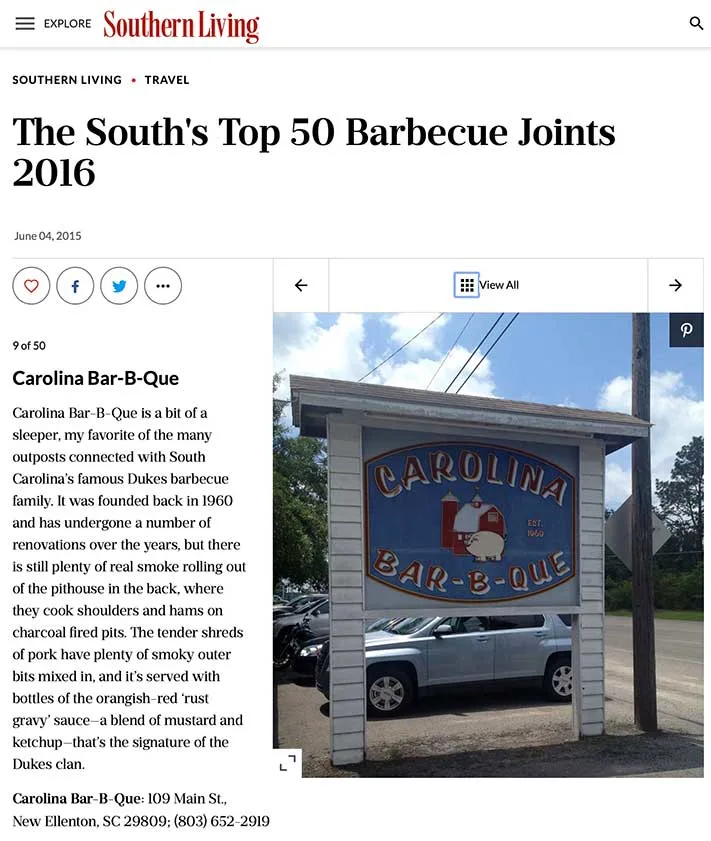 In addition, the SC Barbeque Association awarded them its highest recognition, labeling it "100-Mile BBQ." That's their designation for barbecue so good it's worth driving 100 miles for.
Heck, even The Washington Post listed Carolina Bar-B-Que among its group of "South Carolina's Best Barbecue" restaurants. If The Washington Post is writing about you, there must be a pretty good reason.
And these aren't the only accolades Carolina Bar-B-Que has earned. And the folks who run the place are appreciative.
"It's a privilege to be there," owner Jess "Bubba" Walker said. "We are glad that people think that our food is that good."
When the food is that good, the recognition is sure to follow.
Speaking of the Food at Carolina Bar-B-Que
Speaking of food, Aiken is no stranger to the traditional all-you-can-eat buffets.
Of those in the area, Carolina Bar-B-Que is likely the most modest. It is a relatively small place.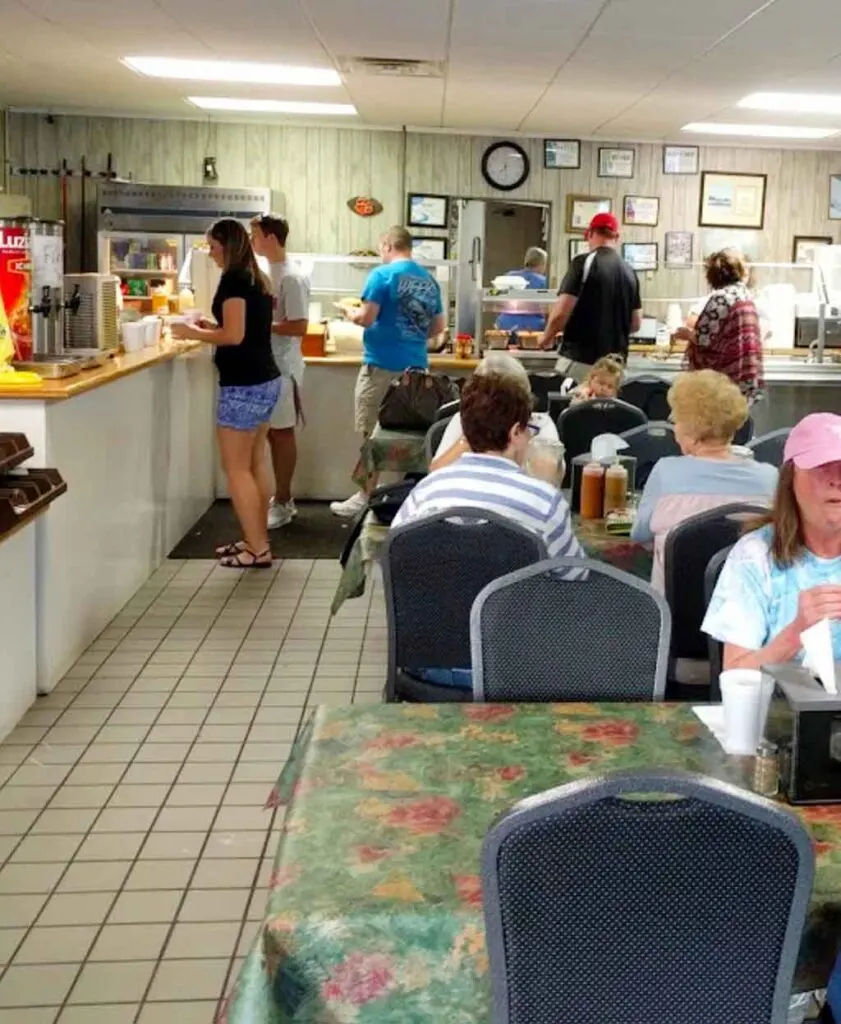 That said, there is nothing overly modest about the selection of items on the buffet. They have all the standards one would expect around these parts.
Above all, the pulled pork is a beautiful mound smoky hog that offers a certain smokiness and a lot of taste. There, pork shoulders are smoked on the pit the way it has historically been done in South Carolina.
Not surprising from a longstanding restaurant that first opened in the 1960s.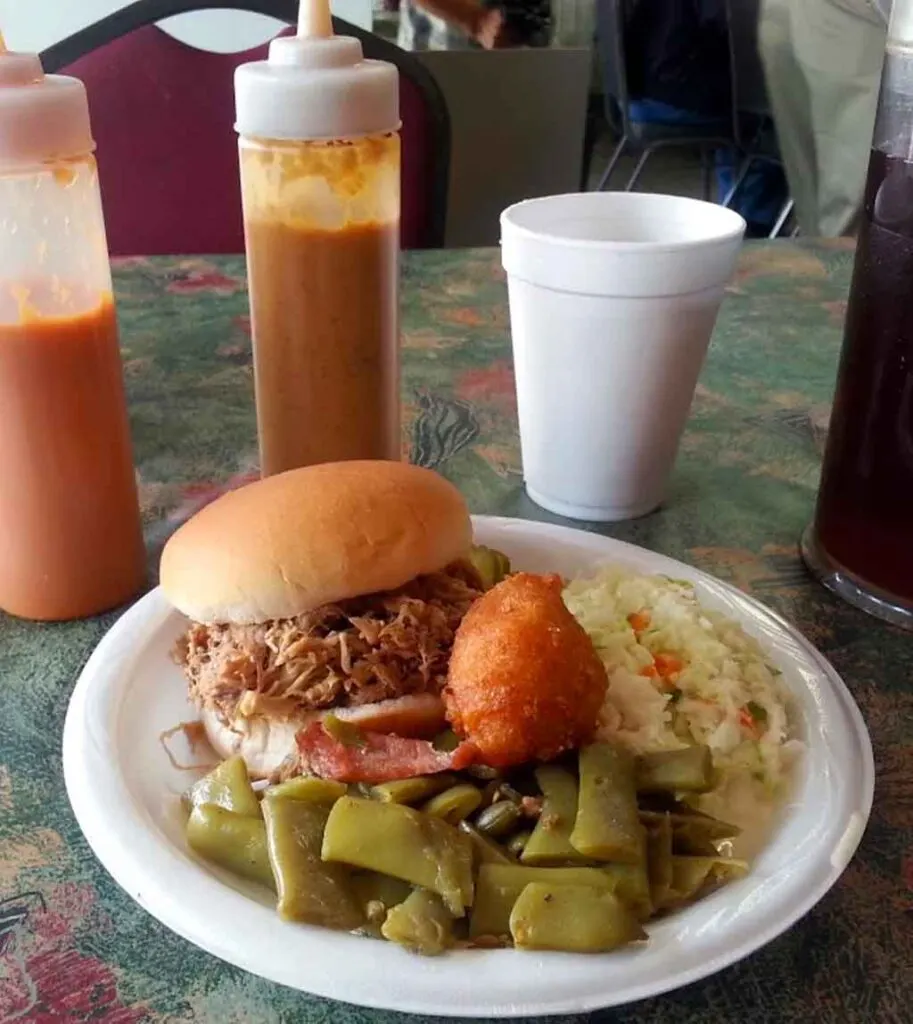 Sauce and Sides
The BBQ is not sauced ahead of time. That leads to "mushy" BBQ. You will find two sauces on the tables.
There is a sweet "rust gravy" typical of the Dukes family from which Carolina Bar-B-Que was born. There is also a hot-sweet version of the sauce.
Of course, the Dukes family has a special hash recipe, and the one at Carolina Bar-B-Que is just as special.
For those from elsewhere, South Carolina barbecue hash is a thick stew some have described as a "meat gravy." Like mustard sauce, hash originated in SC.
People here simply expect it to be available in BBQ joints around SC. While not the most photogenic of foods, it sure is delicious: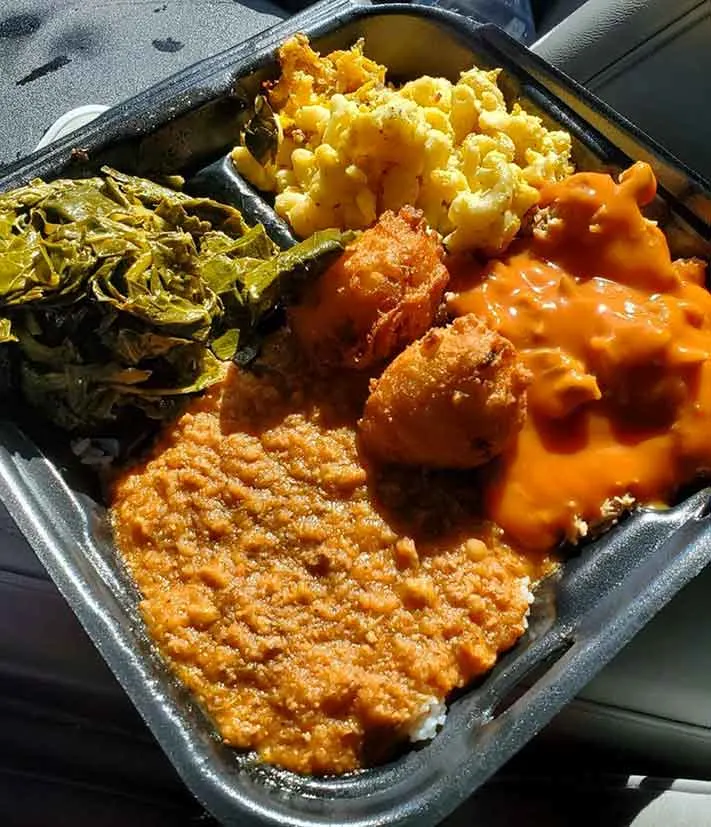 Among the side dishes are baked beans, slaw, fried squash, fried chicken skin, corn nuggets, hush puppies, macaroni and cheese, and candied yams.
For dessert, there are a few items to finish off a great meal. Carolina Bar-B-Que offers soft-serve ice cream, banana pudding, and peach cobbler among their options.
While the history of barbecue is long, it's safe to say Carolina Bar-B-Que is a true SC BBQ time machine, giving you a taste of the past and doing things the way they have always been done.
What the Critics are Saying
Southern Living
In the Top 50 Southern Living article, Robert Moss wrote: "Carolina Bar-B-Que is a bit of a sleeper, my favorite of the many outposts connected with South Carolina's famous Dukes barbecue family.
"The tender shreds of pork have plenty of smoky outer bits mixed in, and it's served with bottles of the orangish-red 'rust gravy' sauce—a blend of mustard and ketchup—that's the signature of the Dukes clan."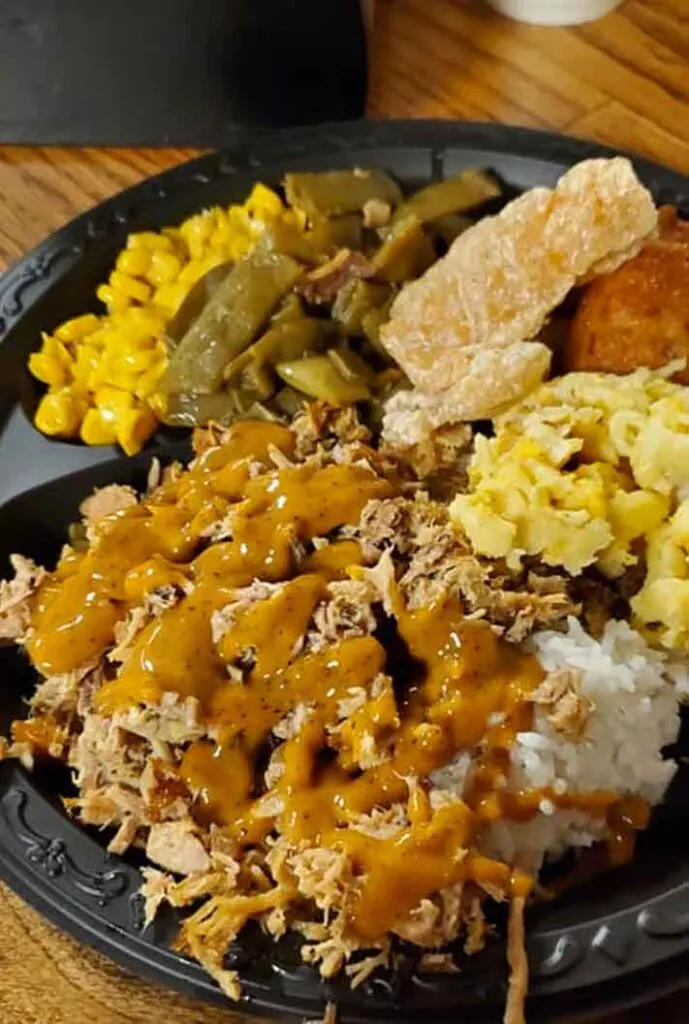 The Washington Post
Harkening back to an earlier era, this cozy BBQ joint in New Ellenton has captured the hearts of those from busier places.
Jim Shahin in The Washington Post described Carolina Bar-B-Que in almost nostalgic terms. He described this beloved small-town restaurant as the "barbecue version of Garrison Keilor's Chatterbox Cafe, abuzz with townsfolk. Excellent buffet."
The SCBA
The SC BBQ Association has deemed Carolina BBQ to be 100-Mile BBQ. Lake High wrote the following:
"Their barbeque is pit-cooked and smoked the way it used to be everywhere in the South but is now found in only a few places. And their doing it for over 35 years has lead to barbeque perfection.
"The only negative with Carolina is that they only do shoulders and don't do ribs. What I wouldn't give for some ribs done in the same expert manner as the barbeque!"
What the Regular Folks think of Carolina Bar-B-Que
As for the normal, everyday folks who take time to write reviews, they have a lot of good things to say, too.
Yelp Review
Over on Yelp, Caroline N. from Charleston suggests planning ahead and putting on your stretchy pants:
Best BBQ ever!!
I grew up on Carolina Bar-B-Que and even with all the good BBQ restaurants in Charleston, nothing holds a candle to this place. This is the hole in the wall that tells you this is the good stuff.
And yes, we drive past Dukes to get here.
Over the years, they've added additional sides and even dessert (don't leave without trying banana pudding). While literally everything is good, it's the BBQ, hash, and hushpuppies that make me hate that there's no good way to get to New Ellenton from Charleston.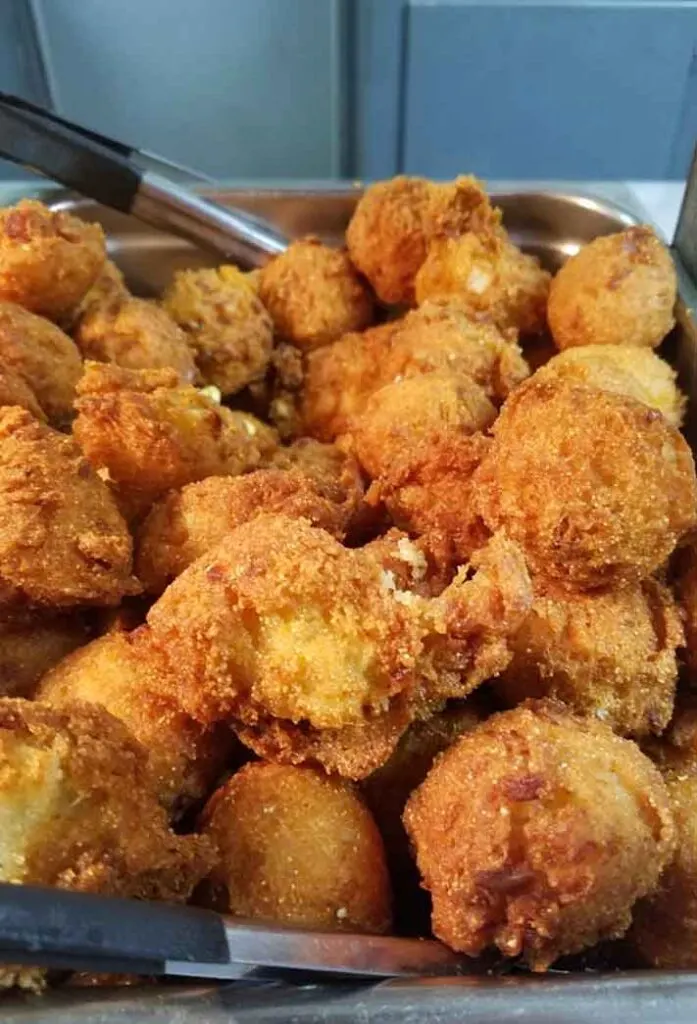 They do take-out on the side. They have odd hours because they can.
You'll be eating next to strangers. You'll leave happy and planning your next trip (in stretchy pants of course)."
Google Review
Among the many Google reviews, Local Guide Charlene Smith found Carolina Bar-B-Que in New Ellenton to be worth the stop:
Pork rinds are fabulous. They even had chicken skins. Get a bag of pork rinds to go!
Hash is yummy and BBQ sauces are the best. Three varieties of homemade pickles. The BBQ chicken was tasty, without sauce, too.
The pulled pork was great. Carolina BBQ sauce makes them better!!! Everything fried is served in small batches, so it is fresh.
"If you love BBQ, this buffet is worth the stop. And even if you don't…there are enough yummy sides to enjoy with your BBQ-loving family members and friends.
Go…so you can say you did!!!"
Hitting the Road
In the end, Carolina Bar-B-Que has been in business for over 50 years for a reason. Don't miss out.
In this Road Trip Series, we featured all the SC BBQ restaurants within 10 miles of an interstate exit. While it falls out of this range, if you find yourself traveling down Interstate 20, do yourself the favor of taking a detour to visit Carolina Bar-B-Que.
---
Menu for Carolina Bar-B-Que in New Ellenton
Note: Menu prices and options are subject to change over time.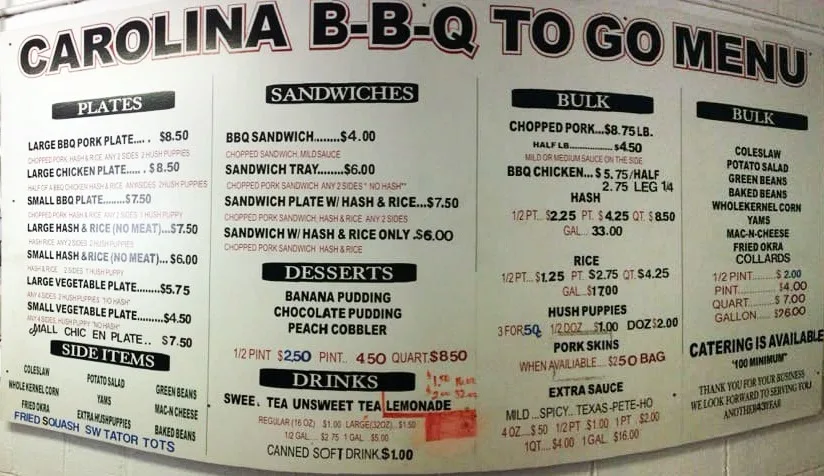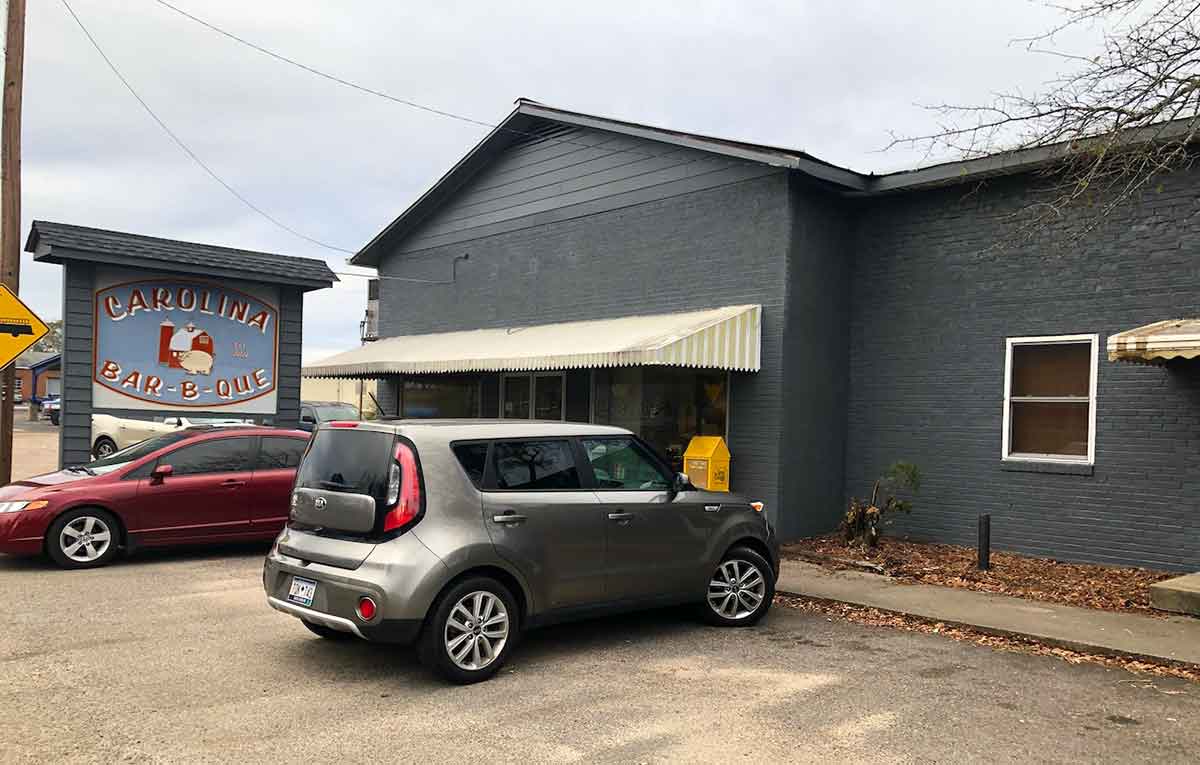 Carolina Bar-B-Que
109 Main Street
New Ellenton,
SC
29809
| | |
| --- | --- |
| Monday | Closed |
| Tuesday | Closed |
| Wednesday | |
| Thursday | |
| Friday | |
| Saturday | |
| Sunday | Closed |
Review Sites
Features
100 Mile BBQ, Buffet, Cards and Cash, Hash, Heavy Tomato Sauce, Light Tomato Sauce, Mustard Sauce, True 'Cue Certified, Vinegar Pepper Sauce