Daddy Joe's Beach House BBQ & Grill
This post may contain affiliate links to Amazon or other vendors I trust. Please read my disclosure policy. As an Amazon affiliate, I earn from qualifying purchases.
Daddy Joe's Beach House BBQ is a tribute to all BBQ shacks and their traditional ways of slow-cooking.
Owner, Shag Stepp considers his restaurant to be a tribute to those great old-school barbecue shacks of the past. You know, the kind that popped up on roadsides and offered blues and other music to enjoy along with great food.
"I'm a huge blues fan and a huge barbecue fan," Stepp told the Spartanburg Herald-Journal.
The common thread is that both music and barbecue are about good times, and that's the concept behind Daddy Joe's.
Not only is live music a common occurrence at the restaurant, but there are other fun features as well. Occasionally, Stepp will host classic car shows while there are cookouts on their ample patio. And pets are always welcome on that patio.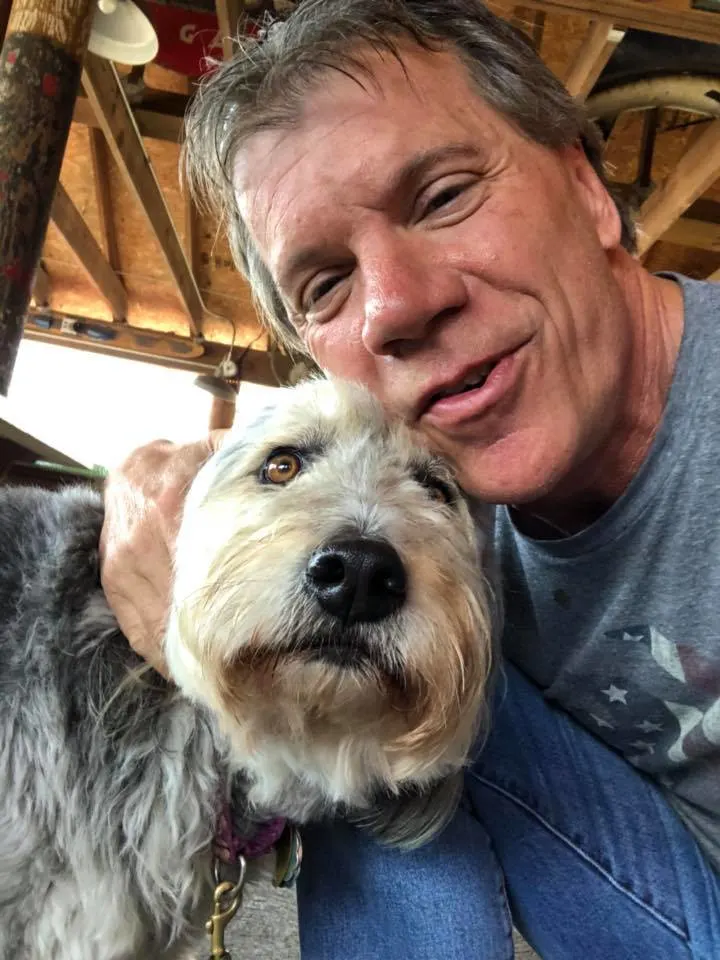 Heck, Daddy Joe's Beach House BBQ even has its own mascot, Joe Cool. Cool has been know to show up in schools, at local football games, and, of course, makes regular appearances at Daddy Joe's.
"There's no reason you can't have fun and serve barbecue," Stepp points out.
Daddy Joe's wasn't Stepp's first foray into barbecue. He spent a couple of years going around the country checking out barbecue restaurants. His goal was to learn different styles and ways of cooking barbecue.
"Barbecue is one of those things people will take pride in and will stand by it," Stepp said.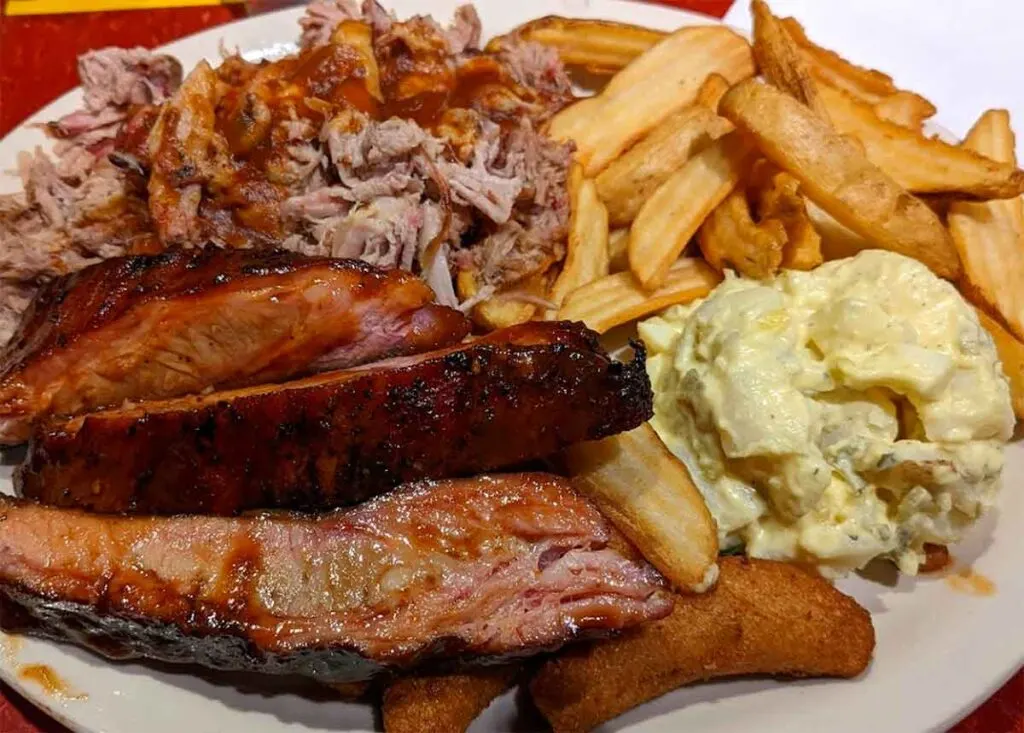 His first restaurant, Betty Jo's, enabled him to put his lessons to the test.
And he decided to try a vinegar-based style of barbecue more common in eastern South Carolina and virtually all of nearby North Carolina. It's been a hit and lead to the opening of Daddy Joe's.
It was so good, in fact, Southern Living named them as being one of six Southern restaurants where diners would do well to consider ordering the ribs. The ribs are rubbed with Daddy Joe's own special rub and are basted with the restaurant's sauce before being placed on the grill.
In addition to those amazing ribs, Daddy Joe's slow-cooks Boston butts and chicken over wood embers.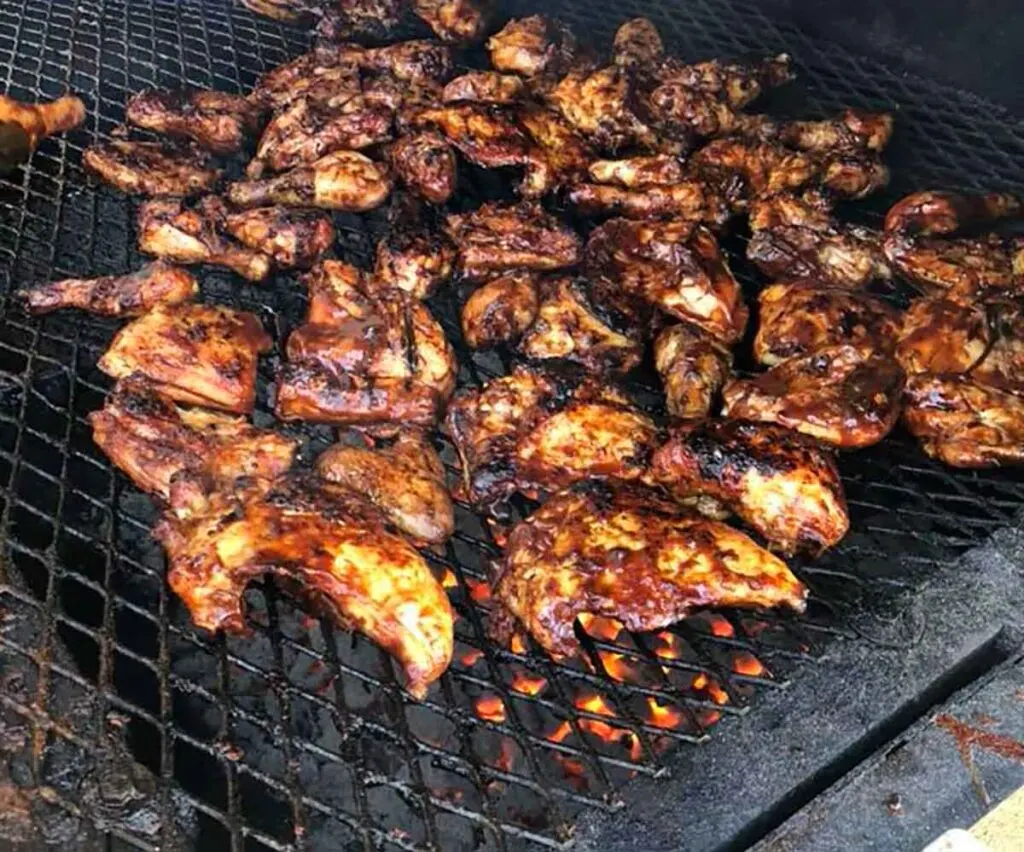 "We cook just enough to get us through the day," Stepp said. "That's really what makes the difference."
Among other things on a very deep menu, Daddy Joe's prides itself on:
Chopped Pork BBQ
Pulled Chicken
BBQ burritos
BBQ Salads
BBQ Sandwiches
Grilled Kielbasa
Wings Combo Plates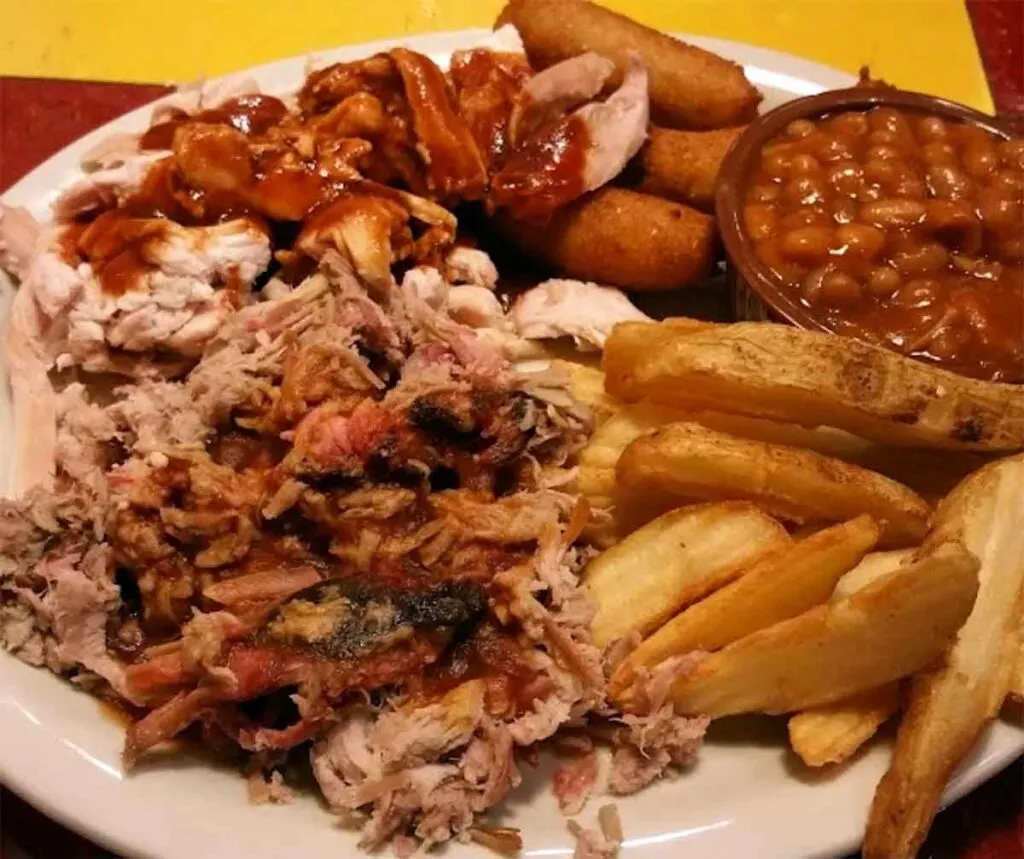 What Folks are Saying
Google Review
Among the many Google Reviews, Local Guide "Double D ammit" wrote that everyone in the family, parents and kids, found something to love at Daddy Joe's:
This place is fantastic. Our server was friendly, she was knowledgeable of the menu, and had an outstanding attitude.
Food was excellent. We had the ribs & calabash shrimp combo, kids had cheeseburger w/ fries, mac & cheese w/ fries. He ate all of the mac & wanted more, she cleaned her plate. When the kids like it you know its good.
Highly recommend this place.
Their vinegar BBQ sauce is spicy & oh so good, also their rib sauce is fantastic. Oh & they probably have the best cocktail sauce….good amount of horseradish always makes it good & it was GOOD.
Their menu is extensive but is easy to understand as it has basically all of the options anyone would want, even those that are picky. Daddy Joe's Beach House BBQ, has got you covered.
We will definitely be back & will be ordering for some catering going forward, as well.
Yelp Review
Over on Yelp, Willis S shared that he and his wife have eaten BBQ across the country and reports that Daddy Joe's knows barbecue:
My wife and I have stopped here at least 3 times, and it is consistently good.
Our last visit was April 11. Again we had the BBQ. This time we added the fried shrimp on the recommendation of the waitress.
It is always nice to find restaurant staff who are excited about the food they serve, and our waitress and waiter-in-training were charming.
We are natives of Piedmont NC so we have high BBQ standards. In fact, we travel the country eating BBQ from NC to Texas. They know how to do Carolina BBQ here.
The BBQ sandwich was great and the fried shrimp were so good my wife kept stealing them off my plate.
The service was fast and the staff are always friendly. This is right off the interstate with easy parking so you really have no excuse for not stopping!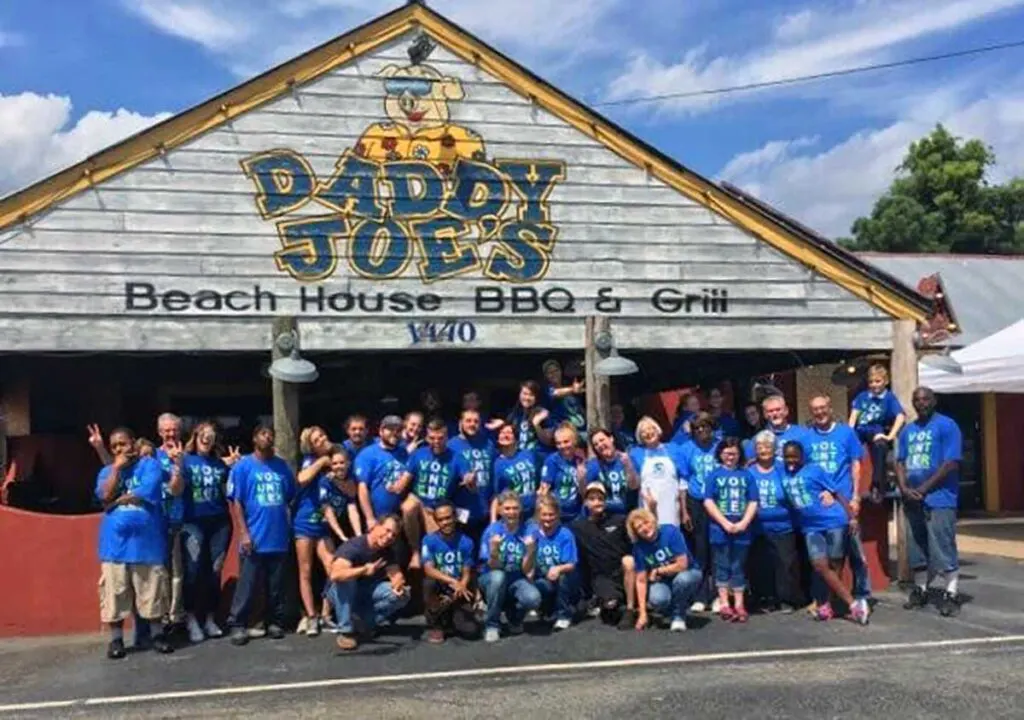 SC BBQ Association
Sure, folks on review sites often have great things to say about a place, but what about the folks who really know SC BBQ better than anyone? What about the folks who actually train the judges for SC BBQ competitions?
What do they think of this place?
The SC BBQ Association has named this place one of the Top 100 BBQ houses in the state. Here's an excerpt from their review:
Daddy Joe's in Gaffney is an institution, and the parking lot is always full. There is a good reason for that.
I'm not sure if Daddy Joe's started off to be more of a fish house than it is currently but on the menu there are only a few "Beach Dishes," as they term them – Calabash shrimp, flounder and Calabash chicken.
But on Thursday night they do have live music (beach music presumably) and oysters and shrimp on special. So there is no complaint there even if it doesn't have a lot of seafood choices.
What they do have is lots of sandwiches (grilled chicken and burgers) and lots of appetizers and lots of other choices.
And then there is the barbeque. Daddy Joe's has a large smoker and they do chopped (not pulled) pork and ribs plus smoked, pulled (not chopped) chicken. All of those choices are good ones.
Menu for Daddy Joe's
Note: Menu prices and options are subject to change over time. Contact the restaurant for the most up-to-date information.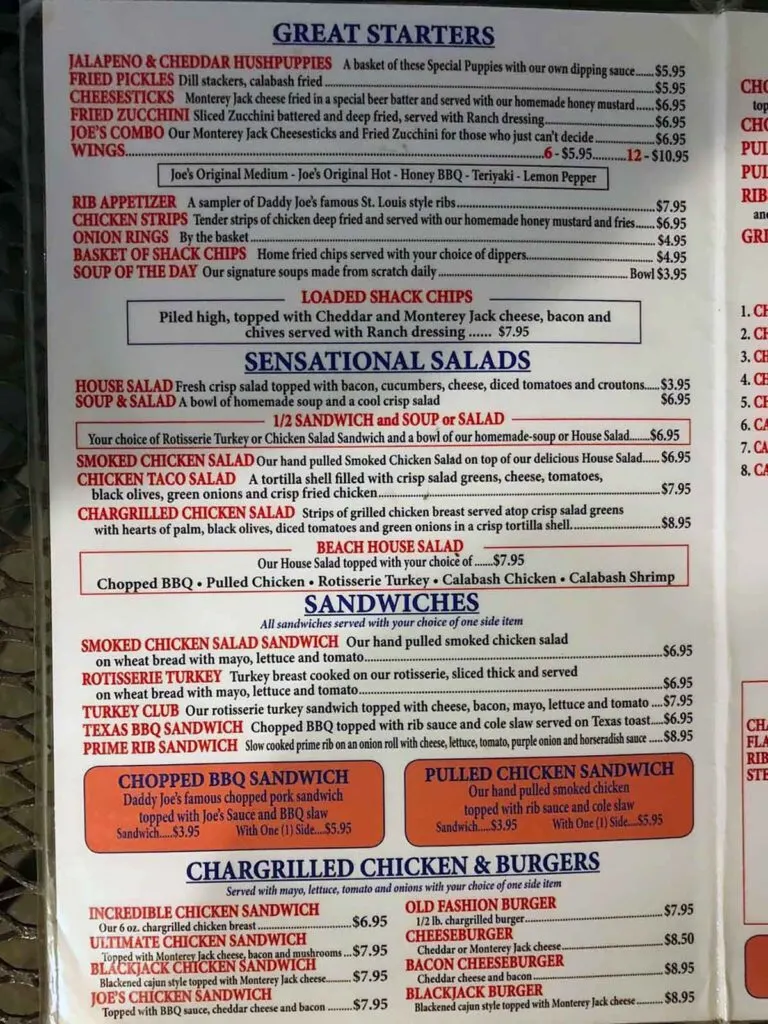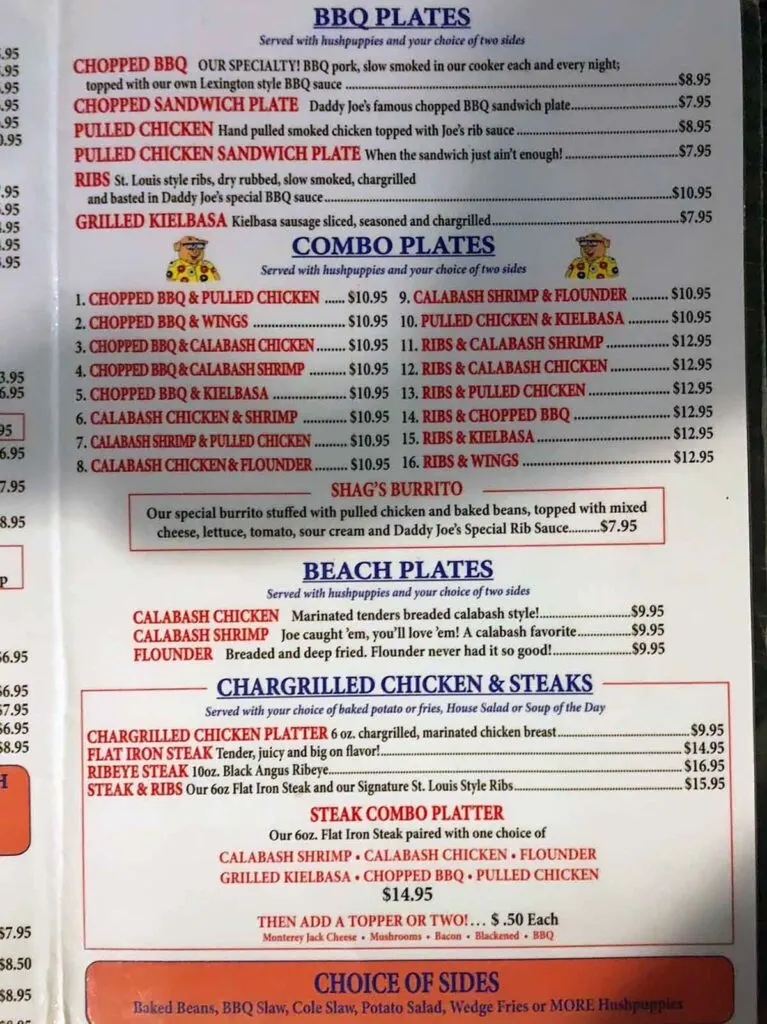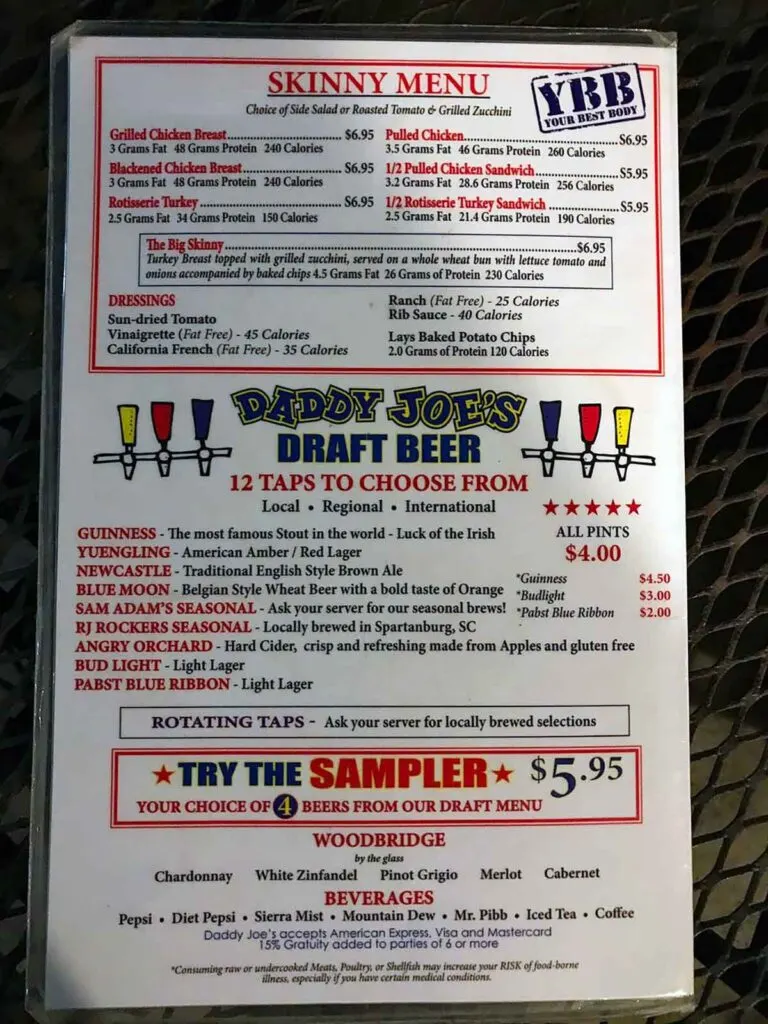 Location, Hours, Contact Info, and More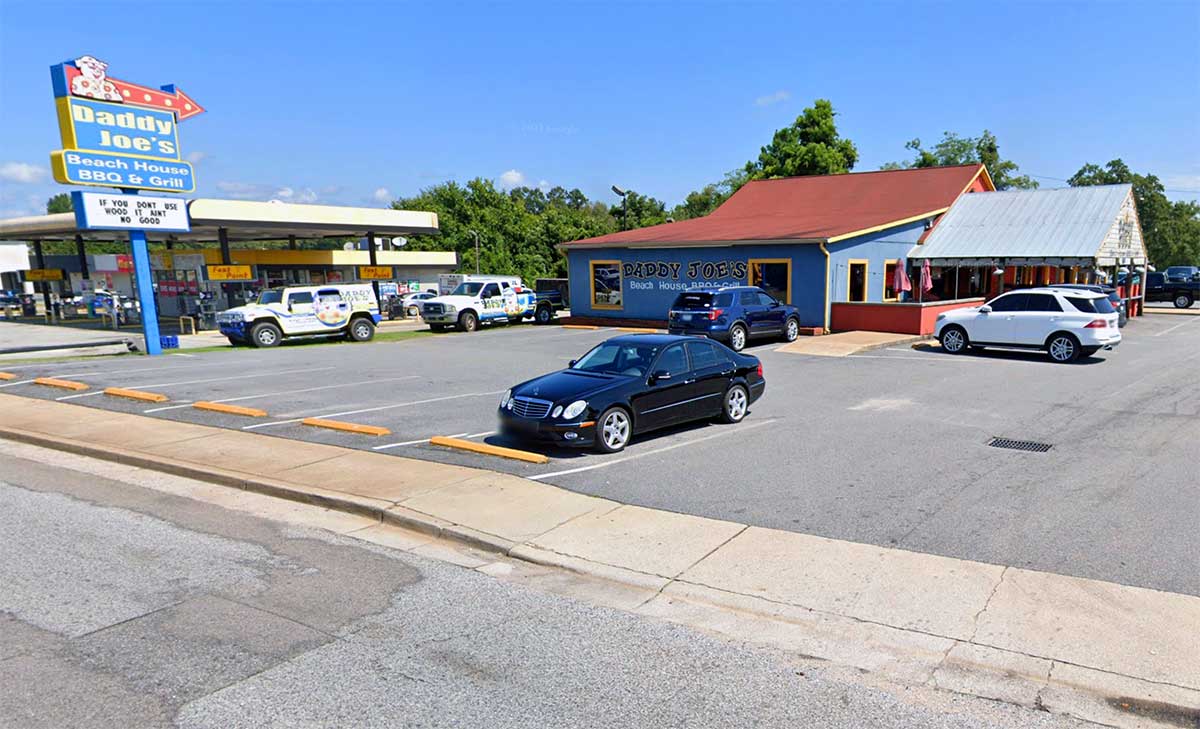 Map
Directions
Contact Daddy Joe's Beach House BBQ & Grill
1400 W. Floyd Baker Blvd.
Gaffney,
SC
29341
Hours of Operation
| | |
| --- | --- |
| Monday | |
| Tuesday | |
| Wednesday | |
| Thursday | |
| Friday | |
| Saturday | |
| Sunday | Closed |
Review Sites
Features
Cards and Cash, Heavy Tomato Sauce, Light Tomato Sauce, Vinegar Pepper Sauce