This post may contain affiliate links to Amazon or other vendors I trust. Please read my disclosure policy. As an Amazon affiliate, I earn from qualifying purchases.
OH MY GRACIOUS!!!
Gracious Pig Smokehouse, located near the Surfside Pier in Surfside Beach is making waves in the community with its delicious menu and unique atmosphere.
The restaurant opened its doors in late 2021 after facing many setbacks, including the COVID-19 pandemic and construction delays. Despite the initial challenges, Gracious Pig Smokehouse has become a go-to destination for locals and tourists alike.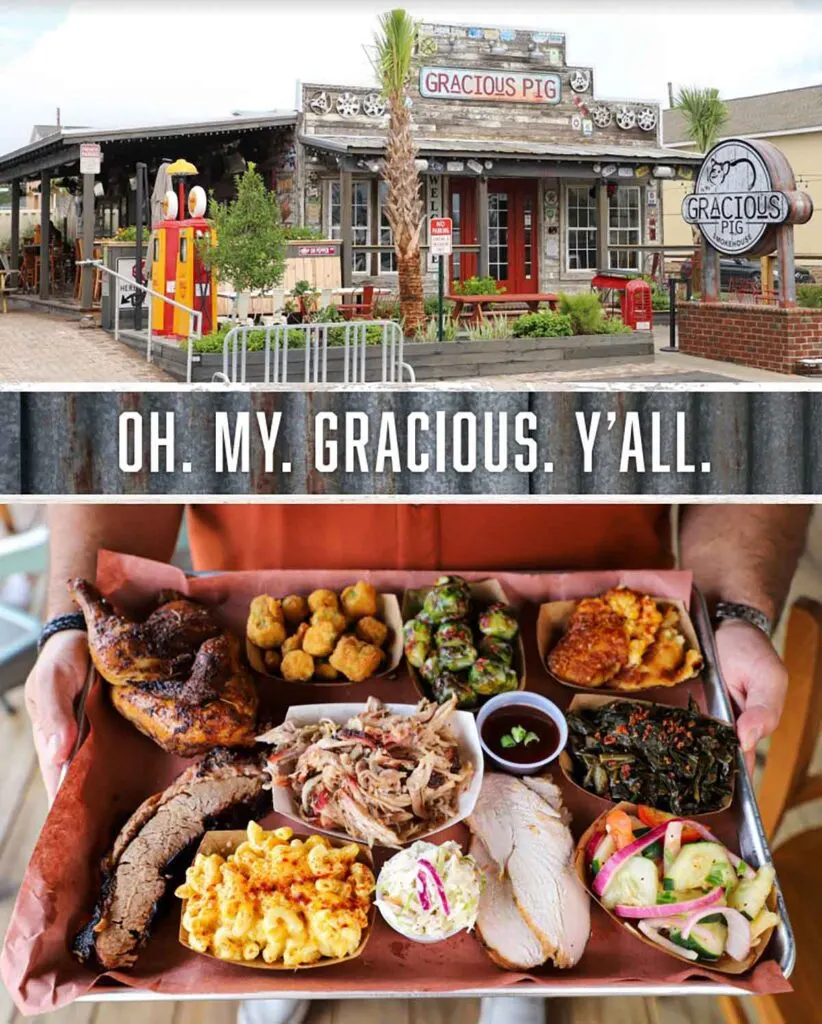 The Director of Operations for Dining & Design, Jeremy Church, a Surfside Beach native, and Vice President Richie Huggins, a North Myrtle Beach native, were determined to make the Gracious Pig Smokehouse a success from the very beginning. Even early on, Huggins noticed customers return four, five, or even six times since their first visit.
And it's no wonder. Customers clearly enjoy the slow-cooked meats and homemade sides at Gracious Pig Smokehouse.
On the Menu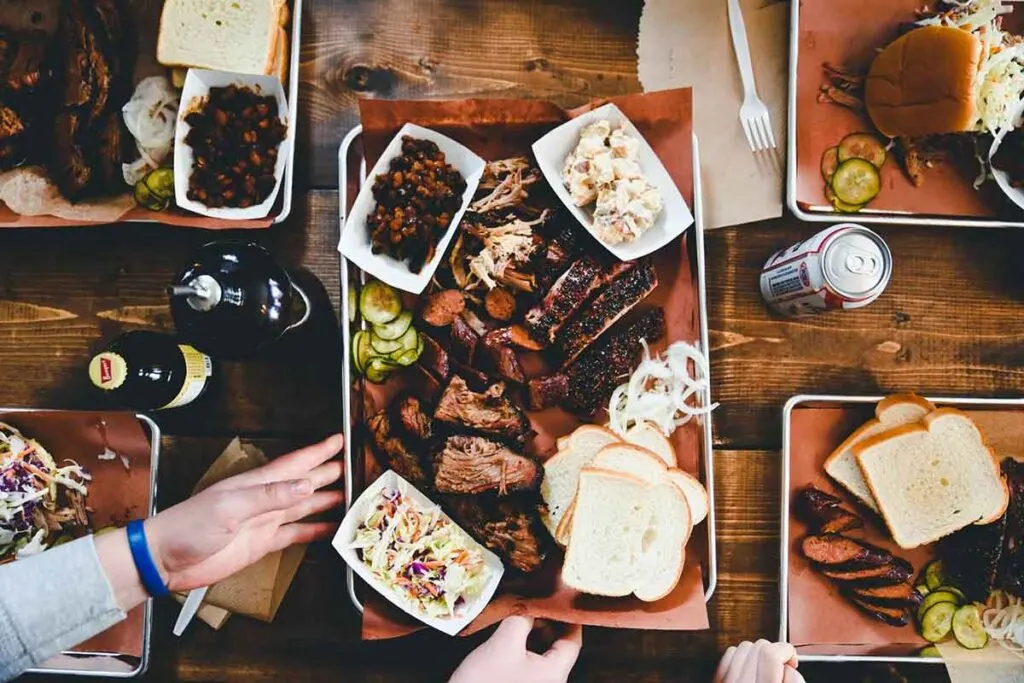 The menu is simple, yet unique.
Customers can start with "Porchos," a crispy fried pork skin drizzled in queso cheese, chopped smoked bacon, and topped with diced green onion.
For the main course, they can choose from various meats, such as pulled pork, smoked sausage, pork ribs, sliced smoked turkey, wing dings, or sliced brisket. The meats are smoked anywhere from 12 to 16 hours.
Two sides accompany each main dish. All the sides are homemade, and the restaurant has no plans to change that, said Huggins.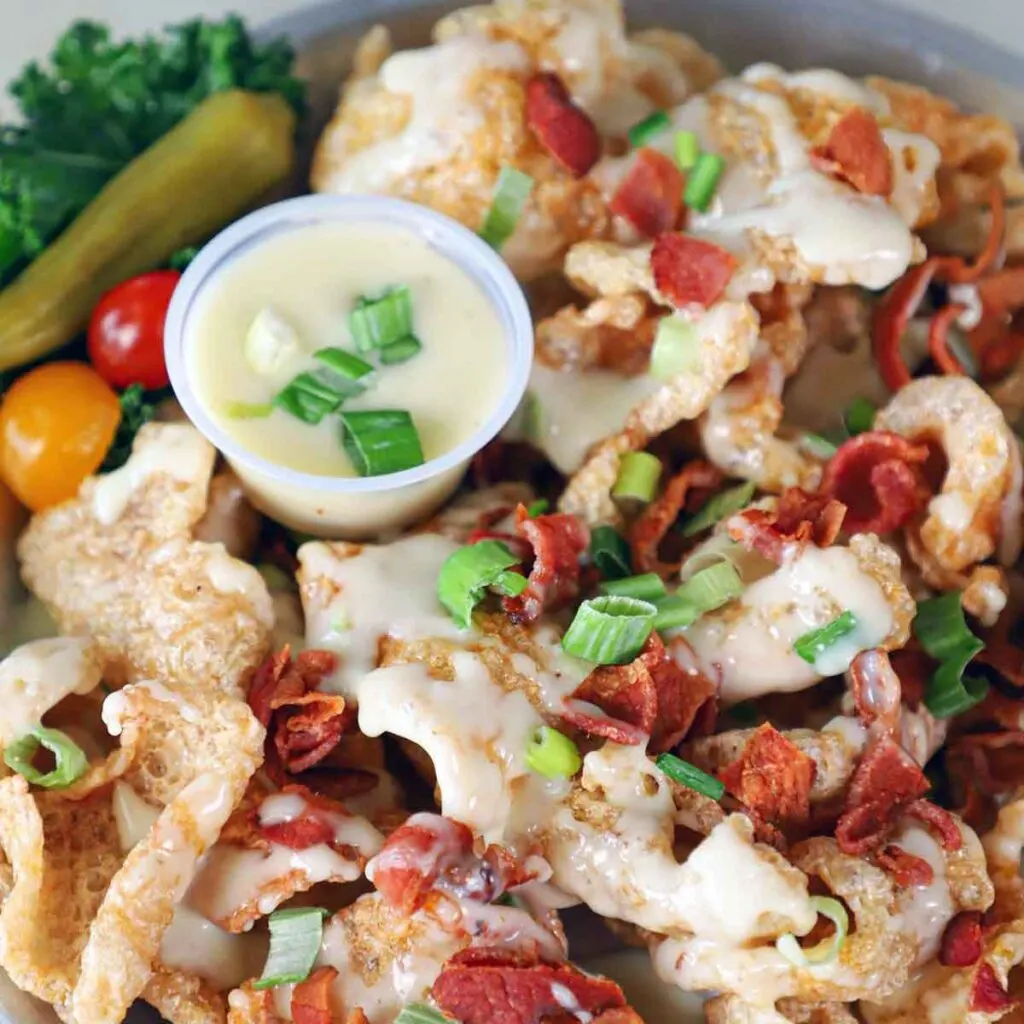 He told My Horry News that "even though it's a little more labor-intensive and a little more expensive, we've taken a step up in product. People do regular butter beans, we do speckled butter beans. We got Brussel sprouts where we add white queso and bacon."
At the Bar
The Gracious Pig's bar is a highlight of the restaurant.
It's filled with a variety of liquors and even moonshine. The liquor flights, or a sampling of different liquors, are a signature of the Gracious Pig.
The restaurant's apple ginger with apple pie moonshine and Pigs Punch mule drinks are must-tries.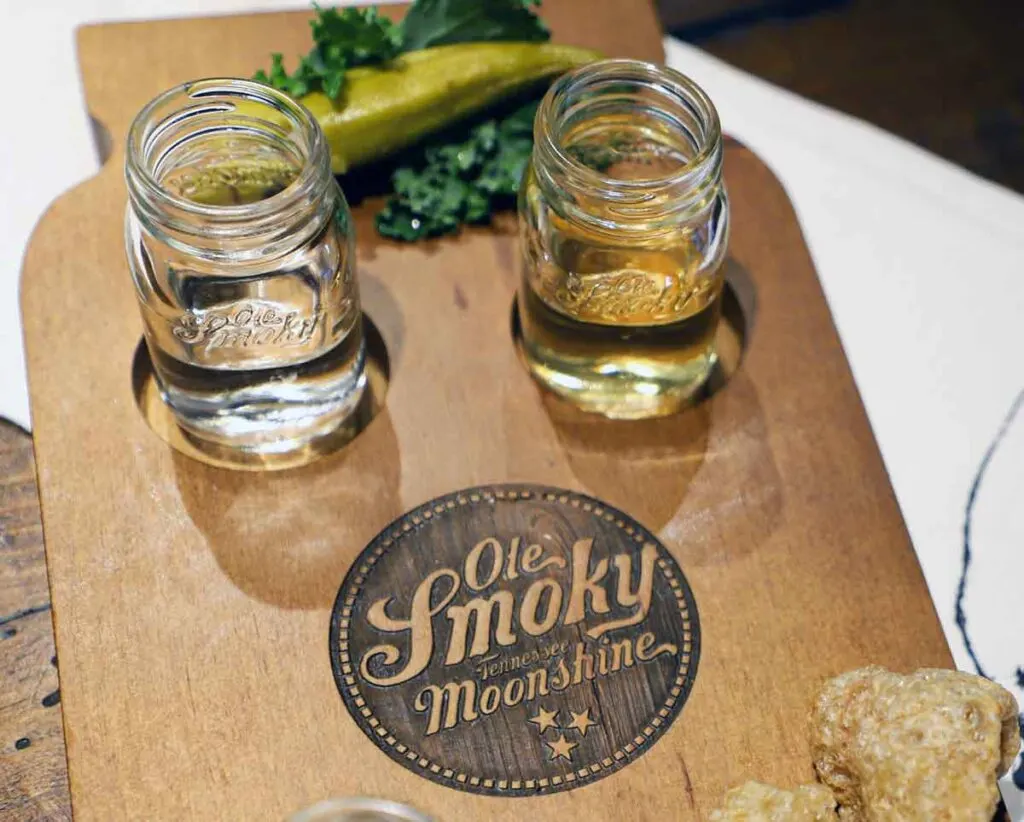 Special Ingredient
Huggins said the experience that Church has in barbecue is what puts his food above the rest.
"All of our rubs, our turkeys, our butts, our briskets are in-house recipes, and these rubs are as good as anybody's in the state of South Carolina," Huggins said.
"Some of the seasonings he uses are sometimes out of the square, and we make it work. Little bit of sweet, a little bit of spicy, and we make it work."
When asked what makes the recipe so special, Church said, "We like to say that we make it with love."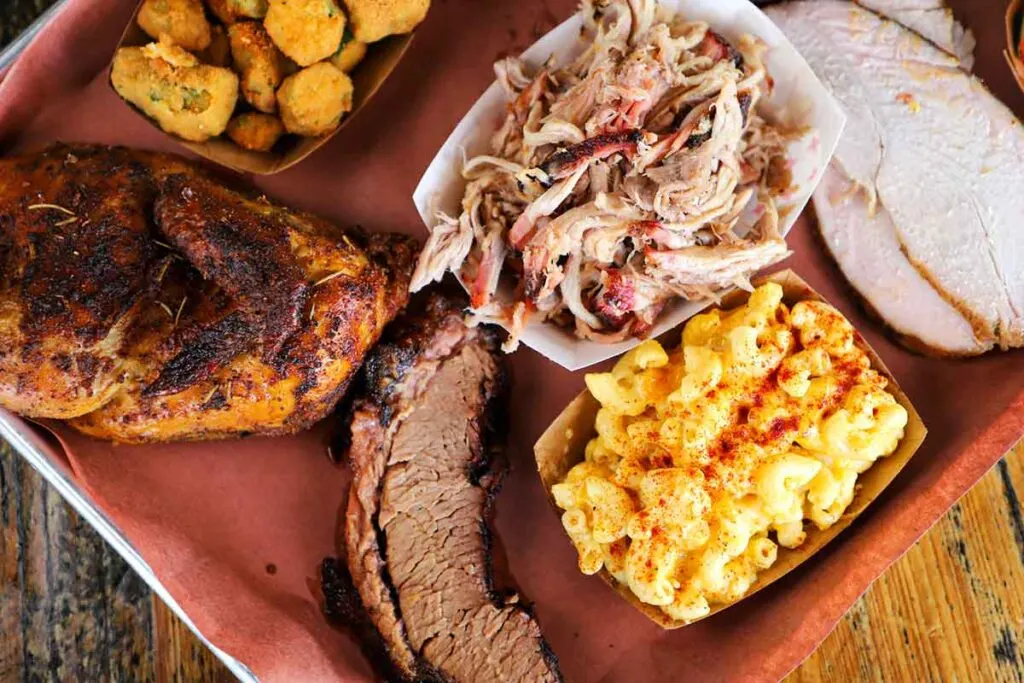 The Gracious Pig Smokehouse is a welcome addition to the community. Its unique menu and atmosphere have made it a destination for locals and tourists alike.
The restaurant is typically open from 11 a.m. to 9 p.m. daily (though hours are seasonal), and its location across from Pizza Hyena makes it an ideal spot for a delicious meal after a day at the beach.
Note Gracious Pig's parent company Dining & Design also owns and operates Pizza Hyena, Nacho Hippo, and Chimichanga Llama.
What Folks Are Saying
Google Review
Among the many Google Reviews, Local Guide Tracey Campbell-McLamb begs Gracious Pig to open a location near her:
I've had a lot of BBQ, and this is the best!
We had the smoked turkey, brisket, and pulled pork. All three were delicious.
Then I tried the sides. The collards are to die for! They taste just like the ones my mother-in-law makes which have always been my favorite.
We live in Wilmington, NC, and have so many good restaurants. None of the BBQ places can compare to this one. I hope they eventually come closer. Carolina Beach would be the perfect location by the boardwalk!!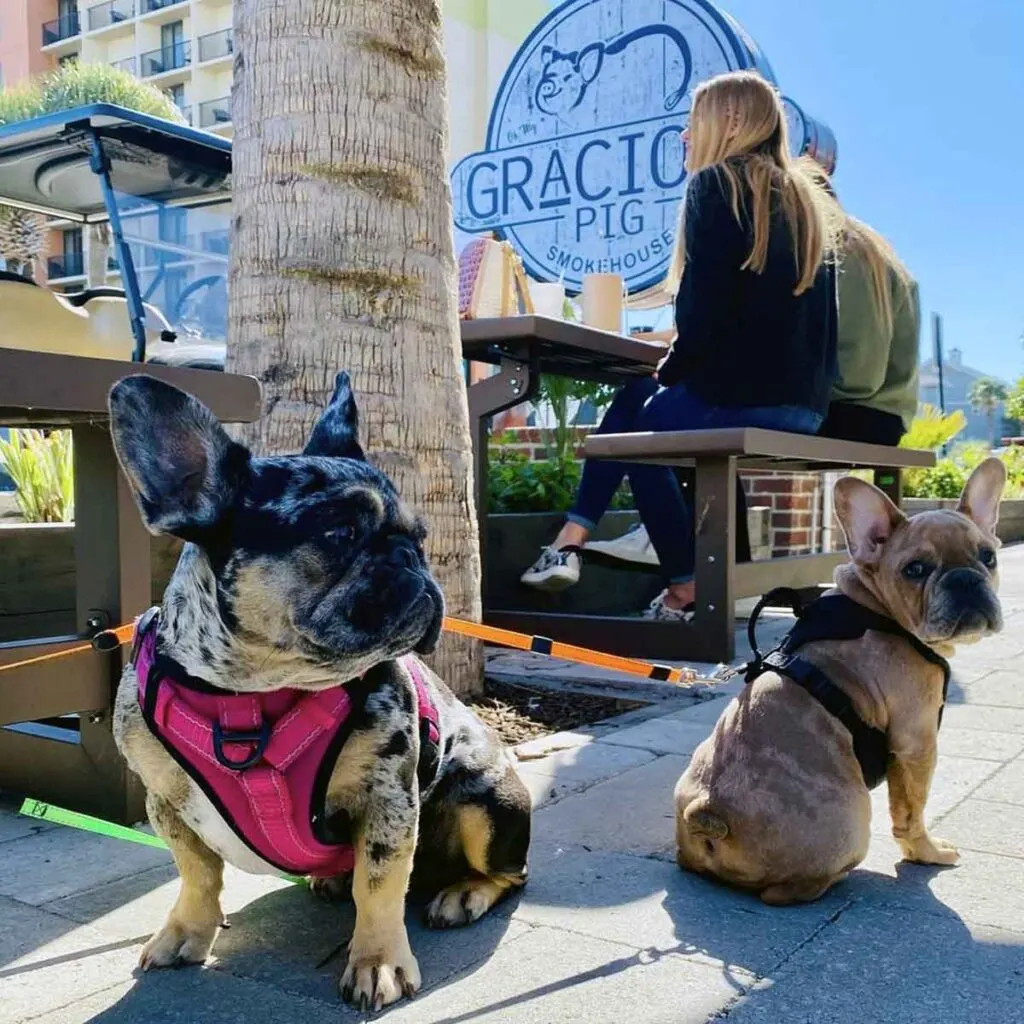 Yelp Review
Over on Yelp, like a lot of customers, Jason T found everything to be…well, "fantastic:"
This restaurant was fantastic. The food was delicious and well done. Our server was fantastic and very friendly.
The BBQ was well done just the way BBQ should be. Fantastic music choices and very well-ventilated outside. Fans above us plus the wind from the ocean.
The banana pudding was fantastic! The French fries were well-seasoned and crispy!
Loved everything about this place. If you're in the area of Surfside Beach, make sure you stop here.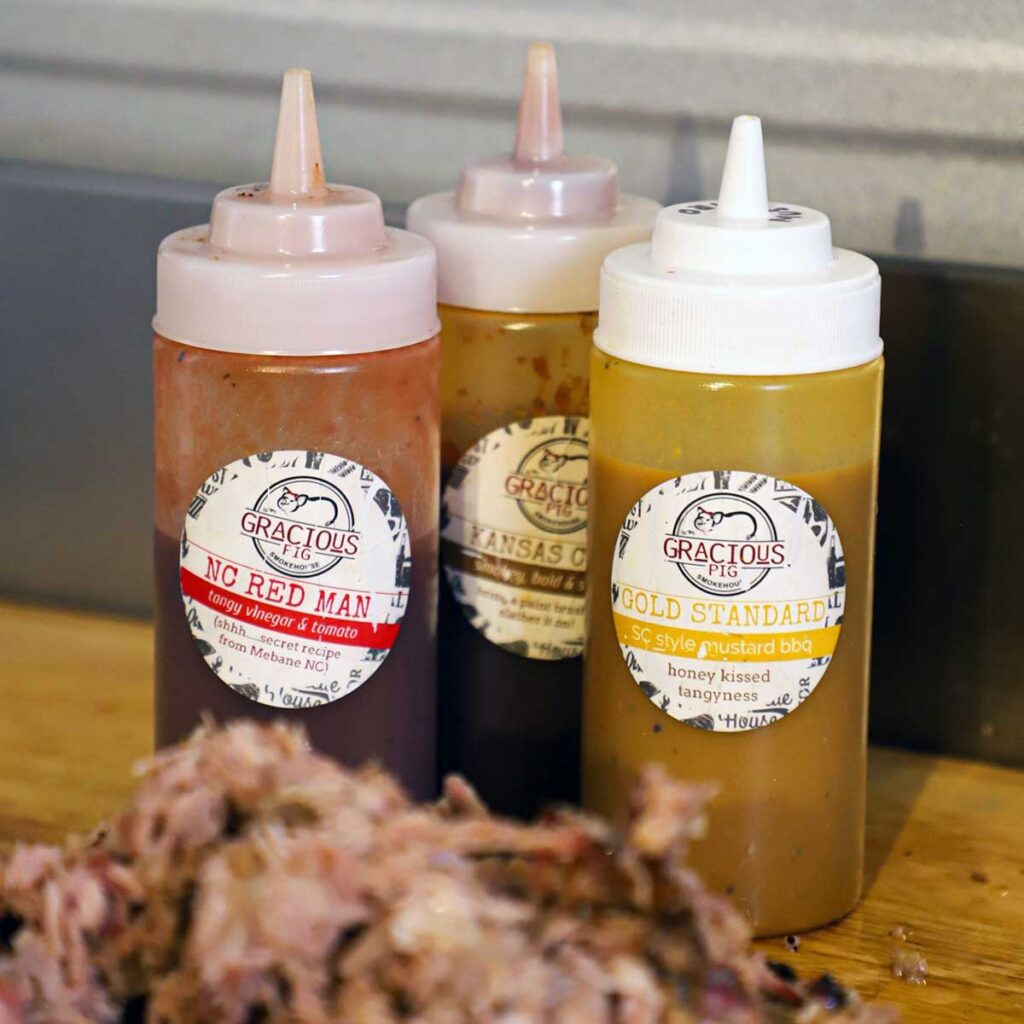 Menu for Gracious Pig Smokehouse
Note: Menu prices and options are subject to change over time. Contact the restaurant for the most up-to-date information.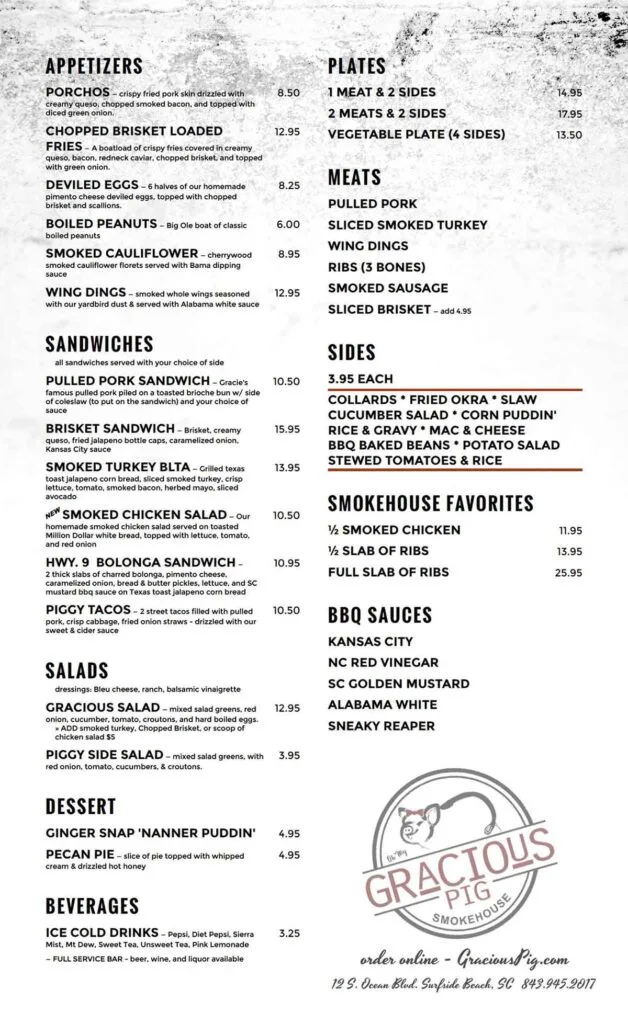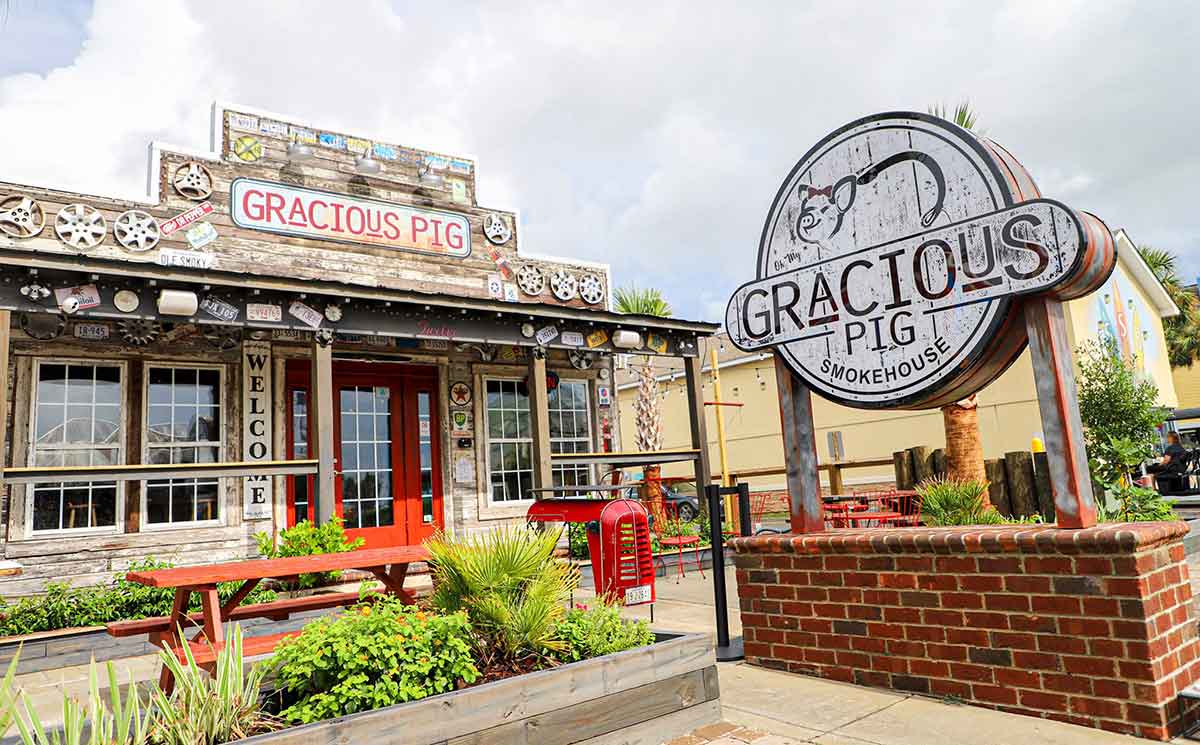 Gracious Pig Smokehouse
12 Ocean Blvd S
Surfside Beach,
SC
29575
| | |
| --- | --- |
| Monday | |
| Tuesday | |
| Wednesday | |
| Thursday | |
| Friday | |
| Saturday | |
| Sunday | |
Review Sites
Features
Cards and Cash, Heavy Tomato Sauce, Light Tomato Sauce, Mustard Sauce, White Sauce