Little Pigs Bar-B-Q in Myrtle Beach: Best BBQ at the Beach
On U.S. Highway 17 Bypass — away from the chaos of Restaurant Row and not quite as far as the mossy oaks and seafood of Murrells Inlet — you'll find a down-home, family-run restaurant that specializes in one thing: barbecue. Little Pigs Bar-B-Q in Myrtle Beach serves hickory-smoked chopped pork BBQ sandwiches and plates.
A locals and tourists favorite since 1998!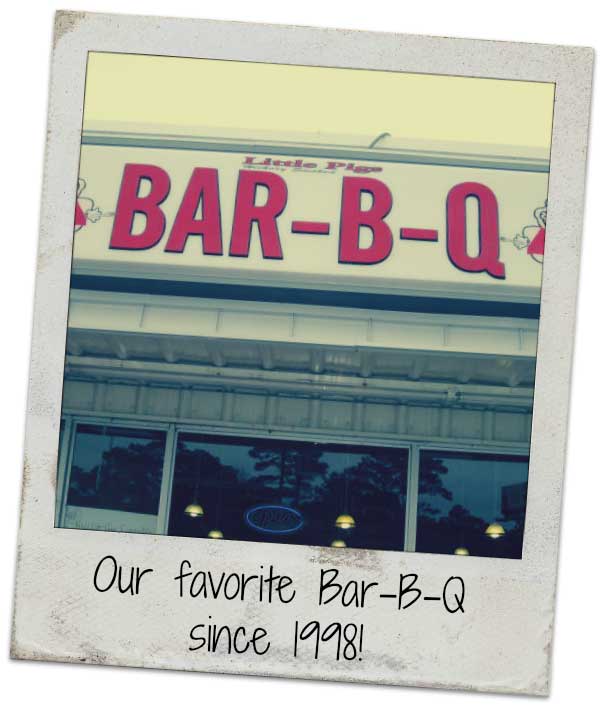 At Little Pigs Bar-B-Q in Myrtle Beach, barbecue is, of course, their specialty. For over two decades, the family has been serving the best BBQ on the beach.
All pork is smoked daily on-premises for 18-20 hours for unbeatable flavor.
Robert Huffling and his wife run Little Pigs Bar-B-Q. Huffling said many customers have the same request.
"Some people just come in here and say, 'I want a plate,'" Huffling said. "They're talking about a chopped plate."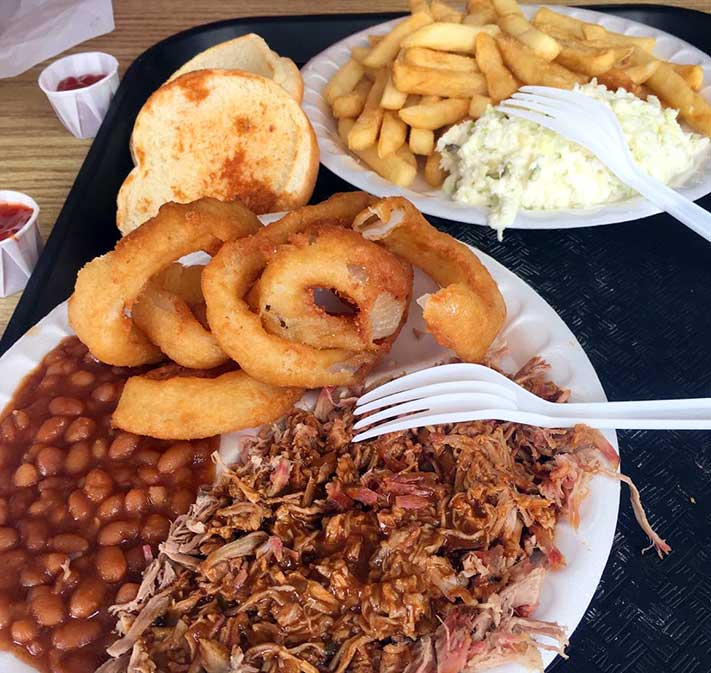 That plate heaped with Huffling's hickory-smoked and chopped 'Que. In SC, more often than not the pork is pulled, not chopped, but Huffling takes a different approach.
He says chopping improves the barbecue experience. They pull the pork from the smoked whole hams and kept warm until a plate is ordered.
When you place your order, the server finely chops the meat to further eliminate any fat or gristle from your order.
"As whole as possible," said Huffling. "You leave it that way because it's got just a better flavor, it's got a better taste to it," he said.
But that's not all. Enjoy sandwiches, burgers, mouth-watering hushpuppies, chopped beef plates, family-style meals, and more.
Special Sauces and Sides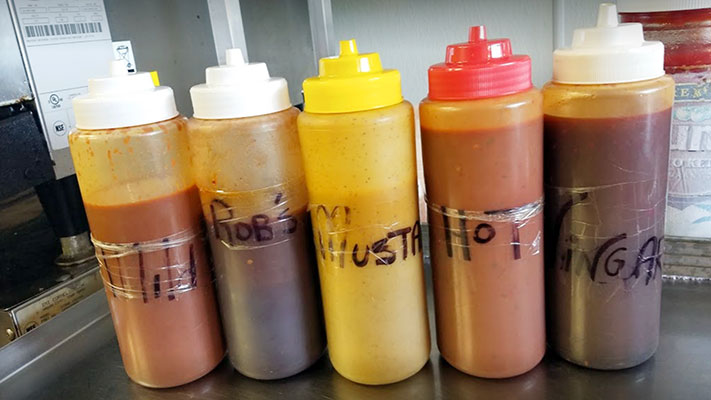 Little Pigs Bar-B-Q offers your choice of four sauces. You'll find the sauces sitting out at a service counter with little cups you can use to try them all
The most popular is their tomato-based sauce. They also offer a spiced-up version of the sauce with hot peppers added.
The vinegar-based sauce is historically native to the region. Vinegar-pepper sauces were very likely the first barbecue sauces created.
As a side noet, some argue that South Carolina is the birthplace of BBQ. The suggestion hinges on the fact that barbecue means pork combined with low and slow cooking techniques.
This would likely have only been possible in the 1500s when the Spanish, who brought with them the pig, and the natives who cooked using that unique technique first comingled near St. Helena near Beaufort, SC.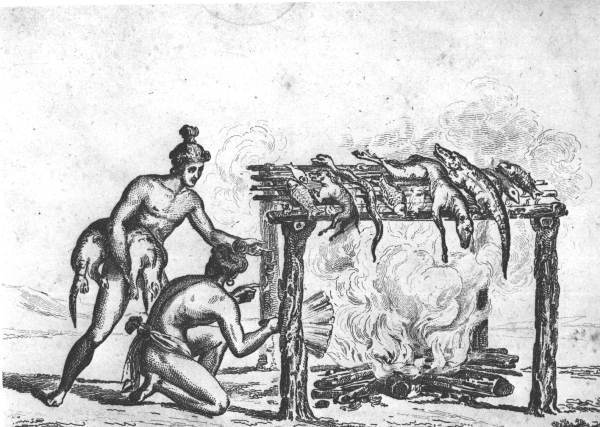 True or not, one thing is clear: at that time, there were no ketchup based sauces and mustard sauce's origins have been traced to South Carolina around the 1930s.
Meanwhile, the mustard-based sauce served at Little Pigs Bar-B-Q in Myrtle Beach is Huffling's wife's creation. That sauce offers your smoked pork the perfect taste of authentic South Carolina barbecue.
Waring, if you ask the staff to sauce the sandwich for you, expect a heaping portion. Huffling said the key is to put some sauce on the meat, put the bread on, lift the bread back off, and then add more sauce.
In addition to the saucy chopped pork, their sides include baked beans, onion rings, French fries, and what some call the beach's best coleslaw.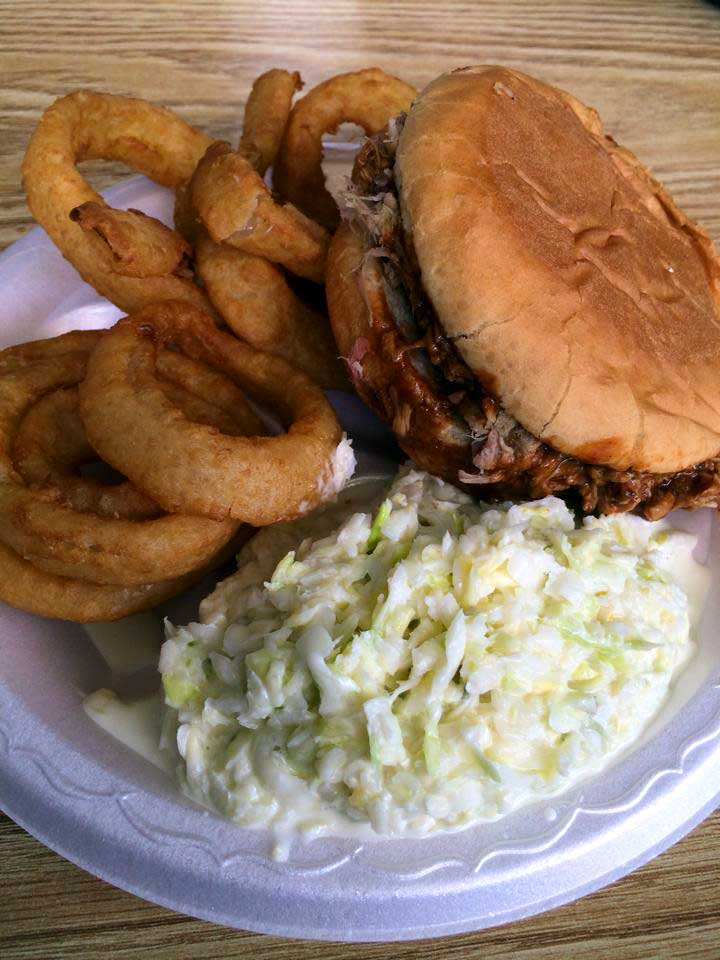 "Some people come in here and just get a plate of slaw and beans," said Huffling.
Little Pigs Bar-B-Q in Myrtle Beach sees a steady flow of customers--locals and tourists alike.
Got an event coming up? Here's what they said:
Enjoy all of your BBQ favorites at your next event with convenient catering options from Little Pigs Bar-B-Q. Come on by, say hello, and enjoy South Carolina's best hickory-smoked BBQ, from our family to yours.
We look forward to serving you!
What Folks are Saying about Little Pigs
Google Review
Google's Local Guide Dennis Castellano looks forward to his next visit to Little Pigs Bar-B-Q:
"I have been to many BBQ places to eat but this little place tops the big well-known places. We had great service. Polite staff.
Excellent food that filled us up. It is that kind of feeling that you can't eat anymore, but it is so good that you have to take another bite.
We look forward to a return visit."
Yelp Review
Over on Yelp, Christina A. suggests not being put off by its location:
We had Little Pigs Bar-B-Q our first night of vacation. It's a hole in the wall joint next to a gas station, but don't let that stop you from eating here.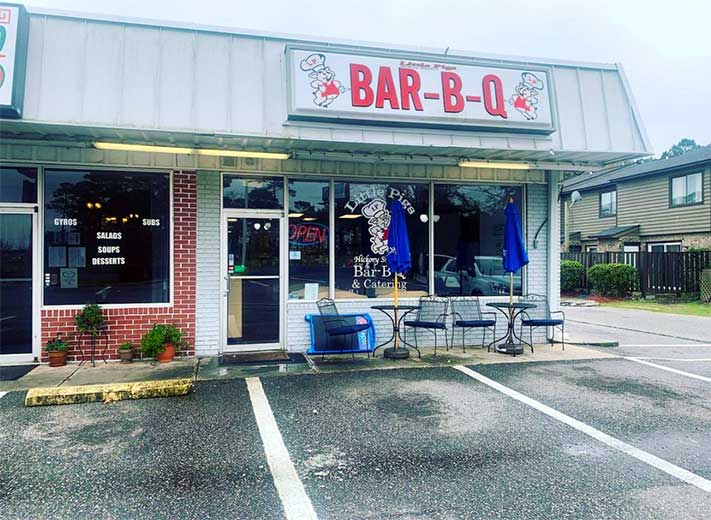 The pulled pork is top-notch home-smoked goodness. The mustard BBQ sauce is really amazingly good.
I'm a NC vintages bbq sauce lover so consider it a happy surprise to find a mustard sauce that I loved.
The slaw is finely chopped and sweet. Add a bit to your bbq sandwich and you'll be in hog heaven.
South Carolina BBQ Association
Many consider Little Pigs Bar-B-Q to be the best BBQ in Myrtle Beach. In fact, the SC BBQ Association lists Little Pigs among the Top 100 BBQ restaurants in SC.
SCBA founder Lake High began his review of Little Pigs Bar-B-Q in Myrtle Beach with this:
Myrtle Beach is a seashore town and people come for fun and seafood, and that's as it should be. The problem with that, however, is that Myrtle Beach has never been known for having any really good barbeque, and sometimes you've just got to have a barbeque fix.
When I asked a couple of our judges who live in the area about the barbeque situation, they both instinctively replied, "Myrtle Beach doesn't have any good barbeque."
But then, on reflection, they both agreed that the best was actually at a small, unassuming restaurant that sits in a little strip mall next to a sub sandwich shop and liquor store, all of which are behind a gas station.
Pretty unimpressive company, all in all.
Despite that company and after having enjoyed a meal there, High came to agree with judges. Little Pigs Bar-B-Q in Myrtle Beach is not a place to be overlooked: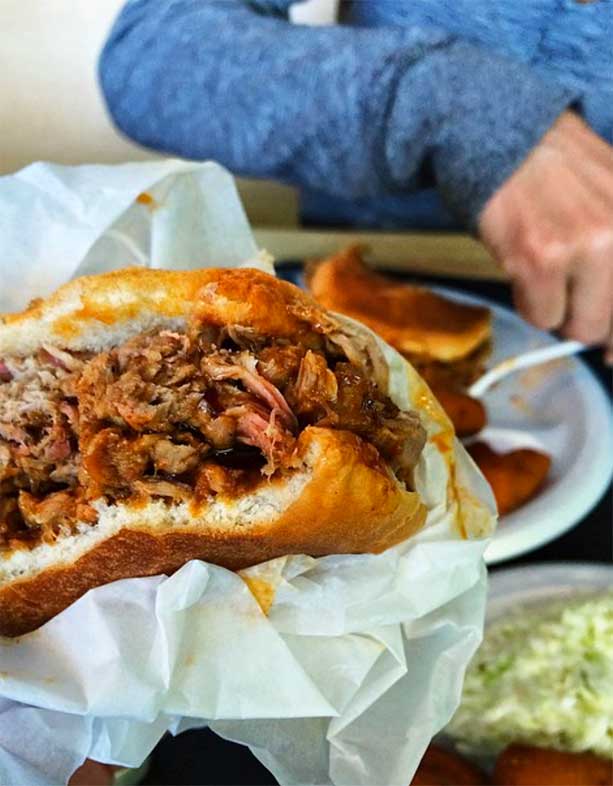 "Our local judges were right; Little Pigs is probably the best barbeque in Myrtle Beach," High concluded.
Read High's entire review here.
Read our Review of Little Pigs Bar-B-Q
---
Menu for Little Pigs Bar-B-Q in Myrtle Beach
Note: Menu prices and options are subject to change over time. Contact the restaurant for the most up-to-date information.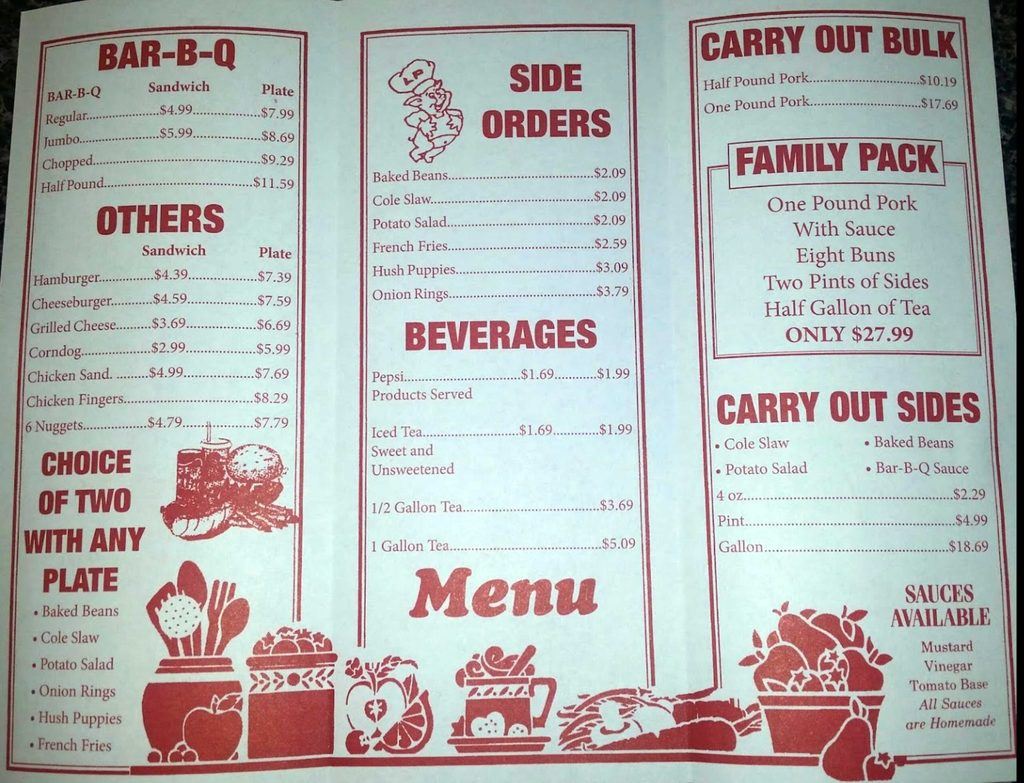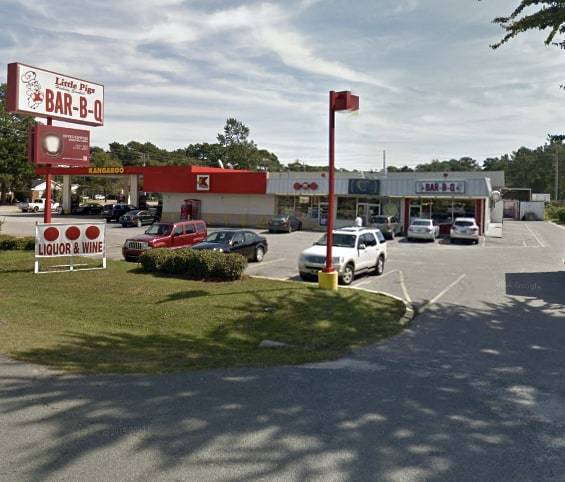 Click to get Google Map directions from your current location
Little Pigs Bar-B-Q
6102 Frontage Road
Myrtle Beach,
SC
29577
| | |
| --- | --- |
| Monday | |
| Tuesday | |
| Wednesday | |
| Thursday | |
| Friday | |
| Saturday | |
| Sunday | Closed |
Reviews
Details
Cards and Cash, Heavy Tomato Sauce, Light Tomato Sauce, Mustard Sauce, Vinegar Pepper Sauce