Pig Out BBQ #2 in Drayton
Do Your Mouth a Flavor!
This post may contain links from which I earn a commission. Please read my disclosure policy. As an Amazon affiliate, I earn from qualifying purchases.
Pig Out BBQ #2 is a small locally owned and operated BBQ restaurant on the east side of Spartanburg. They are dedicated to quality food and friendly service.
Co-owners Mark McDowell and Jennifer Crook Bauer operate both Pig Out BBQ locations. There is the original restaurant on New Cut Road in Inman, which opened its doors in 1999.
Then, along Drayton Road near Drayton Mills, Pig Out BBQ #2 has been serving customers since 2014.
Bauer's father, Joe Crook, founded both locations.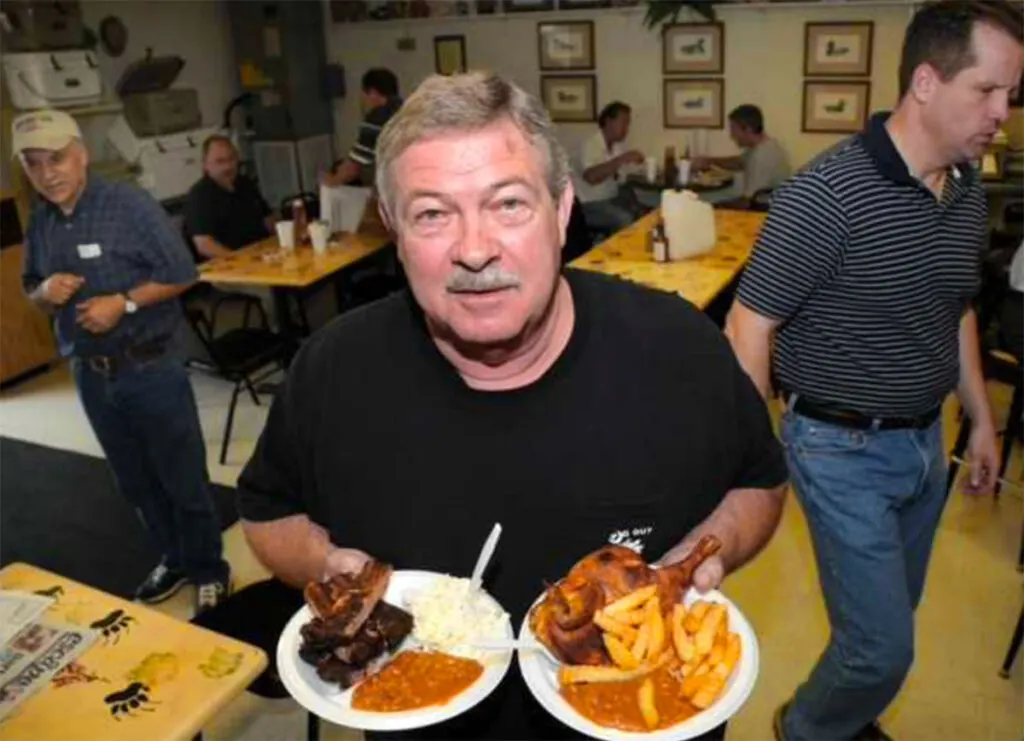 After his passing, Bauer's daughter and McDowell took the reigns over both locations. McDowell worked at the Inman restaurant for over a decade.
"I've just recently taken over," Bauer said. "My father passed away at the end of June (2016), so I've just stepped in in the last couple of weeks. Mark has been with Pig Out for about 12 years.
"He was with my dad consistently, so he really knows the ins and outs. For me, it has been a great transition.
"I love being in the restaurant, and I get to see a lot of people come in. I'm able to see a lot of people my dad has known for years and years."
A Focus on Tradition at Pig Out BBQ
While their long-time customers are important to their business, Pig Out recognizes the value of the first-timers as well. They strive to offer them both an authentic, old-school SC barbecue experience.
"It reminds them of someplace they had a long, long time ago somewhere far, far away," joked McDowell. "Traditional barbecue is an old tradition.
"It goes back a long time. We try to hold true to that tradition of barbecue."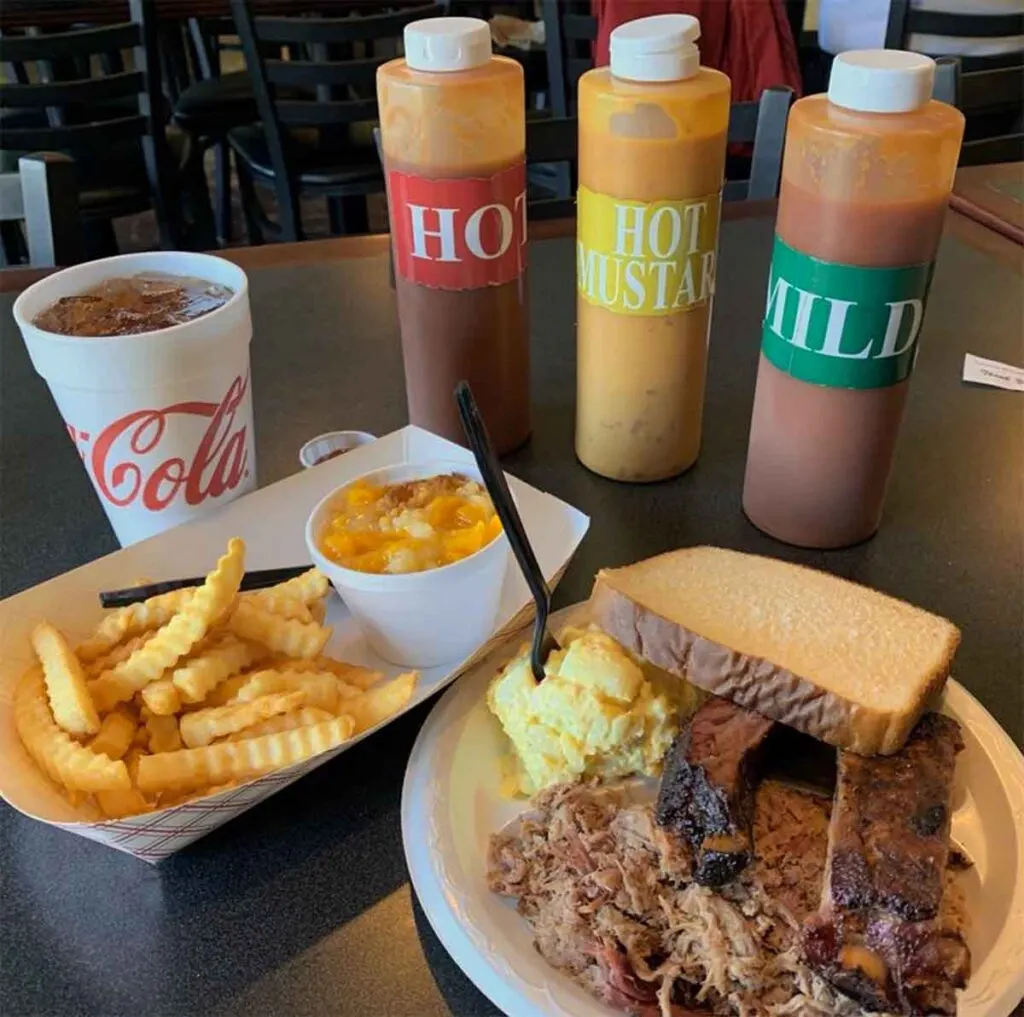 And for Bauer, that tradition is doubly important.
"That's what was important to my dad, that we stay true to Southern barbecue," she said. "For example, when he opened at New Cut Road, the menu was very limited.
"People would often say, 'Could you add this or could you add that?'"
"He would say, 'I'm a barbecue joint. I stick to pork, and that's what we know and that's what we make.'"
"We focus on the simple things," McDowell confirmed. "We're not doing burgers, we're not doing fish. We're strictly doing what we do."
On the Menu
Both restaurants built their reputation on traditional SC BBQ, pork, ribs, and chicken.
On the menu, you'll also find hush puppies, baked beans, and coleslaw, among other options, but there are differences between the two Pig Out locations.
"The menus are slightly different," Bauer noted.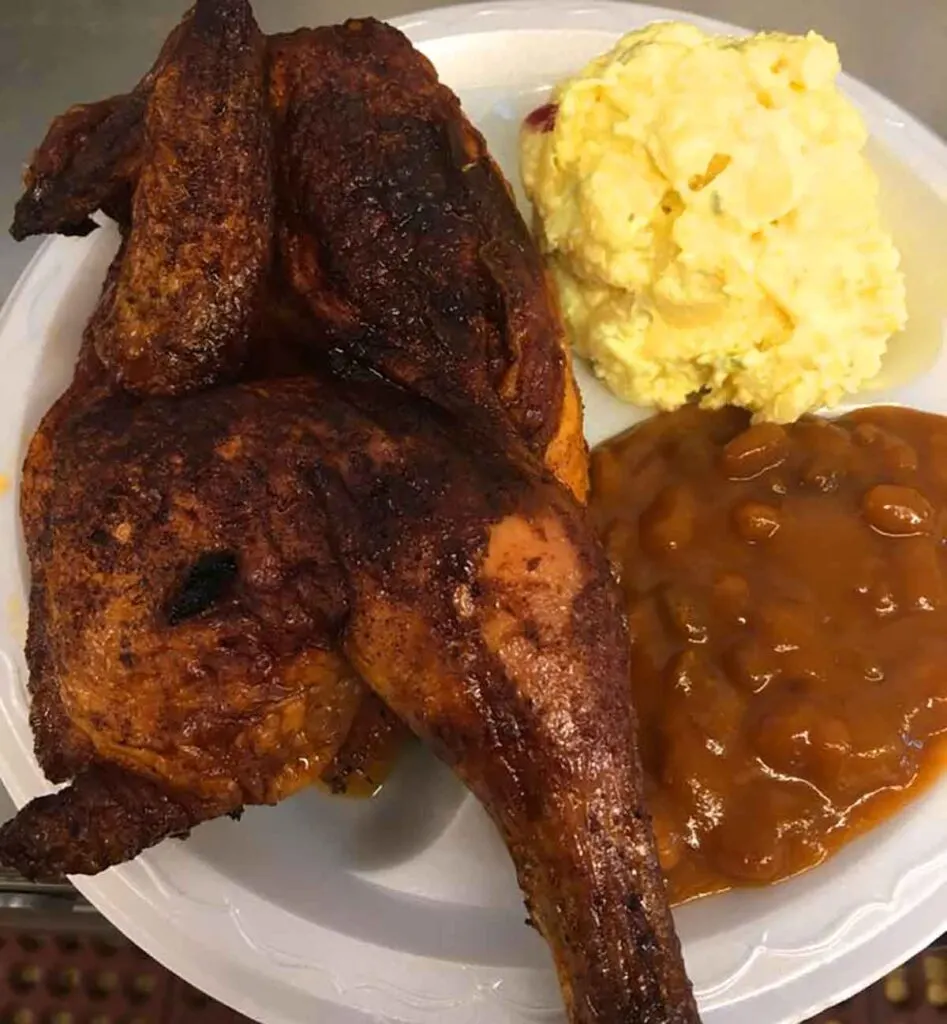 "For instance, our barbecue and chicken and ribs are consistent at both locations. Our menu (at the Drayton location) is a little larger because the space is a little larger.
"The hash is really popular here in Drayton."
The SC BBQ hash served at Pig Out represents the style typical of hash in the Upstate. Only in the Upstate of SC will you find a Hash Sandwich on the menu.
In the rest of the state hash is traditionally more of a side item served over rice.
While Bauer and McDowell rest on tradition, they do so with an eye to the future.
"Our goal in the future is to keep doing what we do best," Bauer said. "We want to reach new consumers in Spartanburg, and the east side is very competitive.
"When people think barbecue, we want them to think of Pig Out."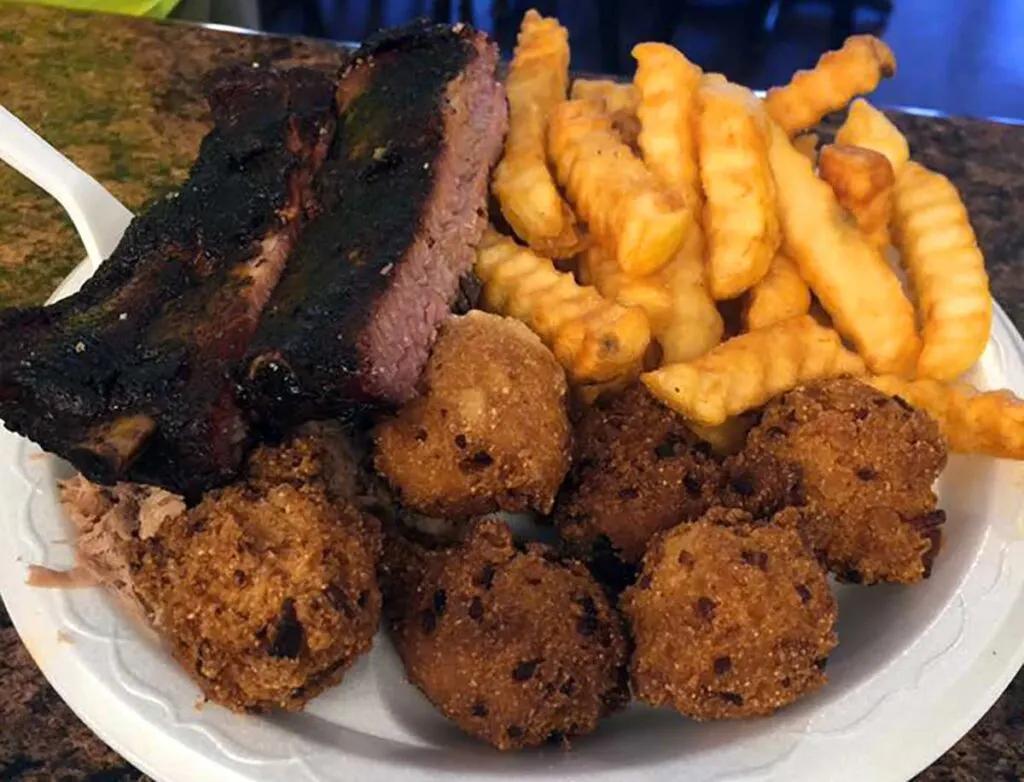 "One place we really want to grow…is our catering business," she continued.
"Our stuff is…economical for a crowd. So that's something we're going to really focus on in the near future.
"We can do caterings for all kinds of groups. We've done large caterings, small caterings.
"We do pickup orders. In addition, we've had people come in before tailgating. They can come pick up their order and take it to a ball game."
*** CASH/CHECK ONLY; ATM inside***
What Folks are Saying
TripAdvisor Review
A reviewer going by the pen name WorthSC on TripAdvisor writes of a blood drive donation which led to an unexpected visit to Pig Out BBQ #2 in Drayton:
Amazing BBQ and great sides!
We had never eaten BBQ in Spartanburg before as we passed through on the way to our many mountain trips.
Frankly, we would have never heard of or even have found Pig Out had there not been a special blood drive we signed up for on a recent Saturday morning.
We had eaten a huge breakfast at a wonderful B&B earlier in the morning and were not even remotely hungry until after 1:00.
The restaurant graciously allowed blood donors (ourselves included) to sit inside if we wished, and it was fun to see what folks ordered, so we could decide what we wanted later!
When we finally decided we were hungry enough, we ordered BBQ sandwiches, baked beans, and coleslaw. I could not resist the peach cobbler, so I ordered that, too.
The sandwiches were huge, with at least a two-inch stack of lean pork BBQ tucked inside. Of the four sauces on the table, our favorite was the mild – the others were a little hot for our taste.
The baked beans were great and we loved the coleslaw. Moreover, the cobbler was as good as any we had ever tasted.
Finally, the folks here are super-nice, very friendly and welcoming. We have now added this as a regular stop as we pass through this city!
Yelp Review
Over on Yelp, Anthony P insists that you can't go wrong by picking Pig Out BBQ #2 in Drayton:
I am so glad I stopped at Pig Out BBQ! This place is just the right type of place to literally pig out!!
Firstly, they have really good food! I asked what the highest selling items were at that time and they directed me to the brisket basket with two rib-bones and wait for it… including two sides!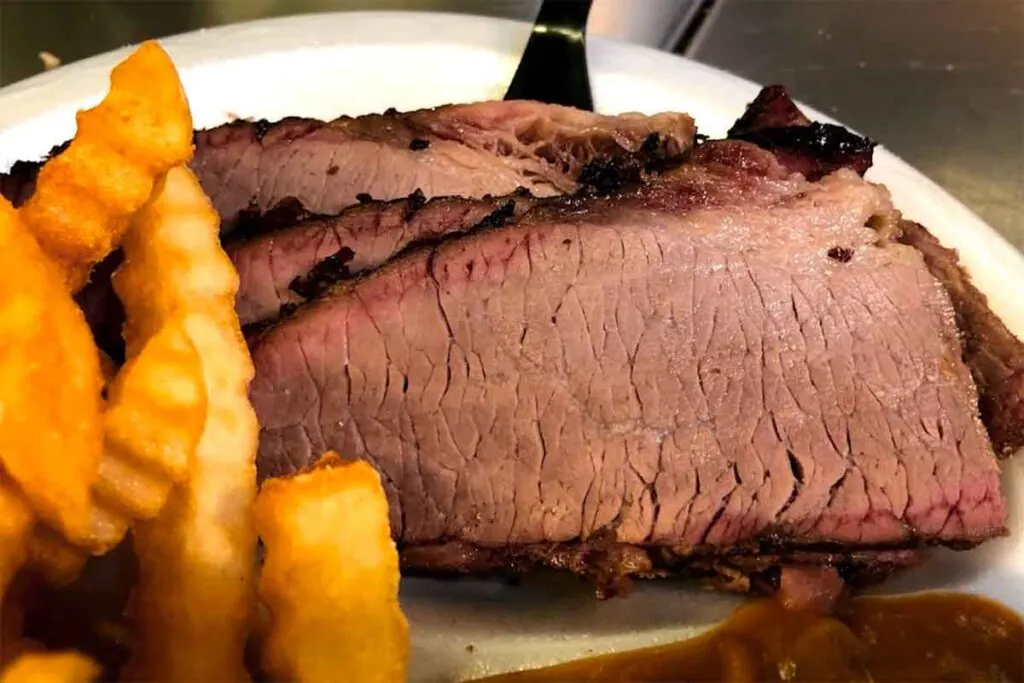 Between the two of us, we had over 2 pounds of food for around $20! It is very affordable bbq without sacrificing quality!
My favorite meat was the ribs! They were fall off the bone and lick your fingers good. No extra sauce was needed and just the right amount of juicy to smoky ratio.
The two sides included were the potato salad and peach cobbler. So I have professed in the past to not liking desserts that much, but I had to try this peach cobbler!
This place has the best peach cobbler in the state of South Carolina! I dare anyone else to say another place that makes it better! I'll go there and try it but I am confident I'll still be right.
In short, you can't go wrong here with just about anything as I highly recommend the ribs and cobbler!
Menu for Pig Out #2
Note: Menu prices and options are subject to change over time. Contact the restaurant for the most up-to-date information.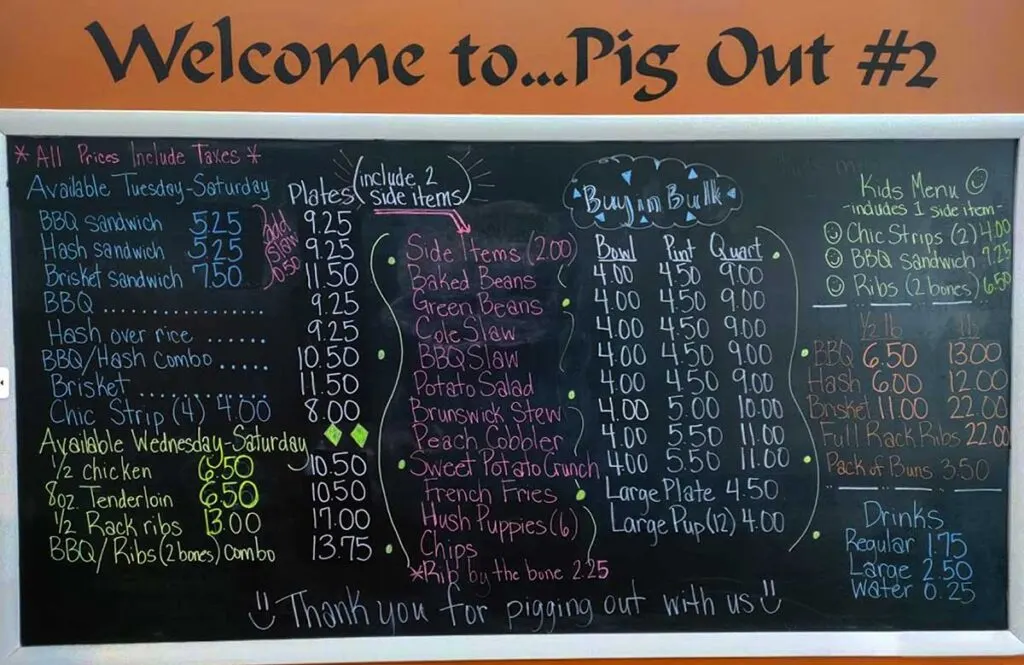 Location, Hours, Contact Info, and More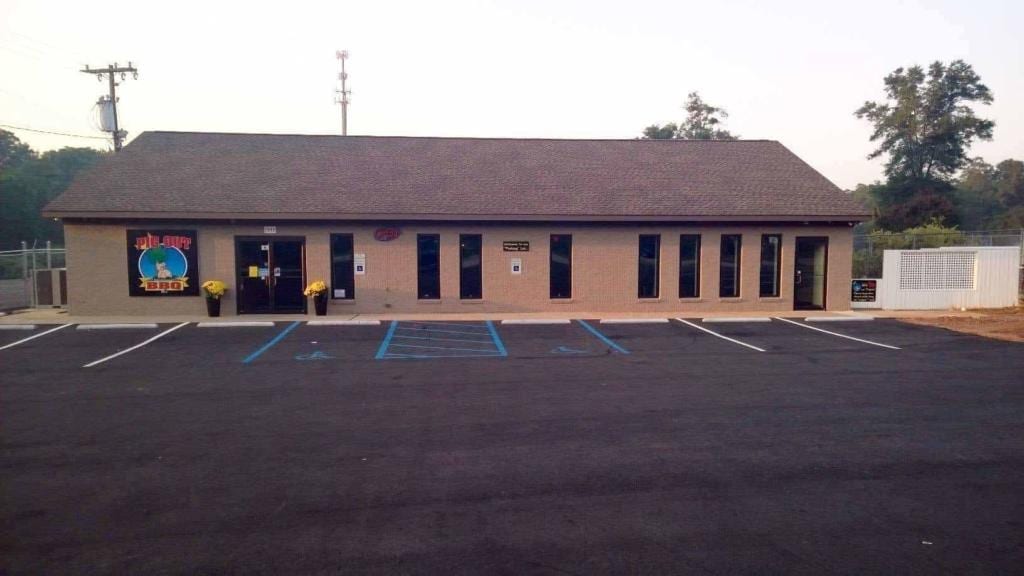 Map
Directions
Contact Pig Out BBQ #2 in Drayton
1945 Drayton Rd
Drayton,
SC
29303
Hours of Operation
| | |
| --- | --- |
| Monday | Closed |
| Tuesday | |
| Wednesday | |
| Thursday | |
| Friday | |
| Saturday | |
| Sunday | Closed |
Social Media
Review Sites
Features
Cash Only, Hash, Heavy Tomato Sauce, Light Tomato Sauce, Mustard Sauce, Vinegar Pepper Sauce