Q on Bay: Almost Everything From Scratch
Scanning over Q on Bay's menu, you'll quickly realize that they specialize in all things BBQ. However, they also offer dishes sure to please those looking for a different option.
"We wake up early to make the Beaufort's best barbeque, every day, slow-smoking award-winning BBQ and making sides and desserts from scratch," write owners Jason Bailey and Chris Johnson on the Q on Bay website.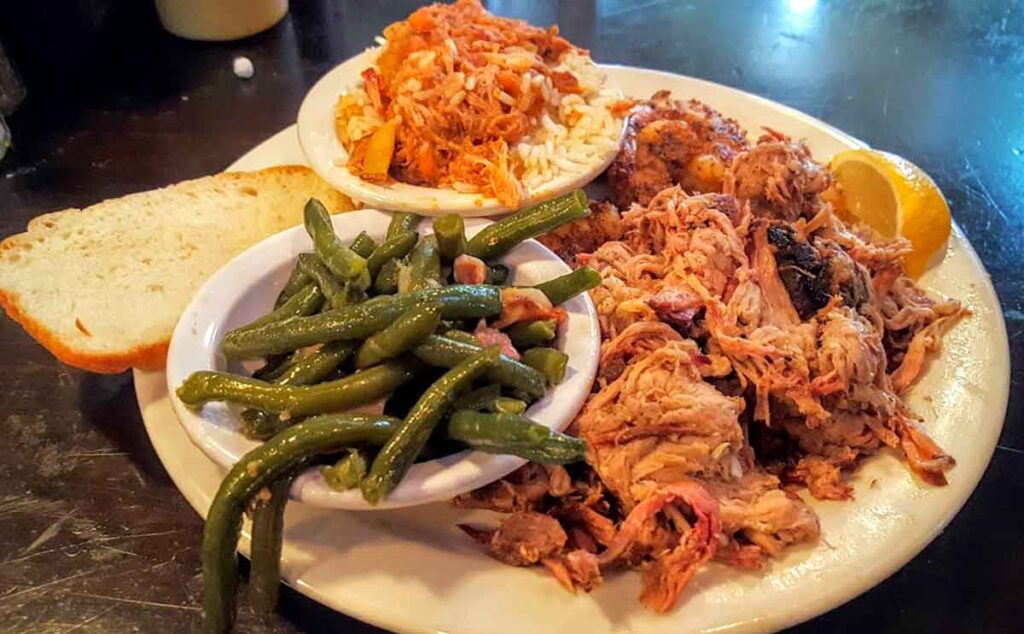 The two partners always loved cooking for family and friends.
Let's be honest, there's nothing better than good friends and good food sharing impressive local wines and craft-made microbrews. Couple that with our beautiful Lowcountry days, and you have an amazing recipe.
This zest for life, fostered in their homes, developed into a successful restaurant on Bay St in downtown Beaufort, a catering company, and a retail line.
At Q on Bay, they believe your meal or event should be a special and memorable experience.
"The restaurant is located in a beautiful historic building in downtown Beaufort. The building is unique and creates a wonderful ambiance for any occasion," Johnson pointed out.
"We make nearly everything from scratch. We source quality products and meats, many of which are local. We have something for anyone. We bring people together over great food and great drinks."
And exactly what is that great food Johnson speaks of?
"Our pork is pulled," Johnson said. "We slow smoke it over local hickory wood for 12-14 hours in our Southern Pride smoker.
"We use whole shoulders and butts. We also offer brisket, brisket burnt ends, baby-back ribs, pulled chicken, smoked chicken wings, smoked ribeye, burgers, fish, shrimp, and even vegetarian options.
"We do serve hash. Ours is a little chunkier and not pureed, and it is served over white rice."
So whether they cater your event or they meet you at the restaurant, they look forward to sharing a meal with you!
On the Menu
And what might you enjoy during that meal? It's quite a menu.
Beaufort's Q on Bay is, of course, known for barbecue.
Specialties include pulled pork shoulder smoked with hickory, brisket, ribs, smoked chicken, wings, smoked ribeye, and even BBQ shrimp. All the meats at the Q are smoky and delicious.
"We play around with BBQ and believe in trying to smoke anything possible. We have fun with it and show folks BBQ is much more than just pork, but we do not forget our roots," they said.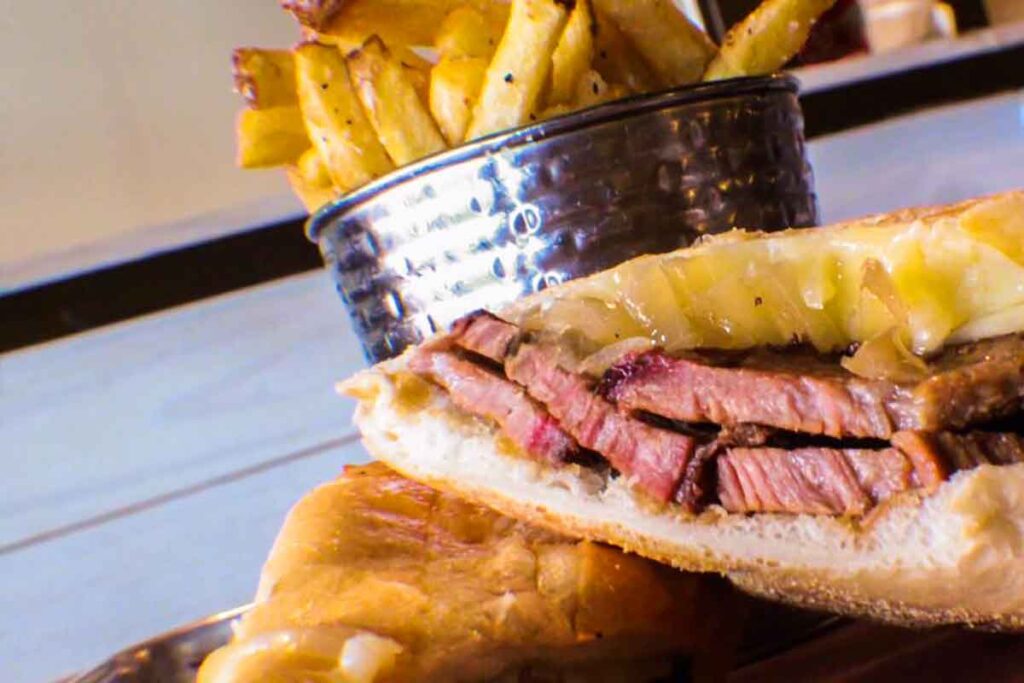 Ah, but what about the sauce for those meats?
Q on Bay serves the three most common sauces found in the Carolinas: mustard, vinegar, and tomato-based. They offer them on the table to be used at your discretion.
In addition, Q serves an Alabama white sauce. They are all quite good.
And what sides might Q on Bay offer to go along with their meats and sauce?
Hash and Rice
Mac & Cheese
Collard Greens
Coleslaw
Baked Beans
Red Rice
"We also serve Brunswick stew," Johnson noted. "Not a lot of folks do it anymore.
"We also have fun items. We use our BBQ to make like tacos, quesadillas, specialty sandwiches, eggrolls, etc. We do several seafood items, like shrimp and grits, shrimp offered in five different preparations, fish tacos, & fish offered in many ways.
"We are located on the water, so we feel it is a great compliment to BBQ and our location. We try to add our flare to these items with smoke and things like our pork demi-glace for our shrimp & grits that we make in-house. This dish won our annual Shrimp Festival a few years ago.
"We also offer salads, and vegetarian items."
Speaking of that water, at Q on Bay, you'll enjoy the view from their covered patio overlooking the Intracoastal waterway.
What's not to love?
Q is a local favorite, known for gut-busting creative barbecue, ice-cold brewed beers, and friendly staff with that hospitable southern charm!
All that's missing is you;)
What Folks are Saying
Google Review
Among the hundreds of Google reviews, there is Google Reviewer Jason Rubsam. He and his wife liked Q on Bay so much while vacationing in Beaufort that they went back again….and then went back yet again during their short stay:
My wife and I had lunch three times at Q on Bay while vacationing in Beaufort SC. The meals were delicious.
I typically had the pulled pork sandwich and my wife had the chicken tacos.
The pricing was a good value and the wait staff was wonderful. In short, I highly recommend Q on Bay if you are a fan of great food and great service.
Yelp Review
Over on Yelp, Beaufort local Chloe B knows the area's barbecue options and if a fan of Q on Bay:
This is the best BBQ restaurant in town! The food is made with love and you can definitely tell!
The staff is always super friendly and happy to accommodate any needs/questions or concerns. The food has a very fair price considering everything is homemade and house-cured.
This is one of the few places that have a very involved and caring owner and it shows!
If you come on a weekend or holiday expect to wait, but they will 100% take care of you and it will be worth it!
Don't skip dessert! Their strawberry coconut walnut cake is out of this world!
The staff is not only the friendliest group downtown, but catering rockstars so if you need catering done just ask these guys!
---
While not necessarily about the restaurant itself, in this video you get to know the owner of Q on Bay and take a look inside during this news feature on Zeke Wilson created by WSCG.
Menu for Q on Bay in Beaufort
Note: Menu prices and options are subject to change over time. Contact the restaurant for the most up-to-date information.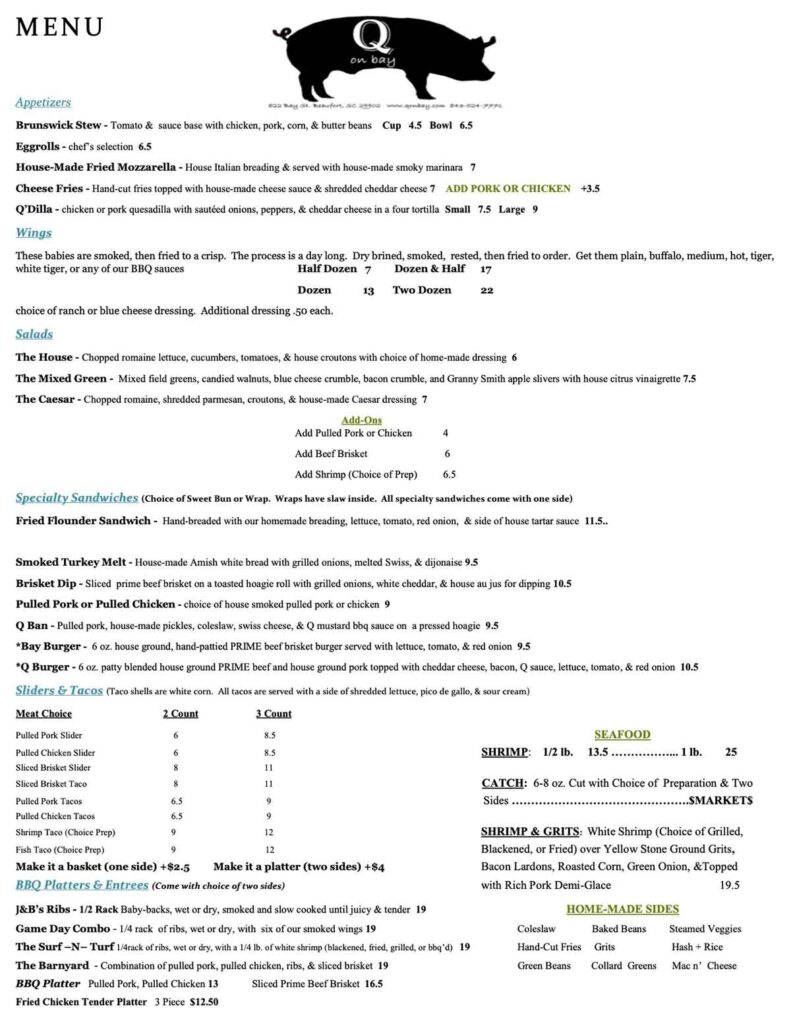 Hours of Operation
Note: Days and hours of operation are subject to change over time. Contact the restaurant directly for the most up-to-date information.
Kitchen Hours
Monday – 11 a.m. to 8 p.m.
Tuesday – 11 a.m. to 8 p.m.
Wednesday – 11 a.m. to 9 p.m.
Thursday – 11 a.m. to 9 p.m.
Friday – 11 a.m. to 10 p.m.
Saturday – 11 a.m. to 10 p.m.
Sunday – CLOSED
Bar Hours (Late Night Food Offerings)
Monday – 11 a.m. to until
Tuesday – 11 a.m. to until
Wednesday – 11 a.m. to until
Thursday – 11 a.m. to until
Friday – 11 a.m. to until
Saturday – 11 a.m. to until
Sunday – CLOSED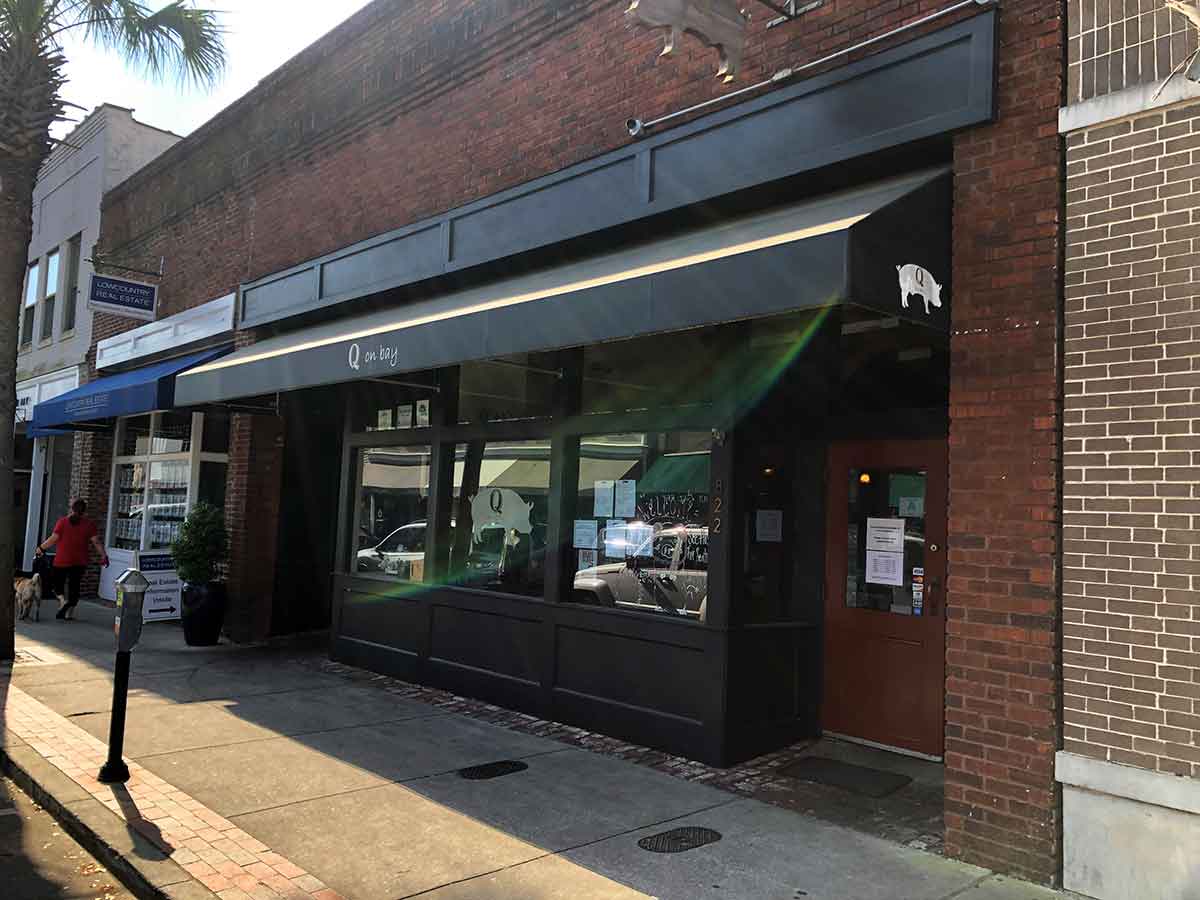 Q on Bay in Beaufort
822 Bay Street
Beaufort,
SC
29902
| | |
| --- | --- |
| Monday | |
| Tuesday | |
| Wednesday | |
| Thursday | |
| Friday | |
| Saturday | |
| Sunday | Closed |
Review Sites
Features
Cards and Cash, Hash, Mustard Sauce, Vinegar Pepper Sauce, Heavy Tomato Sauce, White Sauce