Russell's Smokin' Good BBQ
This post may contain affiliate links to Amazon or other vendors I trust. Please read my disclosure policy. As an Amazon affiliate, I earn from qualifying purchases.
Russell's Smokin' Good BBQ is a BBQ restaurant born from a mission to serve. Allen Russell has spent a lifetime in service to others.
"From the time I got my first job as a curb hop at age 12, I have always enjoyed serving others," Russell said. "My love for cooking has grown over the years and has blossomed into a love for eating and cooking good BBQ."
That love for cooking and eating great barbecue piqued an idea in Russell's mind, one which never really thrilled his wife.
"It has been my dream for years now to be able to open a BBQ joint," Russell said. "After many years of saying 'No,' my wife, Sherie finally gave in. Now, here we are with the help and assistance of our son, Caleb."
Clearly, Russell's Smokin' Good BBQ is a family affair, but just because the dream has become a reality, doesn't mean Russell has grown complacent. He is grateful for each customer.
"We thank you for allowing us to serve you. We hope that you enjoy your time with us enough to tell your friends and come back again!"
Get to Know Russell's
In this video by "On The Mewve," The Mew family stops by Russell's after a visit to 40 Acre Rock. I have started the video below around the 9-minute mark when they get to Russell's.
You'll get a good look at the place, the food, and even the pit room with a personal tour from Allen Russell himself. Enjoy.
What do People say about Russell's Smokin' Good BBQ
Google Review
Looks like those customers recognize that appreciation. With over 100 Google reviews posted as of this writing, Russell's Smokin' Good BBQ earned a star rating of 4.7 out of 5. Pretty darned good.
Local Guide Mike Chewning gave Russell's a 5-star review:
Wow. What a hidden gem of amazing BBQ.
I was visiting family who knows my love for good BBQ, so they brought me here. Days later, I'm still thinking about it.
The food here rivals anything I've had in the upscale, famous, big city joints. And the service is probably better here, too.
The pulled pork was near perfect. The collards were, too. The sweet potato casserole was insanely good. The brisket and ribs were melt-in-your-mouth goodness.
The potato salad was like eating a loaded baked potato (slightly heavier on the mayo, which I love, but may not be for everyone). The mac & cheese was like Grandma's.
I appreciated the choice in sauces. Doesn't matter if you're from SC, Eastern NC, TN, or wherever, you'll enjoy this BBQ.
You get so much food for the price. As my mama said, 'If you leave here hungry, it's your own fault.'
My only regrets are that I don't live closer and that I didn't save more room for the homemade banana pudding!
Come see for yourself. Russell's Smokin' Good BBQ awaits your arrival. If you are driving on Interstate 20, we are 15 minutes or so from Exit 98.
TripAdvisor Review
Over on TripAdvisor, Carey Martin felt right at home:
Smoke this good comes from a great fire.
The pulled pork is hot and tasty, the tea is cold and sweet. The hush puppies are delicious and the banana pudding is better.
The servers made us feel like we'd been regulars for years; owner Allan Russell is the friendliest restaurateur you could ever hope to meet.
In short, should you find yourself in the Camden area, make the trip into the country for this BBQ joint – you'll be glad you did. (And be sure to try the collards with chow-chow relish.)
---
Menu for Russell's Smokin' Good BBQ
Note: Menu prices and options are subject to change over time. Contact the restaurant for the most up-to-date information.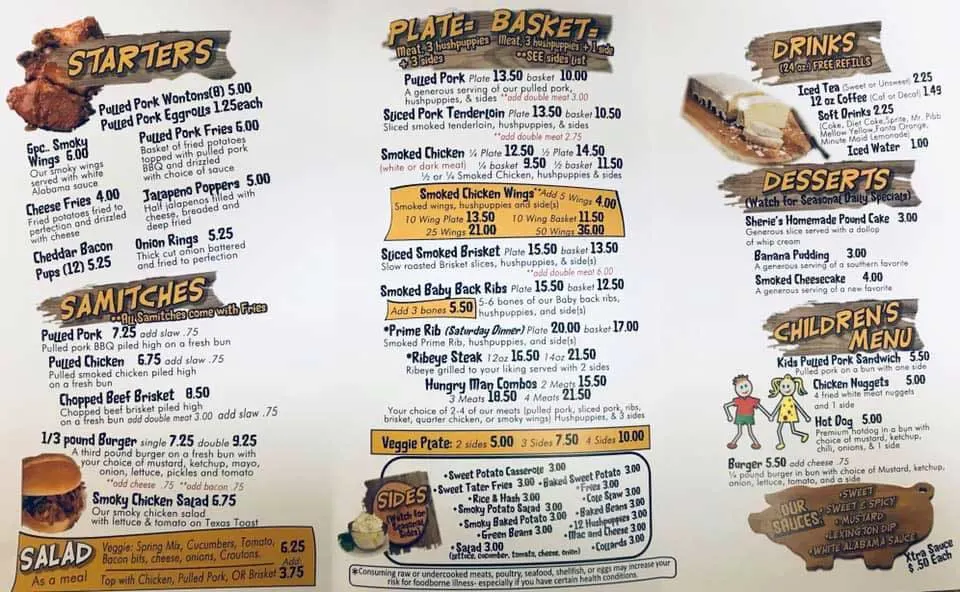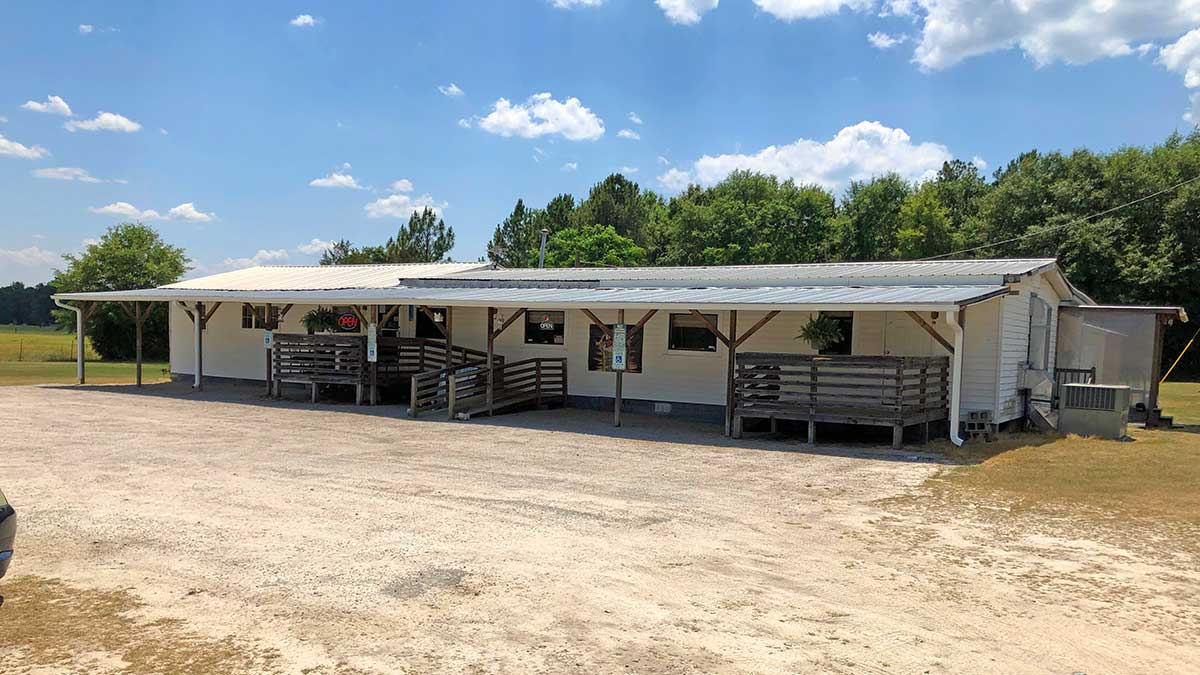 Russell's Smokin' Good BBQ
3251 Kershaw Highway
Westville,
SC
29175
| | |
| --- | --- |
| Monday | Closed |
| Tuesday | Closed |
| Wednesday | Closed |
| Thursday | |
| Friday | |
| Saturday | |
| Sunday | Closed |
Social Media
Review Sites
Features
Cards and Cash, Hash, Heavy Tomato Sauce, Mustard Sauce, True 'Cue Certified, Vinegar Pepper Sauce, White Sauce