Slaughter House BBQ & Brew
This post may contain affiliate links to Amazon or other vendors I trust. Please read my disclosure policy. As an Amazon affiliate, I earn from qualifying purchases.
Chef Nigel Drayton is at it again by way of the Slaughter House BBQ. Their mission is to bring y'all BBQ like from a bomb cookout with cool beer selections, too.
The menu is full of those great cookout meats and sides.
For example, you'll find pulled pork and pulled chicken on the menu. They use a combination of heat sources to cook both butts and whole hog.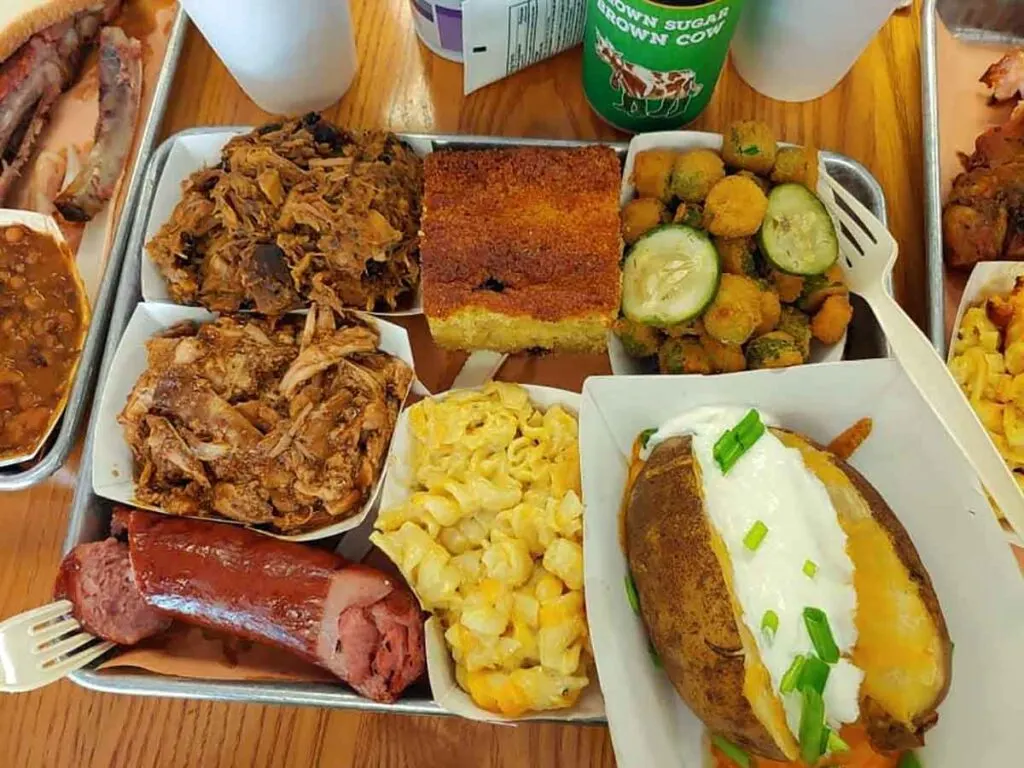 In addition, Slaughter House BBQ also offers brisket, smoked wings, and smoked meatloaf. And let's not forget about the barbecued chicken and succulent ribs.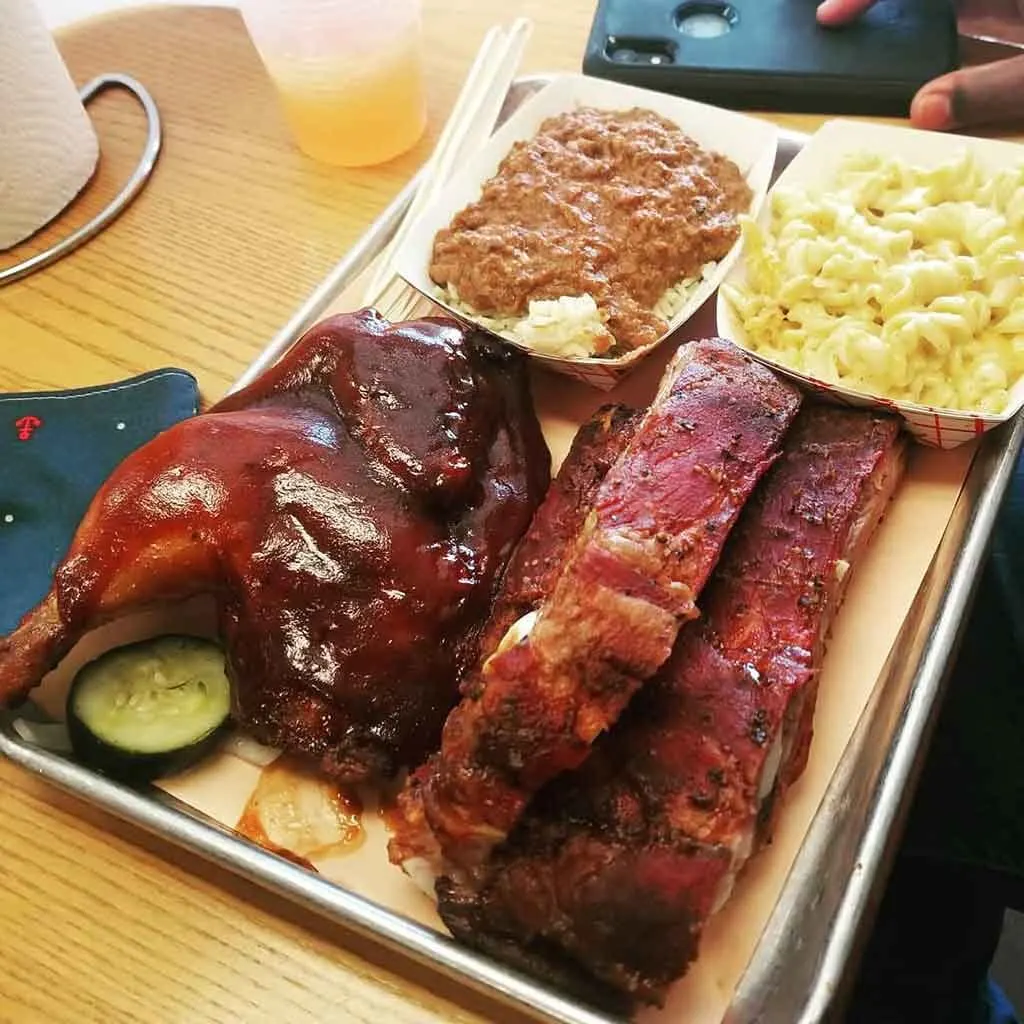 Hashing it Out
While you don't find it at your average cookout, they do provide one of those unique sides you're not likely to find anywhere else, South Carolina barbecue hash. Slaughter House BBQ serves a delicious, meaty hash.
Until Drayton's partner, Hopkins native Harry Jones, brought up hash one day, Drayton had never heard of the dish. So Jones gathered various samples for Drayton to try.
"He didn't even taste a bunch of it," Jones said. "He took a few spoonfuls, and lo and behold, the next day made a big pot of what his interpretation was.
"We sold out of it in a day and a half."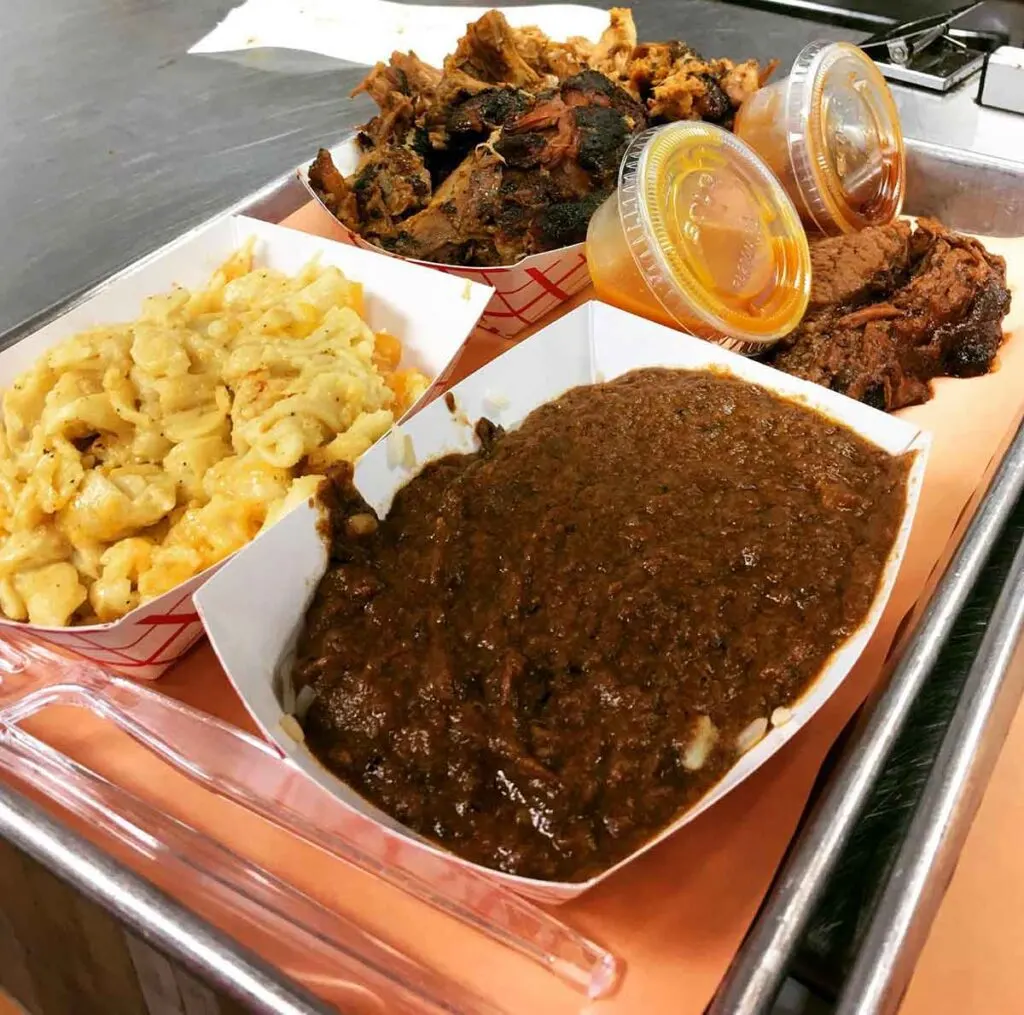 It's that level of expertise you'll find at Slaughter House BBQ.
Not only is the hash a special recipe, but all sauces at Slaughter House BBQ are also homemade as well. They offer a heavy tomato sauce and a classic South Carolina mustard sauce.
Among the sides, you'll find the standards like baked beans, mac n cheese, and fried okra. But you'll also discover a few other interesting options.
Dive into a loaded potato salad, or the green apple coleslaw, or even some fried smashed potatoes. However, one of the more intriguing items on the menu at Slaughter House BBQ has to be the blueberry cornbread.
Yep, blueberry cornbread.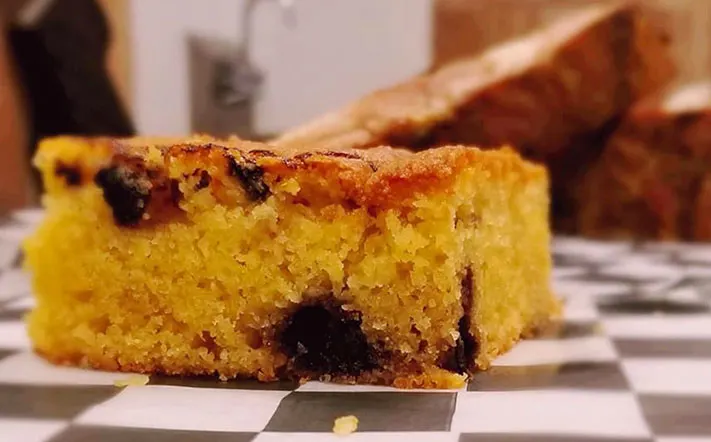 What Folks are Saying about Slaughter House BBQ
Google Review
Among the many Google Reviews, Local Guide Eddie Deans found Slaughter House BBQ to be phenomenal:
This place was amazing!
They are the same people as Nigel's Good Food (get the oxtail there). We got the 2 meat combo, Geechee wings, a kid's Mac n cheese, and blueberry cornbread.
The brisket had that perfect spring, and the pulled pork was flavorful. The hash and rice was by far the best I have ever had.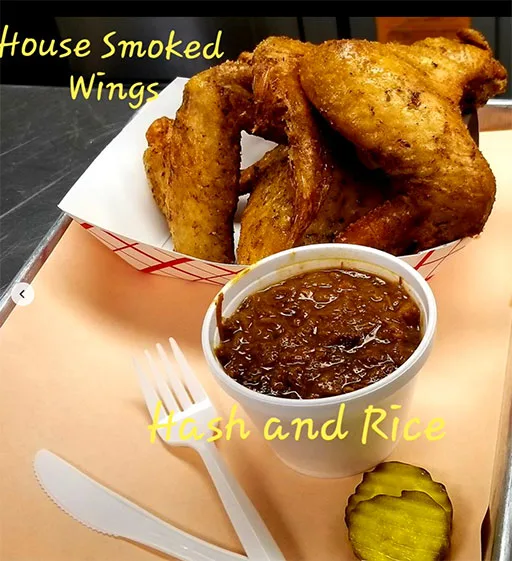 The wings were of course perfect.
The most surprising thing was my daughter's Mac n cheese and cornbread. The cornbread was flaky and sweet while the mac n cheese had the right amount of cheesy goodness combined with a little smoky flavorful.
Needless to say, Slaughter House BBQ is phenomenal. Harry was also the most friendly person I think I have ever met.
Will recommend to everyone!
Yelp Review
Over on Yelp, Ladson local Michael O finally decided to drop into Slaughter House BBQ and only had one regret: not coming sooner:
I ate here for the first time today, having seen it in passing for quite a while, but it always seemed to be the wrong time to be ready to eat a meal.
Today I decided to try Slaughter House BBQ, and I couldn't have been more pleased. Nigel's next door is known for its great food, and this is up to Nigel's standards.
I had the two meat combo, with pulled pork and brisket, with sides of Mac n' cheese and Green beans.
The brisket was great, with good beef taste, tender but not mushy and not dry, with minimal fat. The pulled pork also had good taste, with mild smoke, and no fat, with minimal grease stain on the paper below.
It came with two sauces, a sweet and sour red that I liked, and yellow that I didn't try, as I'm partial to red sauces with vinegar.
The green beans were a standout, firm, not mushy or overcooked, with plenty of ham chunks, red potato, and some onion-excellent!
I don't usually go for Mac n' cheese, but this was very good, made with twisty rotelle or rotini pasta. The cheese could really stick to these better than to elbow Mac, and it wasn't dry.
The portion sizes were just right. All in all a very satisfying meal. The staff was helpful and appreciative; the restaurant was clean, with 5-6 tables.
My only regret was not having tried Slaughter House BBQ sooner, but I expect to make up for that in the near future. A highly recommended gem.
Menu for Slaughter House BBQ & Brew
Note: Menu prices and options are subject to change over time. Contact the restaurant for the most up-to-date information.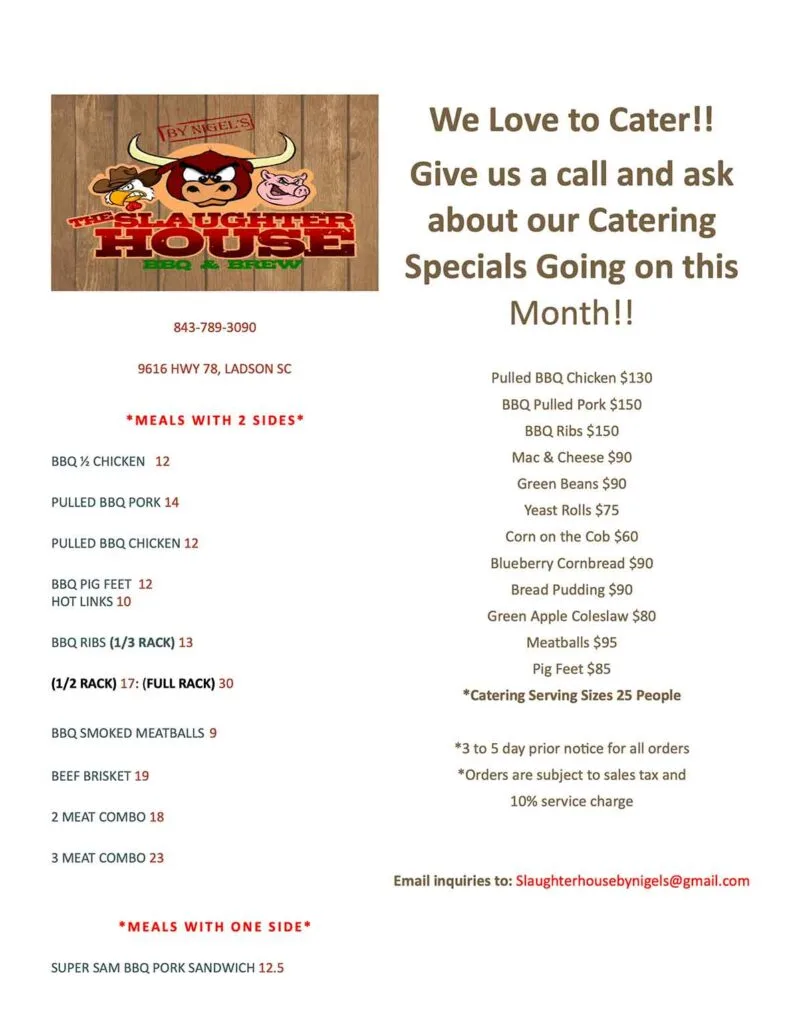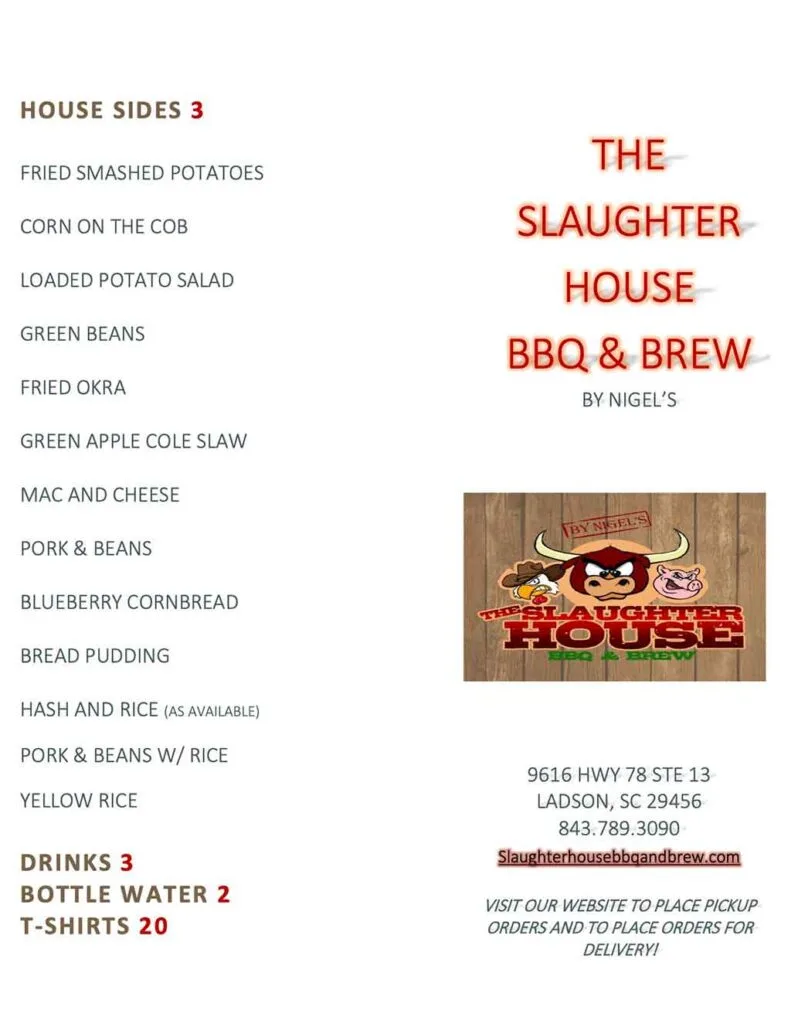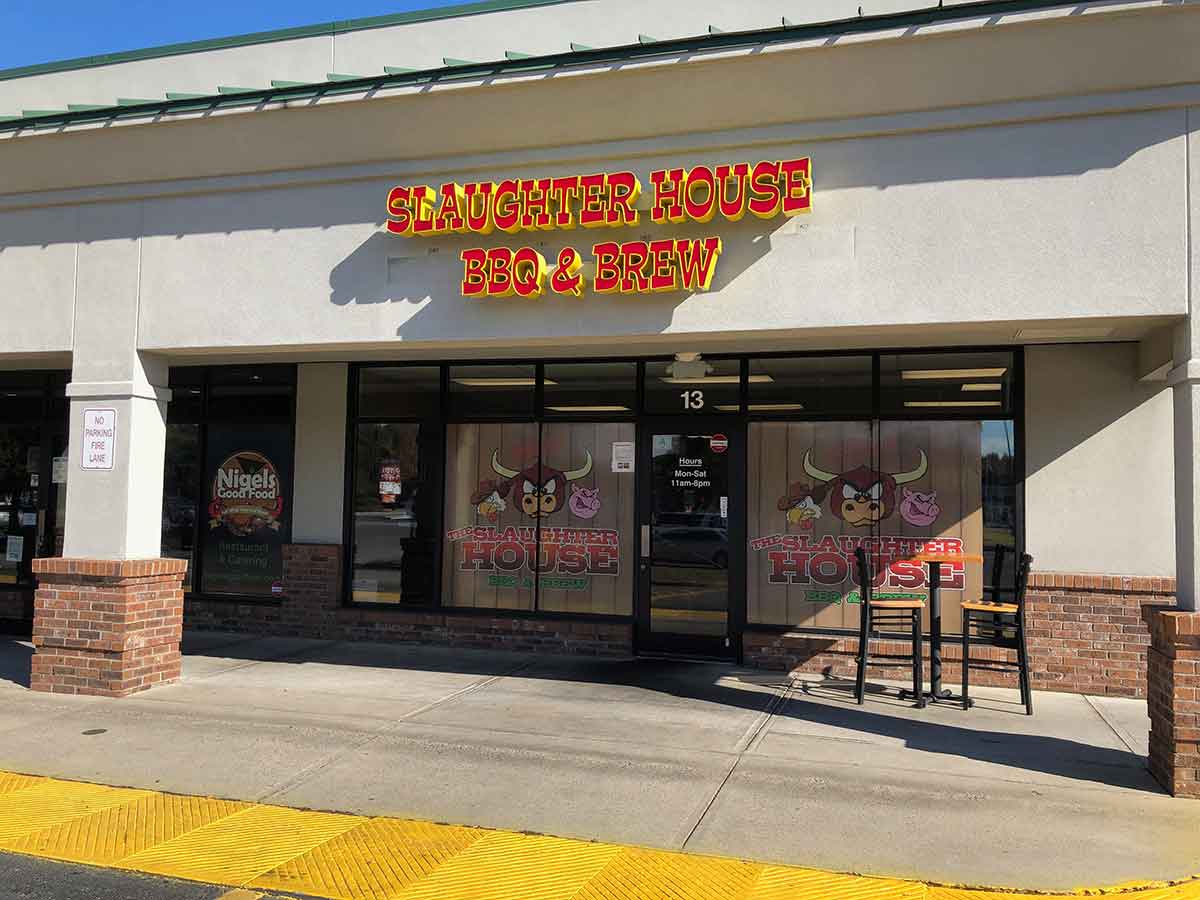 Slaughter House BBQ & Brew
9616 HWY 78
Suite 13
Ladson,
SC
29456
| | |
| --- | --- |
| Monday | |
| Tuesday | |
| Wednesday | |
| Thursday | |
| Friday | |
| Saturday | |
| Sunday | Closed |
Features
Cards and Cash, Hash, Heavy Tomato Sauce, Mustard Sauce, Whole Hog