Thin-Que-Line BBQ ***Temporarily Closed***
***Per a Facebook post on 10.21.21, due to food costs and labor shortages, Thin Que Line has decided to focus on catering only.***
At Thin-Que-Line BBQ, you'll find different smoked meats cooked daily. They offer special deals for on-duty police, fire, and EMS workers every day.
"Serving Those Who Serve You"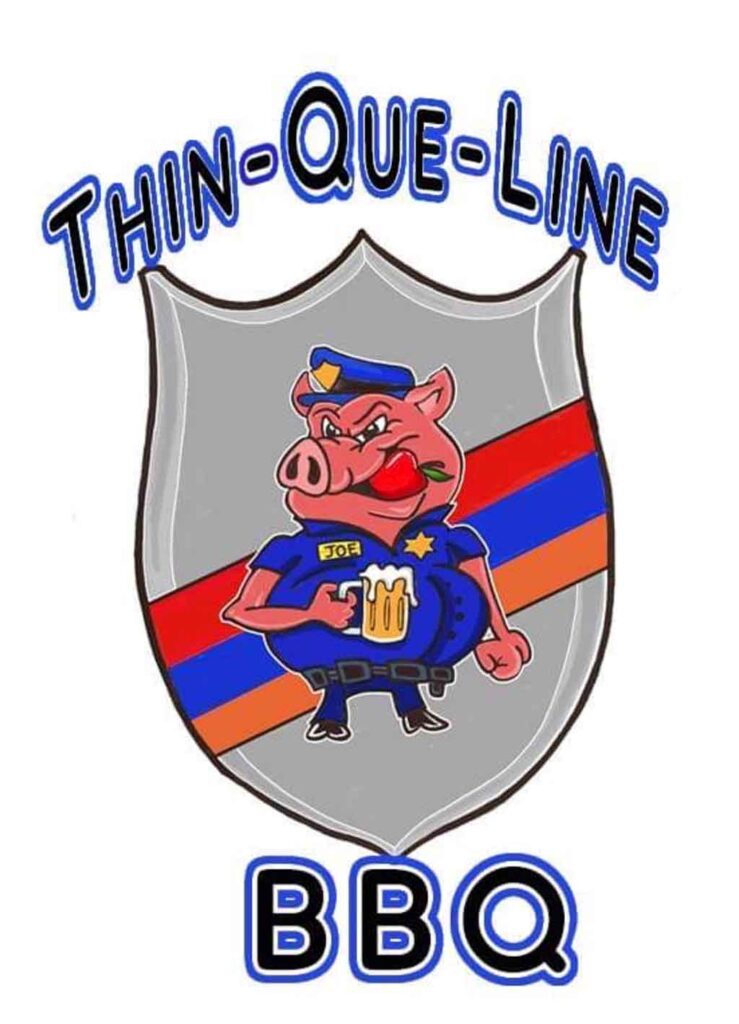 In addition to the standard menu shown below, Thin-Que-Line BBQ offers a range of daily specials. Check their website for new specials.
Owned and operated by retired homicide detective Joey Guffey, the restaurant is smaller with a small kitchen, but "We're a 5-star on Google Reviews!" said Guffey.
On the menu at Thin-Que-Line BBQ, you'll find smoked pork butts, chopped. They also sell brisket, smoked chopped chicken, chicken quarters, pork belly, smoked wings, and more.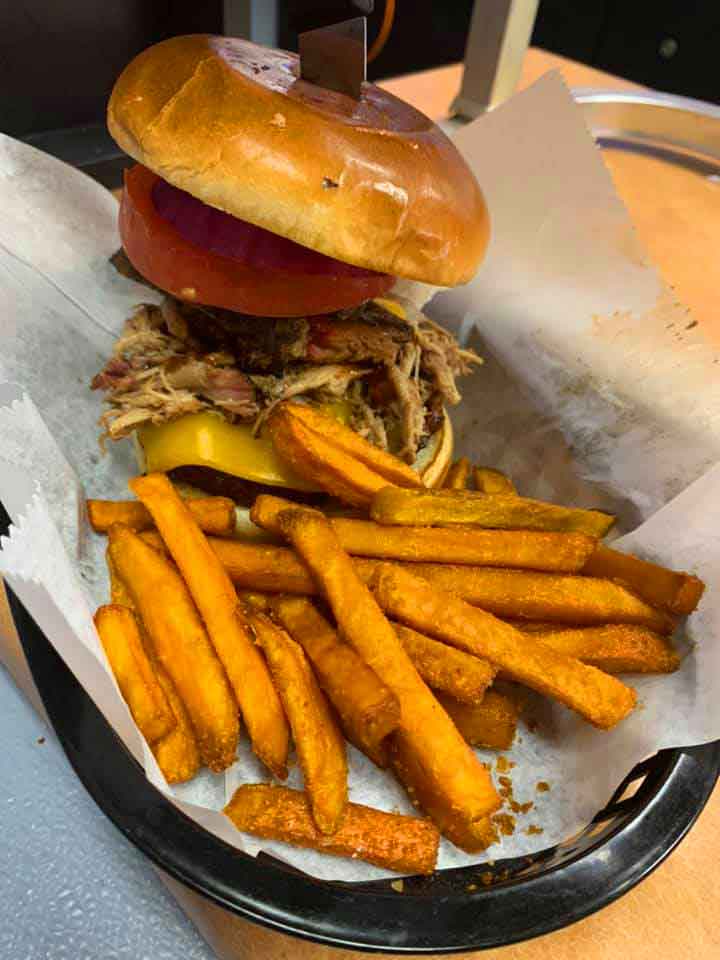 At Thin-Que-Line BBQ, you find a South Carolina classic. It is a dish not often found beyond our borders, South Carolina barbecue hash.
"Yes, we serve hash," Guffey said. It is a "mix of chicken, pork, and beef, onions, potatoes, and spices."
They do not offer a buffet. At Thin-Que-Line BBQ, they serve by the plate, not all you can eat.
"After leaving a career in law enforcement, we have decided to open our restaurant, Guffey said.
"Thin-Que-Line BBQ has been doing very well, and we are getting great reviews. We offer 15% discounts to Law Enforcement, Fire, EMS, and Teachers.
"We try our best to promote 'Serving those who Serve You!' But everyone is welcome! Please come give us a try!"
What Folks are Saying about Thin-Que-Line BBQ
Google Review
Among the many Google Reviews, Local Guide Shannon Knight
Dear LORD…this place knows how to throw down!!! From the laid-back family atmosphere to some of the best food we've had in a while.
My husband and I ordered a variety of items off the menu to try, and NOTHING disappointed!
From the pork skin nachos (MUST TRY) to the BEST smoked wings I've EVER had…Thin-Que-Line BBQ is one mom and pop establishment that definitely warrants a visit or multiple visits!
Needless to say…the hubster and I ate in the restaurant AND ordered to go.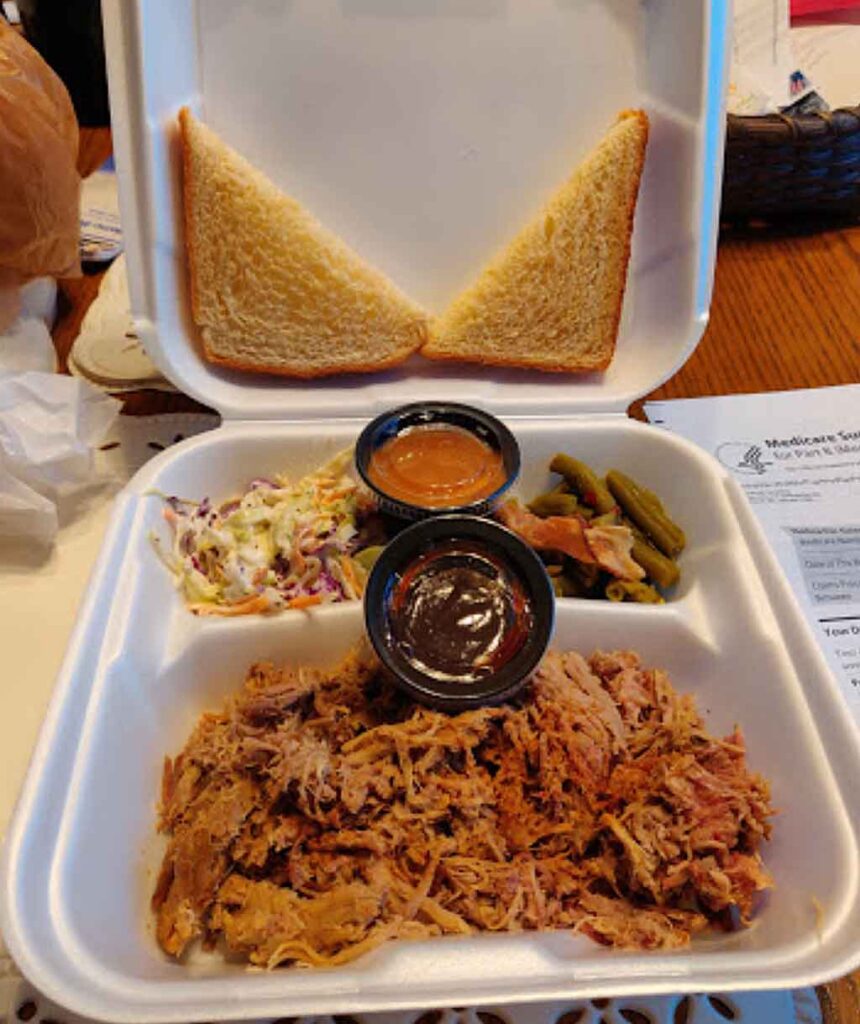 We will be back again! Give this place a try…you won't regret it!!!
Yelp Review
Over on Yelp, Megan B found Inman's dining options finally changed for the better with her trip to Thin Que Line BBQ:
With Inman being so small we don't always have our choosing when it comes to food…. that changed tonight!
From start to finish our server at Thin-Que-Line BBQ was on top of it. On top of great service, they also didn't disappoint with the food!
I got wings and potato skins. The wings were amazing and smoked perfectly! Potato skins were nice and crispy and just as you'd hope they would be.
My husband chose the special of the night which was pulled pork, baked beans and slaw. He loved every bite.
The owner was so involved and spent time talking with us at the end of our meal.
This isn't just your regular run of the mill BBQ joint… it's better! So excited to go back and try more from their menu soon!
Menu for Thin-Que-Line BBQ
Note: Menu prices and options are subject to change over time. Contact the restaurant for the most up-to-date information.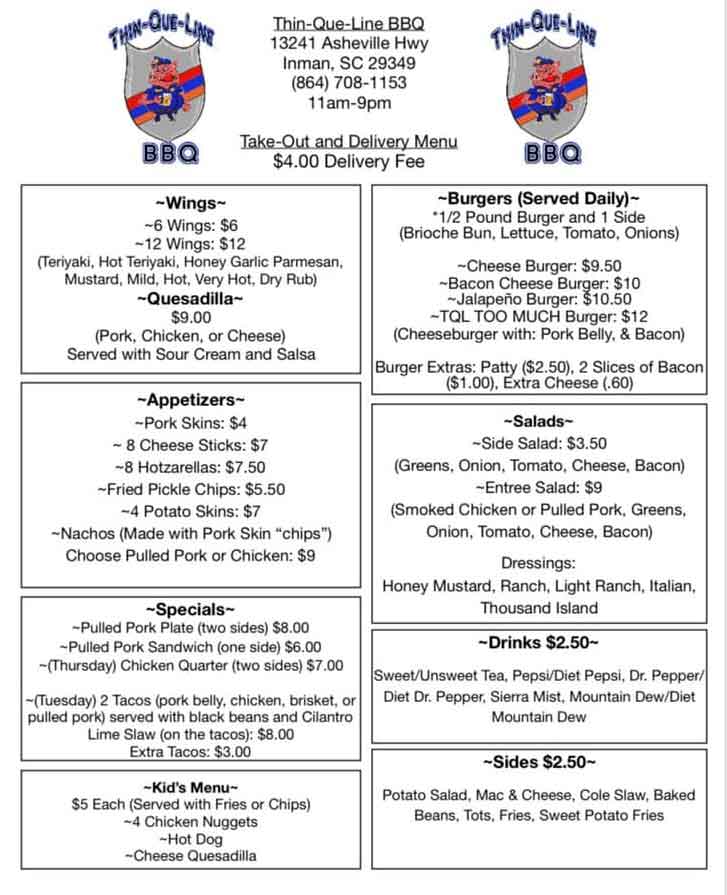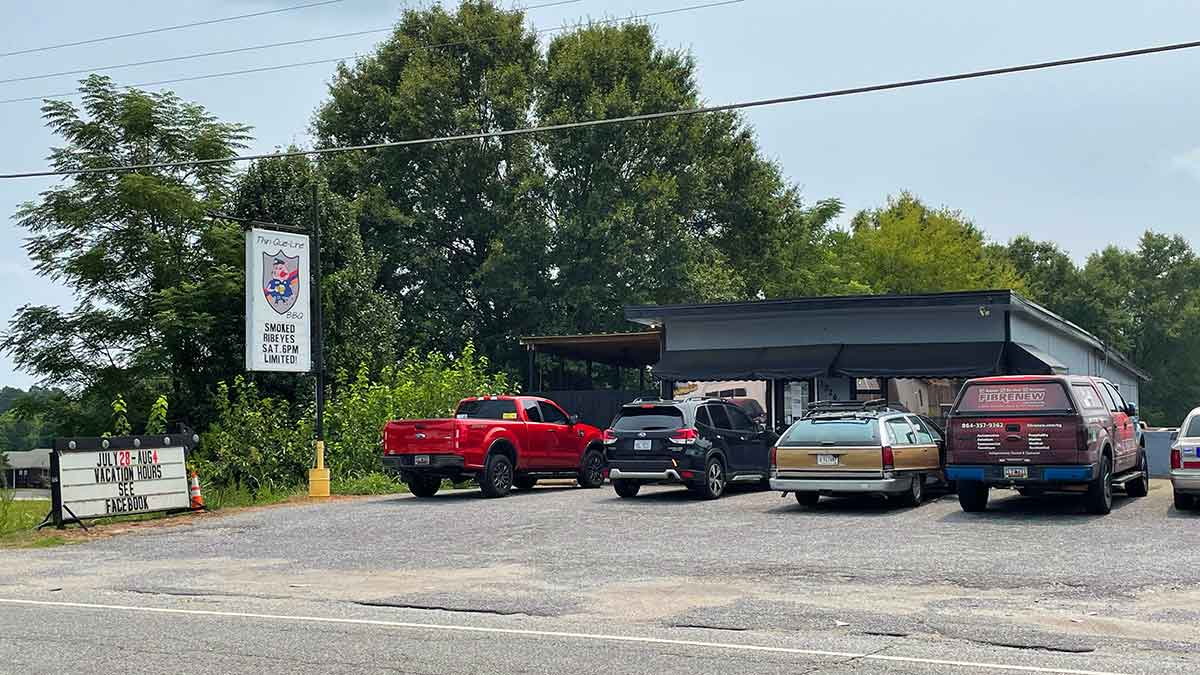 Thin-Que-Line BBQ ***Temporarily Closed***
13241 Asheville Hwy
Inman,
SC
29349
| | |
| --- | --- |
| Monday | Closed |
| Tuesday | |
| Wednesday | |
| Thursday | |
| Friday | |
| Saturday | |
| Sunday | Closed |
Social Media
Review Sites
Features
Cards and Cash, Hash, Mustard Sauce, Vinegar Pepper Sauce, Light Tomato Sauce