This post may contain affiliate links to Amazon or other vendors I trust. Please read my disclosure policy. As an Amazon affiliate, I earn from qualifying purchases.
BBQ Barn in North Augusta is a family-owned and operated restaurant specializing in southern barbecue, offering all four regional sauces known to South Carolina. Their goal is to serve you the best-tasting BBQ that you have ever put in your mouth!
Owner Jody Glover, a native of Riddleview, Georgia, learned to cook for family events at a young age, cooking at his father's convenience store by age 12. He took on catering jobs on the side as a young adult, and drew on the cooking traditions of his parents.
Jody and his wife Susan opted to turn their oft-requested cooking skills into a business to supplement their income. Their venture's popularity skyrocketed and became a full-time investment.
With the partnership of family friend Glenn Gentry, Jr., the BBQ Barn then opened it's doors in North Augusta in 2006. They have been going strong ever since.
BBQ Barn features an eclectic menu, with authentic, hickory-smoked, barbecue prepared on two pits capable of cooking up to 2,300 lbs at a time. The meat is covered with a house blend of herbs and spices and is slow-cooked in a manner that caramelizes meat till it's falling off the bone.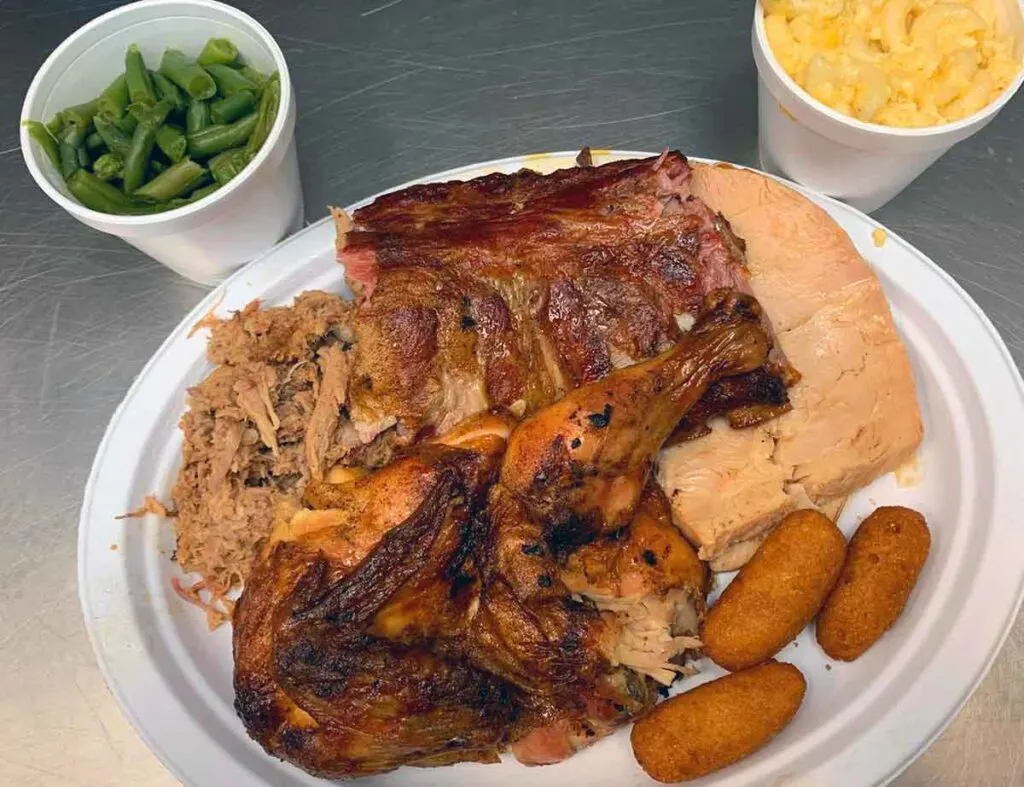 They aim to please, providing a menu carefully prepared to suit the taste of residents of both Georgia and South Carolina.
BBQ Barn offers five different sauces for customers to choose from to get the full Carolina BBQ experience and flavor!
Likewise, they pride themselves on using the freshest of ingredients, going so far as to use pure Boston butt in our hash so as to ensure that the meats come only from the finest cuts. We've even been privileged enough to be listed in Southern Living Magazine as part of "The South's Best Butt".
And BBQ Barn is famous for their amazing selection of homemade desserts, especially their cakes.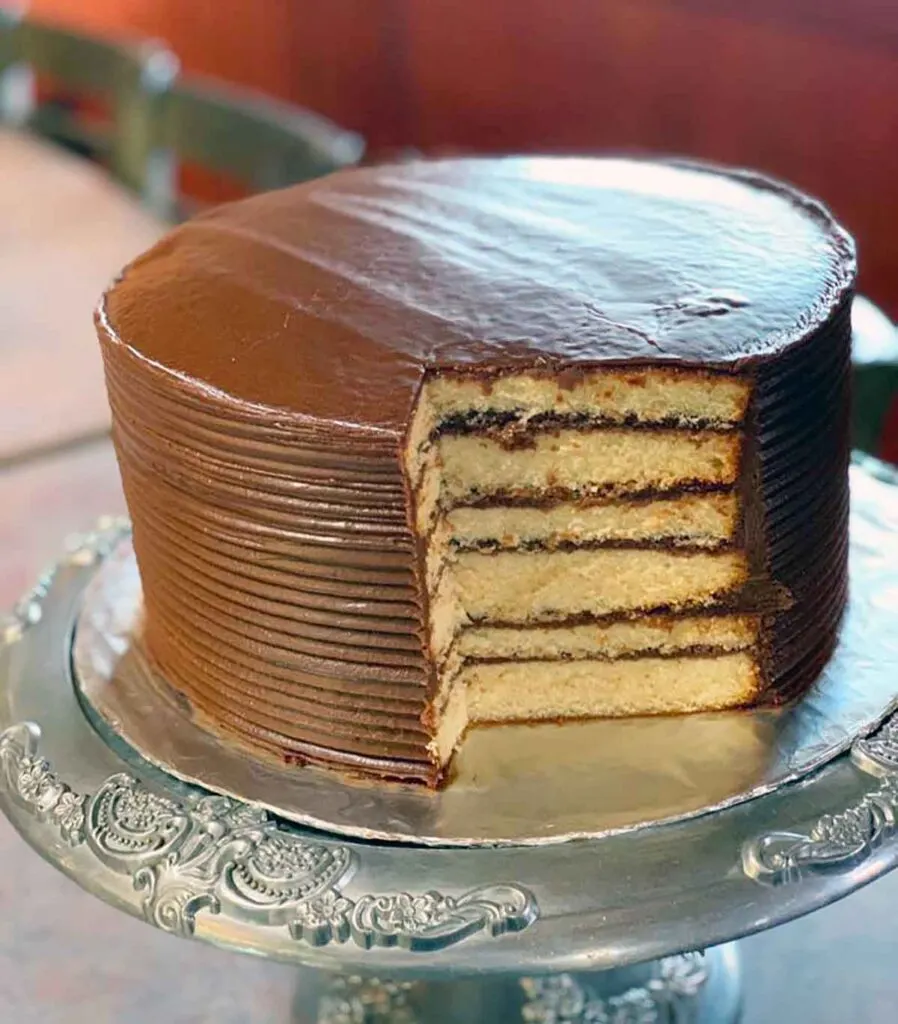 With an eclectic menu and a variety of dishes available through casual dining, take-out, or catering BBQ Barn has got you covered for all of your BBQ needs.
Next time you're in search of a great meal, drop by BBQ Barn for delicious food and friendly service!
What Folks are Saying
Google Review
Among the many Google Reviews, Local Guide Alvin Ledbetter wrote that you won't find better barbecue than BBQ Barn in the area:
Some of the best barbecue I've had in the CSRA!
My wife and I got the 4-meat sampler with chicken breast, ribs, pork loin, and brisket, with macaroni and cheese and hash and rice as the sides. And they included a few hush puppies too. Everything was delicious!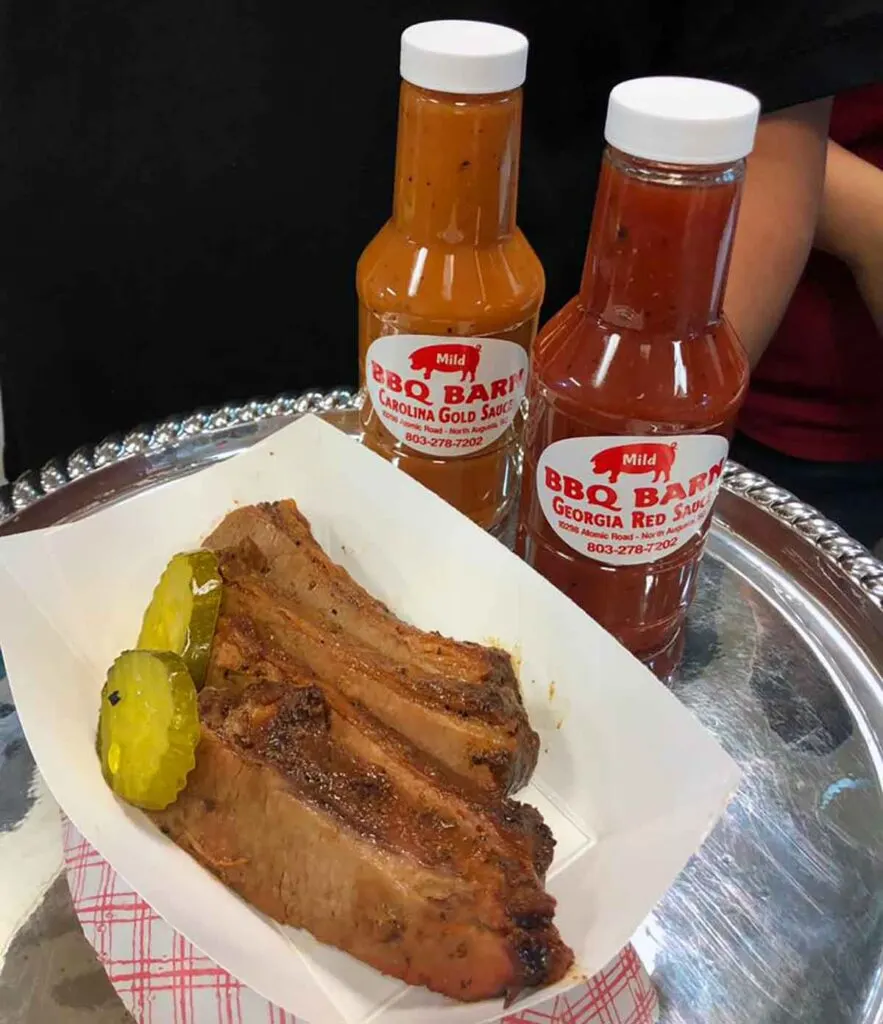 My wife liked the Carolina Gold sauce, and I liked the Georgia Red (Hot) sauce. Service was quick and everyone was nice.
The facility is nothing fancy, but that's what you expect at a barbecue place. We'll be back! Only change is that they moved the sauces from bottles on the tables to a centralized pump station.
Yelp Review
Over on Yelp, Linda S reported they had a "fabulous experience" at BBQ Barn:
I have found my BBQ go-to place for Augusta, GA. The experience was top-notch from start to finish.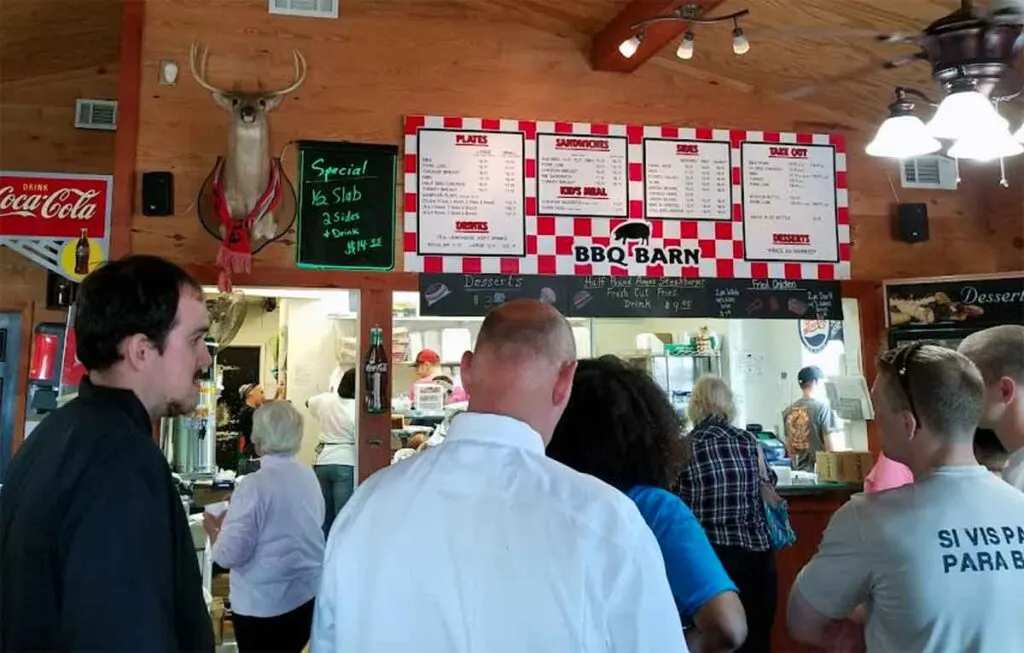 This is an order at the counter restaurant. We were looking at the menu trying to decide what to order when an employee approached us and helped us decide. Maybe we have the same taste in food but we were exceptionally happy with our choices.
We decided to share a 4 meat platter with ribs, brisket, burnt ends, and chopped pork. I think I found hog heaven with every bite. We were so pleased with the full experience. We ordered quickly, paid quickly, seated quickly, got our food quickly, and enjoyed our meal!!
I hope you try this place out, and if you do based on this review, I hope your experience is as epic as ours.
Totally fabulous dining experience!
SC BBQ Association
Sure, folks on review sites often have great things to say about a place, but what about the folks who really know SC BBQ better than anyone? What about the folks who actually train the judges for SC BBQ competitions?
What do they think of this place?
The SC BBQ Association has named BBQ Barn one of the Top 100 BBQ houses in the state. Here's an excerpt from their review:
North Augusta has never been known for its barbeque. For that matter, neither has Augusta, Georgia. So, thank goodness for BBQ Barn! Now there is real barbeque in North Augusta.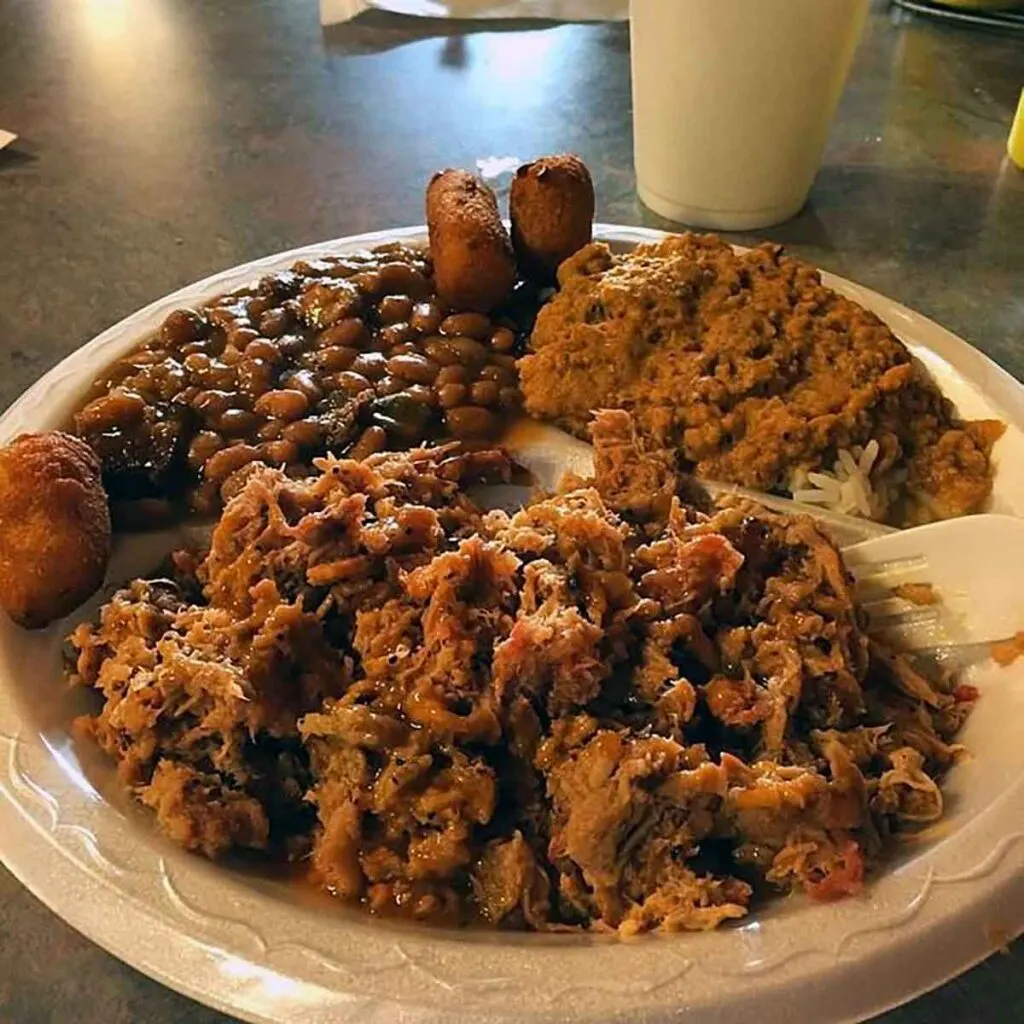 …all of this…is good news for that area. Aiken has always had, or at least for the last 40-some-odd years, Carolina Barbeque in New Ellington about 10 miles outside of Aiken and great 100-mile barbeque it is. And thank goodness.
But Augusta and North Augusta are a bit of a drive from New Ellenton for the average person if they just want to have lunch. Now they can stop in at the BBQ Barn when they have one of those all too familiar barbeque urges.
You try it, too. Just come hungry and you will be well pleased with your trip.
---
Menu for BBQ Barn
Note: Menu prices and options are subject to change over time. Contact the restaurant for the most up-to-date information.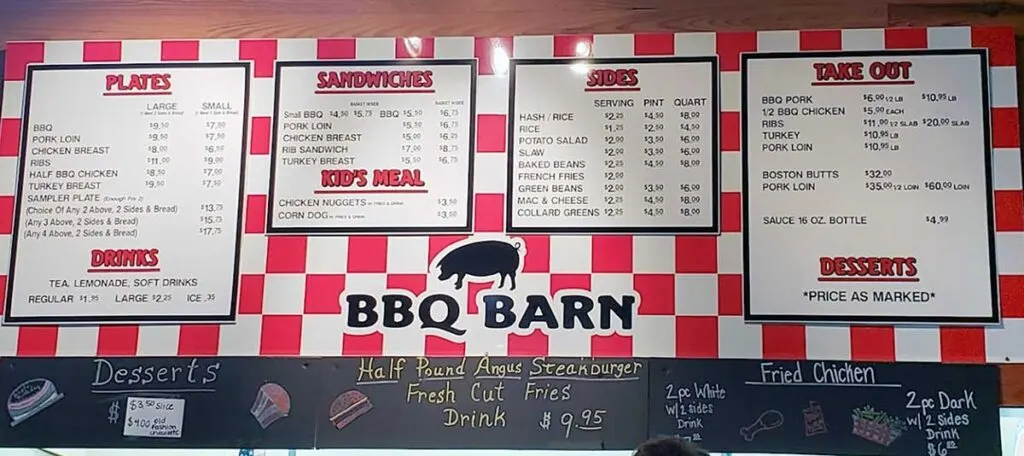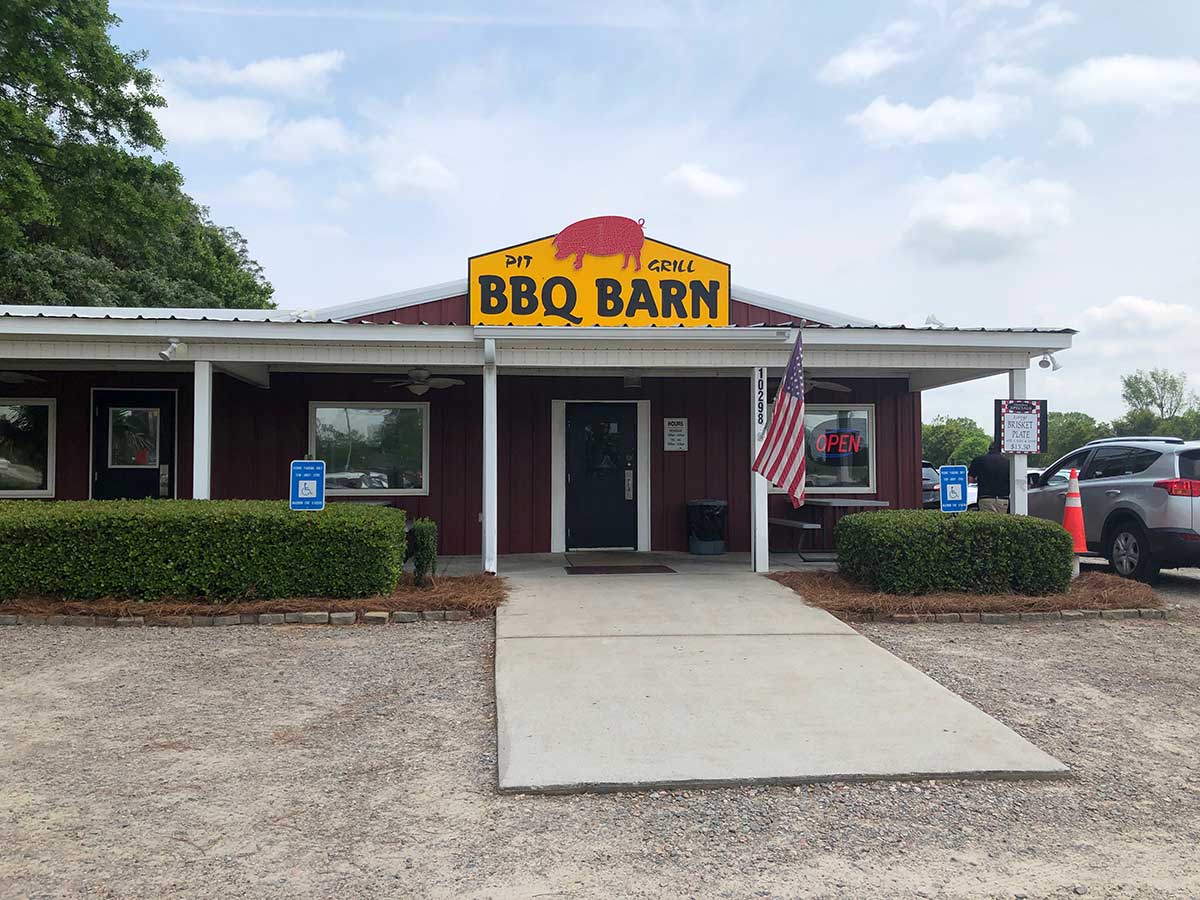 BBQ Barn
605 Atomic Road
North Augusta,
SC
29841
| | |
| --- | --- |
| Monday | Closed |
| Tuesday | Closed |
| Wednesday | |
| Thursday | |
| Friday | |
| Saturday | |
| Sunday | Closed |
Review Sites
Features
Cards and Cash, Hash, Heavy Tomato Sauce, Light Tomato Sauce, Mustard Sauce, Vinegar Pepper Sauce