This post may contain links from which I earn a commission. Please read my disclosure policy. As an Amazon affiliate, I earn from qualifying purchases.
Big D's BBQ Barn in Hemingway is open two days a week, serving BBQ with a vinegar-pepper base that locals (and those not so local) seem to love.
If you stop by Big D's BBQ Barn during the workweek, it will not seem busy out front or in the dining room, but owner Kurt Davis and his staff certainly working hard in the back. They are working hard to get everything prepped for customers that weekend.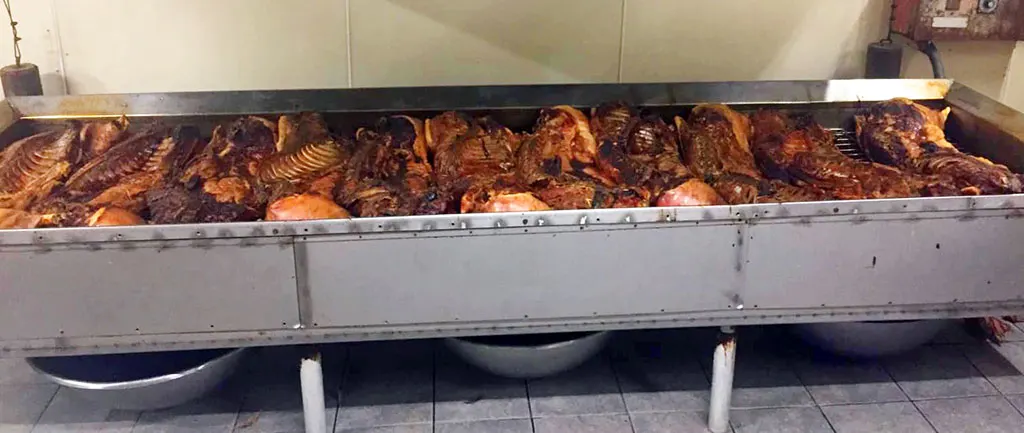 Davis said Big D's BBQ Barn preps as many as eight hogs each week so they have enough pulled pork, spare ribs, and skins for the weekend.
"I grew up a mile down the road," Davis said. In fact, Davis' grandfather opened the restaurant in the early 1970s.
"I've always had my feet wet in the restaurant business. If I wasn't bussing tables or serving rice–my grandparents always kept me busy."
Not Much has Changed
Not much has changed since it all started. "Everything's pretty much stuck to the basics," said Davis. "Basically, what you're raised on is what you're going to stick with."
That includes the classic vinegar-based BBQ sauce at Big D's BBQ Barn.
Ingredients include apple cider vinegar, tomato sauce, and, of course, some other secret ingredients. It makes into what Davis calls "red gravy,"
The red gravy goes on the pork, and in a separate container on the buffet line, also.
"We believe we've got a good product, and we stick with it," Davis said.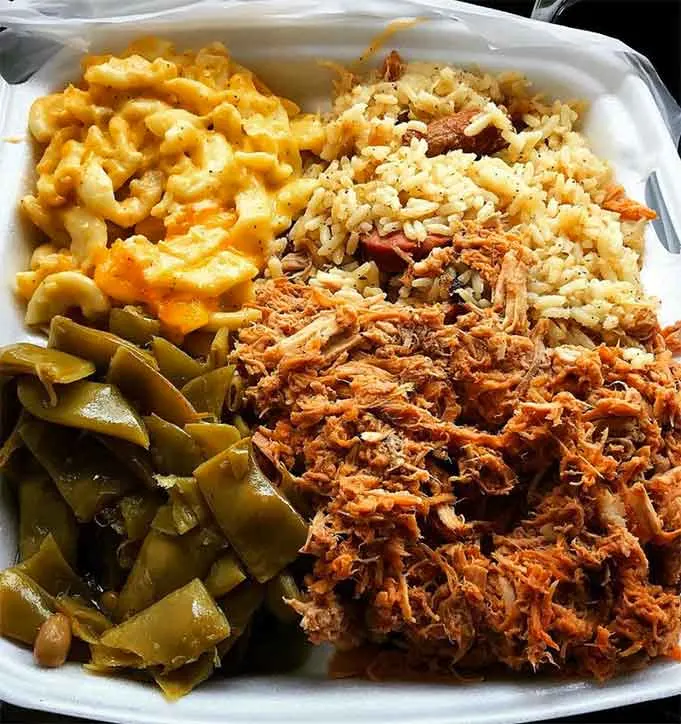 Big D's serves their ribs in the signature sauce on the buffet. The pork skins are a customer favorite, too.
"After we process the hog, we take our skins and we put them back on the cooker and for a little while to harden them up," said Davis. "It's a very popular item," he said.
Big D's BBQ Barn also serves up barbecued chicken. The chicken is slathered with a red sauce that is a little different than the pork sauce. Davis admits it's a little sweeter.
"We sell the chicken by the halves or the quarters," he mentioned.
Bogged Down
One of the Pee Dee area specialties that you have to try when you visit Big D's BBQ Barn in Hemingway is a chicken and rice dish like no other.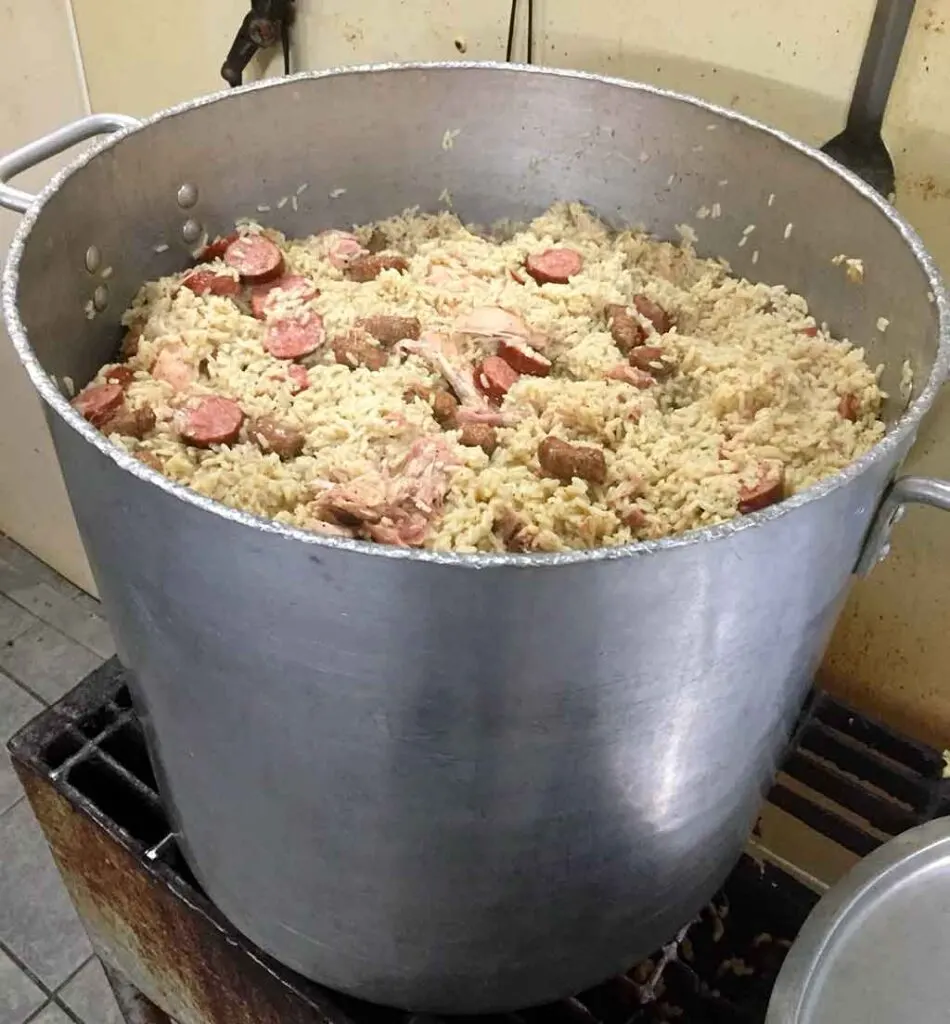 There are two general variations of the dish throughout the Pee Dee and down to the coast.
One is a bit more moist by nature and is colloquially known at Chicken Bog. Big D's BBQ Barn doesn't serve bog. They offer the other version.
At Big D's, you'll find Pileau (pronounced "Per-Low") on the menu. You'll want to try that.
Davis believes in great customer service, and great food to match it.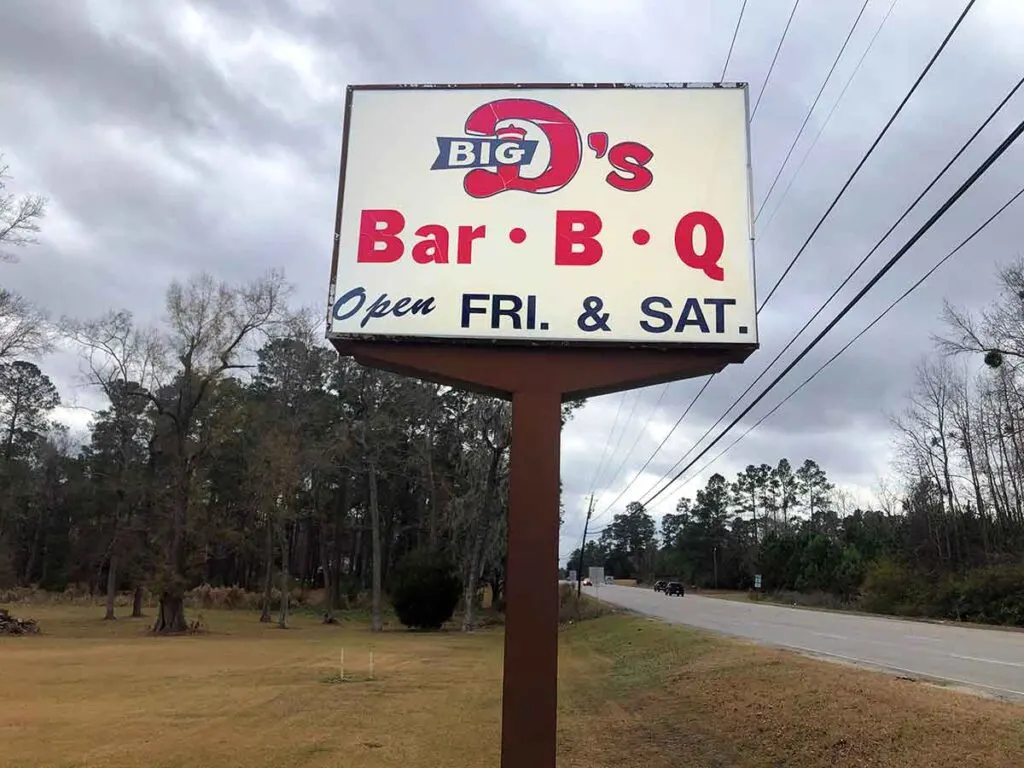 Big D's BBQ Barn is located on Davis Road, right off of Highway 41, between Johnsonville and Hemingway, and is open from 11:00 a.m. until 9:00 p.m. on Fridays and Saturdays.
Meet Big D's BBQ Barn owner Kurt Davis in this news feature from Positively Carolina. Take a look behind the scenes and get a taste of what it's like at Big D's:
What Folks are Saying about Big D's BBQ Barn
Google Review
Among the many Google Reviews, Local Guide Page Morales clearly loves Big D's:
Great, delicious, fresh, and homemade! Are just a few words that come to mind.
Buffet-style country restaurant open Friday and Saturday only, I think they offer catering still too!
The bbq is delicious as is the fried chicken, bbq chicken (stew-like style), fried livers, fried gizzards, all the sides rice and red or liver gravy (or you can get the bbq gravy from the bbq chicken), green beans, delicious corn on the cob, and more sides!
The banana pudding is fantastic!
Definitely worth a drive or if you're passing through!
Yelp Review
Over on Yelp, James B decided to drop in on Big D's instead of the world-famous and nearby Scott's BBQ and was pleased with the choice:
After much debate, my wife and I decided to try this southern buffet instead of the more famous BBQ-only place just outside town. We think we made the right choice.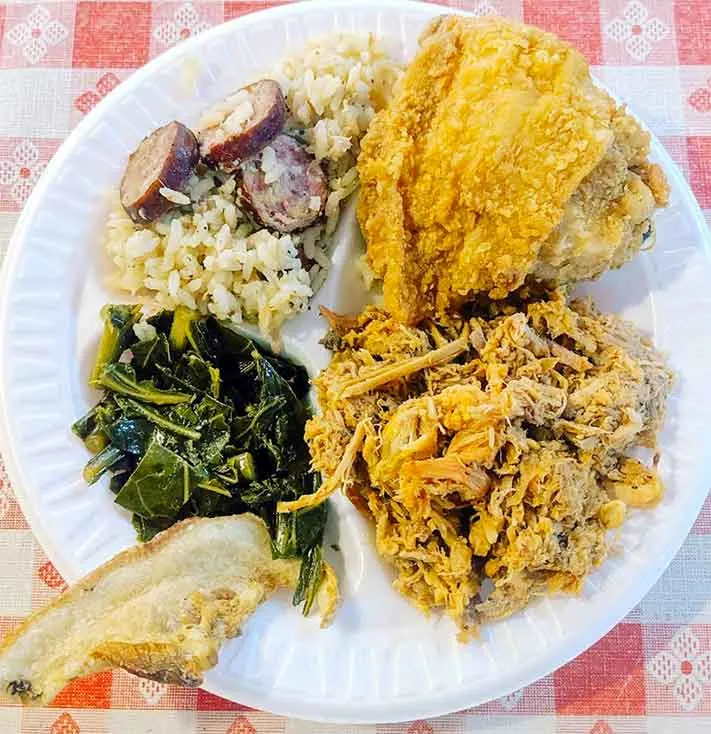 Everything we tried here was good, some of it was great. The good was the fried chicken, pulled pork, and BBQ chicken. The best was the chicken and sausage pileau.
We had never heard of this food, let alone eaten it before. It was delicious.
I hope to make some at home sometime. Anyway, this is a good place to experience a southern food buffet.
---
Menu for Big D's BBQ Barn in Hemingway
Note: Menu prices and options are subject to change over time.

Location, Hours, Contact Info, and More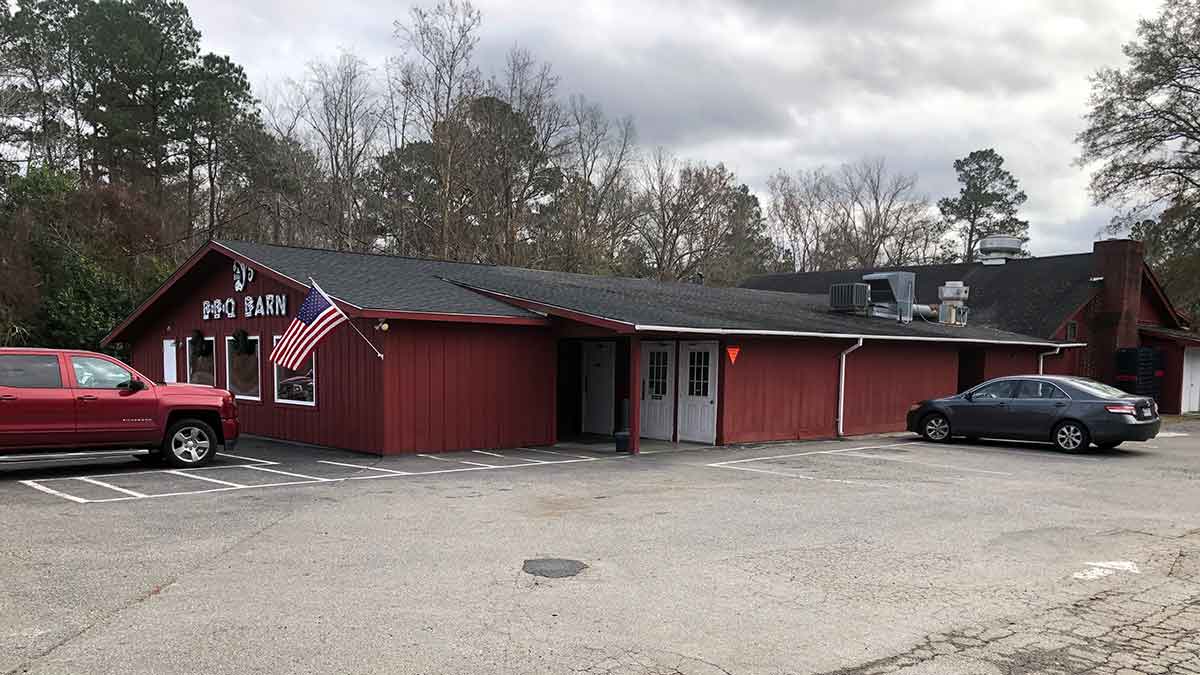 Map
Directions
Contact Big D's BBQ Barn
793 Davis Rd
Hemingway,
SC
29554
Hours of Operation
| | |
| --- | --- |
| Monday | Closed |
| Tuesday | Closed |
| Wednesday | Closed |
| Thursday | Closed |
| Friday | |
| Saturday | |
| Sunday | Closed |
Review Sites
Features
Buffet, Cards and Cash, Vinegar Pepper Sauce, Whole Hog