Bullies BBQ on Hilton Head
This post may contain affiliate links to Amazon or other vendors I trust. Please read my disclosure policy. As an Amazon affiliate, I earn from qualifying purchases.
Legendary BBQ Joint
Looking for the best BBQ in Hilton Head? Look no further! Nestled in the heart of the island, Bullies BBQ is a longstanding barbecue joint that has been tempting taste buds with its smoky, tender, and flavorful offerings for over a decade.
The restaurant, now proudly employee-owned since 2022, is led by President Patty Ricalton and General Manager Steve Cucina.
Bullies BBQ is not just about food; it's a way of life, a culinary experience that keeps customers coming back for more.
Story Behind the Name
The name "Bullies BBQ" is a nod to the founder, Bob Sutton's love for French Bulldogs. Visitors will find the restaurant adorned with photos of many of his beloved dogs, adding a unique and personal touch to the dining experience.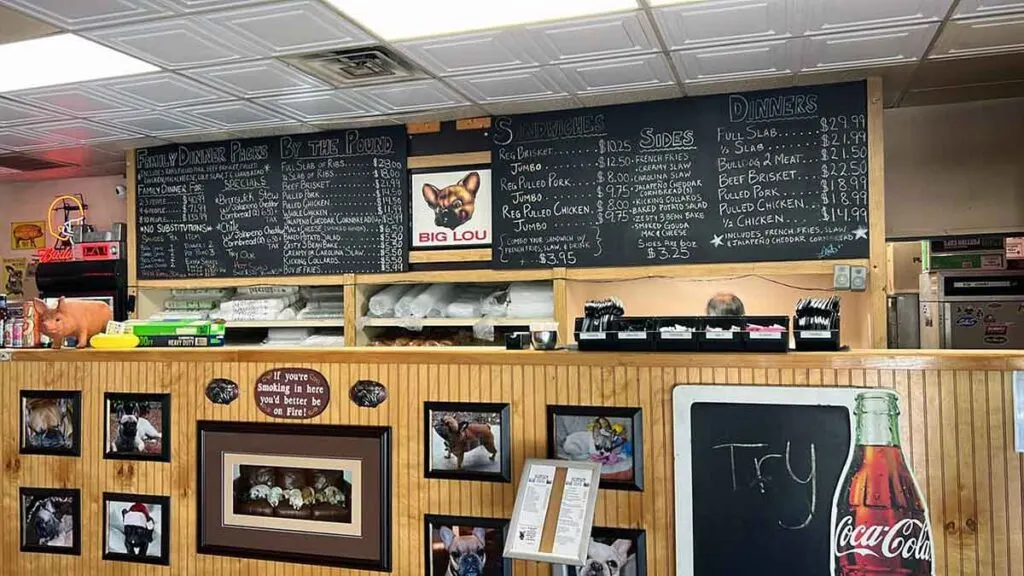 Secret to Their Mouth-Watering Barbecue
At Bullies BBQ, the secret to their mouth-watering barbecue lies in their meticulous preparation process. They use only the freshest lean pork butts, which are "Slow-Smoked" over 100% Hickory and Mesquite woods.
Their ribs smoke for up to 16 hours, and the pork butt and brisket for up to 14 hours in their large-capacity smoker.
The result? Perfectly smoked ribs, juicy pulled pork, and amazing brisket that are sure to satisfy even the most discerning barbecue connoisseur.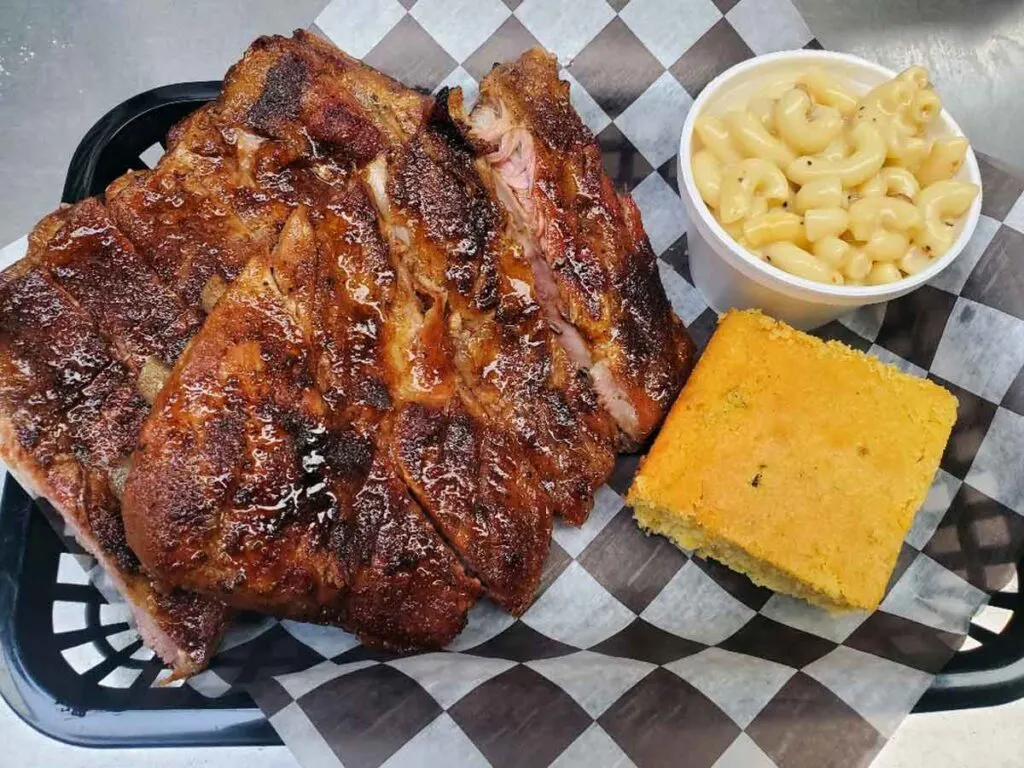 Menu is a Testament to Quality and Variety
The menu at Bullies BBQ is a culinary journey through the best of traditional barbecue, offering a wide array of options that cater to all tastes. Each dish is carefully crafted, showcasing the restaurant's commitment to quality and variety.
For those who favor pork, Bullies BBQ offers pulled pork, prepared from the freshest lean pork butts. The pork is slow-smoked over flavorful hardwoods, resulting in a tender, juicy, and flavorful barbecue that is a favorite among patrons.
Beef lovers are not left out, with the restaurant's brisket being a standout item. The brisket is slow-cooked for up to 14 hours, sliced thin, and dipped in au jus. This process ensures the brisket is not only tender but also packed full of flavor, making it a must-try for any barbecue enthusiast.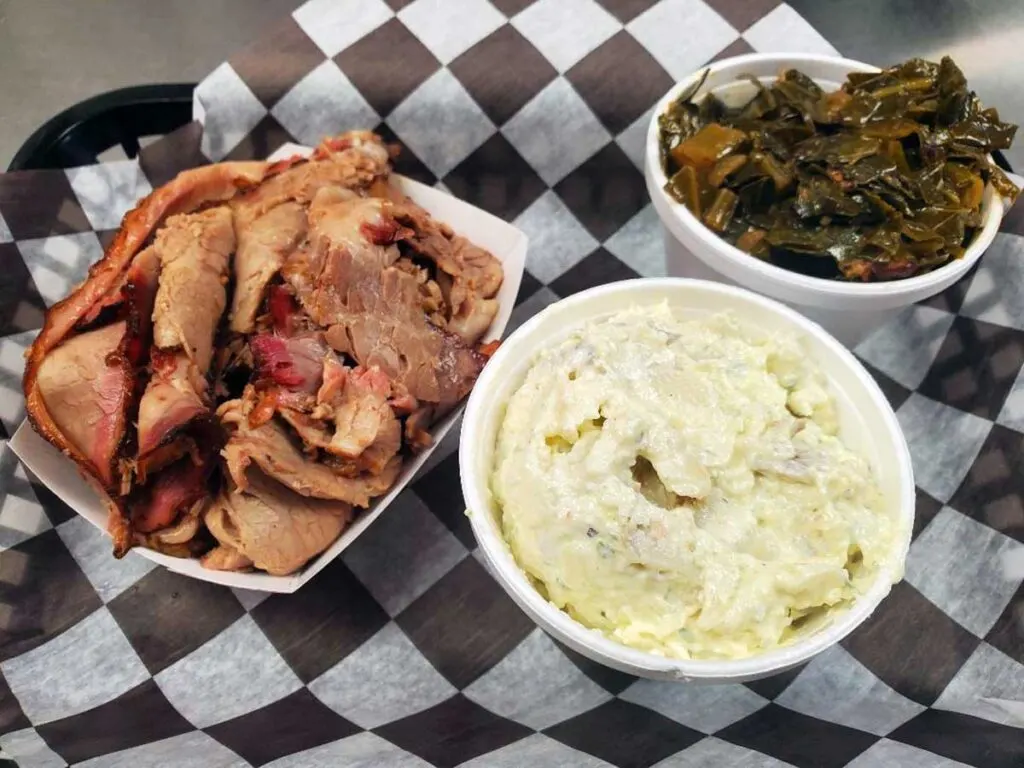 The St Louis dry rub ribs are another highlight of the menu. These ribs are dry-rubbed and smoked for up to 16 hours, resulting in a rich, deep flavor that is hard to resist. The ribs are a testament to the restaurant's meticulous preparation process and their commitment to delivering the best barbecue experience.
The menu also features pulled chicken and chicken on the bone, providing additional options for those who prefer poultry. Each chicken dish is prepared with the same level of care and attention to detail, ensuring a delicious and satisfying meal.
In addition to their meat offerings, Bullies BBQ also offers a range of sandwiches, dinners, carryout and by-the-pound options, and family dinner packs. This ensures that whether you're dining alone, with a partner, or with family, there's a suitable option for you.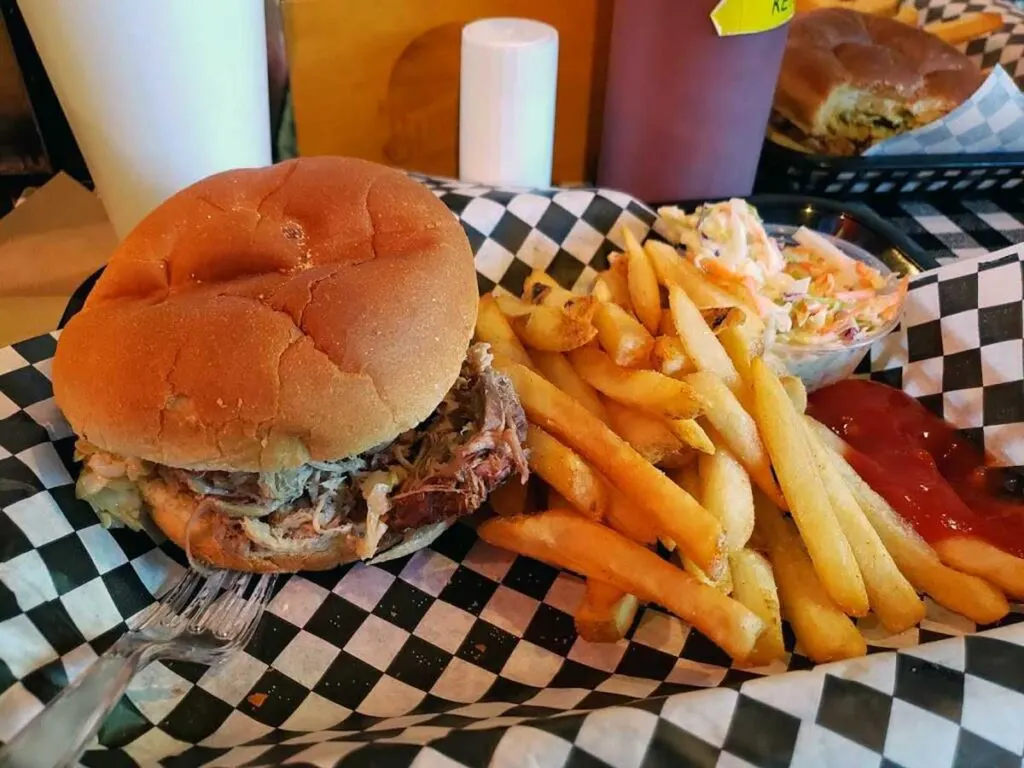 In essence, the menu at Bullies BBQ is a testament to their dedication to quality and variety. It offers a wide range of options, ensuring that every customer can find something to enjoy.
Whether you're a fan of pork, beef, or chicken, prefer your meat on a sandwich or on a plate, or are looking for a family dinner pack, Bullies BBQ has you covered.
Tasty Sides and Homemade Sauces
But it's not just about the meats. Bullies BBQ also offers a range of delectable sides that perfectly complement their barbecue offerings. Options include mac and cheese, creamy cole slaw, jalapeno cheddar cornbread, Carolina cole slaw, collards, baked potato salad, and the zesty three-bean bake.
What sets Bullies BBQ apart is its selection of homemade sauces. They offer the following:
Texas Sweet – a delightful blend of citrus, pineapple, and brown sugar
Slow Burn – a sauce that starts out sweet and ends with a slow heat
Original Mild Herb – a vinegar base with sweet basil, oregano, and rosemary
Carolina Mustard – a traditional vinegar base mustard sauce with a touch of pepper
Carolina Vinegar – a classic Carolina vinegar, slightly peppery.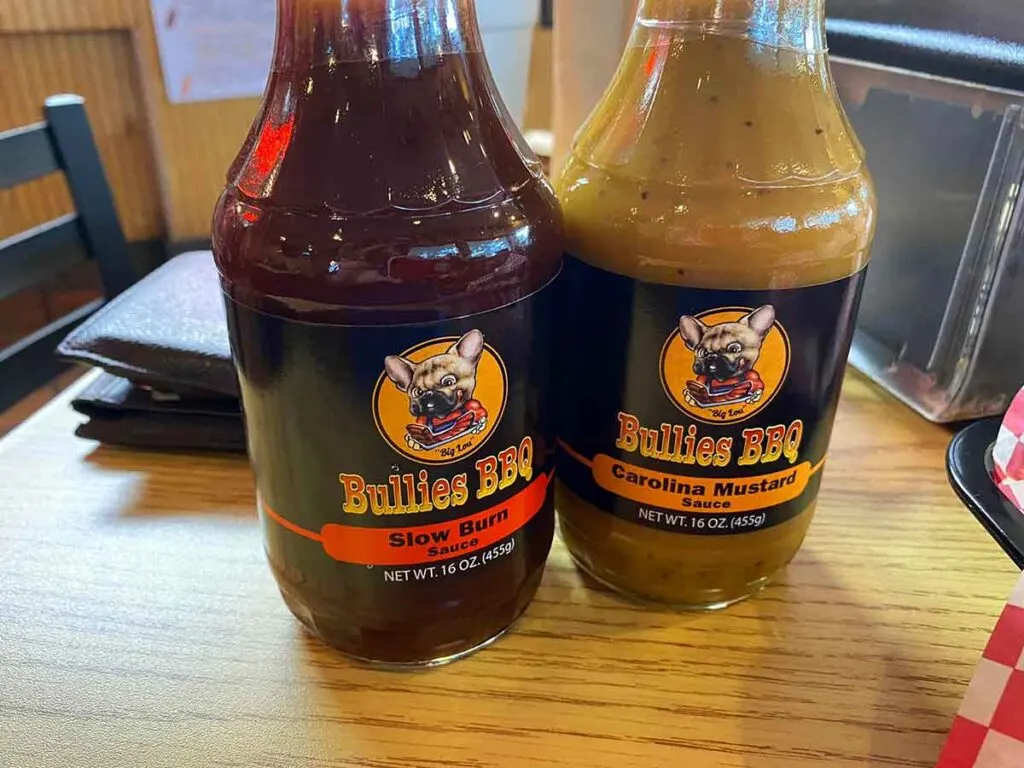 Hours and Payment Options
Bullies BBQ is conveniently open from 11:00 AM to 8:00 PM from Monday to Saturday and closed on Sunday. They accept cash, credit/debit cards, Apple Pay, and Google Pay, making it easy for customers to enjoy their delicious offerings.
Rave Reviews and Dining Options
The restaurant has received rave reviews on Yelp, with a high rating of 4.5 stars. Customers have praised the generous meat portions, amazing flavor, friendly staff, and great experience. They also offer online ordering for pick-up, delivery through Door Dash, and have outdoor seating, making it a versatile choice for any dining occasion.
So, whether you're a local resident or a visitor to Hilton Head Island, make sure to stop by Bullies BBQ. With their perfectly smoked meats, delicious sides, and variety of sauces, it's a culinary experience you won't want to miss.
Experience the best BBQ in Hilton Head at Bullies BBQ, where every meal is a testament to their passion for barbecue.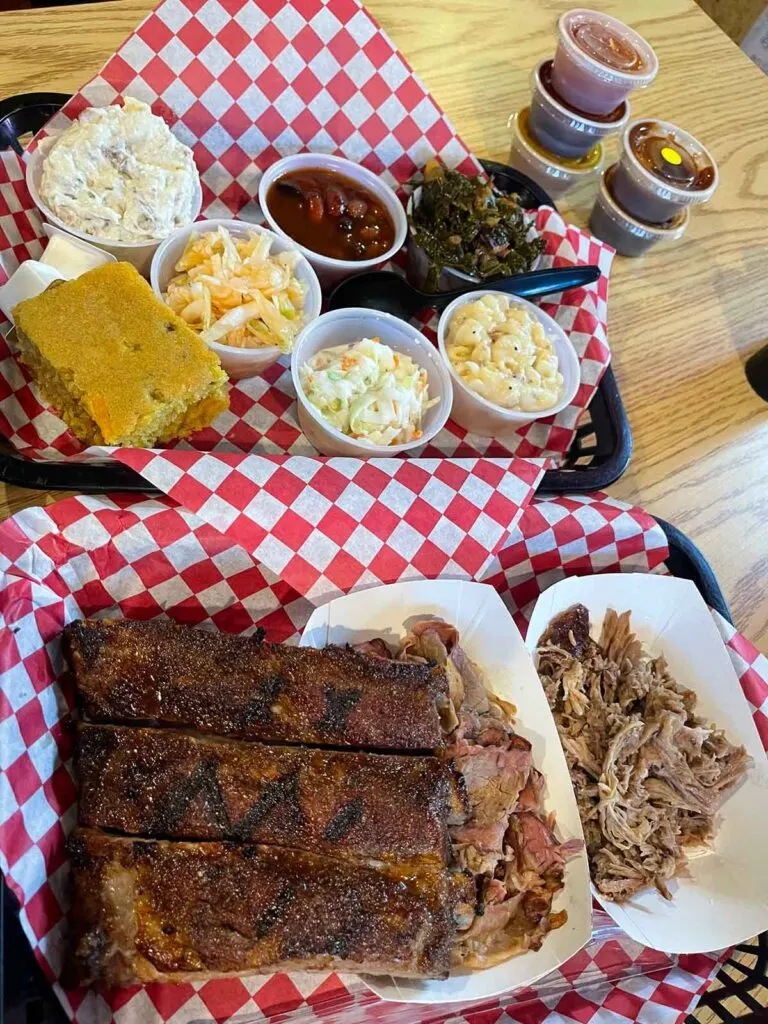 What Folks Are Saying
Google Review
Among the many Google Reviews, Local Guide Carrie Milkanin knows barbecue and Bullies hit the spot:
We got the family meal and WOW!
We are originally from Kansas City, so our barbecue expectations are pretty high. My 19-year-old son, husband, and myself can't say enough good stuff about this place.
BBQ Ribs ❤️—crunchy outside and nothing but goodness inside. The pulled chicken and pork was nice and moist. The brisket had amazing flavor.
My favorite coleslaw I have ever had! The macaroni and cheese was the only "disappointment." It was ok, just not enough seasoning. The cornbread had a kick.
Highly recommend! Bonus: they have Mr. Pibb!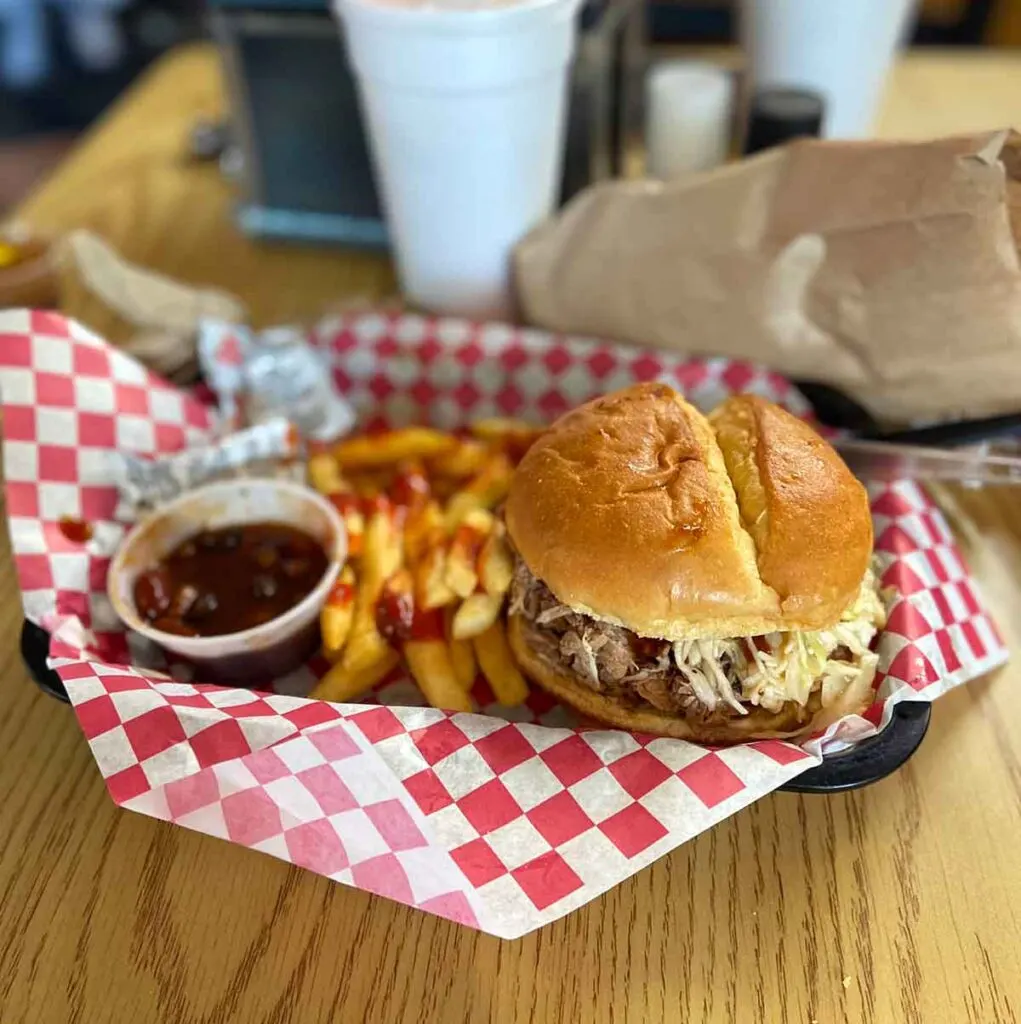 Yelp Review
Over on Yelp, Hilton Head visitor Tatiana M. is a repeat visitor who even tries to replicate Bullies' ribs herself:
This is my favorite spot to get ribs. I wish I could put into words the happiness this place brings me.
The staff is so caring and quick the atmosphere in there is so cozy and comforting. I love how many different bbq sauces they have and all of their sides are amazing, but the coleslaw is hands down the best. You have to get some I always take a big one to go.
I have two of their dry rubs back at home so if I'm ever craving it, I can always try to make a rack close to theirs. I've recreated them successfully, but I genuinely think the staff and sitting at Bullies make them taste even better.
I've been going here since 2015 and my opinion will never change. I drag so many people to eat here, and they agree!
Menus for Bullies BBQ
Note: Menu prices and options are subject to change over time. Contact the restaurant for the most up-to-date information.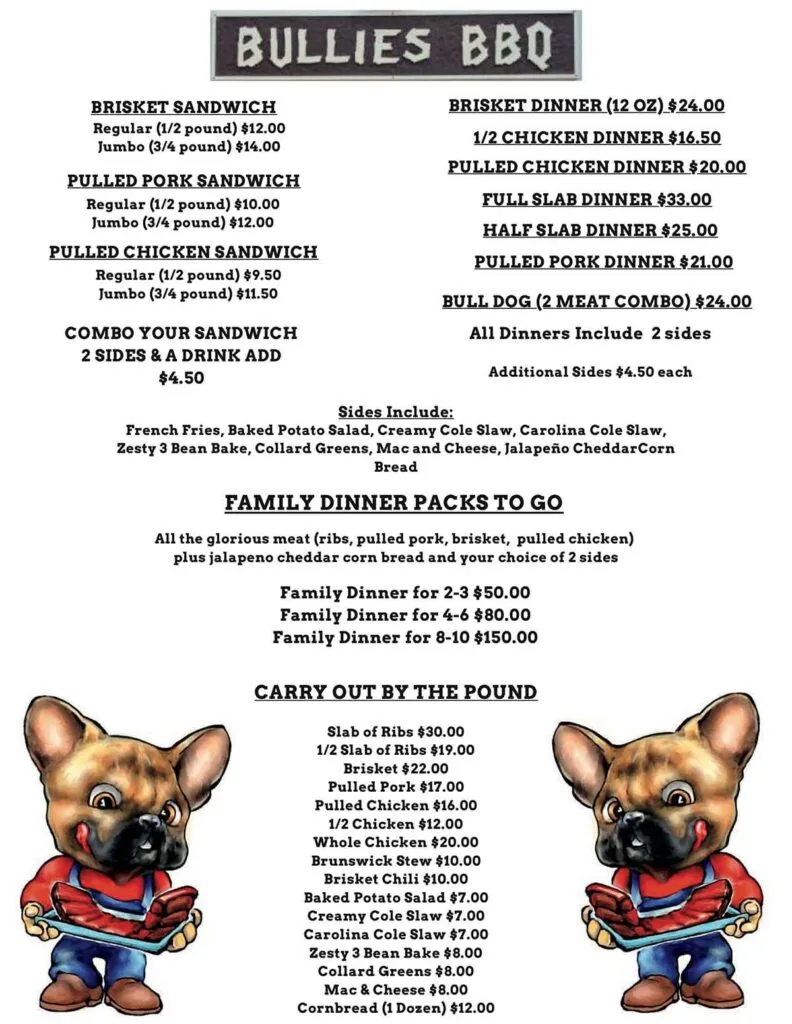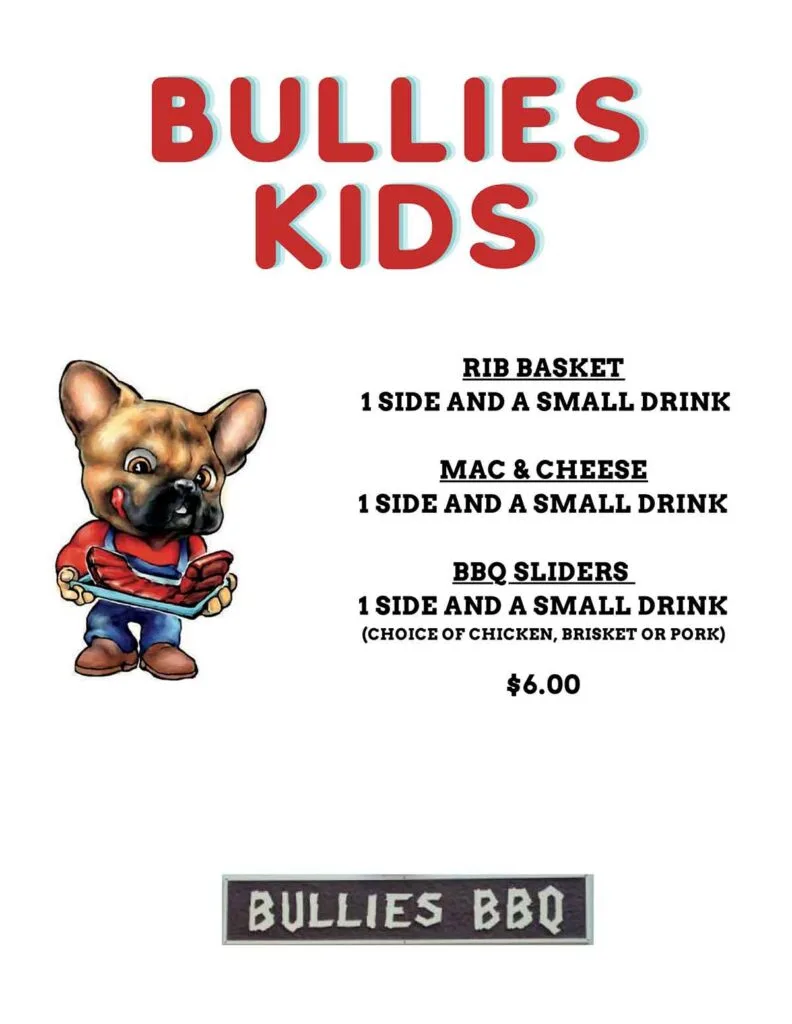 Location, Hours, Contact Info, and More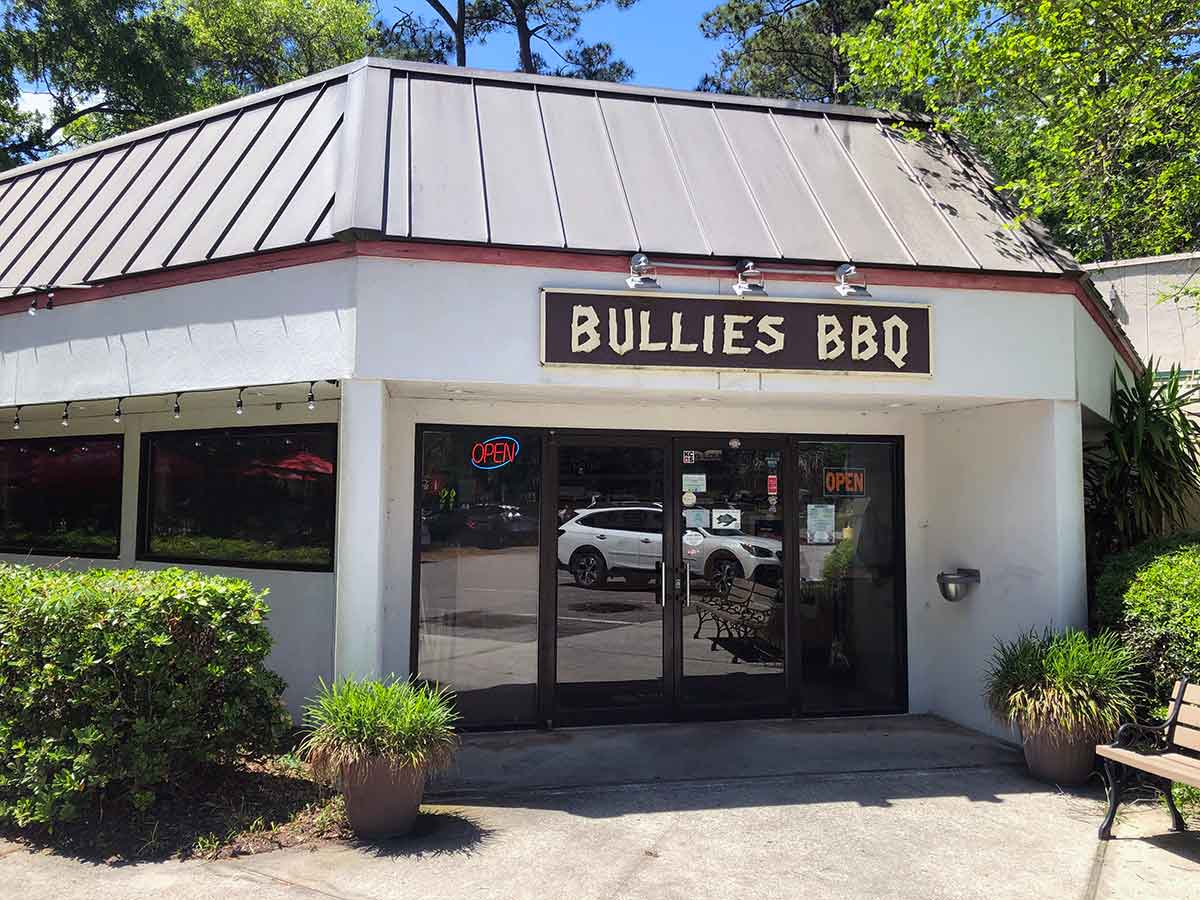 Map
Directions
Contact Bullies BBQ on Hilton Head
3 Regency Parkway
Hilton Head Island,
SC
29928
Hours of Operation
| | |
| --- | --- |
| Monday | |
| Tuesday | |
| Wednesday | |
| Thursday | |
| Friday | |
| Saturday | |
| Sunday | Closed |
Social Media
Review Sites
Features
Cards and Cash, Heavy Tomato Sauce, Light Tomato Sauce, Mustard Sauce, Vinegar Pepper Sauce