Chewy's BBQ & Grill ***Permanently Closed***
Chewy's BBQ & Grill: Great Food and Great Service!
Chewy's BBQ & Grill on Two Notch Road in Columbia offers only walk-up and take-out. They provide no indoor seating but don't let that stop you. The food is the real draw.
On the menu, Chewy's offers both beef brisket and chopped pork barbecue. In addition, they serve BBQ chicken dinners. Both chicken and turkey wings are a big part of the menu, including grilled and fried turkey wings.
Looking for something different than barbecue? Chewy's BBQ & Grill serves fried shrimp, whiting, and burgers. And if you're looking for a special treat, drop by on Saturdays for their oxtail dinner.
Chewy's BBQ offers an authentic SC BBQ experience that you just have to try.
What Folks are Saying
Google Local Guide Marqell Campbell had a perfect first visit to Chewy's BBQ:
This is a diamond in the rough!
Visited Chewy's BBQ today with my spouse and wow it was delicious! I got the pulled BBQ mustard-based with okra and Mac. It was PERFECT. Had a small issue when ordering but they definitely made up for it. Ordered dessert to go and I haven't eaten it yet but I just know it will be slamming! Staff is so friendly!
Thanks guys I will be back!
Over on Yelp, Justine B enjoyed her introduction to SC BBQ hash and the ribs at Chewy's BBQ:
Yum yum! I was in SC for Thanksgiving. My bf is obsessed with bbq, so I asked him to look some up in the area, and we stumbled upon this hole-in-the-wall gem.
First off, prices at Chewy's are low and reasonable! There were lots of bbq/soul food combo plate options, as well as a few fried seafood options. I opted for the bbq ribs, which came with two sides (double collard greens for me), as well as hash over rice.
I had NO idea what hash was. The women at the window explained it as "ground-up pork over rice, kinda like grits." That didn't make sense to me, but I was like what the hell, why not?
My bf ordered the chopped pork, with macaroni and cheese, onion rings, and the hash/rice combo. Trying something different, my little cousin ordered shrimp and fries. My bbq ribs plate was the most expensive at a whopping $10. Steal!
Chewy's BBQ doesn't have any seating– its a drive up, take your food to go type of place. My passengers could NOT wait to eat their food and immediately consumed it in the car so I had to suffer while the intoxicating smell of bbq and soul food filled the car.
I tried the chopped pork (covered in Carolina mustard sauce), which was delicious, as was the hash over rice. My pork ribs were fall-off-the-bone tender and slathered in a sweet and smoky tomato-based bbq sauce. The meals were all served with a small piece of cornbread that had the perfect crispiness at the edges.
Overall, Chewy's BBQ is outstanding. I will be back the next time I'm in town!
---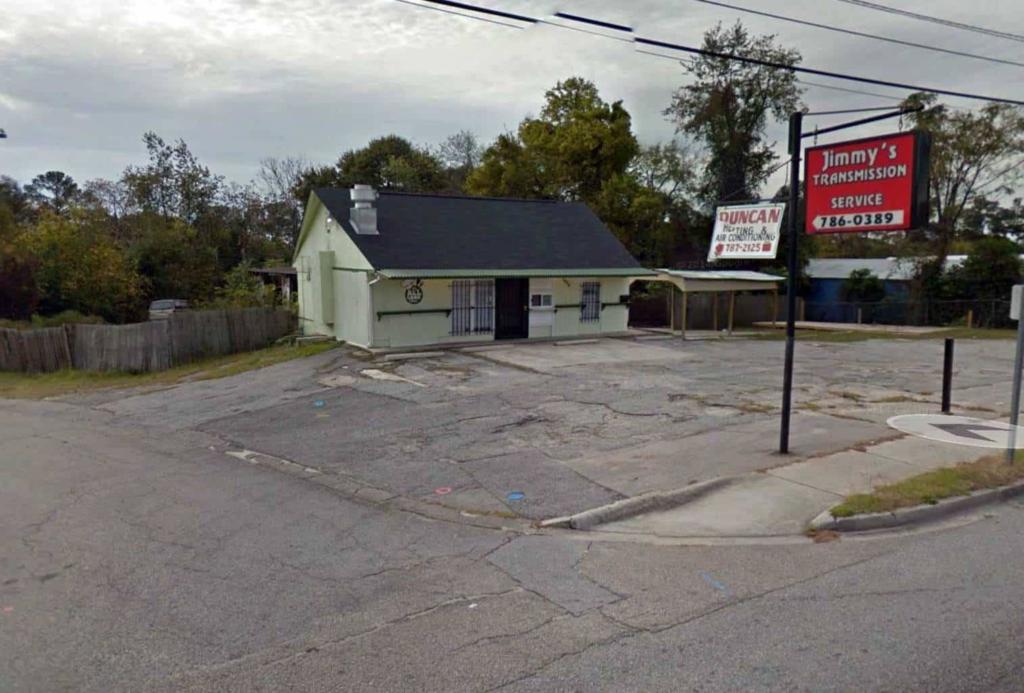 Chewy's BBQ & Grill ***Permanently Closed***
3424 Two Notch Rd
Columbia,
SC
29204
| | |
| --- | --- |
| Monday | Closed |
| Tuesday | |
| Wednesday | |
| Thursday | |
| Friday | |
| Saturday | |
| Sunday | Closed |
Review Sites
Features
Cards and Cash, Hash, Mustard Sauce, Heavy Tomato Sauce