Flat Rock BBQ in Iva *** Permanently Closed***
Looking for one of those diamonds in the rough? Look no further than Flat Rock BBQ in Iva, SC.
Often because of the hours, many family-owned SC BBQ restaurants tend to keep, along with the time, patience, and nature of making real BBQ, many authentic restaurants are only open a couple of days a week.
Such is the case with one of the most recent additions to the Upstate, Flat Rock BBQ.
On the menu, you will find not only chopped pork, brisket, baby back and St. Louis-style ribs, and smoked chicken, you can also choose from smoked kielbasa and smoked salmon. Heck, there is even some alligator sausage on the menu.
(To make your own South Carolina-style sausage, check out this homemade sausage recipe.)
Alongside those classics and surprises, you will find favorites like mac and cheese, coleslaw and potato salad, slow-cooked collard greens, fried corn, and baked beans, all made from scratch.
Flat Rock BBQ is only open from 11 a.m. to 8 p.m. Friday and Saturday. Make plans now to get out there for a bite. They are just over 15 miles from Interstate 85 southeast of Anderson.
These guys won't be a secret for long and you want to get there before the crowds start to grow.
What Folks are Saying about Flat Rock BBQ
Local Guide Mikey Smith wrote the following in his Google Review on Flat Rock BBQ:
Dis place is smok'n! No doubt this man is one of country's finest BBQ chefs as his menu continues to tickle my palette.
Tonite the feast was on the lite side…with just sides. Swwwwwweet potatoes..my oh my. And broccoli salad was nothing shy of fantastic.
The Brunswick stew is chunky and savory for this cold nite and the fried corn…well it's just off the cob! I did steal a couple of my wife's ?…dang.
Will be back..maybe tomorrow. Thanks for a great evening.
Over on Facebook, Jim White went out with his family and enjoyed himself at Flat Rock BBQ:
Had dinner with the family there yesterday. Great food and service! Highly recommended.
Price is right. Huge portions. You won't leave hungry.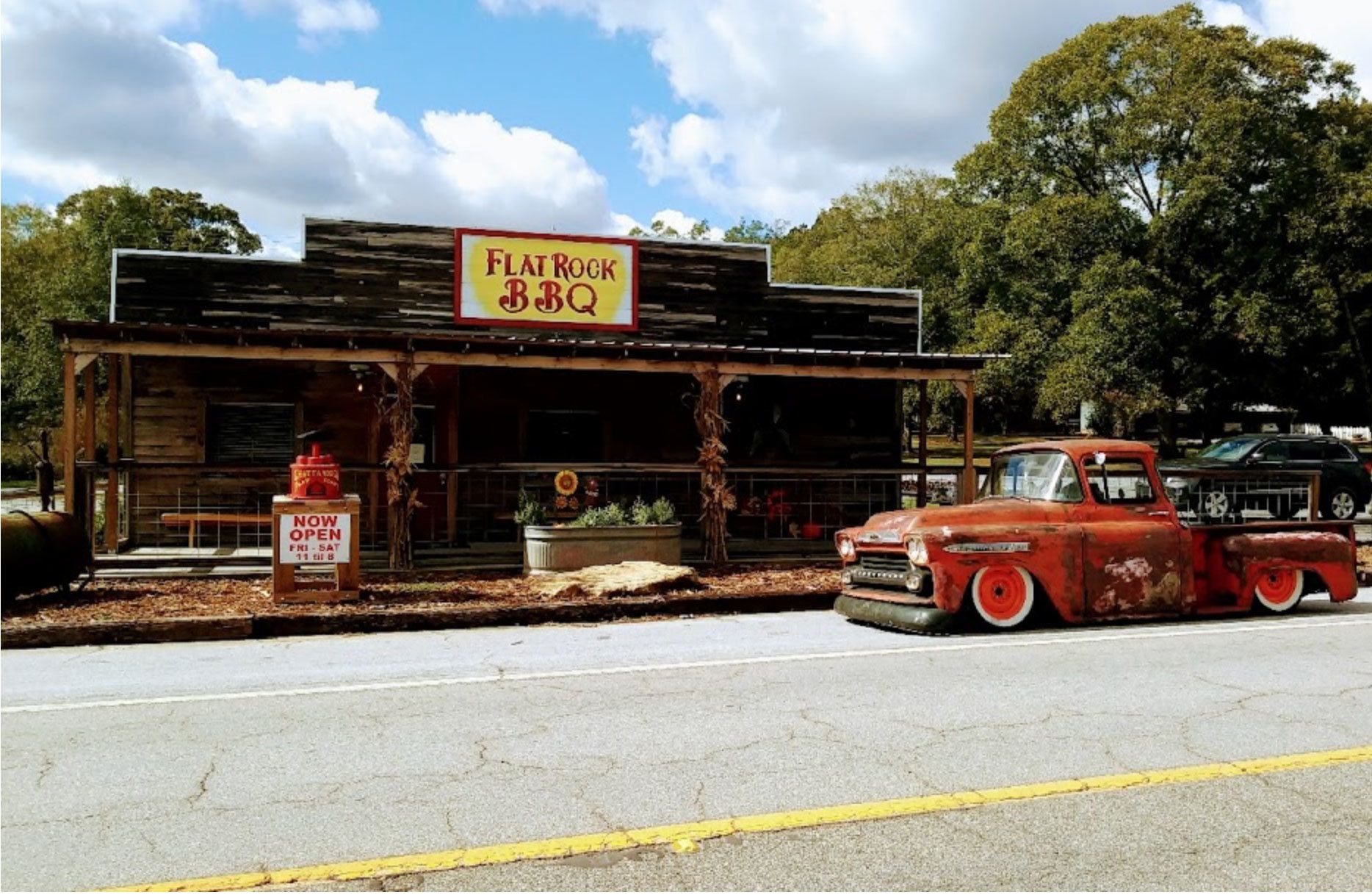 Flat Rock BBQ in Iva *** Permanently Closed***
3410 Flat Rock Road
Iva,
SC
29655
| | |
| --- | --- |
| Monday | Closed |
| Tuesday | Closed |
| Wednesday | Closed |
| Thursday | Closed |
| Friday | |
| Saturday | |
| Sunday | Closed |
Social Media
Features
Cards and Cash, Mustard Sauce, Heavy Tomato Sauce