Hampton and Dean Price started their barbecue venture way back in 1964. The idea was really just one to earn an extra income to help pay their daughter Beverly's way through college.
In the beginning, they started by cooking whole hogs and chicken. They sold these by the pound as take-out only.
For over 55 years, Price's Bar-B-Que has remained a successful business and even today the Price family remains at the helm.
At Price's Bar-B-Que, they still cook their food the old-fashioned way – with family recipes, quality ingredients, and time-honored techniques. It's their commitment to these values that keeps their customers coming back again and again!
Open Thursday through Sunday, Price's Bar-B-Que serves true pit-cooked barbecue that's been cooked for 12 hours over oak wood. Slosh some of their mustard-based sauce over the top, and you've got yourself a plate of old-school SC BBQ.
And the hash…oh, the hash, an SC BBQ original.
You can pick and choose from the buffet for breakfast (Saturdays only), lunch, and supper.
Enjoy their buffet and salad bar or opt for classics like their fried pork chop, fried shrimp, fried catfish, and meatloaf. Just don't forget to top it all off with a slice of their famous homemade coconut cake!
And when you have a special event coming up, be sure to give them a call about providing excellent catering that is sure to leave your guests happy.
Visit Price's Bar-B-Que for good food and good memories!
What Folks are Saying
Google Review
Among the many Google Reviews, Dia Ichi had the following to say about Price's Bar-B-Que:
Prices BBQ is a great southern BBQ restaurant.
They have Awesome food and a fantastic staff with great customer service. It's a shame they're not open all week long.
Their fried chicken is never dry, BBQ with a yellow sauce, mac & cheese is always good. They also have had baked potato casserole, collard greens, green beans, butter beans, fried okra, and fried squash.
Their hash is on point every time I go and it's always tasty fresh.
They have homemade cake for dessert and a simple but satisfying salad bar.
Price's Bar-B-Que is one of the best hole-in-the-wall BBQ joints I've ever been to. Give it a go and I can promise you won't be disappointed.
Well worth the money.
Yelp Review
Over on Yelp, Hunter J visited Price's Bar-B-Que and turned a trip into a memory:
Located less than a mile off the Gilbert shores of Lake Murray, this hidden treasure is an oasis in the desert that is this part of the world.
Since 1964, the Price family has been serving up some of the best Lexington County BBQ and sides that you can find. Unfortunately, I only found this gem in my 20s and only had 5 years to eat here until I left Columbia.
Good for me, my folks live down the road and we visit when we are back.
The Breakdown of Price's Bar-B-Que
The setting: unassuming but clean. Tile floors, tables and chairs, and a small buffet of hot food and a smaller one of cold. Tea and Lemonade to drink.
The service: perfect. It is an all-you-can-eat buffet, so your server is mainly clearing your plate(s) and filling your tea. But they're super friendly.
Food: Mustard bbq with multiple veggies that do change from time to time. Fried chicken, fish, shrimp (Friday night). Cold bar with various salads, coleslaw, banana pudding. Don't miss the last part. This is the heart of the Lexington county mustard belt. Maybe I should say the buckle. But you get my drift. This is the premier restaurant.
Veggies: today they had green beans, collards, potato casserole, yams, fried okra, stewed tomatoes, Mac and cheese (is a vegetable…). You'll find fried squash at night, baby Lima's, and many other things to try depending on when you come.
Dessert: banana pudding (included) or some of the best homemade cake you can find (sold by the slice).
Having a picky special needs son, I always appreciate that they let me bring outside food for him and refuse to ever charge me for a drink for him.
We try to sit out of the way as he likes to dance and eat a bit…our server joined in for a twirl with him today as did a Lexington County Deputy eating.
Made our day at the lake a memory.
SC BBQ Association
Sure, folks on review sites often have great things to say about a place, but what about the folks who really know SC BBQ better than anyone? What about the folks who actually train the judges for SC BBQ competitions? What do they think of this place?
The SC BBQ Association has deemed Price's Bar-B-Que to be 100-Mile BBQ, BBQ so good it is worth driving 100 miles for. Here is an excerpt from the review:
The first taste of Price's Bar-B-Que and I was instantly reminded of my childhood. You know how they say you never forget a smell or a taste?
Well, Price's tasted and smelled just like the barbeque that you got at Lever's Barbeque that used to operate in West Columbia back in the 1940s and 50s. It was the first barbeque house I can remember.
I was so young that daddy had to hold my hand as we walked from the car to Lever's entrance. It was over 50 (50? Hell, it was over 60) years ago, but I've never forgotten the taste.
This is one 100 mile barbeque you don't want to miss.
---
Menu for Price's Bar-B-Que near Gilbert
Note: Menu prices and options are subject to change over time. Contact the restaurant for the most up-to-date information.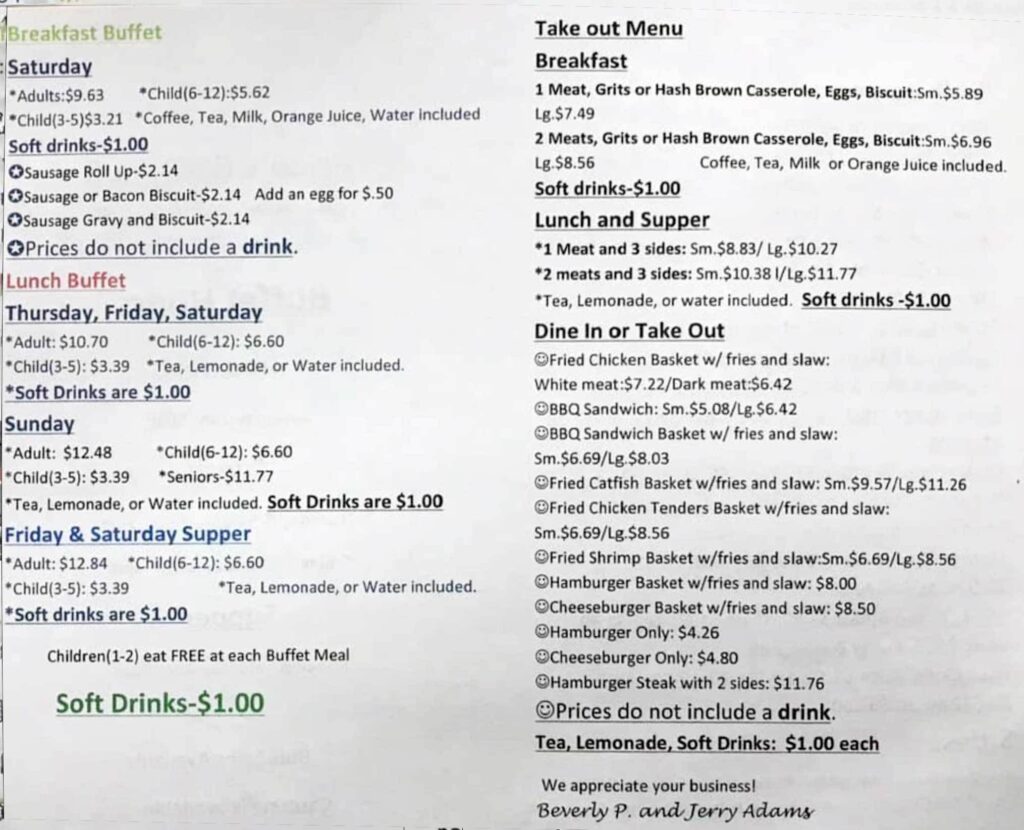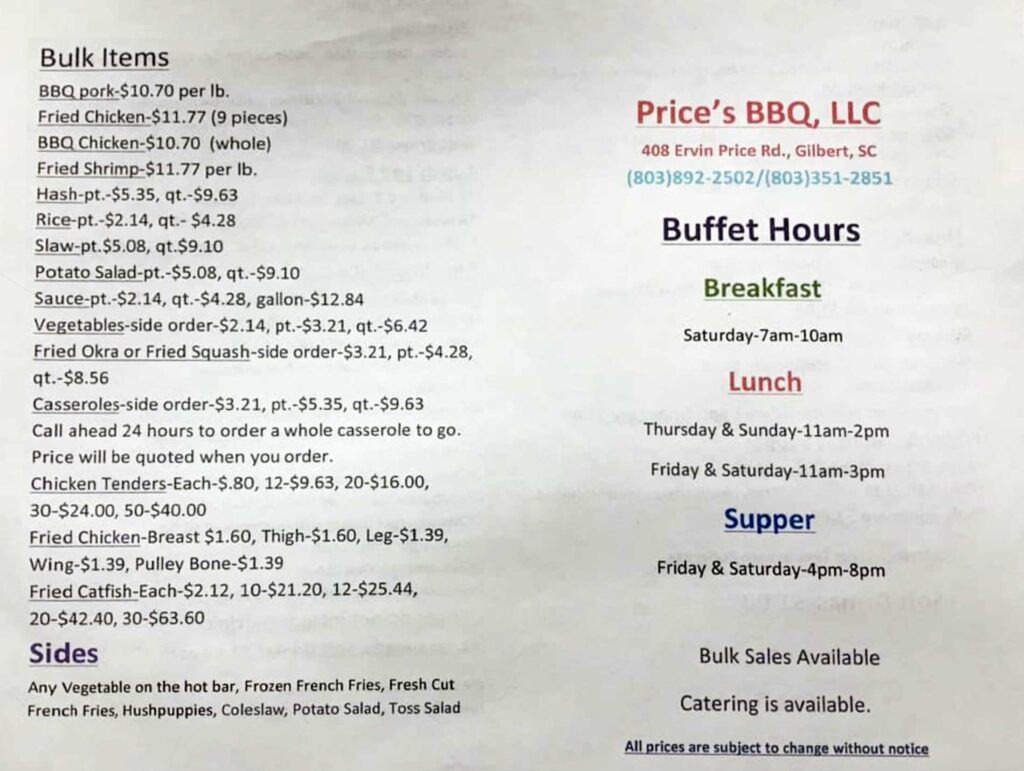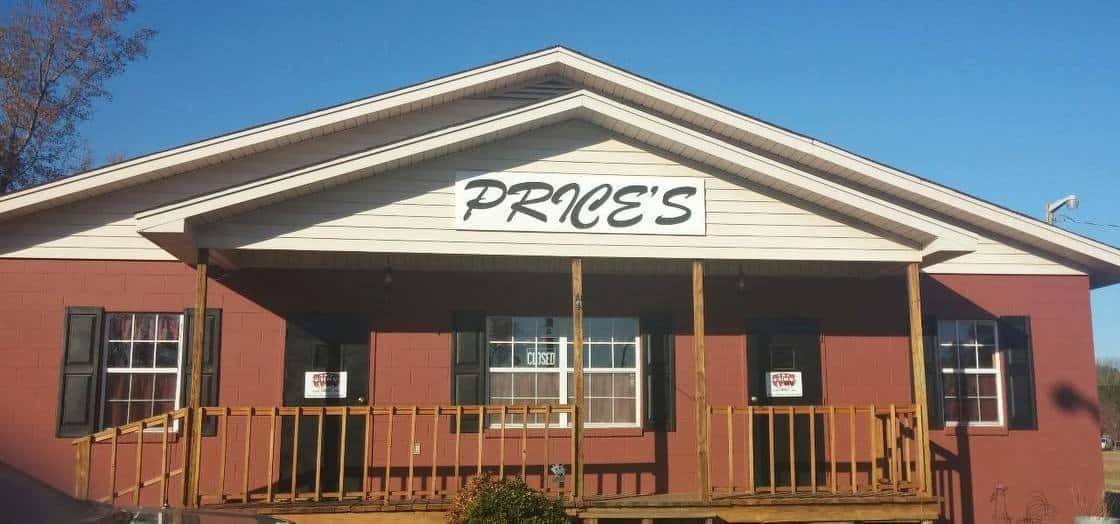 Price's Bar-B-Que
408 Ervin Price Road
Gilbert,
SC
29054
| | |
| --- | --- |
| Monday | Closed |
| Tuesday | Closed |
| Wednesday | Closed |
| Thursday | |
| Friday | |
| Saturday | |
| Sunday | |
Review Sites
Features
100 Mile BBQ, Cards and Cash, Buffet, Hash, Mustard Sauce