Smiley's Smokin' BBQ ***Permanently Closed***
Elgin's newest BBQ buffet, Smiley's Smokin' BBQ. Come check us out!
Smiley's offers mustard-based BBQ on the buffet as well as plain BBQ. They also provide vinegar and ketchup-based sauces on the tables.
On the buffet, you will find pulled pork, ribs, and fried chicken. Other meats like pork chops, liver, and gizzards are available, too.
In addition, you will find a classic SC BBQ side: hash and rice. Along with that, Smiley's serves an assortment of veggies: collards, baked beans, corn, mac n cheese, coleslaw, and more.
And don't forget the banana puddin' for dessert!
So, just how is the food at Smiley's Smokin' BBQ? Take a look for yourself:
What Folks are Saying about Smiley's
Google Review
Among the many Google Reviews, Local Guide J Smith looks forward to eating at Smiley's Smokin' BBQ for years to come:
This place is great. (Currently sitting here and catching my breath between plates… lol)
I received a Military discount. I spent $10 for a very full stomach with fantastic food.
The owner, manager, and wait staff have all asked me if everything is ok with my food. Again, the food is great.
Ribs are very tasty and tender. The coleslaw is lovely too.
Plenty of variety for everyone. They even have lettuce for the vegans.. 😉
The server, even though it's not very busy here, is staying busy sweeping, wiping down, refilling drinks, and being a great employee.
This building has had many restaurants in it over the years. I hope this one prospers and sticks around.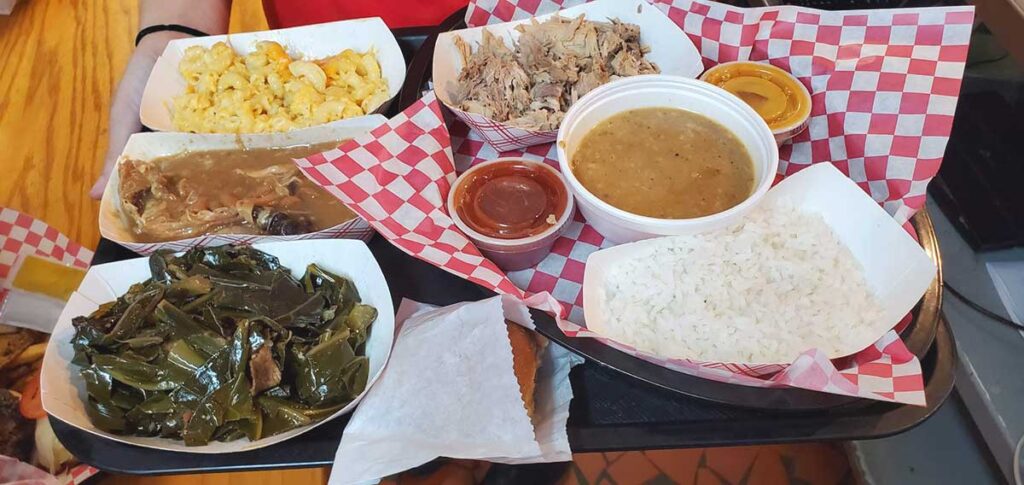 Yelp Review
Over on Yelp, nearby local Richard C was lured in by the delicious smell of real country cookin':
Looking for a food place to have a cheat meal in my quest to become physically fit I stumbled along this place. Just a few minutes and a country mile away from the crib and you are engulfed with some smells of some southern cooking.
I was welcomed the traditional southern way, with smiles and greetings enough to make any Yankee nervous. Lol
I quickly met Andrea the waitress who just recently arrived from Charlotte and moved to Elgin. She help with the opening almost 3 months ago and once you talk to her you get a sense of why she was hired.
Andrea is focused on her customers. She quickly gave me a lesson on all the ice tea one could order.
There is an Arnold Palmer, and Elgin Martini. I am missing one more however I stuck to the traditional sweet tea with a splash of lemon.
The establishment is cozy and they have country music playing in the background. Brought me back to my soldier day in combat where I often thought of those days of America.
These guys bring Americana right there in this place.
The ribs are awesome along with the banana pudding. I left outta there with my fourth cup of Iced Tea.
Stop in if you're in town and give this place a try.
Facebook Review
In a Facebook review, Dustin Tate shared his experience:
"The food was great, and the atmosphere was exactly what you would want in a country town barbecue buffet restaurant.
"We ate lunch yesterday afternoon and were so impressed, that we ordered two pounds of barbecue to go for sandwiches at home for dinner.
"Definitely a great addition to Elgin and the Kershaw County area.
"Give Smiley's a try, and I promise you'll be back again before you know it!"
Smiley's Smokin' BBQ accepts both cash and cards.
Menu for Smiley's Smokin' BBQ in Elgin
Note: Menu prices and options are subject to change over time. Contact the restaurant for the most up-to-date information.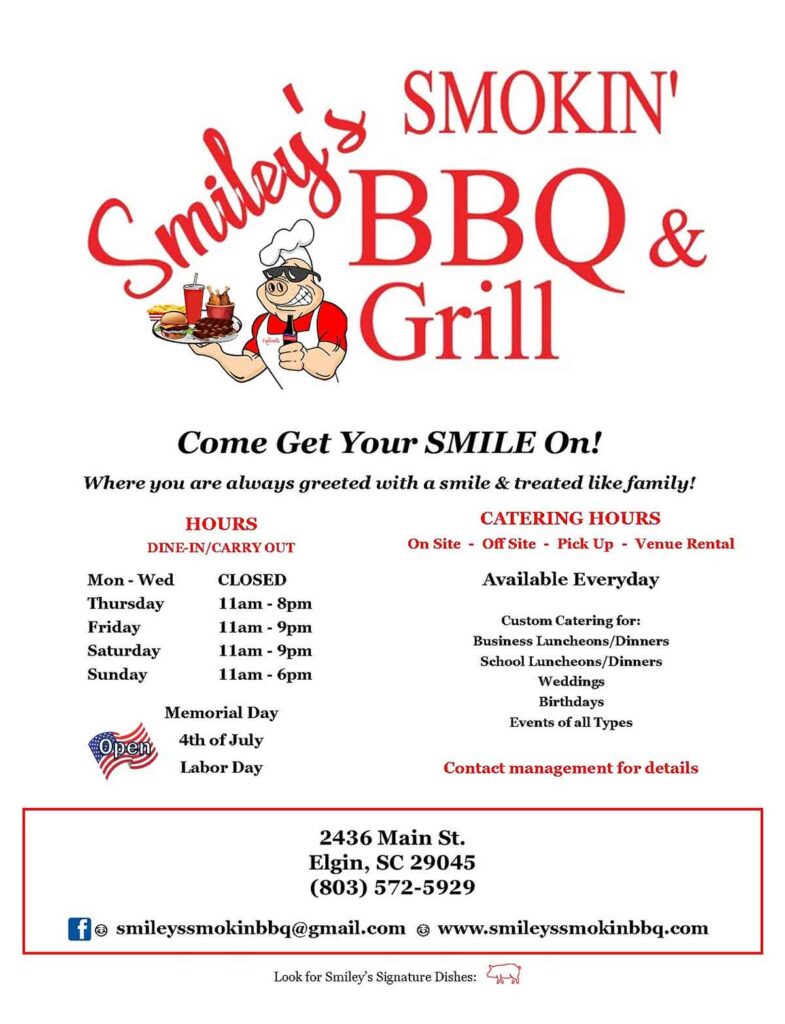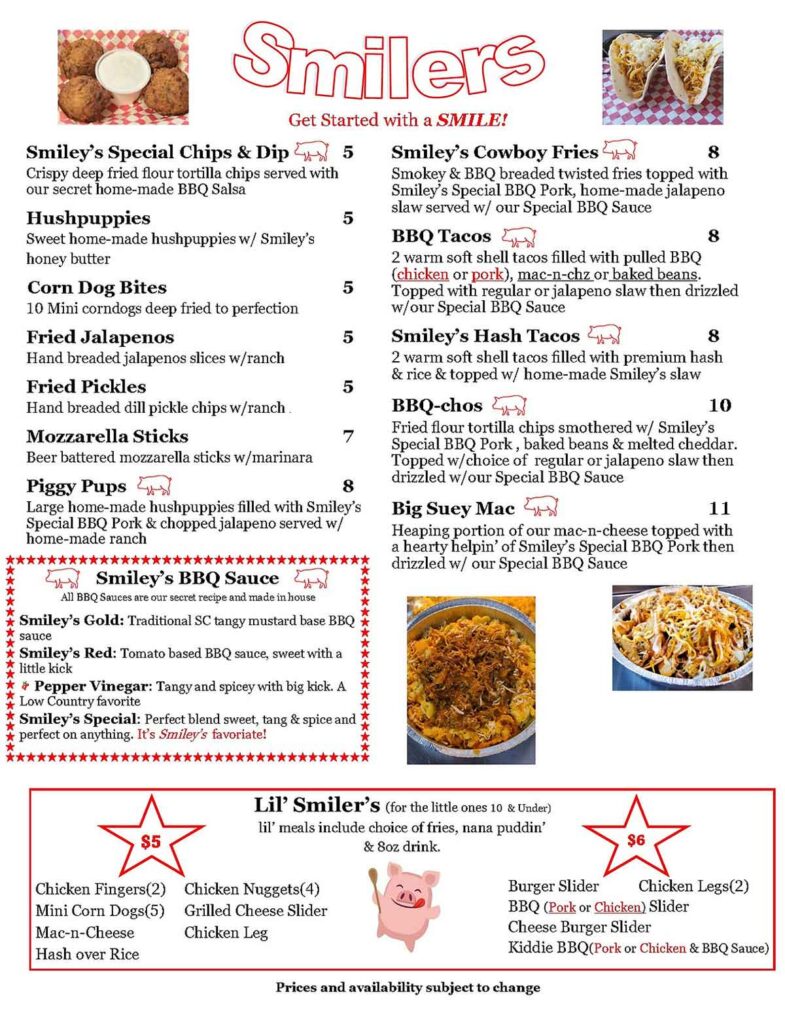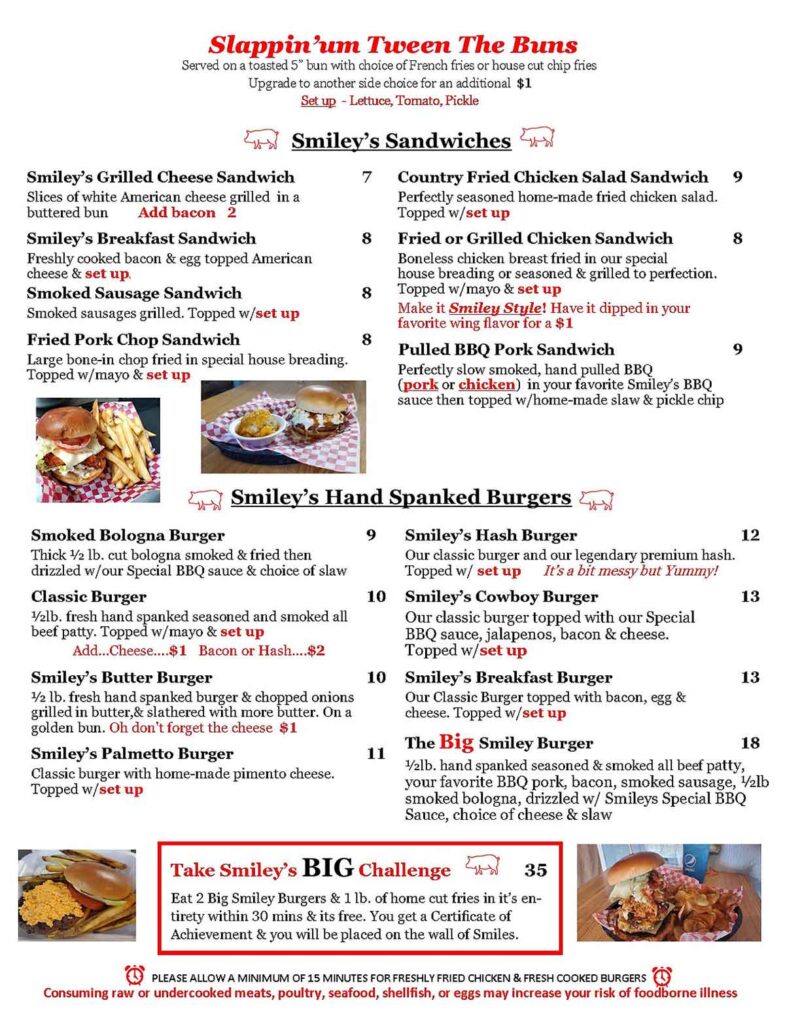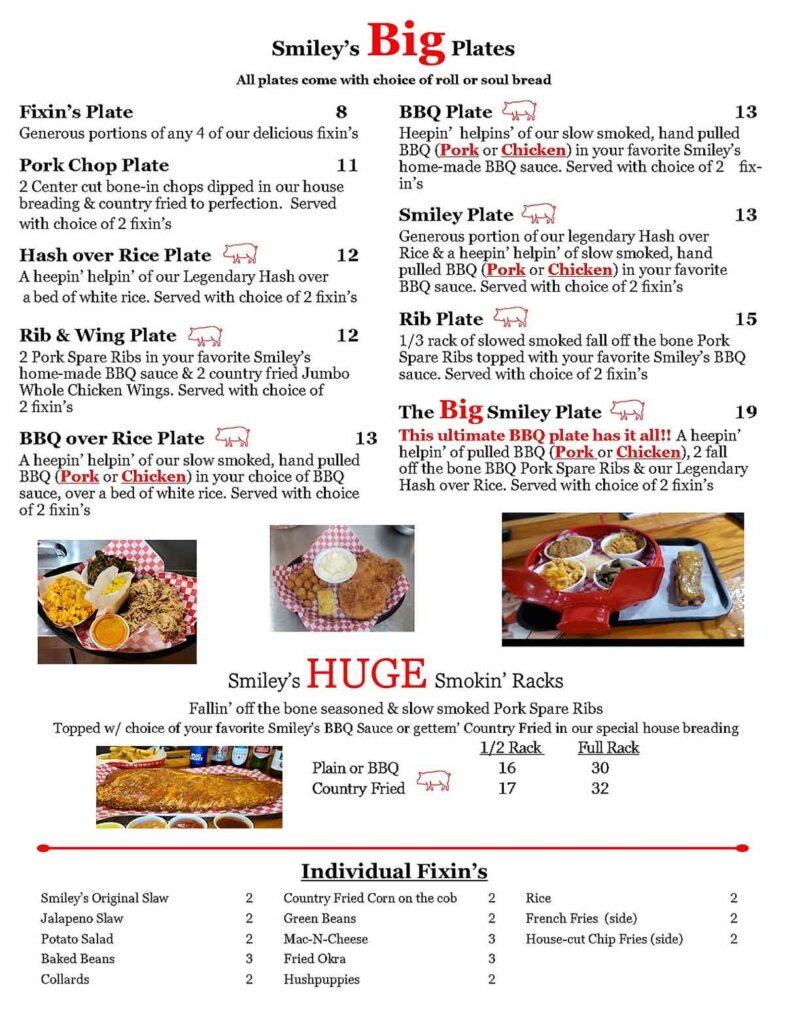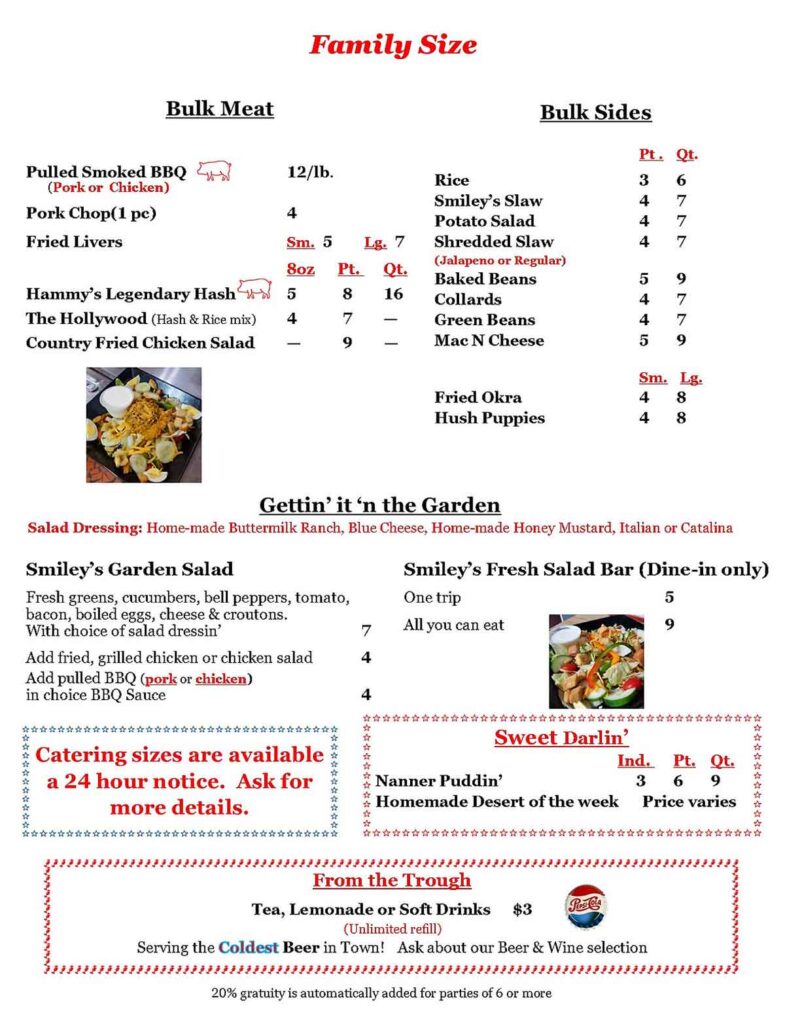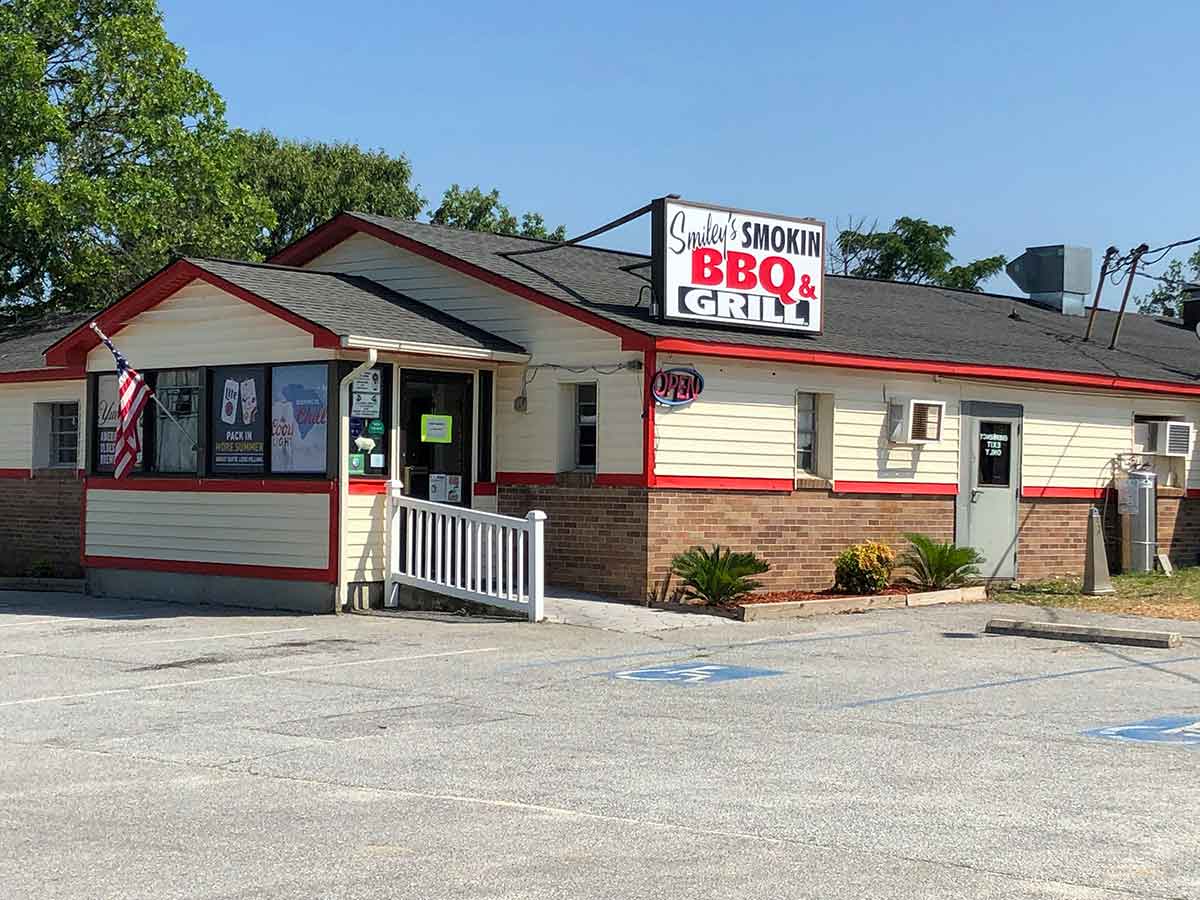 Smiley's Smokin' BBQ ***Permanently Closed***
2436 Main St
Elgin,
SC
29045
| | |
| --- | --- |
| Monday | Closed |
| Tuesday | Closed |
| Wednesday | Closed |
| Thursday | |
| Friday | |
| Saturday | |
| Sunday | |
Review Sites
Features
Cards and Cash, Buffet, Hash, Mustard Sauce, Vinegar Pepper Sauce, Heavy Tomato Sauce