Smoky Oak Taproom ***Permanently Closed***
This post may contain links from which I earn a commission. Please read my disclosure policy. As an Amazon affiliate, I earn from qualifying purchases.
***Permanently Closed: If you're looking for BBQ in the area, check out our feature entitled "BBQ in Charleston, SC: The Definitive Guide."
In 2009, Rick Agius realized James Island lacked a place where locals could come together for amazing food, top-notch BBQ, and craft beer. Aguis, chef and owner, opened Smoky Oak Taproom to be a casual, comfortable, and fun place for locals and visitors alike.
You'll know that you are near Smoky Oak Taproom when you smell the hickory and red oak smoke wafting down Camp Road. Waiting inside, you'll find a diverse menu. They serve pulled pork, brisket, wings, burgers, chicken, ribs, and homemade sausage.
In addition, Smoky Oak boasts over 40 ice-cold beers on tap.
While the beverage options are great, that's not what Smoky Oak Taproom is all about.
"It's all about the food," Agius said. "There is a night-and-day difference between what Smoky Oak does and what everybody else does in town. You'll taste the difference."
At Smoky Oak Taproom, Agius takes pride in the fact that nothing comes out of a can. In fact, nearly everything they serve is his own personal recipe.
You will enjoy Agius' "Stars of the South": barbecue brisket, amazing ribs, and pork, chicken wings, and even brick-oven pizzas. One of the most popular options is their 10-ounce hamburgers.
In addition, you'll find a nice selection of fresh seafood on the menu, including his famous sautéed shrimp and grits with sherry cream sauce.
Throw in a dozen tasty sides ranging from tangy collards to hand-cut fries and a full lineup of burgers and wings, and you've got more big-eating options than you can shake a hickory stick at.
Family-Friendly Atmosphere
Despite the fact that Smoky Oak serves a wide variety of alcohol, they maintain a family-friendly environment. This is not a local dive bar.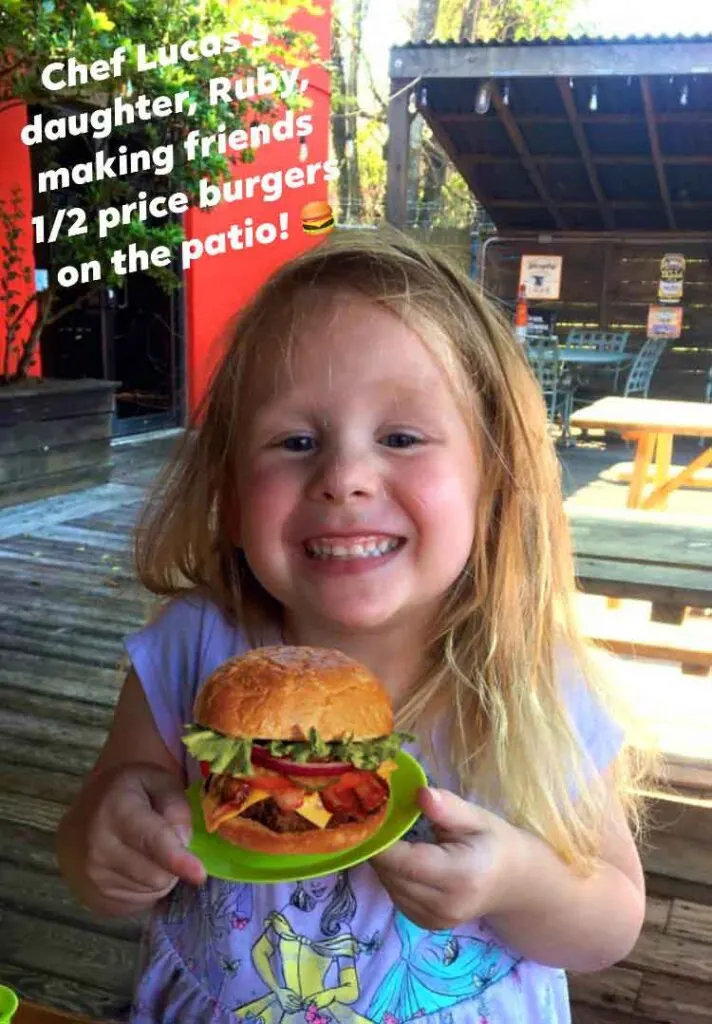 "You can come in here with your family for a nice meal," he said. "It's a family-oriented restaurant, where it's all about the food; simple enough, that's it.
"I love food, and I've been in the hospitality business since '85. This is what I love to do."
That said, Smoky Oak Taproom does indeed offer a wide variety of beer to choose from. Options include stouts, porters, wheats, and IPAs to go along with all the amazing food.
Finally, live music takes the stage at night, featuring artists as local as the native James Islanders.
Drop into Smoky Oak Taproom, James Island's favorite BBQ restaurant. See the address below or use the SC BBQ Trail map to help find your way.
What Folks are Saying about Smoky Oak Taproom
Google Review
Google's Local Guide Michael Miller in his Google Review found reasonable prices and a menu that you just can't go wrong with.
Incredible food and kids eat free on Sunday. You really can't go wrong with any food on the menu, and all of the sides are delicious.
The beer list is extensive, and there are plenty of TVs for watching the game. Plus, the prices are very reasonable.
My wife is crazy about the potato skins, and you can't go wrong with the pulled pork sandwich or platter. The brisket is really good too.
Then you just have to decide between all those mouth-watering sides!
Yelp Review
Over on Yelp, Jason B discussed a favorite spot near his home and shows he's almost as impressed with the atmosphere as he is with the food:
Smoky Oak is my neighborhood bar, and it's freaking awesome. The atmosphere is pretty cool with old car pieces and a massive bar.
Legit the most comfortable bar stools I've ever plopped down in, and this is coming from someone with back problems.
Firstly, the food is stellar. I rock the platter with sausage and pulled pork.
The sausage is super flavorful and the pulled pork just knocks it out of the park. Fries are 100% treaty here, both regular potato and sweet potato.
Nice gluten-free quesadilla too!
Huge patio and sidewalk seating outside. Tv's inside and out to catch whatever game you want!
The staff goes above and beyond. Everyone is awesome and down to earth.
In short, fast service, killer food, lots of alcohol.
---
Get to Know Smoky Oak
Menu for Smoky Oak Taproom
Note: Menu prices and options are subject to change over time. Contact the restaurant for the most up-to-date information.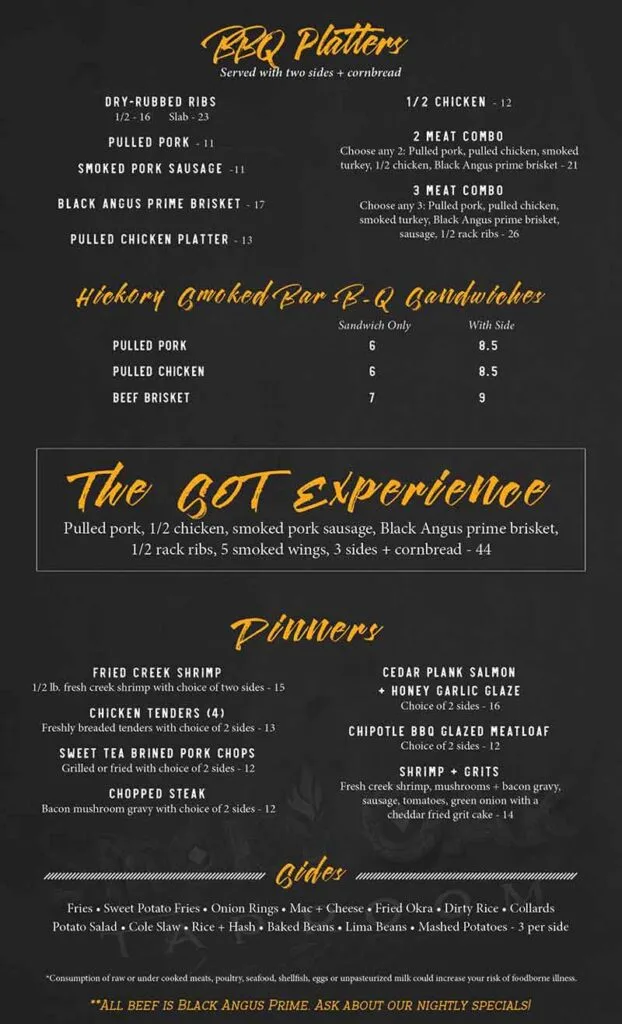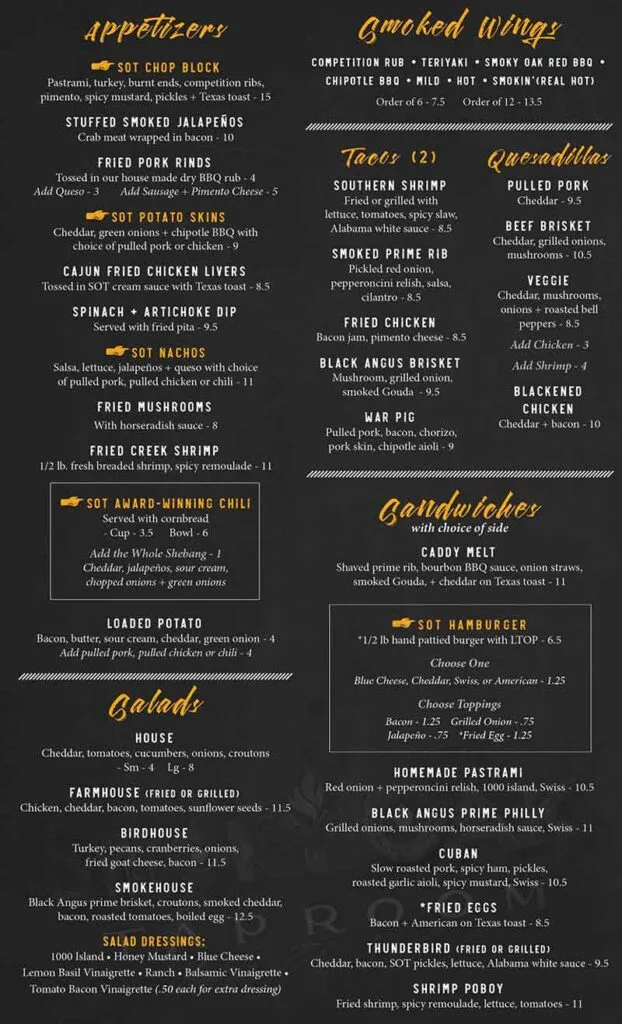 Location, Hours, Contact Info, and More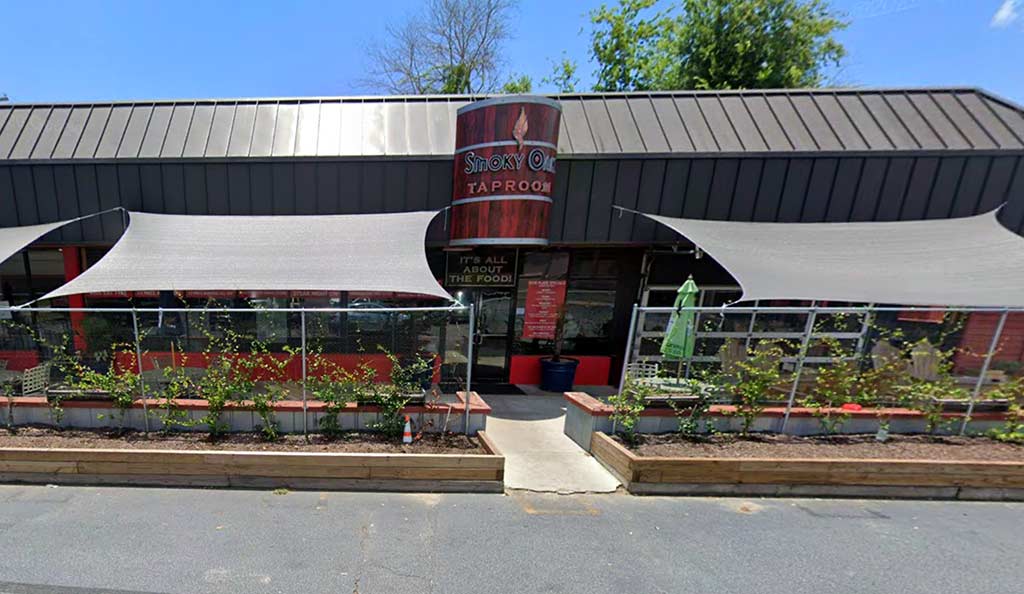 Map
Directions
Contact Smoky Oak Taproom ***Permanently Closed***
1234 Camp Road
Camp Shopping Center
James Island,
SC
29412
Hours of Operation
| | |
| --- | --- |
| Monday | |
| Tuesday | |
| Wednesday | |
| Thursday | |
| Friday | |
| Saturday | |
| Sunday | |
Social Media
Review Sites
Features
Cards and Cash, Hash, Heavy Tomato Sauce, Light Tomato Sauce, Mustard Sauce, Vinegar Pepper Sauce