This post may contain affiliate links to Amazon or other vendors I trust. Please read my disclosure policy. As an Amazon affiliate, I earn from qualifying purchases.
Guy Simmons, The Rib Guy, is one of Charleston's best-kept secrets, but not for much longer.
Locals know and love The Rib Guy, which you will find on Huger St. at the same place where Guy's father ran Guy's Variety Discount Store and Guy's Meats.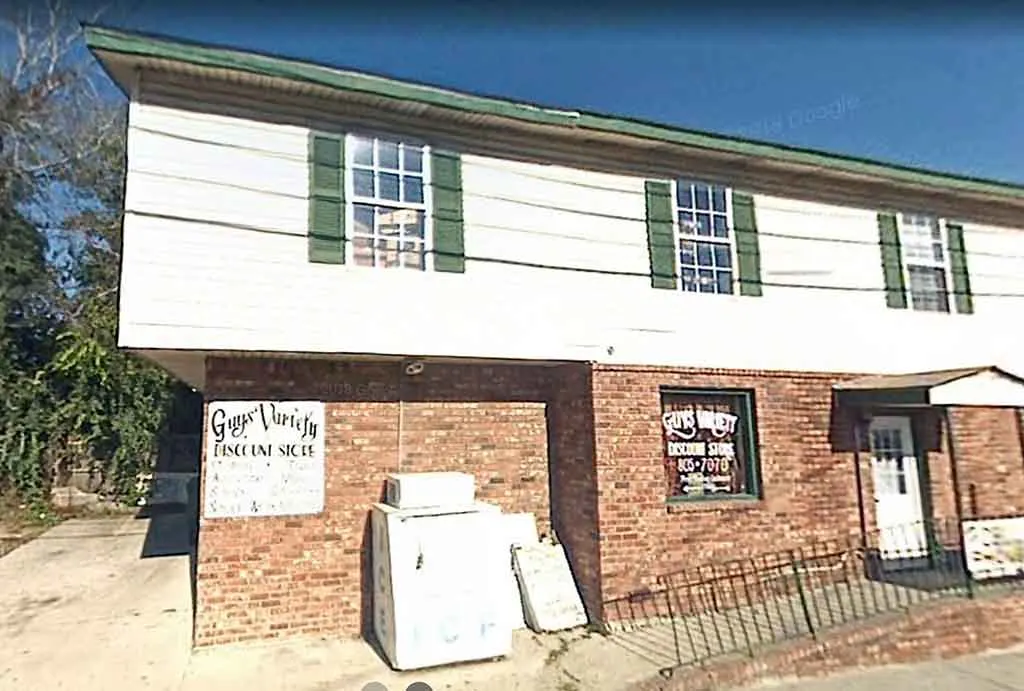 Today, Simmons continues to build on his father's legacy, collectively now serving his community for well over 20 years.
The menu is varied but always feels like it best represents the heritage of the neighborhood.
Crab rice, turkey wings, okra soup, and seafood salad are just a few of the options that will offer outsiders a taste that has lingered on the lips of true Charlestonians for generations.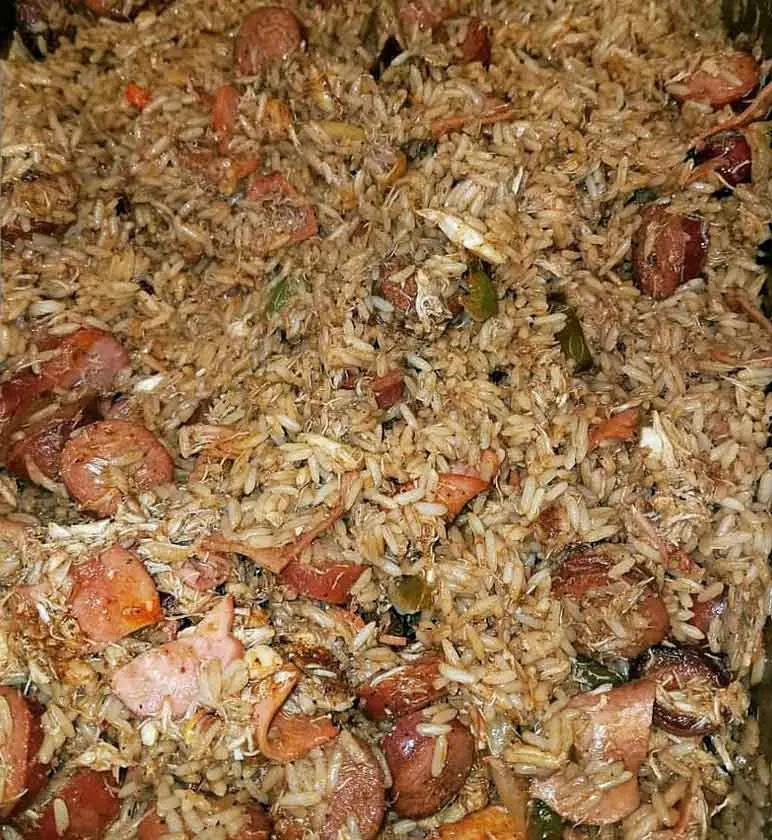 Then there are the classics: fish, pork chops, wings, and shrimp. But, make no mistake, Simmons is known as "The Rib Guy" for a reason.
Offering ribs by the slab or by the piece, Simmons serves juicy, tender ribs with the right kiss of smoke, spice, and sauce.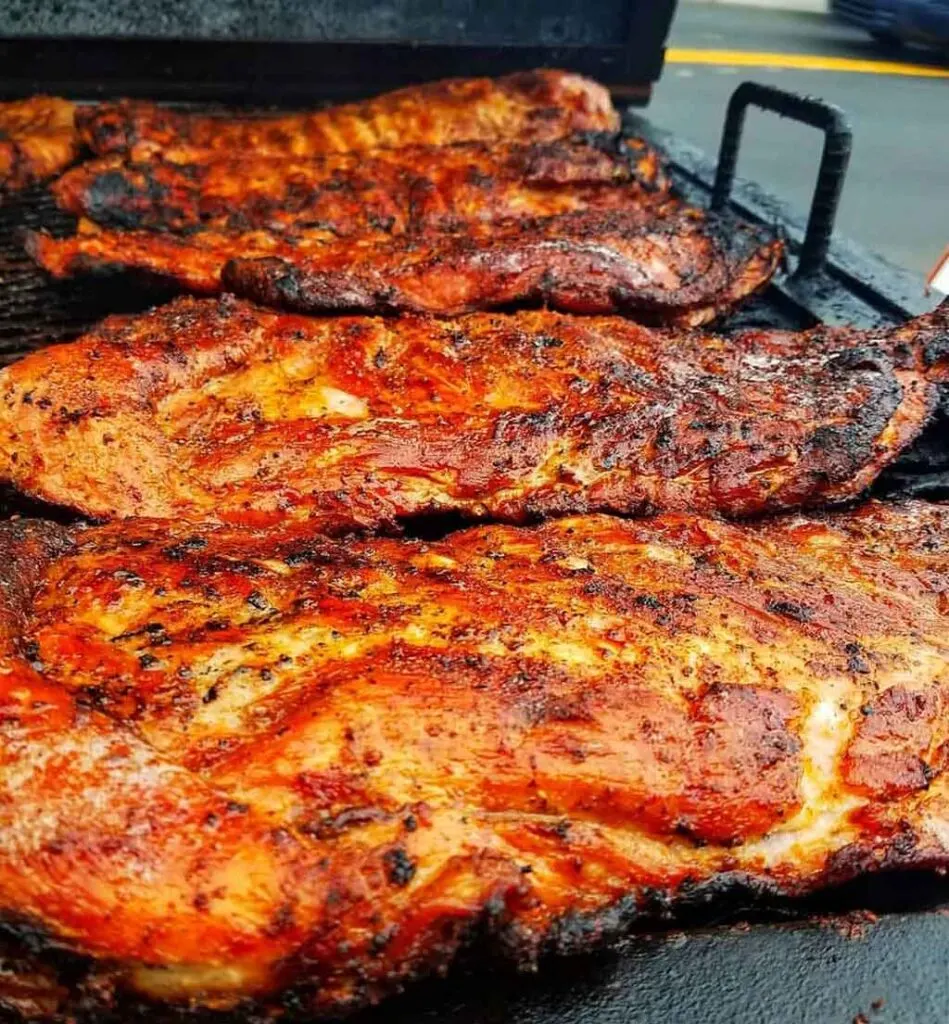 So, while Simmons might not (yet) be known as widely as some of his fellow pitmasters in Charleston, he won't be a secret much longer.
What Folks are Saying
Facebook Review
Among the many Facebook Reviews, Krissi Tolbert writes about the perfection of The Rib Guy:
I went there yesterday with two of my girlfriends and I must say that everything I ate was great!
The burgers were seasoned to perfection and they melt in your mouth. The ribs with the mix bbq sauce were so tender and will have you craving for more.
Make sure to wash it all down with some of his famous blue kool-aid. I am so ready to go back for more and try something different from the menu along with what I've already tried.
Perfect location…easy to find. The prices were good as well.
Make sure to check The Rib Guy out. Support your local black-owned business!!!
Yelp Review
Over on Yelp, Shari V liked The Rib Guy so much, she wrote a novel:
First, I want to say, the picture would have had the phenomenal baked chicken; however, I ate it all before I remembered I was going to do this review, but take my word for it; it's fall off the bone good!
Secondly, this food is so good community that it is my regular Saturday cheat day meal (that spills into Sunday).
Location:
The Rib Guy is located off Huger street across from Huriyali Cafe. Street parking is ample and it's not hard to get in and out from the location.
Service:
Consistently awesome! The owner Guy is very pleasant and quick to respond when larger orders are placed on the Facebook page.
I have placed orders for his famous Pineapple lemonade, ribs, as well as multiple dinner orders and they are always correct, fresh, and ready for pick up when I arrive.
Along with the owner, the other staff is just as welcoming and personable. It's well worth the drive just to interact with authentic who enjoy what they do.
Food:
My favorite meal is the cabbage, rice, with either baked chicken or a baked turkey leg.
The chicken and turkey legs are made with green and red peppers. When you pierce it with a fork it just falls off the bone. I am not a pork eater so the fact that he prepares his cabbage with turkey sausage and bacon warms my little heart.
(To make your own South Carolina style sausage, check out this homemade onion sausage recipe.)
It seasoned well and it is good soul food cabbage that has no crunch to it (yummm!) The Mac and cheese is also a must. You can for sure tell that you aren't getting noodles with a side of cheese.
The seasonings can be tasted throughout the entire serving. You won't leave a crumb behind.
When you go make sure you get the pineapple lemonade; it is the perfect finisher to the glorious southern soul food meal. I don't know what's in it; but it's heaven in a cup!
Menu:
Make sure you go to Facebook. There you will get updates on the menu and what will be served that day. The owner is very diligent and posting and responds really quickly to any questions or possible requests.
Get to Know Guy Simmons, The Rib Guy
Quintin Washington of Quintin's Close–Ups interviewed Simmons in 2018. Having attended Burke High School together, their relationship goes back a long way.
They discuss not only the food and how Simmons got his start, but also they delve into the changes happening in their community as it becomes more diverse.
Menu for The Rib Guy
Note: Menu prices and options are subject to change over time. Contact the restaurant for the most up-to-date information.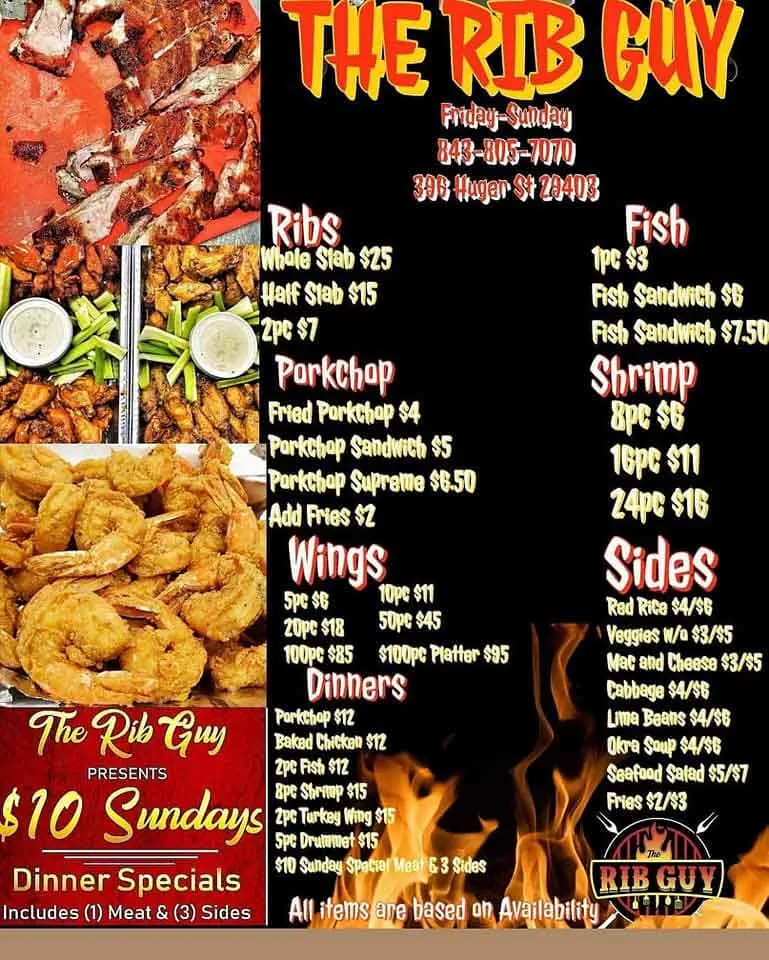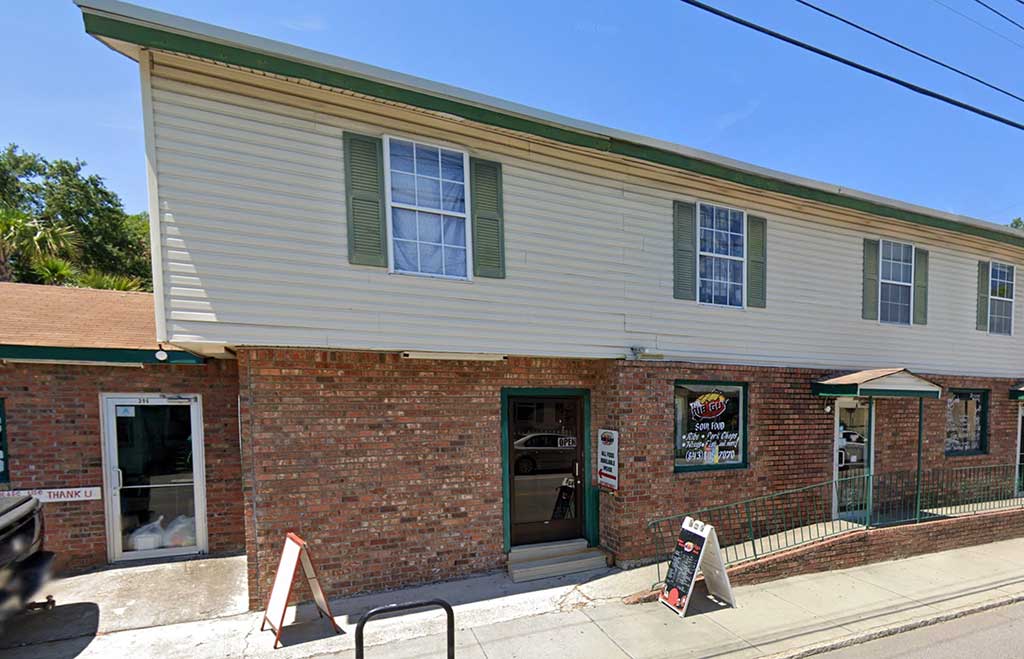 The Rib Guy
396 Huger St.
Charleston,
SC
29403
| | |
| --- | --- |
| Monday | Closed |
| Tuesday | Closed |
| Wednesday | |
| Thursday | |
| Friday | |
| Saturday | |
| Sunday | |
Features
Cards and Cash, Heavy Tomato Sauce, Light Tomato Sauce, Mustard Sauce, Vinegar Pepper Sauce