This post may contain affiliate links to Amazon or other vendors I trust. Please read my disclosure policy. As an Amazon affiliate, I earn from qualifying purchases.
Whether from Tennessee, Texas, Georgia, Louisiana, or the Carolinas, southern BBQ is the sweetest and most sultry taste around.
Complete with all the fixin's, Little Pigs' southern comfort food is sure to satisfy any appetite. Bring the whole family and experience the Anderson tradition for yourself.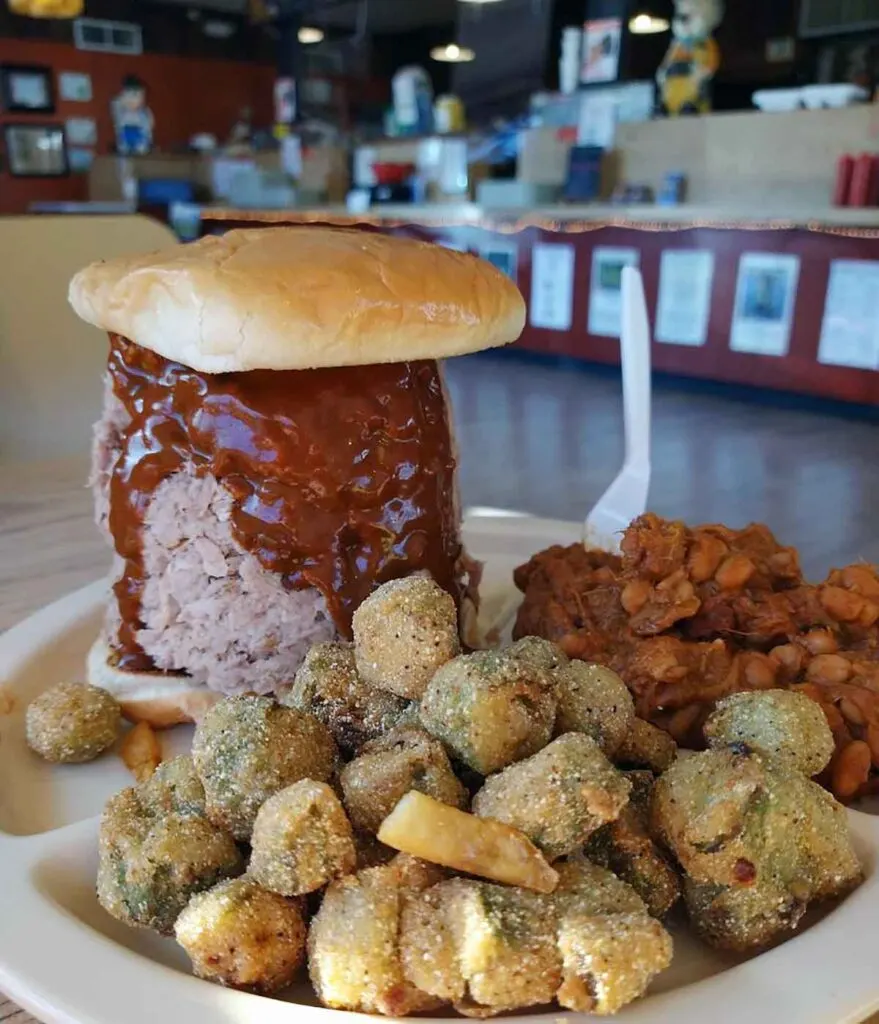 Piggin' out since 1965
Little Pigs BBQ of Anderson has been serving up delicious smoked meats and sides for half a century. It's an impressive feat for any business, but especially for a restaurant in a constantly changing industry.
According to co-owner Amy Lee, the restaurant's longevity is due in large part to the support of the Anderson community: "Anderson has supported this business for over 50 years. It wouldn't be here without them and we want to give back to the town that made us."
Little Pigs was originally a family business founded by Joe Dukes from 1965 until it was sold in 2013.
The current owners, Amy Lee and Matt Leonard, were approached by the Dukes family when they were considering closing the restaurant for good. Lee and Leonard couldn't bear to see that happen, so they bought the business and have kept things running the same ever since.
The restaurant remains a beloved institution in Anderson, with generations of families visiting over the years.
Lee says, "We hear stories all the time about people who came here as kids and now they bring their grandkids. This has always been a place where there are no strangers and you are considered family."
One long-time employee, Dan Morris, has been working at Little Pigs since they opened more than 50 years ago.
And it's not just the staff that has been loyal; many of the restaurant's customers have been coming back for decades. As Lee notes, "We wanted to carry this on for Anderson as much as for ourselves."
If you're in the Anderson area and looking for some authentic Southern barbecue, Little Pigs is definitely worth a visit.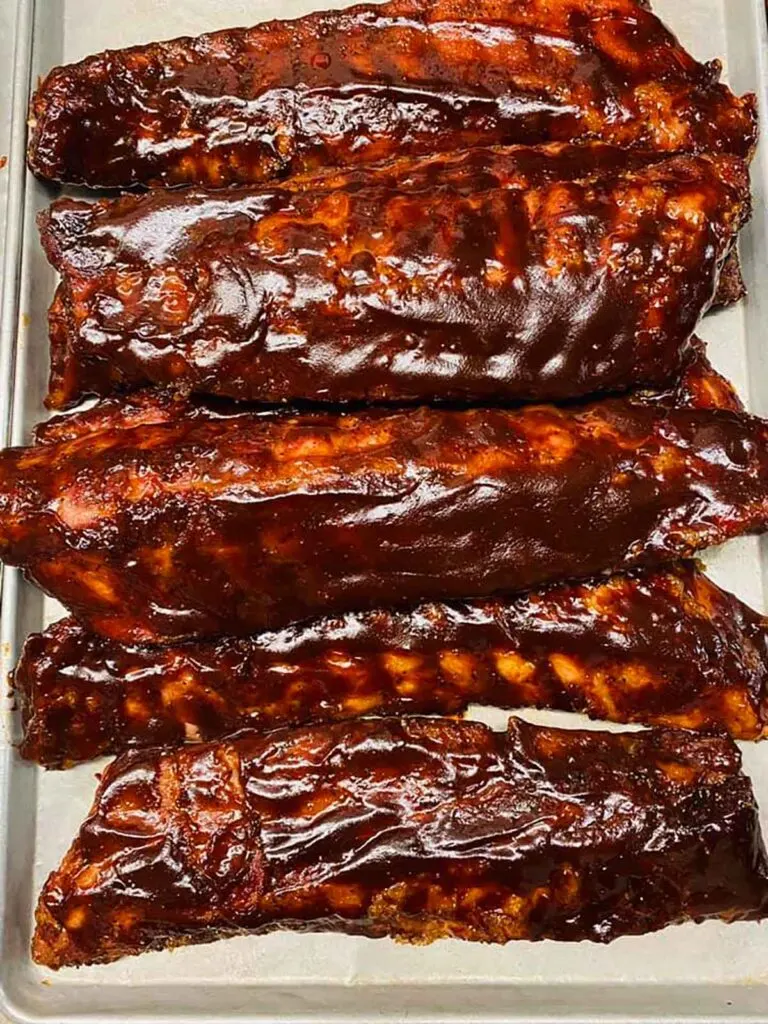 Food and Family
They offer a variety of meats, including pulled pork, brisket, and ribs, as well as classic sides like mac and cheese, collard greens, and baked beans.
As Lee says, "This has always been a place where there are no strangers and you are considered family. That's one of the reasons we wanted to do this."
Little Pigs BBQ of Anderson has become an iconic restaurant in the area, and it's easy to see why.
With delicious BBQ and a rich history, it's no wonder why so many people continue to visit the restaurant year after year.
Congratulations to the Little Pigs team for reaching such an impressive milestone, and here's to many more years of serving up delicious BBQ!
What Folks Are Saying
Google Review
Among the many Google Reviews, Local Guide Matt Edwards has a lot of experience eating at Little Pigs in Anderson, and he's still impressed:
Great BBQ and you get enough for at least two meals!
This is reviewing a to-go order but I have been going here for years and it is an excellent lean BBQ and one of the best mustard BBQ sauces I have had.
The To-Go plate was so full of food the container could nearly suffer the weight.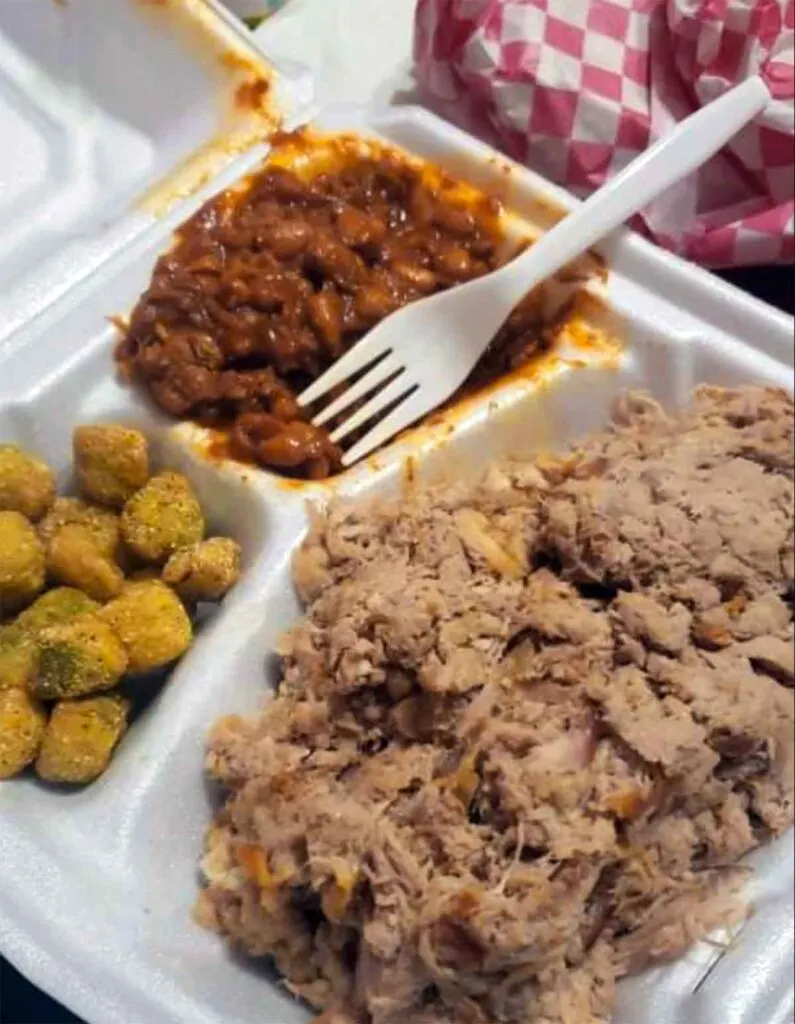 The sandwich was packed full of BBQ so much so you have to take off at least half of the BBQ to take a bite of the sandwich.
The coleslaw is really good and light on the mayo. The baked beans were great with bbq mixed in with the beans.
I even got a large container of mustard sauce to use at home and I normally order a vinegar-based sauce. The other sauces may be good too but we have always got the mustard sauce.
Highly recommend.
Yelp Review
Over on Yelp, Patrick E also leaned on years of eating at Little Pigs for his review:
Been eating here since I was a small child. Now as a middle-aged man I still love it.
The sauce is the boss here. The original sauce is just divine. Tangy as it has always been.
Now, they also offer mustard-based and a hot version of the original.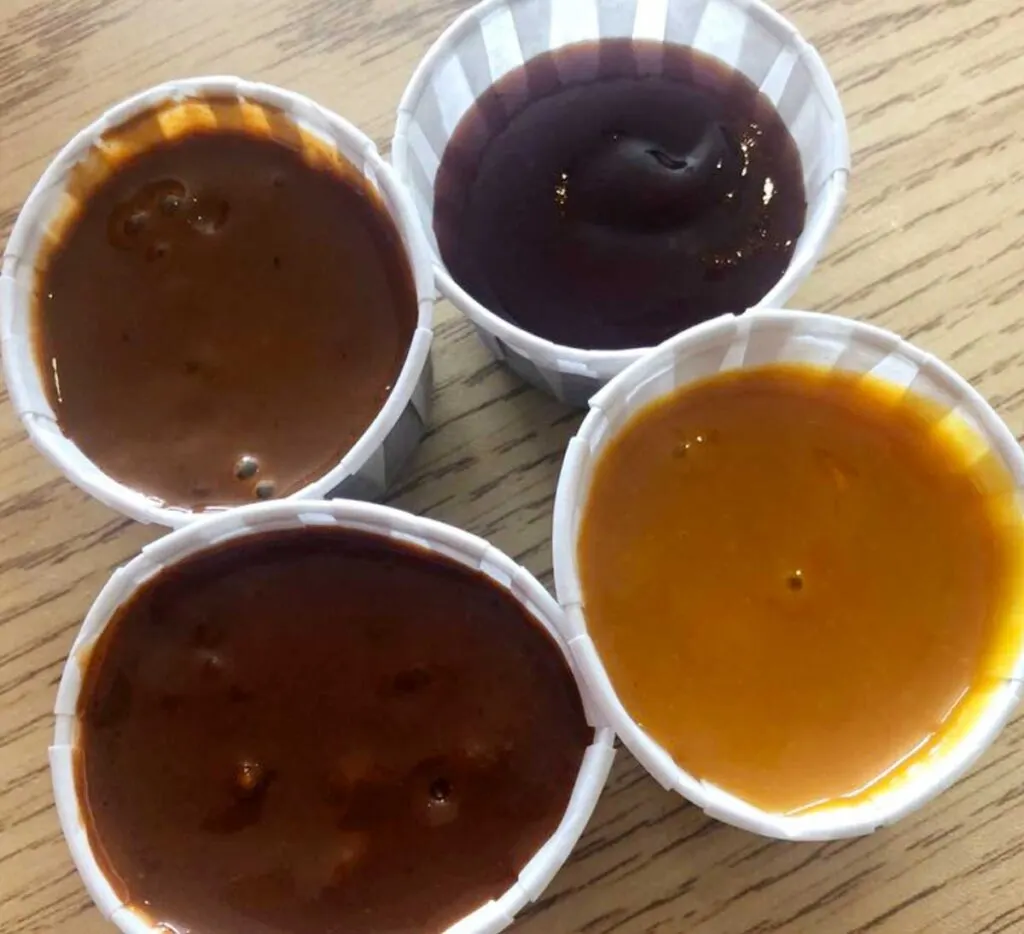 The portions are very generous and the prices won't break the bank. If you leave hungry it is your own fault.
It's been a fixture in the Anderson community since the 1960's – and for good reason, it's just simply good BBQ.
SC BBQ Association
Sure, folks on review sites often have great things to say about a place, but what about the folks who really know SC BBQ better than anyone?
What about the folks who actually train the judges for SC BBQ competitions? What do they think of this place?
The SC BBQ Association has named this place one of the Top 100 BBQ houses in the state.
There are hot dogs, chicken fingers, grilled cheese, ham and cheese, ham sandwiches, and other basic diner fare but if you want to see how it was in the 1960s and 1970s in towns across the South, duck into The Little Pigs and get a plate.
What you will get is barbeque done in the original Little Pigs style, which is, for all practical purposes, Georgia style.
The people in Anderson have been doing it for forty-five years and Little Pigs is as popular as ever.
(NOTE: During Summer Little Pigs is open an hour later: Tues. – Sat. 11 am – 9 pm)
---
Menu for Little Pigs BBQ in Anderson
Note: Menu prices and options are subject to change over time. Contact the restaurant for the most up-to-date information.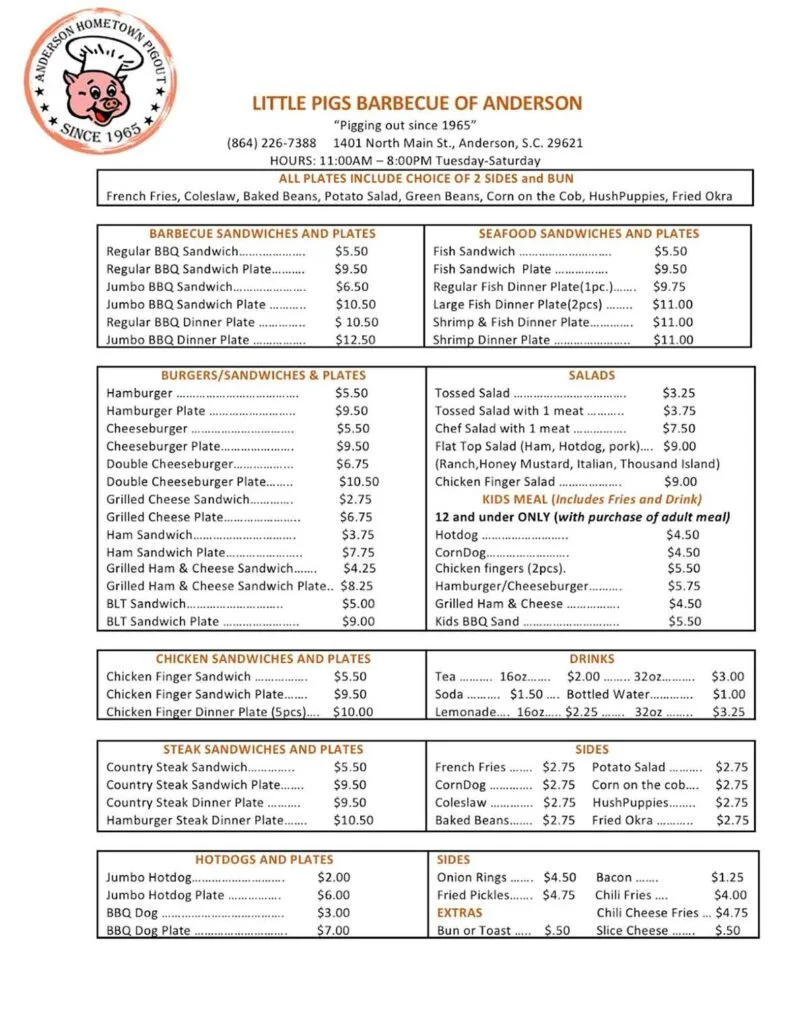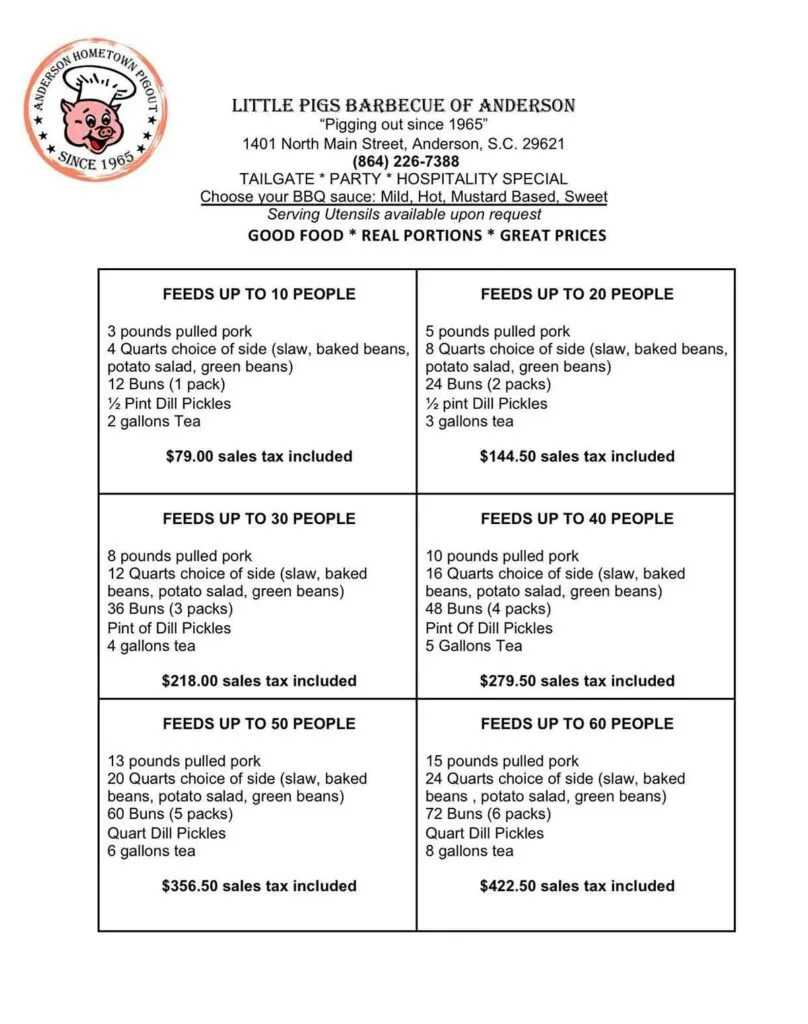 Location, Hours, Contact Info, and More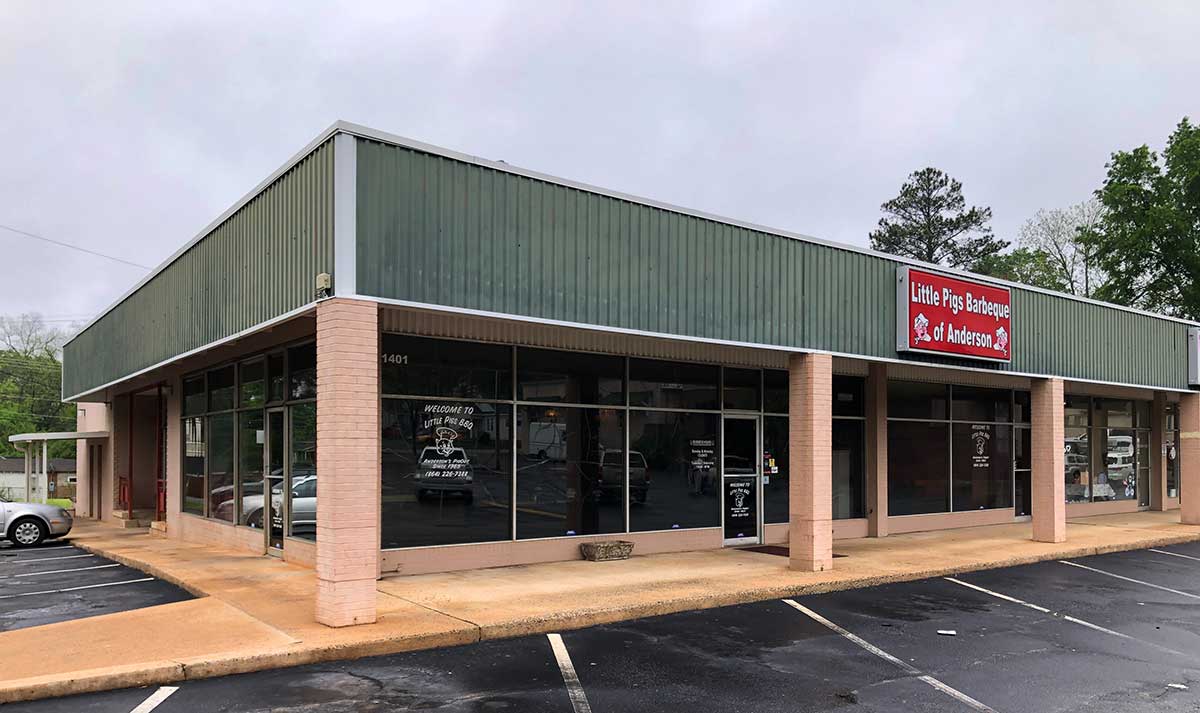 Map
Directions
Contact Little Pigs of Anderson
1401 N. Main Street
Anderson,
SC
29621
Hours of Operation
| | |
| --- | --- |
| Monday | Closed |
| Tuesday | |
| Wednesday | |
| Thursday | |
| Friday | |
| Saturday | |
| Sunday | Closed |
Social Media
Review Sites
Features
Cards and Cash, Heavy Tomato Sauce, Mustard Sauce