"The Wood Makes it Good"
This post may contain links from which I earn a commission. Please read my disclosure policy. As an Amazon affiliate, I earn from qualifying purchases.
At Circle M BBQ in Liberty, pitmaster Marion Martin, the Picasso of Pork, smokes whole pigs, only using hickory wood coals in the 12-24 hour cooking process.
This pit BBQ brings to the table a taste unlike any other. Martin has been cooking BBQ the old-fashioned way for more than 37 years.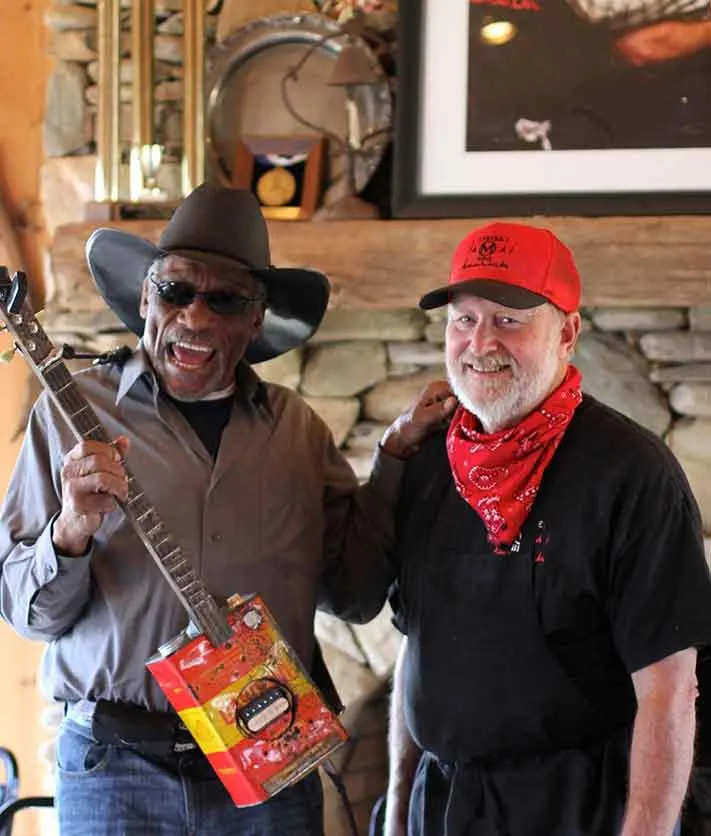 He welcomes all – providing a friendly and family atmosphere – possibly enjoying the open fireplace on a cold evening.
In addition to the hand-pulled BBQ pork, they offer smoked ribs and chicken. Their sides include baked beans, marinated slaw, and Brunswick stew.
Several articles from local newspapers and even Southern Living boasted about Circle M BBQ.
Martin's secret is to cook whole hogs, at one time, the way he learned as a young man from relatives near Kingstree.
He uses a pit, just like his wife Mary's relatives taught him when the young couple was dating while attending Clemson. Her family taught him to only use a vinegar-based, mopping the hog as it slowly cooks over hickory coals.
Using this technique, the sauce spreads throughout the meat along with the juices from all parts of the hog. These flavors intermingle with the light smoke from the embers to offer a taste you simply cannot get just using butts or shoulders.
"Our profit margin isn't nearly as high as it is for the folks that only cook a butt in the smoker," Martin said.
"You don't need sauce with Circle M barbecue," he said. And you simply don't. There are no words for how good this barbecue tastes.
But that sauce is awfully good, too. In fact, Lake High, founder of the SC BBQ Association, said Martin's sauce "may just be the best in the state."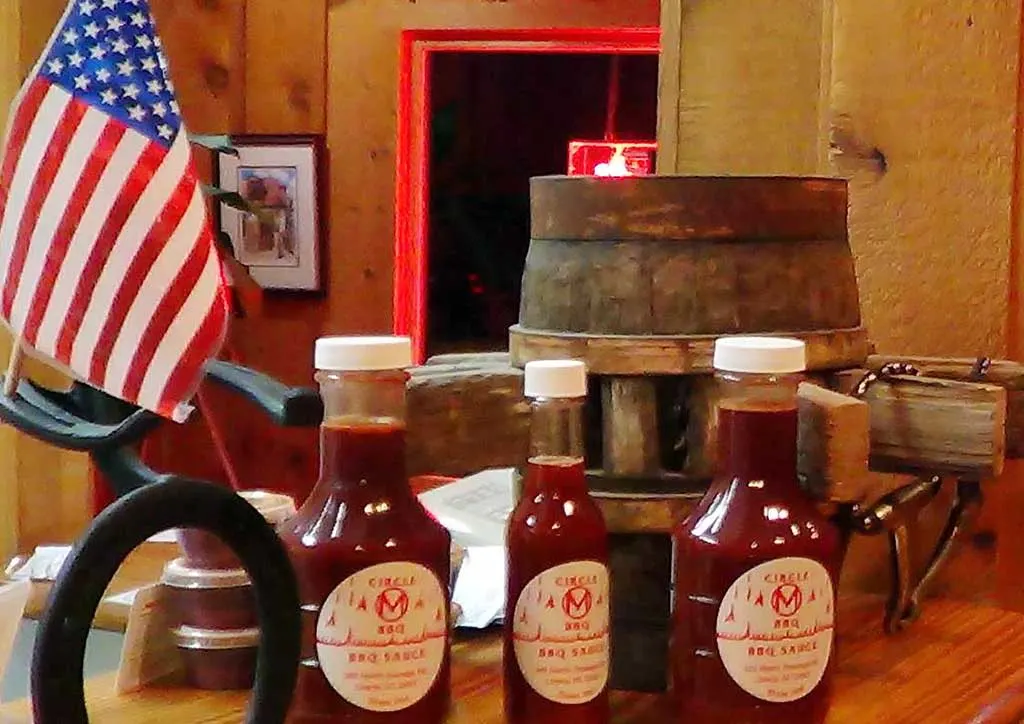 No surprise that Circle M BBQ's sauce recipes are a closely held family secret.
Martin said his wife developed their recipe for Brunswick stew. The stew contains a tasty mix of veggies and meat fresh off the pit. Working together, they got it right.
"Circle M is simple and simply good. They have barbecue, ribs, real barbequed chicken, marinated slaw, Brunswick stew, beans, and rolls. That's it. But what an "it" it is," High said.
But High is not the only one talking about Circle M BBQ.
What do People say about Circle M BBQ
On Yelp, Joe E compares Circle M BBQ to what is widely considered the best BBQ joint in SC:
"The whole hog pork is special. If you know about Scott's in Hemmingway, you could compare it to Circle M.
"It doesn't need extra sauce as they must mix some in when they pull it; the sauce in the meat is vinegar-based with a bit of a kick perhaps from paprika and other spices.
This is the best pork BBQ in the entire Upstate of SC and that is saying something, with great places like Smokin' Pig also in the upcountry.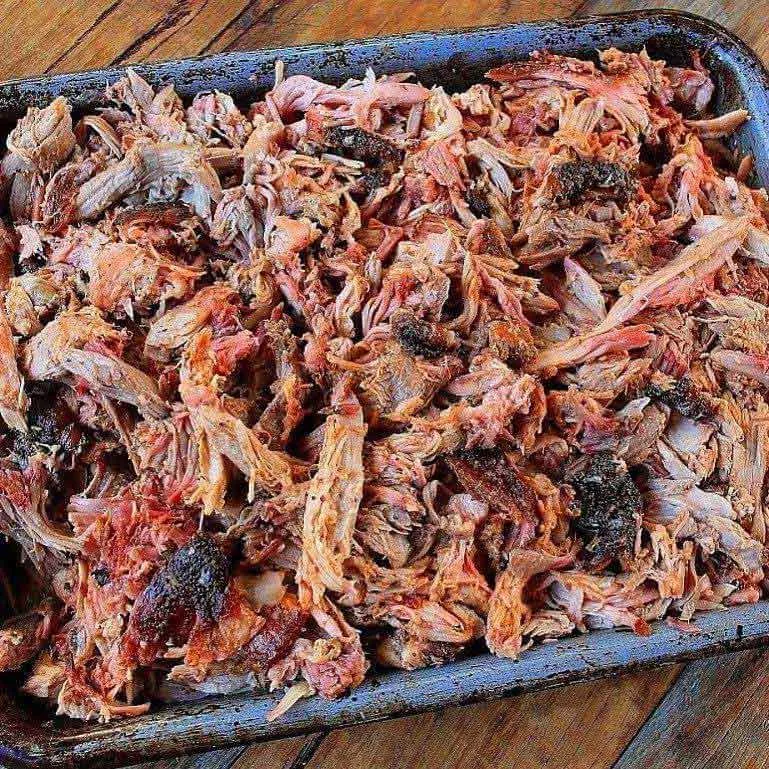 "The smoked chicken has a deep rub and is juicy, especially the dark meat. The surprise on the menu is the Circle M Dog, a smoked wiener, topped with a bit of their pork Q, and a heavy dose of their vinegar-based slaw.
Other hot dogs see this and claim it's just not fair!"
Again on Yelp
Also on Yelp, Cyndi B just gushed over Circle M BBQ:
"Wow, and wow again, y'all! We have passed by this place several times and tonight we let our curiosity steer us in the parking lot.
"When we entered, we were greeted by some nice ladies who talked us through the menu. It's a simple menu but it packs lots of huge flavor.
We settled on the 3 way so we could taste the pulled pork, ribs, and the chicken! We chose the coleslaw and baked beans for our sides and we each also got the Brunswick stew so we would not have to share.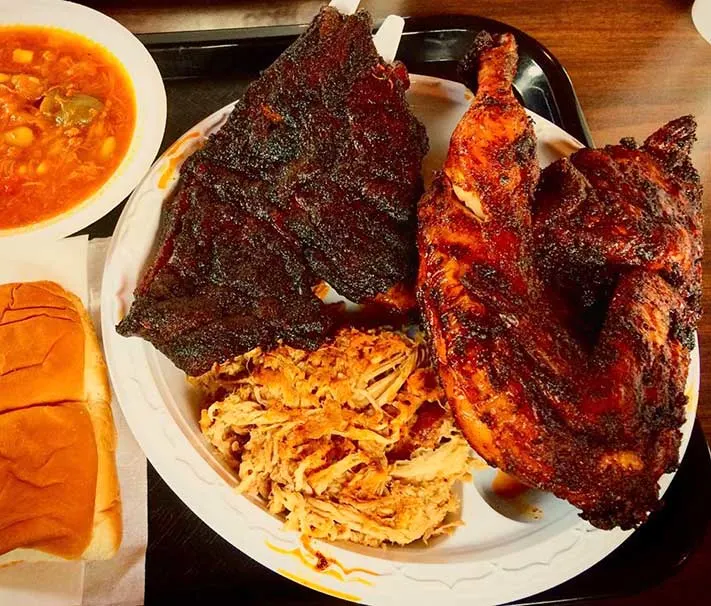 The food total was $26 that included our bottomless tea.
"Once you order and pay, you grab a tray, collect your food and drinks and make your way to the table of your choice. Large open dining area where the large fireplace is the main focus and lends to the ambiance of the space, as well as heat.
"The meat is cooked over hickory which is a popular low country method and includes pepper and vinegar seasoning. The ribs were some of the best I have ever had, I could have chewed the bones because it was all so tasty.
The chicken was moist on the bone and the flavor was delicious. The coleslaw was good, but I could only afford a couple of bites because their slaw included onions and I have an allergy.
The Brunswick stew and the pulled pork were delicious and very unique and all had good portions.
"This entire experience was great and we loved the friendliness and sense of comfort and community throughout.
We will be back and I intend to be hungry and order lots more ribs and pulled pork because they were my favorite."
If you're taking a road trip on Interstate 85 near Anderson, hop-off at Exit 21 onto 178 and head north. Circle M BBQ will be just under 10 miles from the exit. Just stay on 178 until you see it on your left.
Recognized as 100-Mile BBQ
The SC BBQ Association has deemed Circle M's BBQ to be 100-Mile BBQ — BBQ worth driving 100 miles for. In his review, Lake High, founder of the SCBA, was clearly a fan in this excerpt from the longer review:
When I got some of that succulent barbeque I was so pleased that I ordered an extra pound to go. Plus, I also got a cut of those smoky ribs to go.
His barbeque has just enough smoke to make it very pleasing but it is not over smoked. It has a unique flavor slightly different from most barbeque I've had around the state but his is not only different, it's better.
His ribs are more heavily smoked but they were dry-rubbed and then all that was added was the vinegar and pepper sauce. They were so tender the bones pulled right out.
---
Menu for Circle M BBQ in Liberty
Note: Menu prices and options are subject to change over time. Contact the restaurant for the most up-to-date information.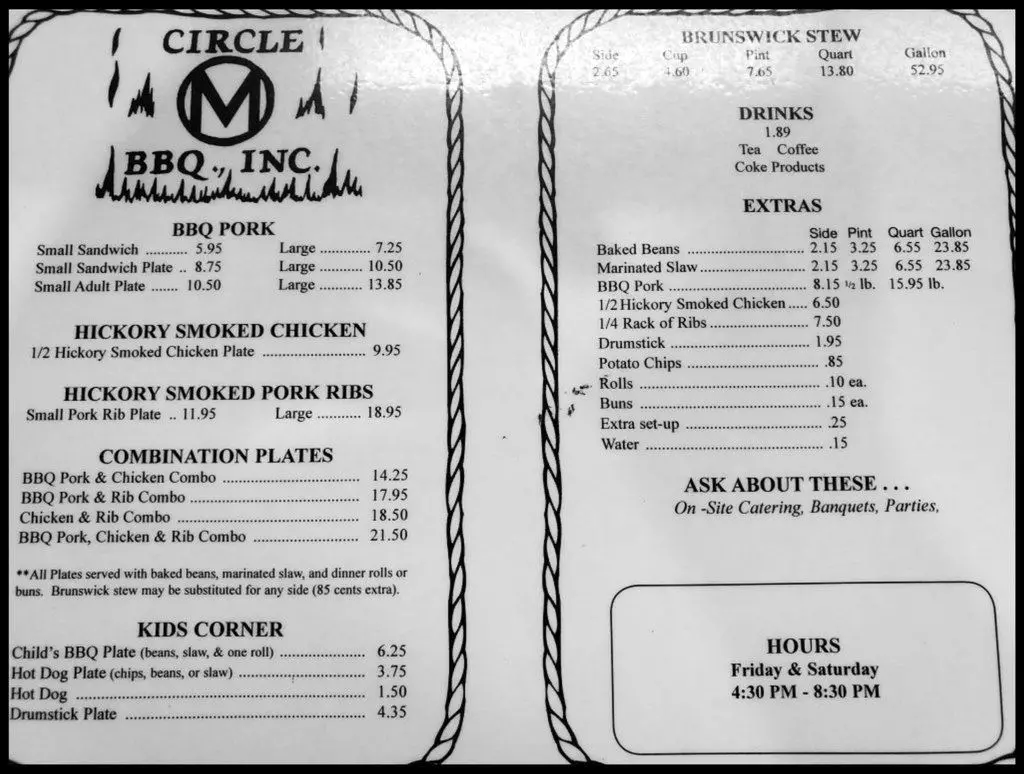 Location, Hours, Contact Info, and More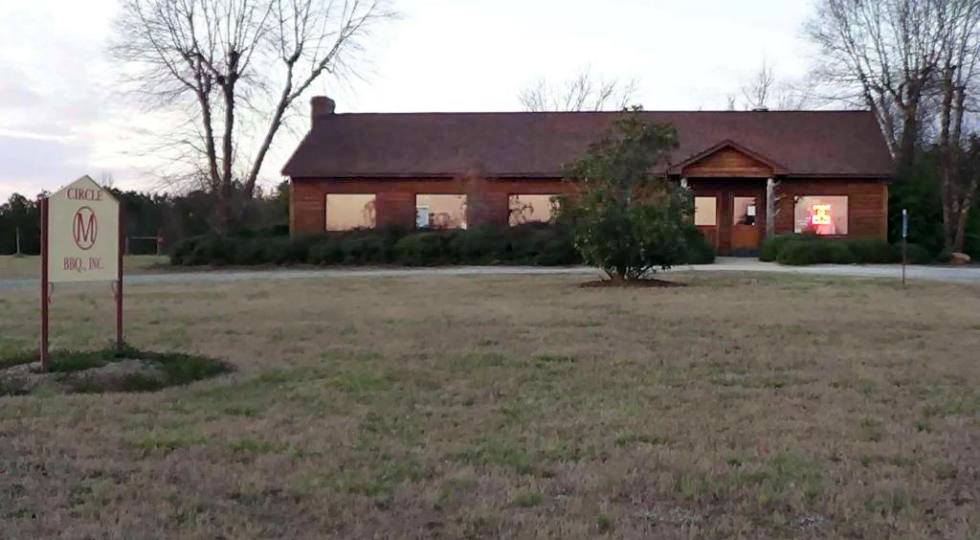 Map
Directions
Contact Circle M BBQ
345 Martin Sausage Road
Liberty,
SC
29657
Hours of Operation
| | |
| --- | --- |
| Monday | Closed |
| Tuesday | Closed |
| Wednesday | Closed |
| Thursday | Closed |
| Friday | |
| Saturday | |
| Sunday | Closed |
Review Sites
Features
100 Mile BBQ, Cards and Cash, Mustard Sauce, True 'Cue Certified, Vinegar Pepper Sauce, Whole Hog