This post may contain affiliate links to Amazon or other vendors I trust. Please read my disclosure policy. As an Amazon affiliate, I earn from qualifying purchases.
"We've been waiting for this place."
That's the refrain CJ's BBQ 2 Go owner John LaBarge has been hearing from folks who've tried his barbecue for a while now. Now, the dream is a reality.
CJ's can be found in the Lake Greenwood Shopping Center in front of the KJ's Market in Coronaca and serves a variety of to-go barbecue in a renovated space, which includes a smokehouse out front.
CJ's BBQ 2 GO specializes in brisket, pulled pork, ribs, hash, and chicken. Drop by to select your favorite meats, barbecue sauce(s), side items, and drinks.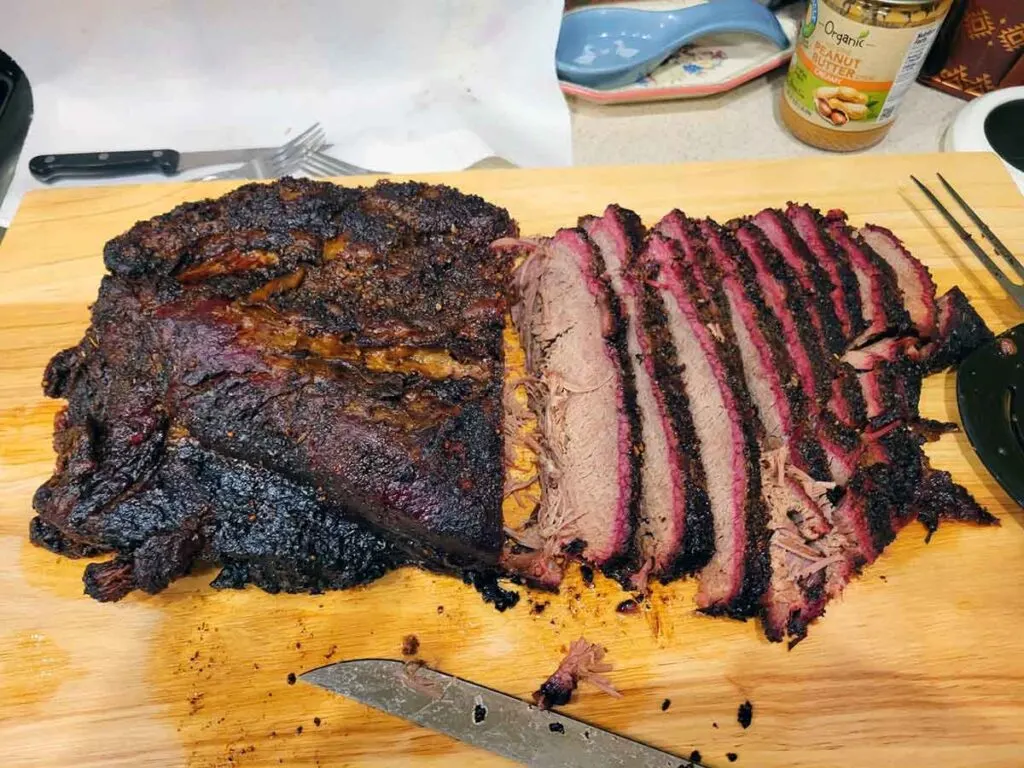 LaBarge has been a resident of the Greenwood area for over 15 years. Initially, he worked as a medical device engineer and consultant. But then COVID-19 hit.
LaBarge, who had long been making barbecue as a hobby, suggested opening a restaurant to his wife and son.
How it All Began
"I got started when I lived in Texas," LaBarge said. "I built a brick grill with the capability to do indirect cooking.
"After I moved to South Carolina (2005), I bought a smoker with an offset burning chamber and began smoking meats on a regular basis. Everyone raved about the BBQ meats I produced.
"I finally decided it was time to share the fruits of my labor with the public when I built my restaurant in what used to be a convenience store."
Now, LaBarge and his son Cliff Reda work as partners in the restaurant.
"We use a mix of pecan and hickory wood."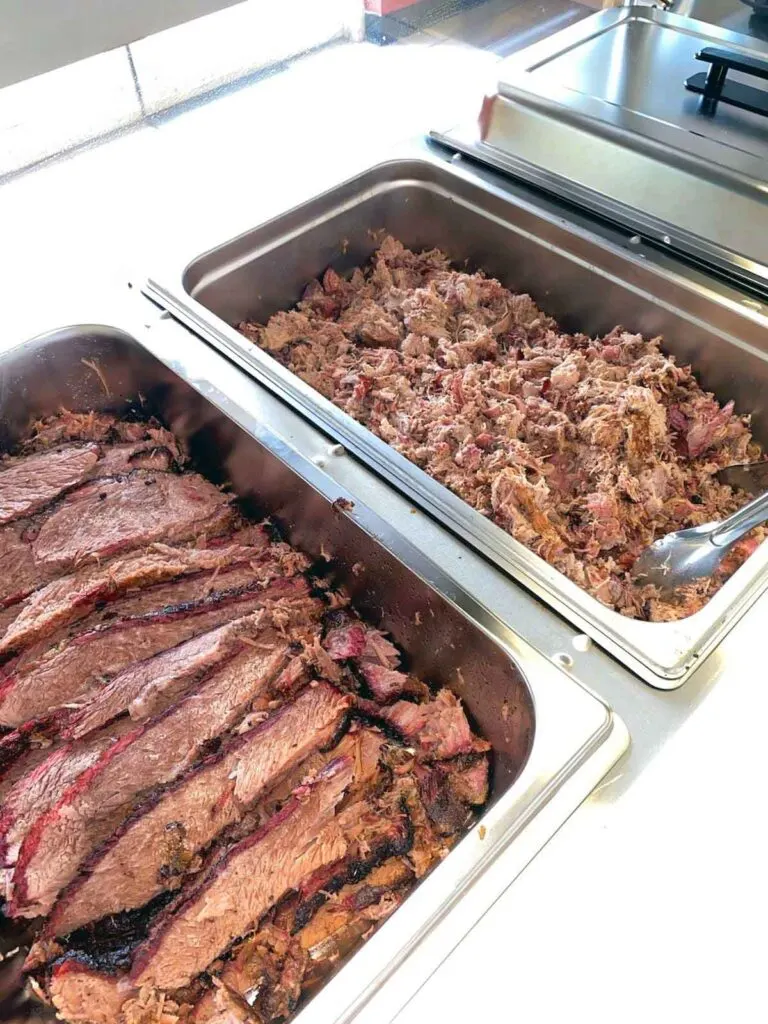 Creating Comfort
His goal was to create those comfort foods that busy people simply don't have time to make. And he found the right location to do it. Nearby, there is lots of industry where people can leave, dropping by on their way home to grab a meal that was smoked for over 14 hours.
In addition to the items mentioned above, CJ's BBQ 2 Go also serves smoked sausage and offers five types of barbecue sauce and a handful of sides.
The sauces are Kansas City style, Memphis style, Louisiana Hot, Carolina Gold, and Eastern Carolina (thin with vinegar). The customer can select which type of sauce they would like on their meats and we will apply it for them.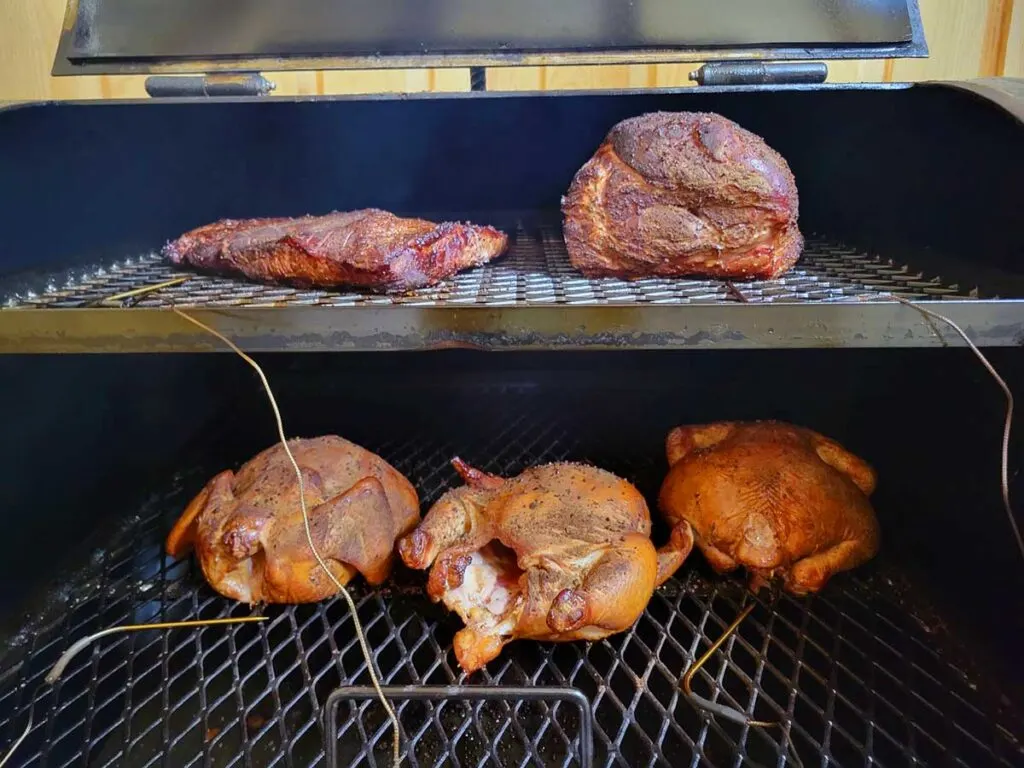 CJ's BBQ 2 Go cooks whole briskets, pork butts, St. Louis style ribs, chicken and sausage using wood/charcoal offset burning smokers.
Some of the pork butts are used to make hash, which sells out quickly. They make from pork butt and Carolina Gold BBQ sauce.
All of the food is To-Go because CJ's BBQ 2 Go is a small facility with no space for seating.
What Folks are Saying
Google Review
Among the Google Reviews, Local Guide Daniel Stegall was impressed by the food and the people at CJ's BBQ 2 Go:
The food here is fantastic!
Yes, it is take-out only, and they sell out fast because it is so good. I got there on Friday at around 5:30. The people ahead of me got the last of the brisket and the peach cobbler.
The ribs and pulled pork were delicious! Very nice people running the place.
Facebook Reviews
Over on Facebook, several customers chimed in with their thoughts shortly after CJ's BBQ 2 Go opened its doors:
Awesome, unique, phenomenal Pulled Pork and Hash. The best BBQ in Greenwood! Dinner only right now but looking forward to when they offer lunch. – Sharon Knight (Editor's note: CJ's is now open for lunch)
Great food!! I got the chicken and the pulled pork. Both were VERY good! My husband and I weren't disappointed and can't wait to try more!! – Kaitlyn Jordan Upchurch
Pulled Pork two weekends in a row for different events. Some of the best around. Will definitely be going back. – Paul Cobb
This was the best bbq we have had in Greenwood!!! The leftovers were even better! – Chelsea Hoover
Menu for CJ's BBQ 2 Go
Note: Menu prices and options are subject to change over time. Contact the restaurant for the most up-to-date information.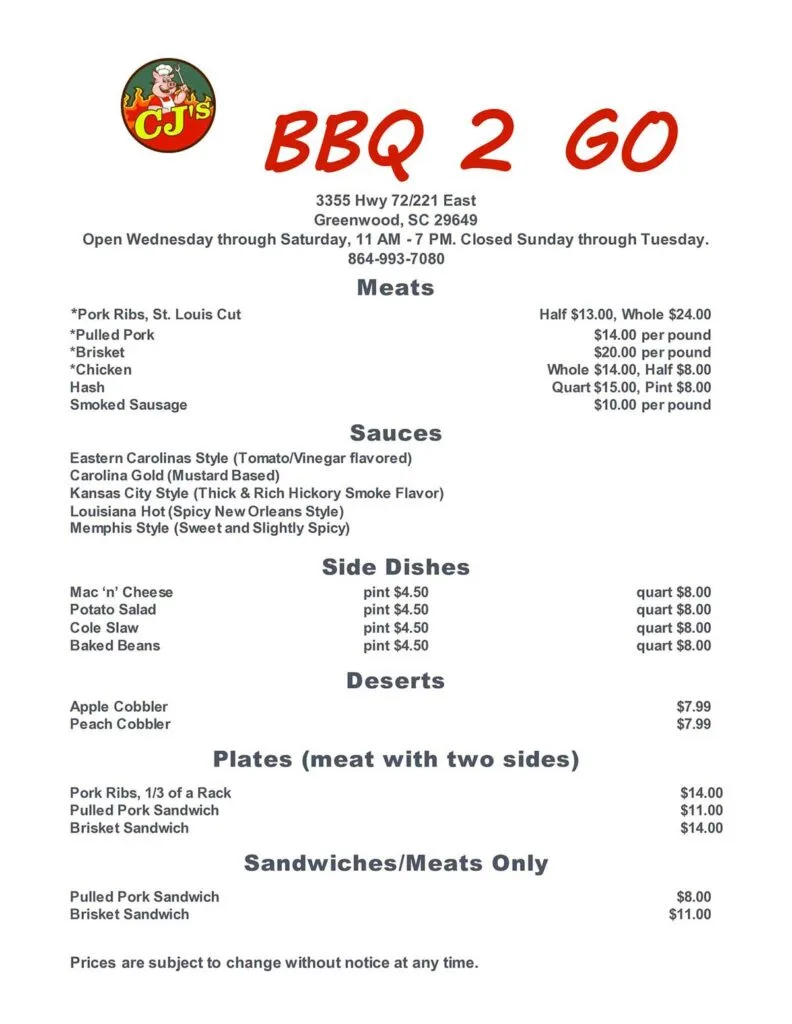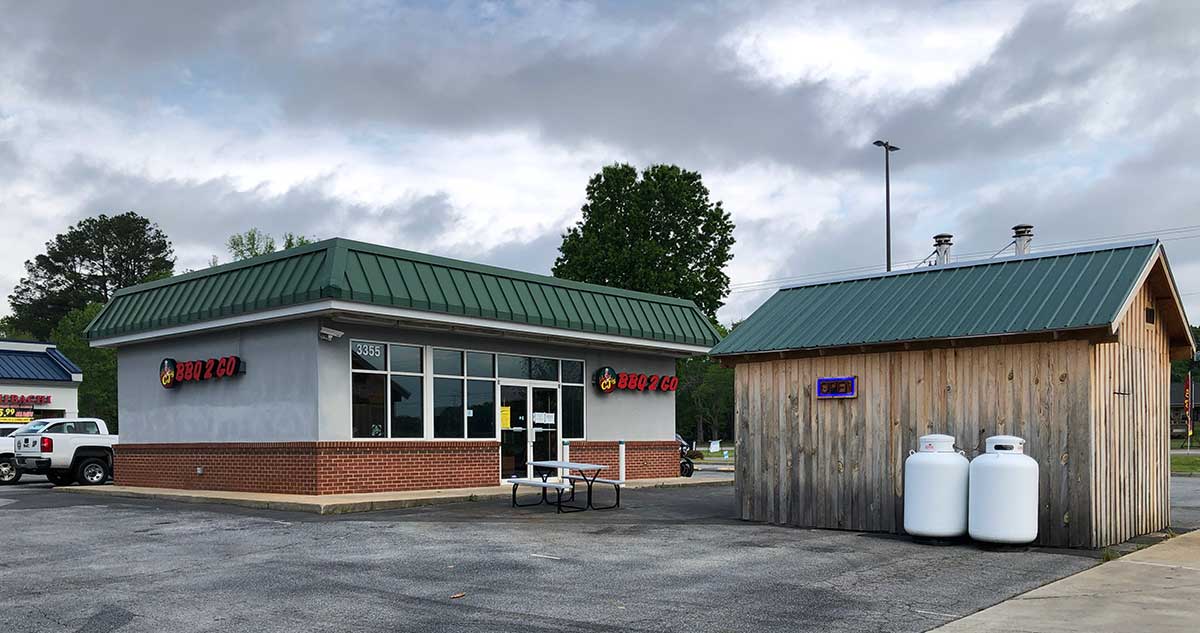 CJ's BBQ 2 Go
3355 Hwy 72/221 East
Greenwood,
SC
29649
| | |
| --- | --- |
| Monday | Closed |
| Tuesday | Closed |
| Wednesday | |
| Thursday | |
| Friday | |
| Saturday | |
| Sunday | Closed |
Social Media
Features
Cards and Cash, Hash, Heavy Tomato Sauce, Light Tomato Sauce, Mustard Sauce, Vinegar Pepper Sauce