Dukes Bar-B-Que on Spruill Ave. ***Permanently Closed***
This post may contain affiliate links to Amazon or other vendors I trust. Please read my disclosure policy. As an Amazon affiliate, I earn from qualifying purchases.
The Dukes Bar-B-Que on Spruill Ave. has been in business for decades.
Serving only for a short time on Friday and Saturday nights, they actually cook the BBQ in Orangeburg, the birthplace of the many loosely connected Dukes restaurants now scattered across the SC Lowcountry.
Dukes Bar-B-Que on Spruill Ave. serves a buffet in the same humble location they began serving from years ago. Open Friday and Saturday from 3 pm until they sell out.
When it comes to SC BBQ, Dukes is one of the great family names.
You will find a number of Dukes restaurants scattered throughout the Lowcountry of South Carolina. Dukes is not a franchise or a chain despite what many people may assume.
All are loosely connected by family ties, but they are all separate and unique entities, but the Dukes Bar-B-Que on Spruill Ave. stands out as one of the originals.
A Short History
This article by Robert Moss, published in the Charleston City Paper, sheds some light on this family BBQ business and its history, going back to the legendary Earl Dukes of Orangeburg.
Dukes is famous for spawning the "Orangeburg Sweet" mustard-based BBQ sauce that is really a mixture containing mayo, mustard, and ketchup, according to a source we spoke with at Antley's in Orangeburg.
Here's a bit more on the history of Duke's BBQ, from Lisa Warner, the owner and granddaughter of Elma Ott.
Elma started the Dukes Bar-B-Que on Spruill Ave. in the 1950s, and they've been in the same location ever since.
She claims that the two other Dukes locations are direct descendants — one in Orangeburg and one in St. George (now closed). The pits are located at the Orangeburg restaurant, and that is where they cook the hogs.
Then, they distribute the BBQ to the other two locations each week. The many other Dukes BBQs scattered around the state are all "basically related" Warner noted.
For example, the Dukes in Ridgeville belongs to Elma's niece.
A Peek Inside Dukes Bar-B-Que on Spruill Ave.
As for the Dukes Bar-B-Que on Spruill Ave., you will find it in a humble white cinderblock building with no signs out front. Look for the hand-painted lettering on the broad front window.
Despite the fact that this is a true SC BBQ joint, you will not find smoke billowing from the pit out back. In fact, there is nothing that really advertises its presence other than word of mouth.
Simply put, when you've been in the BBQ business for around 7 decades, you don't really need to.
On top of that, they're only open for a few hours on Fridays and Saturdays.
But if you get there when the timing is right, you're in for a treat. Walk inside and pay for their all-you-can-eat buffet.
Today, "buffet" brings images of grand spreads and thousands of choices, but the buffet at Dukes Bar-B-Que on Spruill is just as sparse as the outside of the building.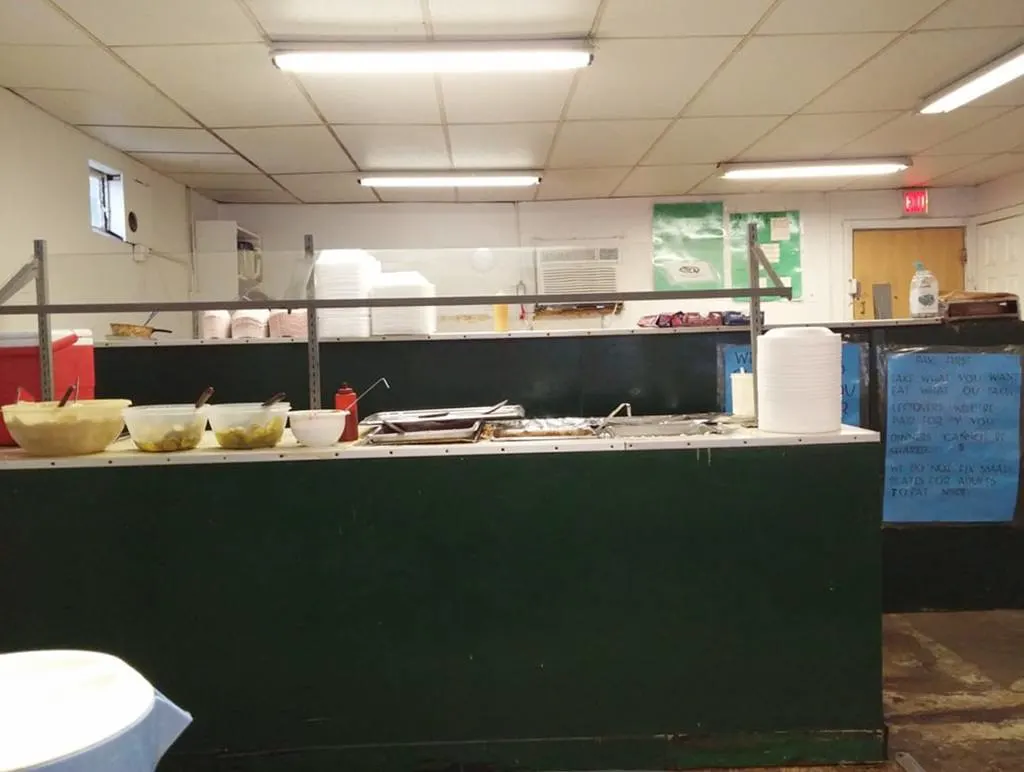 What's on the Menu at Dukes Bar-B-Que on Spruill Ave.
At Dukes Bar-B-Que on Spruill Ave., you'll only find pulled pork, white rice, hash, and slaw. That's it. Go to Jim 'N Nick's if you want those fancy little cornbread muffins.
Want a ton of other sides to choose from? The Dukes on James Island might be what you're looking for.
As for the sauces, you also get a choice of two — mustard-based, a mustard sauce recipe which is typical of all Dukes, and a "hot" red sauce that does have a bit of a bite.
We can't mention Dukes without talking about their hash. SC BBQ hash is a meaty, stewlike gravy, often served over white rice. Hash varies in consistency, ingredients, and taste around the state, but all are special.
Also, as is typical in many Dukes restaurants, you will find pickles –they have three varieties. They also serve sweet tea and place a loaf of Sunbeam brand white bread on each table.
Speaking of seating, Dukes provides bench-style picnic tables complete with a checkered table cloth.
For dessert, you can pick from Red Velvet cake or the silky smooth banana pudding.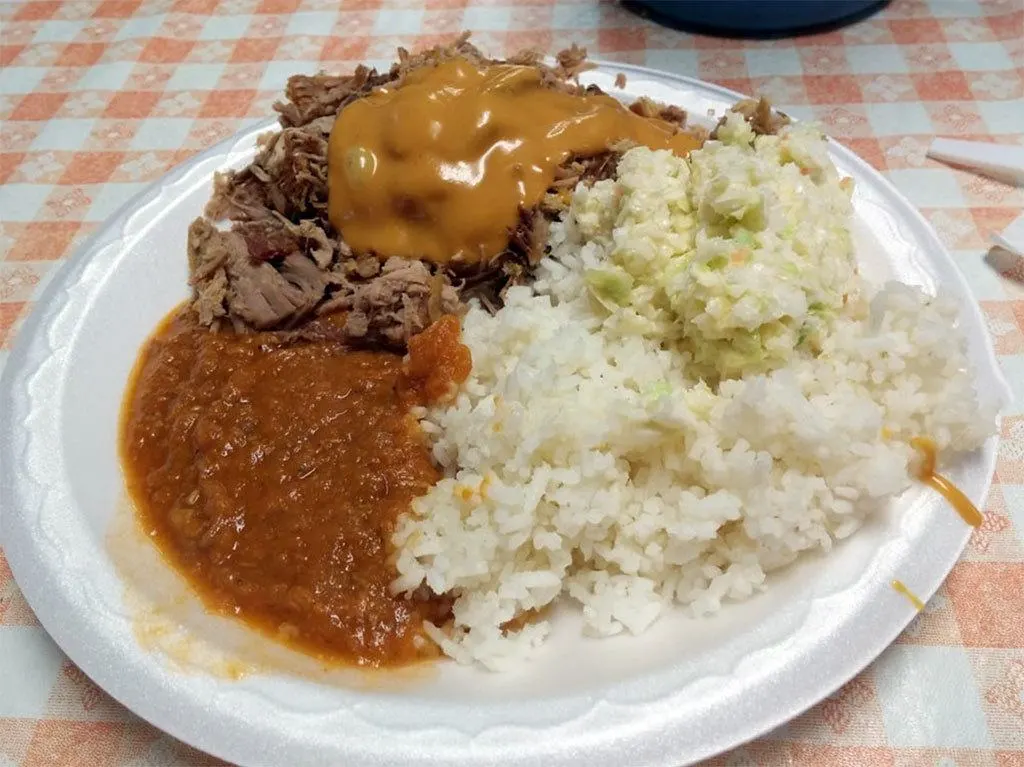 So, if you find yourself on an SC BBQ Road Trip heading down Interstate 26 or just happen to be in North Charleston on a Friday or Saturday, give ol' Dukes Bar-B-Que on Spruill Ave. a try if you're in the mood for some good, no-frills BBQ.
What Folks are Saying about Dukes Bar-B-Que on Spruill Ave.
Google Review
Google's Local Guide Christopher Winkler sums it up and offers great pointers in his Google Review:
Amazing atmosphere here, though the digs are definitely not fancy.
You're not coming here because of the décor, you're here for the amazing hash, slaw, BBQ pork, creamy sweet and vinegar sauce, and coleslaw. And the tea, sweet and unsweetened.
That's about all that's on offer, plus pickles and white bread. The food, all of it, is delicious!
The owner/cook/server/chef is friendly and funny and will keep you on your feet.
Important notes:
1) Cash only
2) Only open Thursdays and Fridays, with limited hours. Not open late!
Yelp Review
Over on Yelp, where Dukes has mysteriously been listed as closed, Charleston resident Erin C. sets the record straight:
For some reason, this place is listed as permanently closed. It's definitely still open.
Great bbq and hash and rice. The owners are super friendly.
Cash only and the only drink choice is tea. If your looking for a buffet with a ton of sides this isn't your place. But if you're looking for locally owned BBQ, it's worth a try!
They open at 3 so get there early because when they are out of food they close for the day!
Menu for Dukes Bar-B-Que on Spruill Ave.
Note: Menu prices and options are subject to change over time. Contact the restaurant for the most up-to-date information.
Normally, we'd put a photo here to show you all the options on the menu. There is no need.
Here it is BBQ, hash and rice, slaw, sauce, and two kinds of pickles, dill and bread and butter. You'll find the sweet tea and sliced white bread nearby.
In case you weren't sure that's all, here's your menu:

---
Location, Hours, Contact Info, and More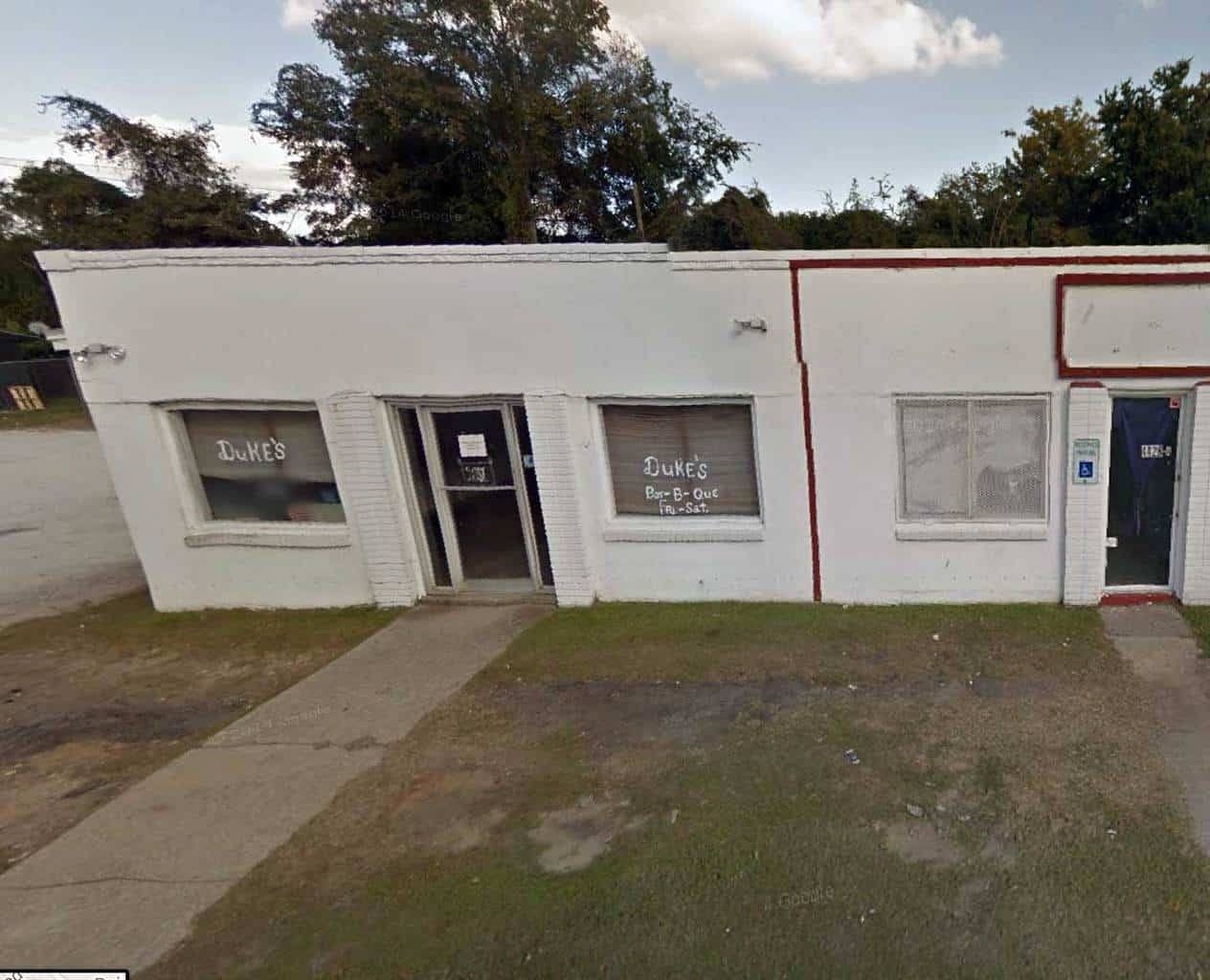 Map
Directions
Contact Dukes Bar-B-Que on Spruill Ave. ***Permanently Closed***
4428 Spruill Ave
North Charleston,
SC
29405
Hours of Operation
| | |
| --- | --- |
| Monday | Closed |
| Tuesday | Closed |
| Wednesday | Closed |
| Thursday | Closed |
| Friday | |
| Saturday | |
| Sunday | Closed |
Social Media
Features
Buffet, Cash Only, Hash, Heavy Tomato Sauce, Mustard Sauce