When it comes to SC BBQ, Dukes is one of the great family names.
Dukes is not a franchise or a chain despite what many people may assume. All are loosely connected by family ties, but they are all separate and unique entities.
This article by Robert Moss, published in the Charleston City Paper, sheds some light on this family BBQ business and their history, going back to the original Earl Dukes of Orangeburg.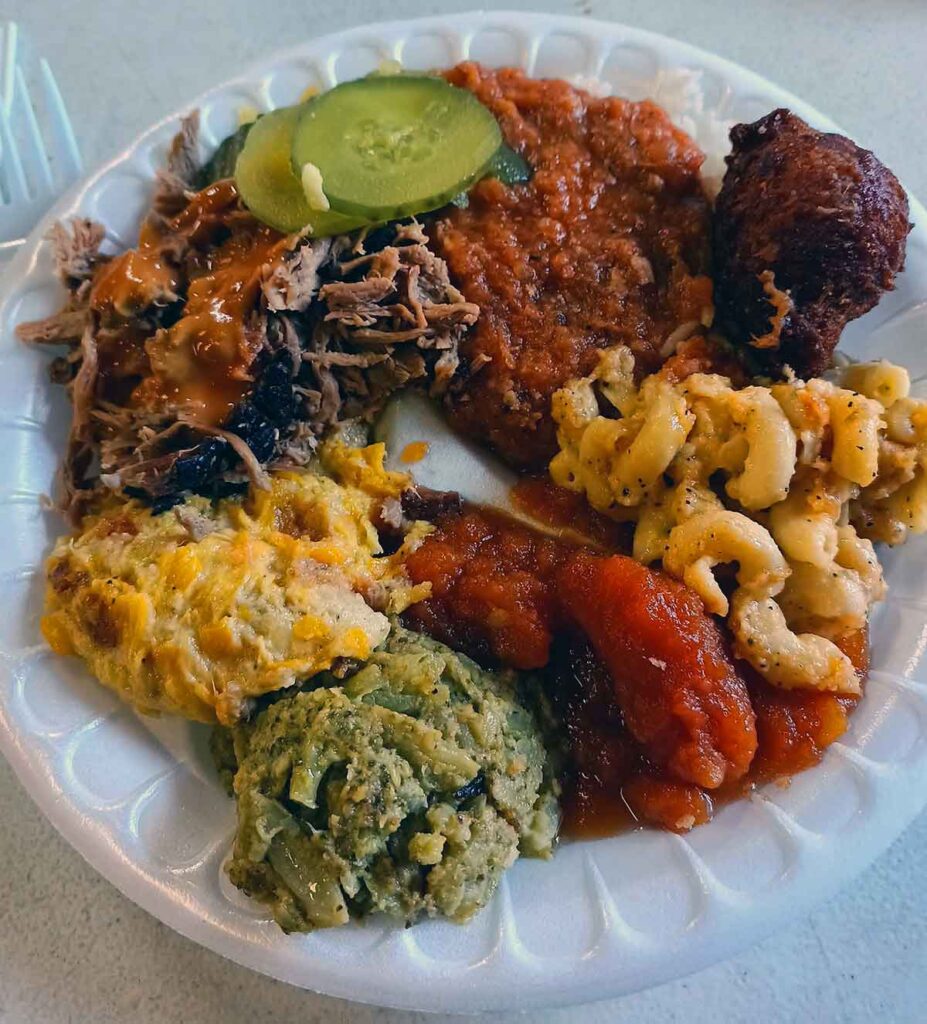 As you can see on the plate of BBQ above, Dukes is famous for spawning the "Orangeburg Sweet" sauce. It's really a special mixture containing mayo, mustard, and ketchup, according to a source who shared their mustard-based BBQ sauce recipe with us.
Dukes BBQ of Blackville is one of those family spots that you'll find scattered across the Lowcountry and like its cousins, the central feature of this location — along with its mustard sauce — is its great barbecue buffet.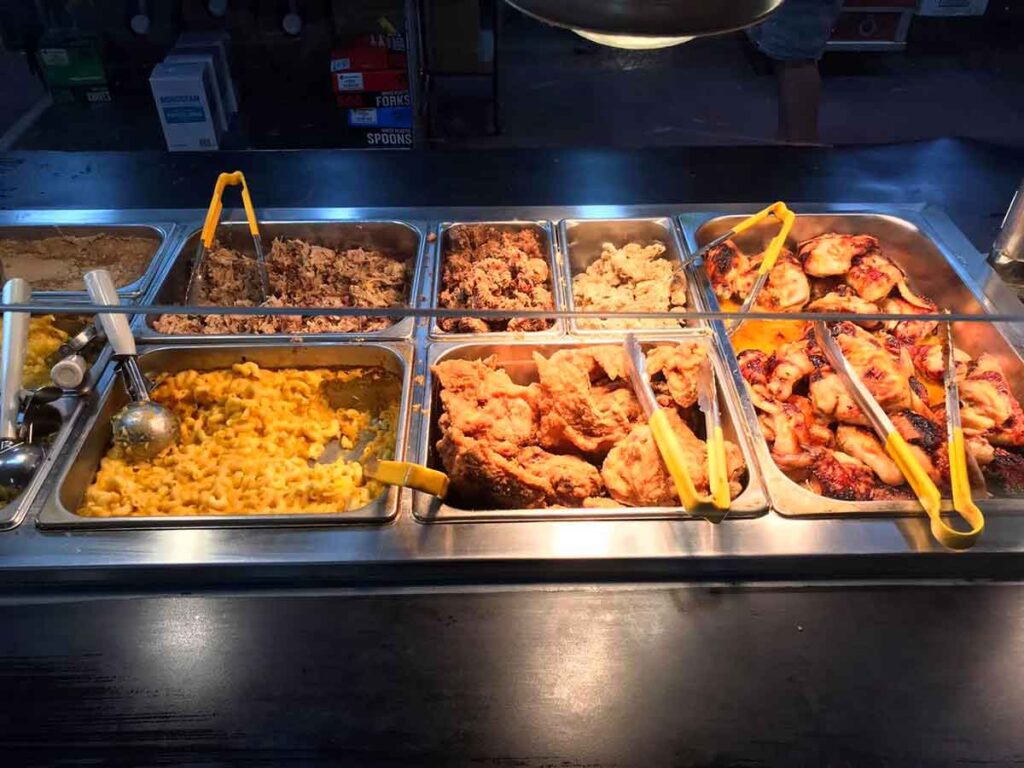 In addition to some of the meats you see above, Dukes of Blackville boasts a full buffet brimming with fresh, seasonal vegetables, when available. Butter beans, stewed okra and tomatoes, mashed potatoes, and many more are available.
Of course, you can eat at any Dukes BBQ without getting a helping of their famous red hash. Hash is a specialty in South Carolina, and the version you'll find at Dukes is exceptional. Michale Ott, whose family is closely connected with a Dukes in Orangeburg, share this Dukes-style hash recipe with us.
And certainly, when you're done with you barbecue, veggies, and hash — if you have room — you'll want to try their homemade dessert options. The perfect way to finish a meal.
What Folks are Saying
Google Review
Among the many Google Reviews, Local Guide Dwayne Brown reports that he has other options closer that he's happy to drive by to get to Dukes BBQ of Blackville:
Great food for a great price. Not to mention the staff were very friendly. 10x better than Goodland in Springfield.
I live in Salley and would rather drive past Goodland in Springfield just to go to Duke's in Blackville because they are ALWAYS friendly and their food is hot & fresh. Goodland's food sits for hours and is almost cold (basically room temp) meats.
I LOVE DUKE'S!!!!
Yelp Review
Over on Yelp, Scott S had a lot to say about his experience and the good folks at Dukes of Blackville who made the visit both filling and comfortable:
One of the few restaurants this small sized left in America where they actually encourage you to dawdle after you've eaten a gracious plenty.
This is mustard sauce country. It's sweet savory good on pulled pork and ribs. What it does to chicken oughta be a crime.
This is good BBQ, but the fried fish and chicken rank close behind. Chicken is not greasy at all. It has a light seasoned clinging crust that's the best part. It's moist and juicy.
Fish is light, not quite fresh but would have been a few hours before. Hash is superb, meaty flavorful and rides the rice well. I could eat it with snow shovels using both hands.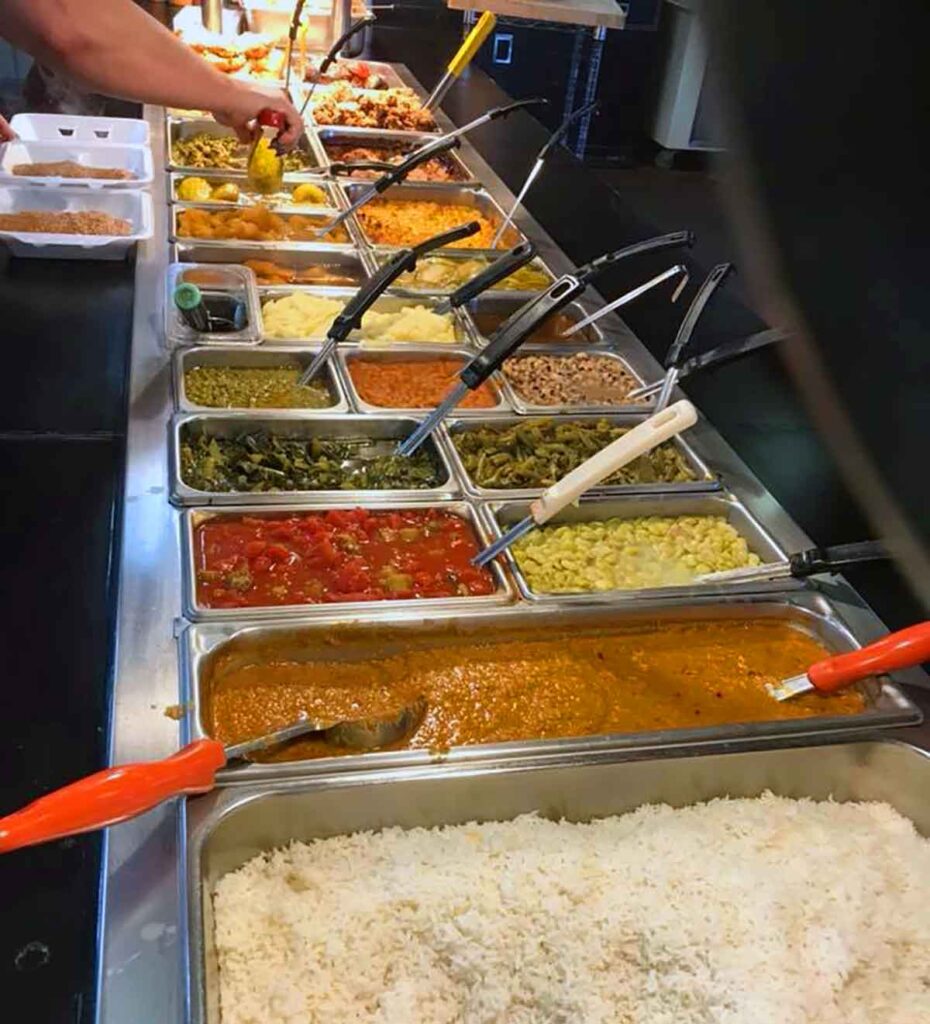 Corn, okra, collards,field peas, and green beans highlighted an extended buffet. Pickles were cold, homade bread n butters a little better than the orangeburg kosher dills, not that there was a Rabbi involved.
Banana pudding sneaks up on you cause you were about to bust when you went back up there to get it.
Did I mention that this is a very reasonable priced all you can eat Southern BBQ buffet with sides and extra meats?
So there we sit 30 minutes after the fork was picked up, nearly an hour after grace was said listening to this fellow the next table over talking about his dog, next his lawnmower and finally the weather.
Folks are friendly here. Service what there is of it kept tea glasses full long after we had finished eating.
---
Menu for Dukes BBQ of Blackville
Note: Menu prices and options are subject to change over time. Contact the restaurant for the most up-to-date information.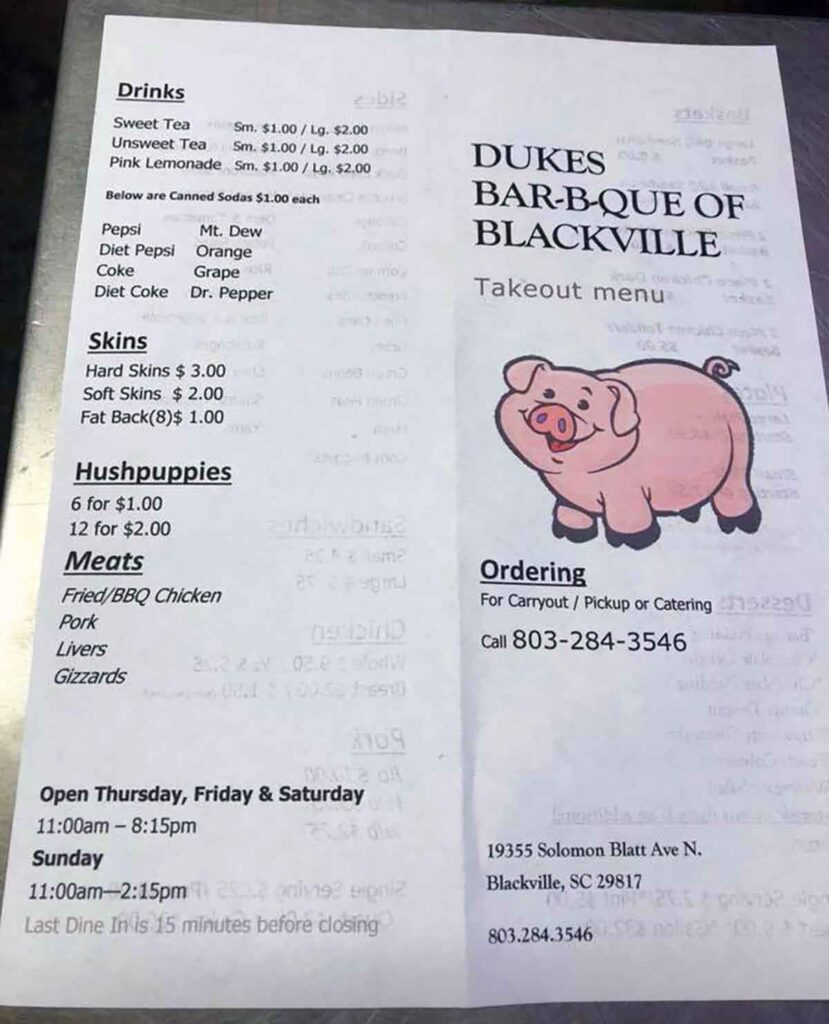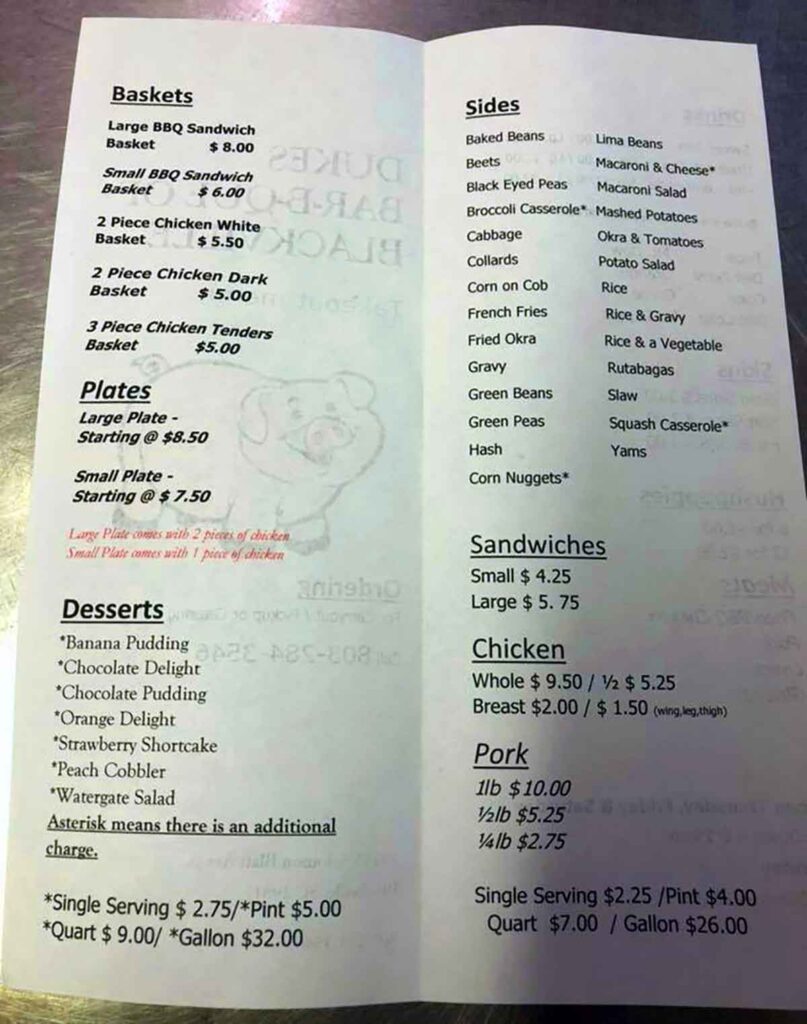 A Look Inside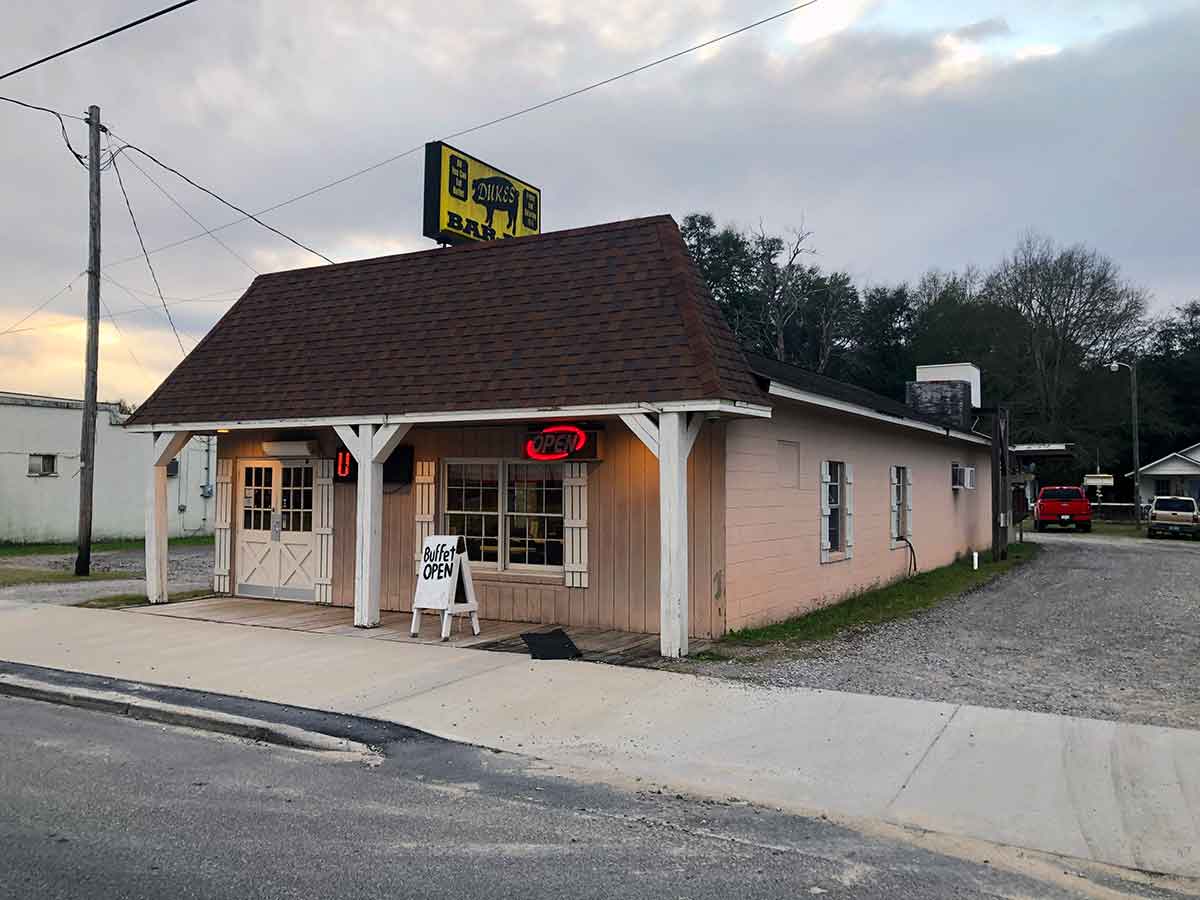 Dukes BBQ of Blackville
19355 Solomon Blatt Ave.
Blackville,
SC
29817
| | |
| --- | --- |
| Monday | Closed |
| Tuesday | Closed |
| Wednesday | Closed |
| Thursday | |
| Friday | |
| Saturday | |
| Sunday | |
Social Media
Review Sites
Features
Cash Only, Buffet, Hash, Mustard Sauce, Vinegar Pepper Sauce, Light Tomato Sauce, Heavy Tomato Sauce