The Smokin' Pig in Easley
This post may contain links from which I earn a commission. Please read my disclosure policy. As an Amazon affiliate, I earn from qualifying purchases.
Above all, The Smokin' Pig in Easley is a family-owned BBQ restaurant. The main menu items include chopped pork, brisket, chicken, and ribs.
"Looooove this place!" writes Terra D on Yelp. "Best BBQ ever! The sides are delicious too! You can't go wrong with anything here!"
What Folks are Saying about The Smokin' Pig in Easley
On Google
So, Google Local Guide Fin Ory had a lot to say about The Smokin' Pig in Easley in his Google Review:
This is, by far, the best BBQ restaurant I've eaten at in the upstate.
Located just off Highway 123 south on Highway 135 in Easley (just below the big water tower).
They have a straightforward menu that offers traditional smoked BBQ dishes such as pulled pork, beef brisket, and chicken.
They have a kids menu that should delight most children, as well. Additionally, they offer combo platters where you can mix your meats.
Finally, they offer numerous side dishes to go with your meal and a very good selection of desserts.
Be advised they are open on Thursday through Saturday only, which makes the weeklong wait worthwhile. No frills here. Just really good, really fresh, and really hot BBQ.
Also, they have 3 sauces to choose from and a hot sauce that you have to ask for if you want it.
They stay busy, so expect to wait a few minutes (no too long though). Very conscientious and friendly wait staff and reasonably priced.
Try their ribs. They're terrific and their dinner rolls are delicious. Only one thing left to say and that is… what are you waiting for?
Come to Easley and visit the Smokin' Pig. I highly recommend them. Many thumbs up.
On Yelp
Similarly, in a Yelp Review, Easley local Matt F is a regular customer who has almost tried it all.
Smoking Pig is a nice local chain they have 2-3 locations.
I have worked my way through most of the menu and while the pulled pork is good it isn't the best I have had. I am not really a big fan of chopped chicken either but theirs was on par with the rest of the local places.
Where The Smokin' Pig in Easley really shines is the brisket. This place has some of the best brisket I have ever had.
This is coming from a person who has spent many hours perfecting smoking receipts and brisket at home. If you come here you have to eat some brisket.
The glazed ribs tend to be a little tough for me but have a really good flavor. I prefer the non-glazed ribs.
However, the jalapeno cheese grits are some of the best grits you will ever have. If you eat in the restaurant they give you a free appetizer of pork rinds that are really good.
When I don't have 24 hours to devote to prepping and smoking a brisket the smoking pig is where I come for BBQ.
But those are simply people on a review site, right? What about the folks who train the judges for SCBA BBQ competitions? What do they say about The Smokin' Pig in Easley?
In short, the SC BBQ Association has named The Smokin' Pig in Easley as one of the Top 100 BBQ houses in the state.
Here is an excerpt from their review:
Also nice are the ribs which are dry rub with four sauces on the table, if you want them. And while the upstate mustard sauce was my favorite of their four, the ribs are best eaten as they serve them which is fall off the bone tender.
The barbeque, however, is better with their thinnest vinegar and pepper sauce to add a bit of pep.
Like most modern restaurants they use an Old Hickory smoker (one often also finds Southern Pride smokers) to prepare their meats and that does a good job at cooking it low and slow so as to make it tender and juicy while adding just the right amount of smoke.
Read their review of The Smokin' Pig in Easley here.
Check it out: The Smokin' Pig featured on CNN:
What's on The Smokin' Pig Menu
Note: Menu prices and options are subject to change over time. Contact the restaurant for the most up-to-date information.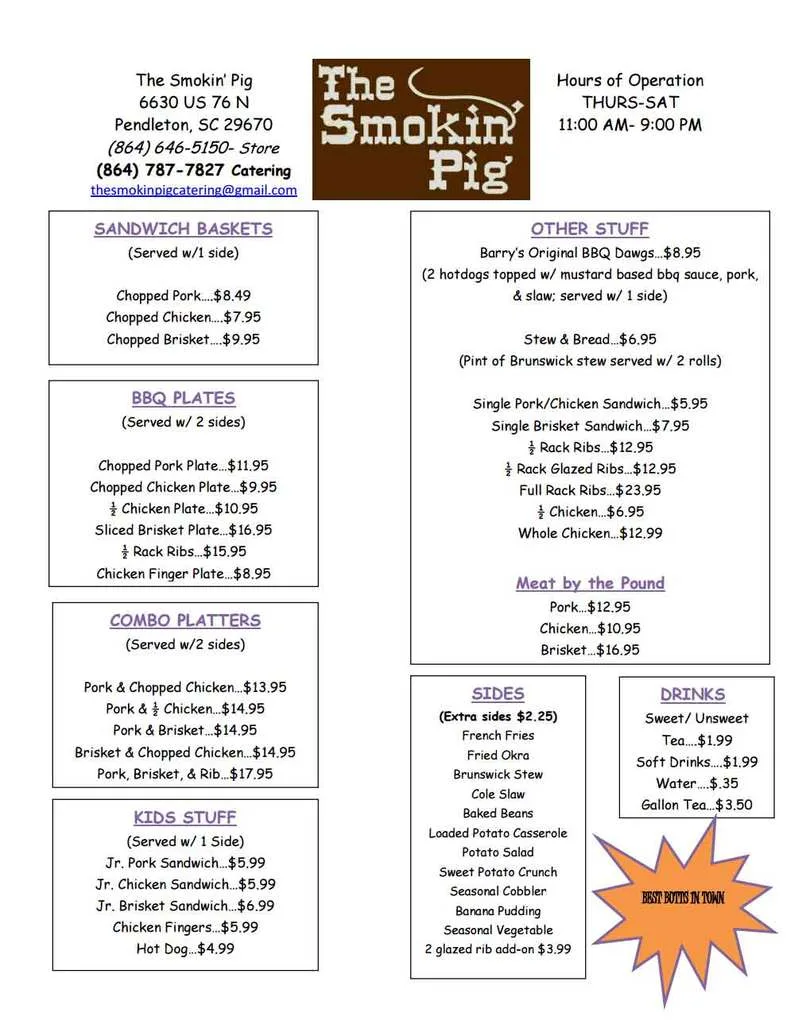 Check out The Smokin' Pig's online menu.
Finally, be sure to visit any of these sister restaurants of The Smokin' Pig in Easley:
720 Anderson Drive in Williamston
6630 Clemson Boulevard in Pendleton
The Smokin' Pig FAQ
What days and hours is The Smokin' Pig open?
Each of the four Smokin' Pig locations is open Thursday through Saturday from 11 am to 9 pm.
Does The Smokin' Pig serve alcohol?
No, you will not find beer, wine, or cocktails on the menu at any of The Smokin' Pig locations.
What's on the menu at The Smokin' Pig? Do they serve hash and rice?
The menu at The Smokin' Pig is obviously centered around barbecue. The smoked meats include chopped pork, chopped chicken, ribs, and brisket. Sides include fries, okra, baked beans, coleslaw, and much more. Don't forget their famous sweet potato crunch. See the full menu here.
Location, Hours, Contact Info, and More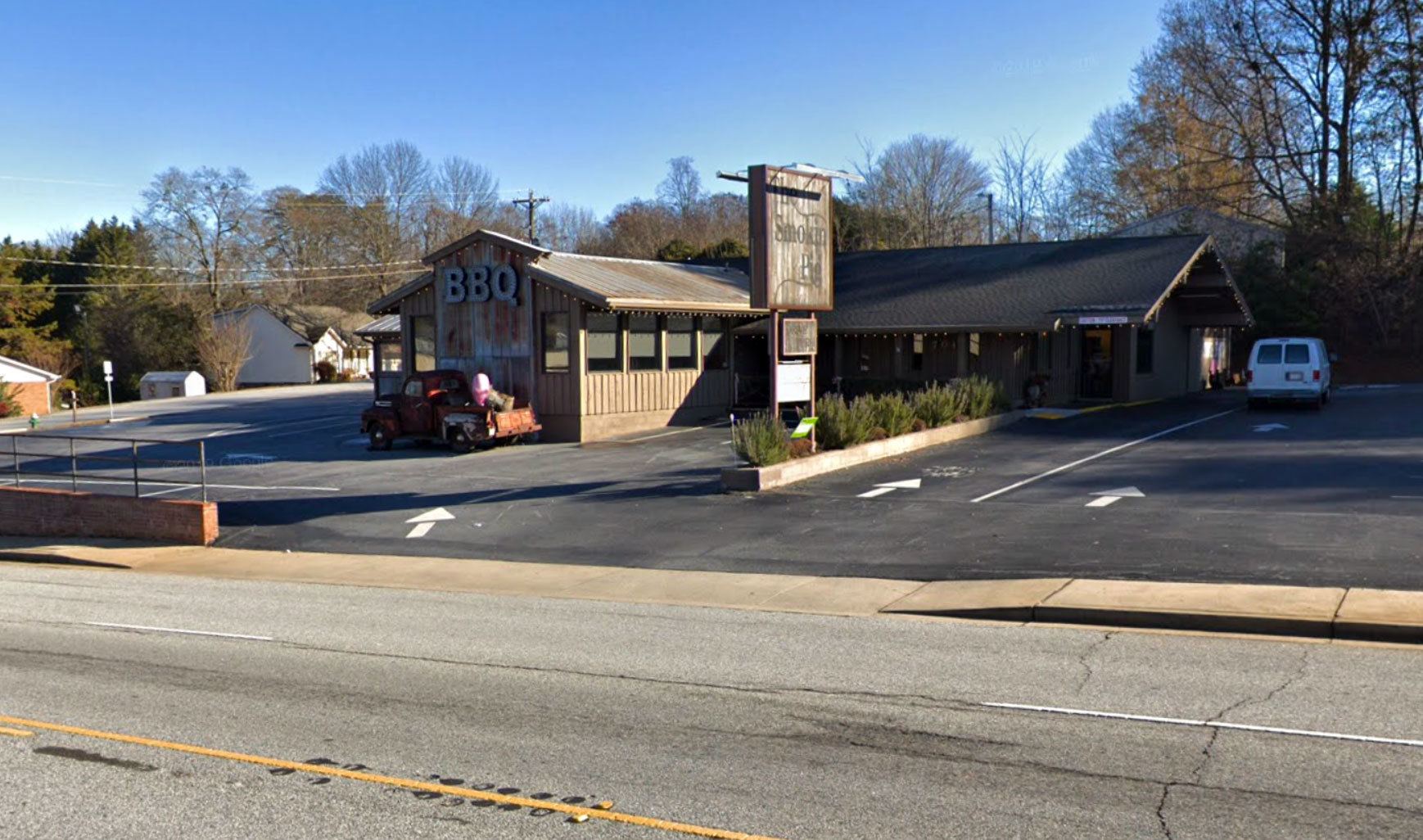 Map
Directions
Contact The Smokin' Pig in Easley
701 South Pendleton Street
Easley,
SC
29640
Hours of Operation
| | |
| --- | --- |
| Monday | Closed |
| Tuesday | Closed |
| Wednesday | Closed |
| Thursday | |
| Friday | |
| Saturday | |
| Sunday | Closed |
Review Sites
Features
Cards and Cash, Heavy Tomato Sauce, Mustard Sauce, Vinegar Pepper Sauce